The Football Players Health Study at Harvard University today released a set of legal and ethical recommendations to address a series of structural factors that affect NFL player health. The Football Players Health Study is a research initiative composed of several ongoing studies examining the health and wellbeing of NFL players.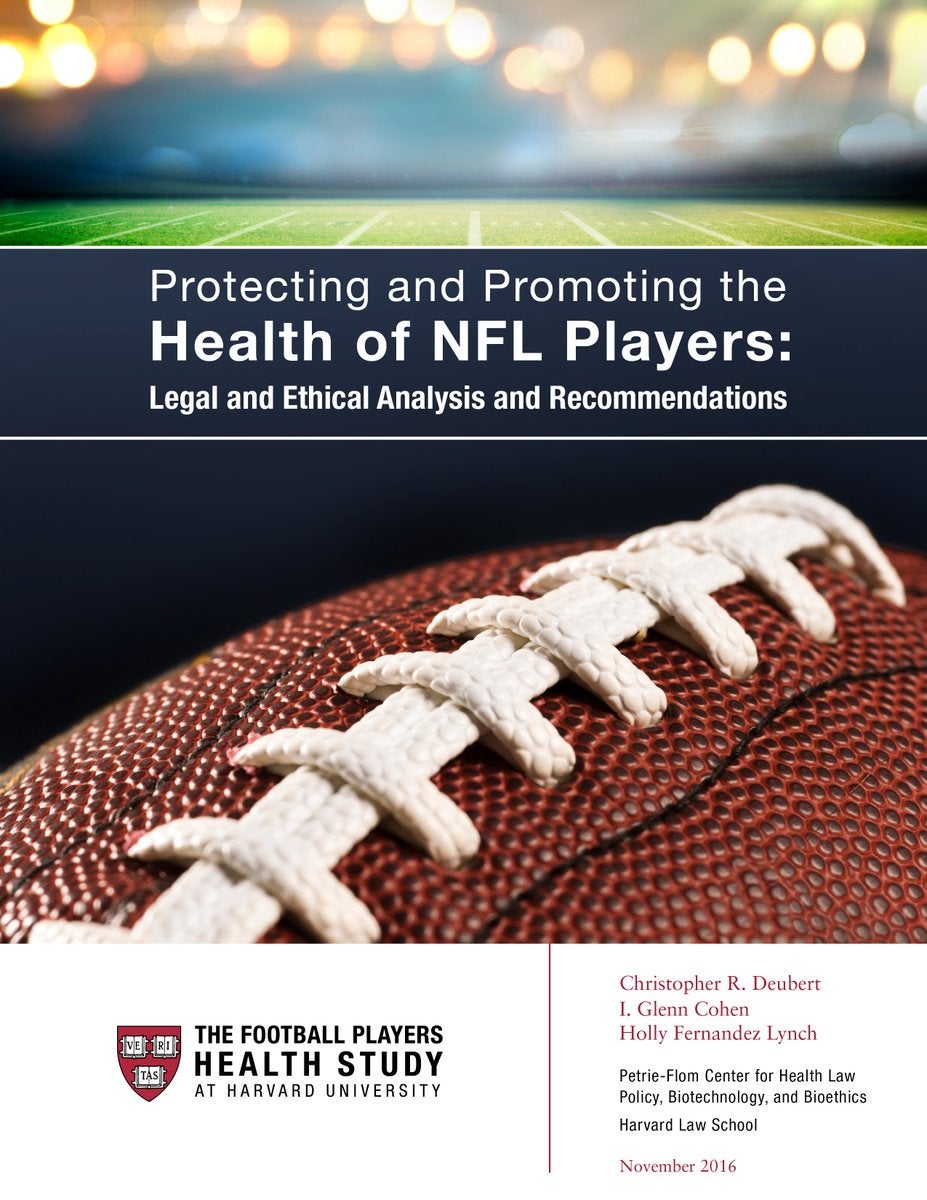 The newly released report, nearly 500 pages long, is based on analysis performed over two years by researchers from The Petrie-Flom Center at Harvard Law School, and is unprecedented both in scope and focus. (Read the executive summary).
This is the first comprehensive analysis of the legal and ethical obligations of various stakeholders that influence the health of NFL players. While clinical interventions are essential, players' health is also affected by the environment in which players work.
The report reviews and evaluates the roles of 20 relevant stakeholders, including the NFL, NFL Players Association (NFLPA), players, and Club (team) doctors.
In total, the report makes 76 recommendations.
Highlights of the key proposals are summarized below:
Conflicts of interest: The current arrangement under which a team's medical staff, including doctors and athletic trainers, have responsibility both to the players and to the club presents an inherent structural conflict of interest. A division of responsibilities between two distinct groups of medical professionals is needed to minimize such conflict and ensure that players receive medical care that is as unbiased and uninfluenced by competing interests as possible. Care and treatment should be provided by one set of medical professionals, called the "Players' Medical Staff," appointed by a joint committee with representation from both the NFL and NFLPA. The evaluation of players for business purposes should be conducted by a separate set of medical personnel, known as the "Club Evaluation Doctors."
Player health and adversarial collective bargaining: The NFL and NFLPA should refrain from making improvements to player health policies a "bargaining chip" in labor negotiations, to the extent that this is not already the case. Players should never be asked to trade their healthcare for other benefits in the collective bargaining process.
Ethical guidelines: Various stakeholders—including club doctors, athletic trainers, coaches, contract advisors, and financial advisors—should adopt, improve and enforce Codes of Ethics specific to the environment of the NFL.
Ongoing research into the health effects of the game: The NFL and NFLPA should continue to initiate and support efforts to scientifically and reliably identify the health risks and benefits of playing professional football.
Access to data: The NFL and, to the extent possible the NFLPA, should make aggregate, de-identified injury data publicly available for independent reanalysis. They should also continue to improve their robust collection of data and offer it to qualified professionals for analysis.
Meaningful penalties: The collective bargaining agreement (CBA) should be amended to impose meaningful fines for any club or person found to have violated Sections 1 through 6 of Article 39 of the 2011 CBA (players' rights to medical care and treatment).
Investing in players' health and care: The NFLPA should consider investing greater resources to investigate and enforce player health issues and enforce player rights, including Article 39 of the CBA.
Read the Top 10 Recommendations.
A Patient Bill of Rights for NFL Players—including current and proposed rights under the CBA, NFL policy, law and/or codes of ethics—can be downloaded here.
This report recommends that responsibility for player health should fall upon a diverse but interconnected web of stakeholders.
"Our report shows how the various stakeholders might work together to protect and support NFL players who give so much of themselves – not without benefit, but sometimes with serious personal consequences – to one of America's favorite sports," said Glenn Cohen, professor of law at Harvard Law School and co-lead of the Law & Ethics initiative as part of the Football Players Health Study. "NFL football has a storied history, and holds an important place in this country. The men who play it deserve to have their health safeguarded and their health concerns addressed. We hope our recommendations in the report serve as a catalyst for this important work."
"We are committed to addressing the needs of 'the whole player, the whole life,'" said Alvaro Pascual-Leone, professor of neurology at Harvard Medical School and research director of the Football Players Health Study. "As a physician, I know we must take an interdisciplinary approach to address important ethical and structural factors; this report elucidates many valuable points that we hope will lead to productive dialogue."
"This report offers vital recommendations to improve player health," said Ed Reynolds, a former linebacker with the New England Patriots and New York Giants and an advisor on the study. "Many individuals and groups are involved and we must continue this important dialogue to help keep NFL athletes healthy on the field and long after."
In the coming months, the Law & Ethics initiative will release several additional publications that cover other legal and ethical issues affecting NFL player health.
About the Football Players Health Study at Harvard University
Launched in 2014, the Football Players Health Study at Harvard University is composed of select studies and research initiatives addressing the whole player over the course of his entire life. The study is funded pursuant to an agreement with the NFLPA, utilizing shared resources across supporting institutions at Harvard University. With more than 3,100 participants to date, it is the largest study of former living players. Several smaller studies supporting other novel research and promising treatments are currently underway across the University.
The research is independent and not directed by the NFL, NFLPA, or any other stakeholder. These organizations exercise no control over the findings or recommendations. For more information, please see the report's Frequently Asked Questions.