Myanmar police officers used excessive force during a crackdown on protesters and arrested more than 100 individuals in Letpadan, Bago Region in March, according to a new report released by Harvard Law School International Human Rights Clinic and Fortify Rights. Authorities should release individuals wrongfully detained for exercising their rights to freedom of peaceful assembly and freedom of expression, the organizations said.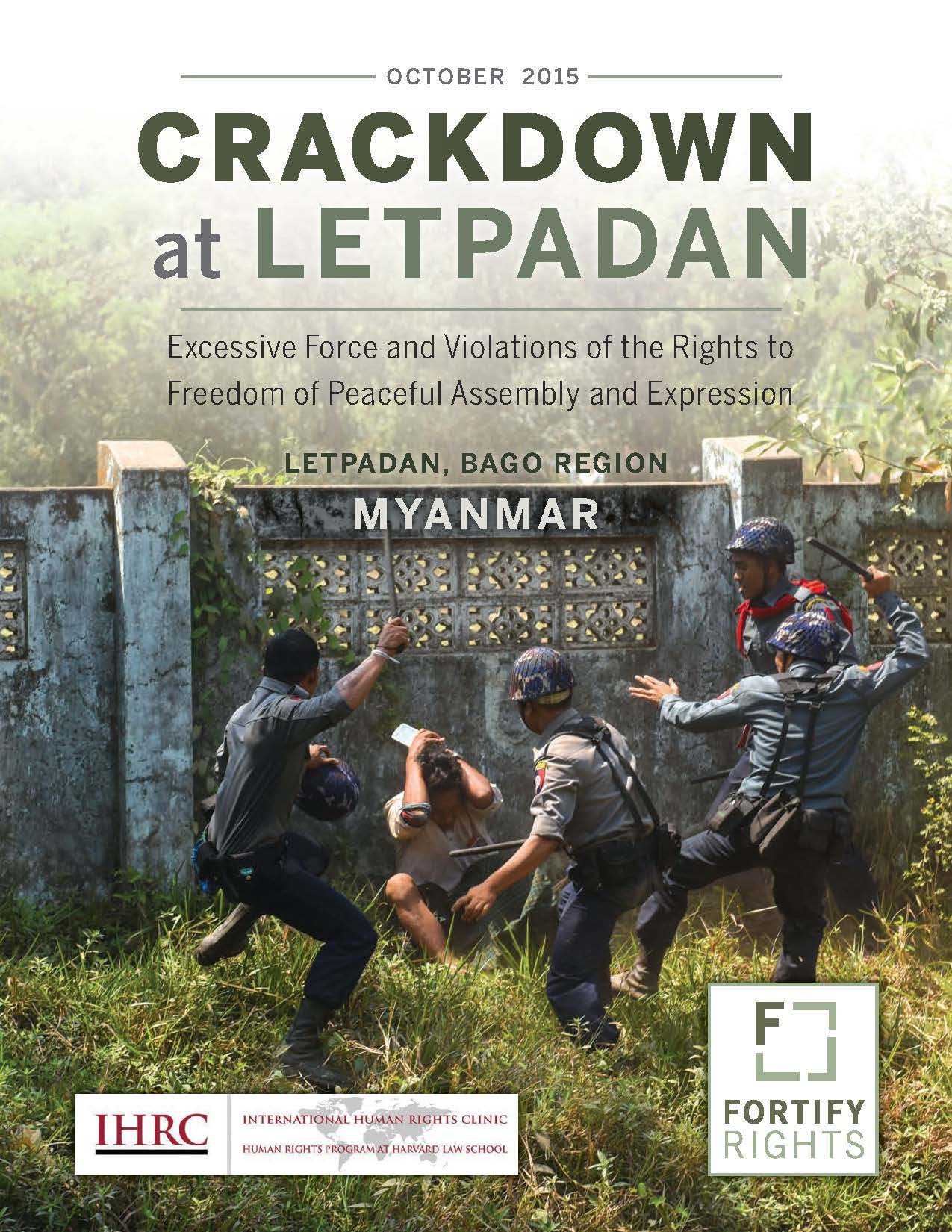 Compiling evidence from dozens of eyewitness accounts, more than 500 photographs, and 40 videos, the Clinic and Fortify Rights found that police brutally punched, kicked, and beat unarmed protesters with batons on their heads, backs, and legs in the town of Letpadan on March 10. Police also beat protesters in police custody, including at least one protester being treated in an ambulance and others whose hands were bound behind their backs.
The new report, Crackdown at Letpadan: Excessive Use of Force and Violations of the Rights to Freedom of Peaceful Assembly and Expression in Letpadan, Bago Region, Myanmar (PDF) also details how not all police officers at the scene participated in violence during the crackdown. Some police officers used riot shields or their own bodies to protect protesters from attacks by other police officers, providing further evidence of the unjustified use of force by some officers.
Students from the International Human Rights Clinic—Roi Bachmutsky '17, Roni Druks '17, Courtney Svoboda '16, Matthew Thiman '16, Yao Yang Harvard/Berkeley '16, and Sharon Yuen LLM '16—provided essential support in reviewing evidence as well as with writing and editing for the report. The team worked under the direction of the report's lead researcher, Matthew Bugher '11, who was a Global Justice Fellow at Harvard Law School as well as Clinical Professor Tyler Giannini, co-director of the Clinic.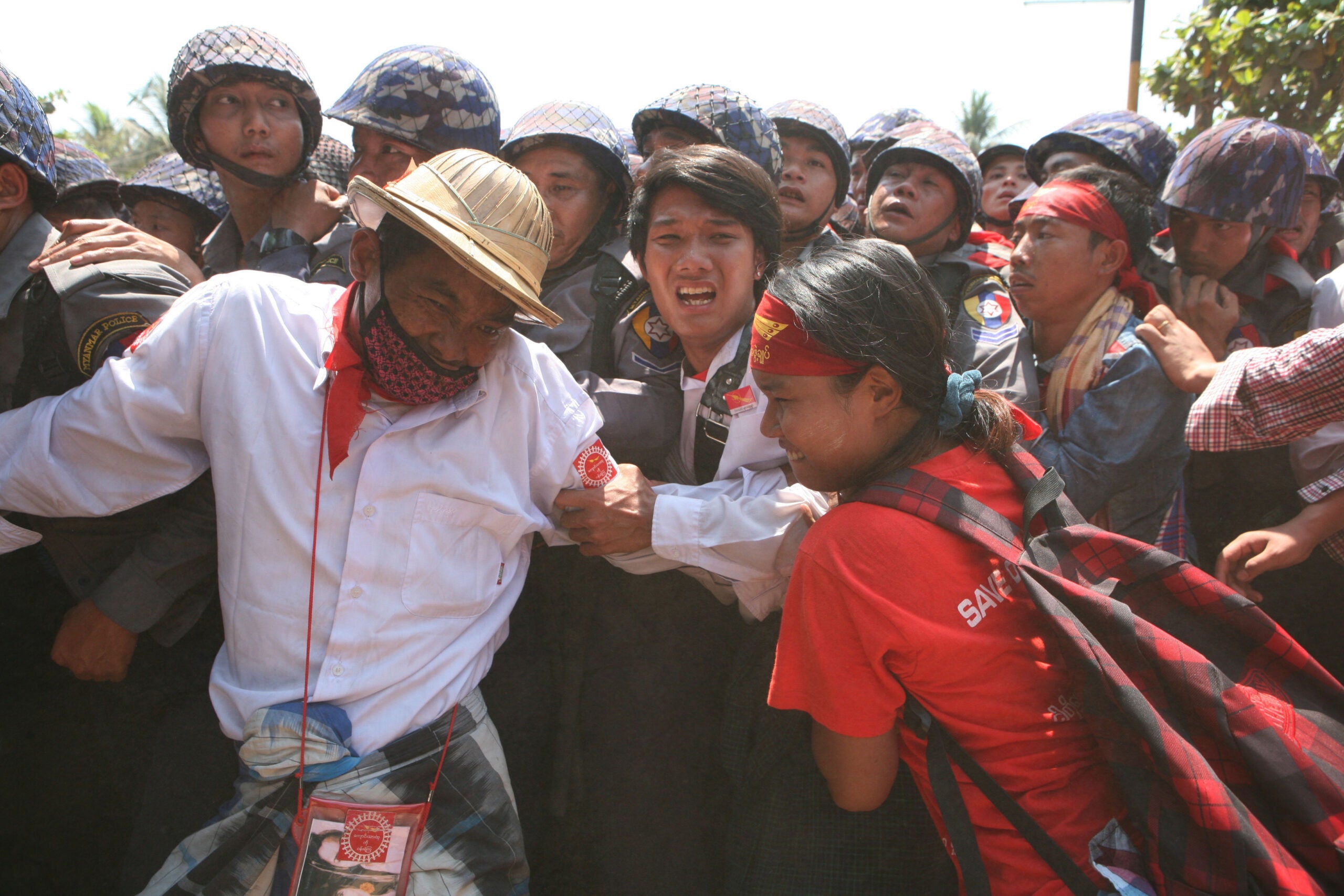 Police arrested 127 protesters, journalists, and bystanders in Letpadan on March 10. Seventy-seven men and women of those arrested in Letpadan face charges that carry sentences of up to nine years and six months imprisonment. Several student leaders face multiple counts under a law relating to peaceful assembly, potentially adding years to their sentences. In the weeks and months following the crackdown at Letpadan, Myanmar authorities have arrested dozens of additional student leaders and activists for involvement in the protests at Letpadan and elsewhere.
"The decision of Myanmar authorities to prosecute protesters rather than those police officers that committed abuses doesn't bode well for a country on the cusp of national elections," said Giannini. "Justice demands the authorities release those wrongfully arrested in Letpadan and drop charges against peaceful protesters."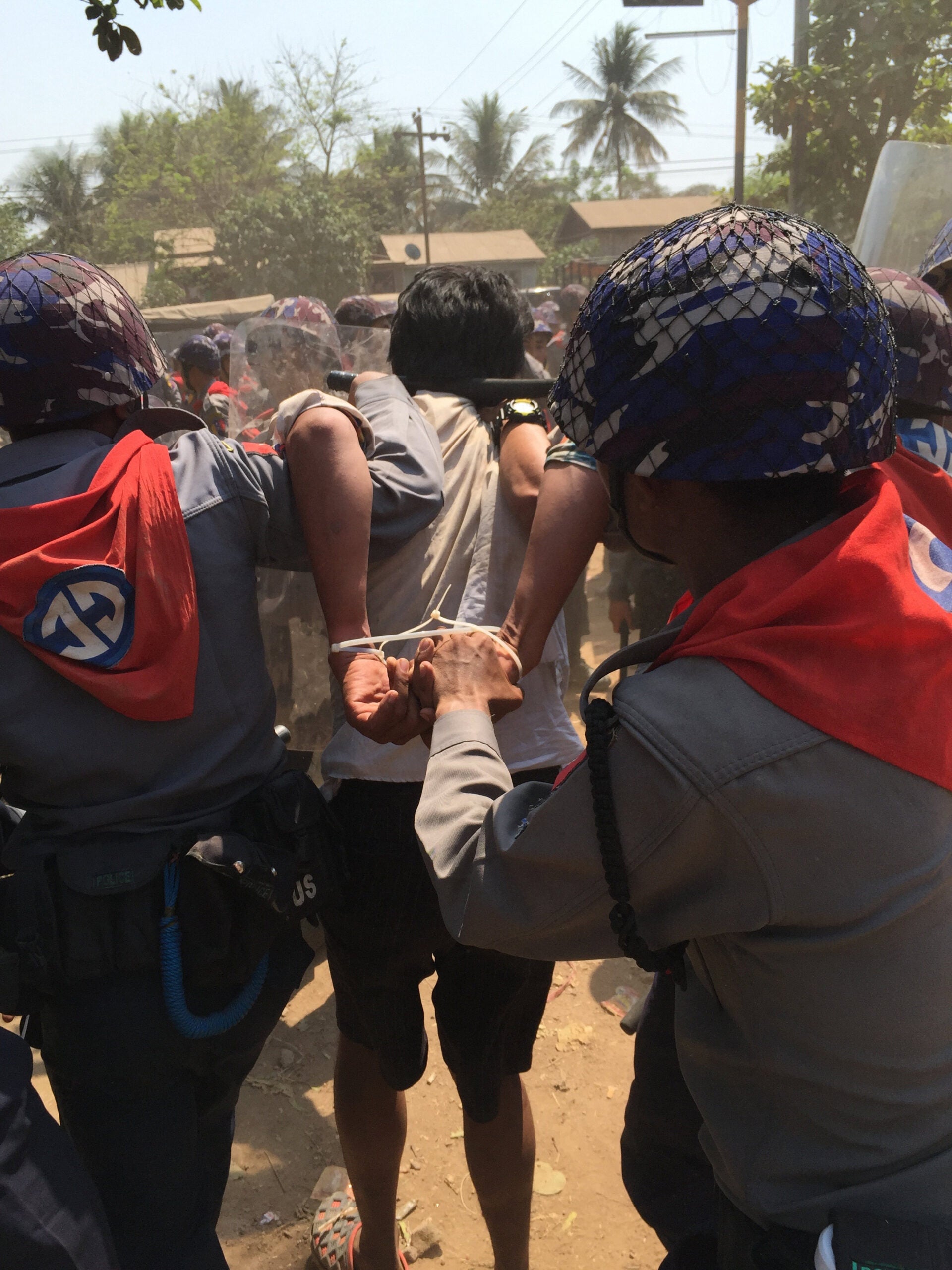 Clinic students were partners in this project from the beginning, according to Giannini and Bugher. As part of the human rights documentation efforts, clinical students reviewed more than 500 photographs and 40 videos to analyze several important moments in the violent crackdown with excruciating detail, said Giannini.
Bugher said: "Weeks after the crackdown, as I was conducting interviews with eyewitnesses, students were laying the foundation for our analysis under international law. The Clinic students have demonstrated solidarity with their counterparts on the other side of the world in a very tangible and important way."
[pull-content content="
A blog post by Courtney Svoboda %SQUOTE%16: This past January, I traveled with a team from the International Human Rights Clinic to a small rural community on the border of Thailand and Myanmar. While the Clinic had been there many times before, it was my first time to meet the survivors of a brutal military offensive in Eastern Myanmar. As children ran up and down the aisles of the makeshift meetinghouse, we spoke with the villagers about the document we had written—a document that was, in a sense, their own. Read more." float="left"]
On September 11, the Myanmar National Human Rights Commission (MNHRC) issued a statement calling for police officers responsible for the use of excessive force at Letpadan to be disciplined. The statement alleged that the beating of protesters led to injuries, and that the protesters should not be facing charges under the penal code.
The Clinic and Fortify Rights welcomed the MNHRC's investigation and statement on the events in Letpadan, but noted that it failed to address all the violations related to the protest and crackdown in Letpadan. In particular, the MNHRC failed to address restrictions on the rights to freedom of peaceful assembly and freedom of expression as well as the arbitrary arrest and detention of individuals connected to the protests.
Under international law, arrest and detention are unlawful when individuals are engaging in a protected activity, such as exercising their rights to freedom of peaceful assembly and freedom of expression.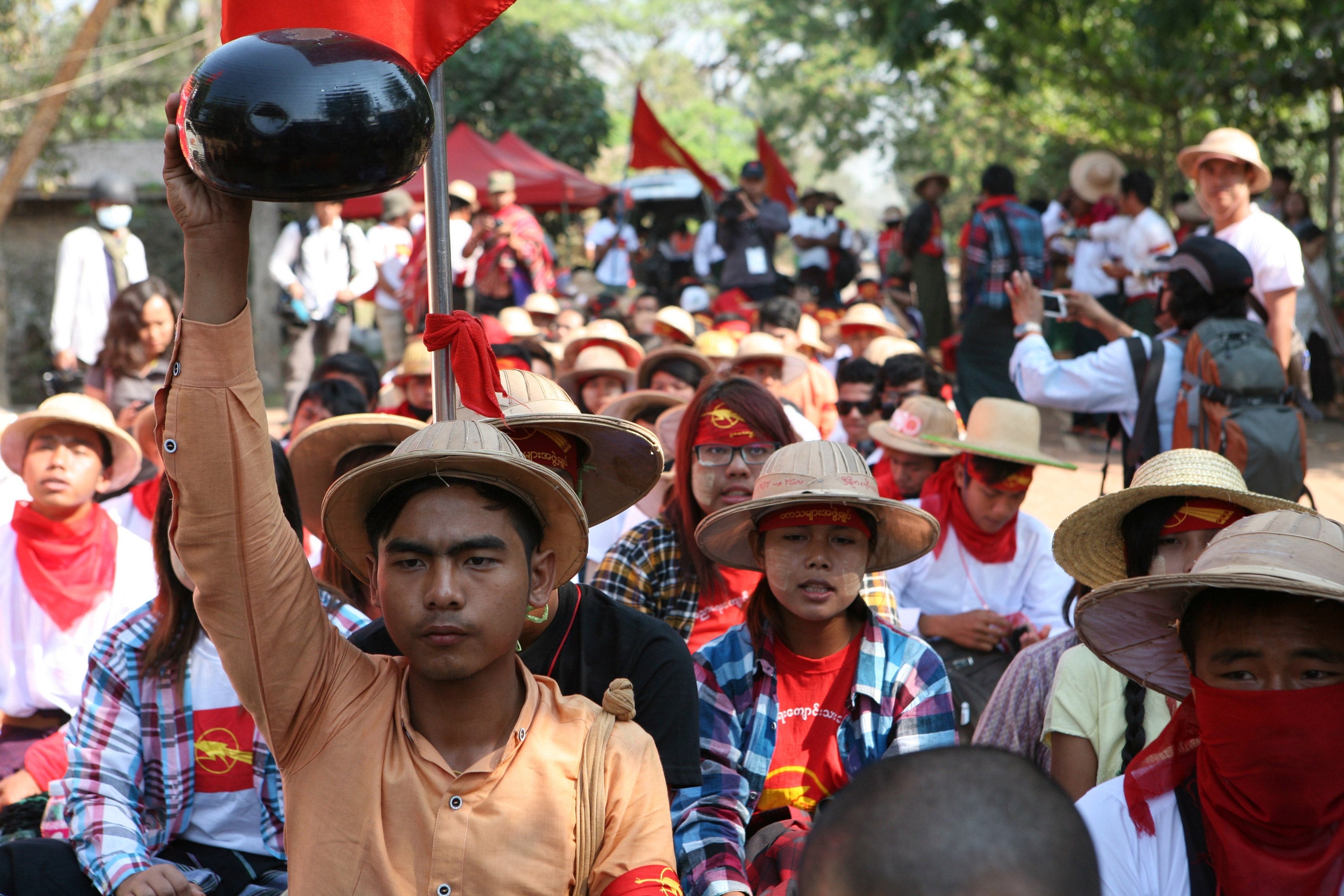 "Violence against students is simply unacceptable," said Yang, a student at the Clinic. "If even students cannot freely voice their opinions on issues as pertinent to them as education law, who else in this country can speak freely?"
"As a student, I am deeply troubled because freedom of thought and respect for demonstrations are so important for encouraging open debate about issues in society," said Bachmutsky. "With the national election coming up next month, it raises serious questions about whether this government will follow through on its reform promises when such repression has occurred on its watch."
Yuen, a student at the Clinic, added: "It is so saddening to see how students who were protesting for a better education law were crushed by police batons and prison bars."
In January 2015, protesters began to march south from Mandalay to demonstrate their opposition to the National Education Law passed by Parliament in September 2014. In early March, police blockaded the protesters at Letpadan. As the protesters attempted to challenge the blockade on March 10, police officers violently dispersed the group of 200 protesters.
"The events leading up to the crackdown failed to justify the massive wave of violence unleashed by police officers," said Matthew Smith, executive director of Fortify Rights. "The government should hold to account those police officers that used excessive force against the protesters."
On April 2, 2015, Harvard Law School's Human Rights Program hosted a discussion about accountability and its place in the Mynamar's reform efforts. The discussion, moderated by Clinical Professor Tyler Giannini, featured U Teikkha Nyana, a Buddhist monk who was severely injured two years ago when riot police used white phosphorus weapons to attack peaceful protesters. U Teikkha Nyana is suing the Home Affairs Minister, Major General Ko Ko, for his responsibility in the Letpadaung crackdown. The panel also included panelists Roger Normand, of Justice Trust, Matt Smith, of Fortify Rights, and U Teikkha Nyana's lawyer, U Aung Thein, a Supreme Court advocate from Yangon who has represented more than 150 political prisoners, including leaders of the Saffron Revolution and Generation 88. 
---
The International Human Rights Clinic at Harvard Law School has been working on human rights in Myanmar since 2004 and has examined international crimes in the country since 2008. Among its publications, the Clinic released Crimes in Burma in May 2009 and Policy Memorandum: Preventing Indiscriminate Attacks and Wilful Killings of Civilians by the Myanmar Military in March 2014.