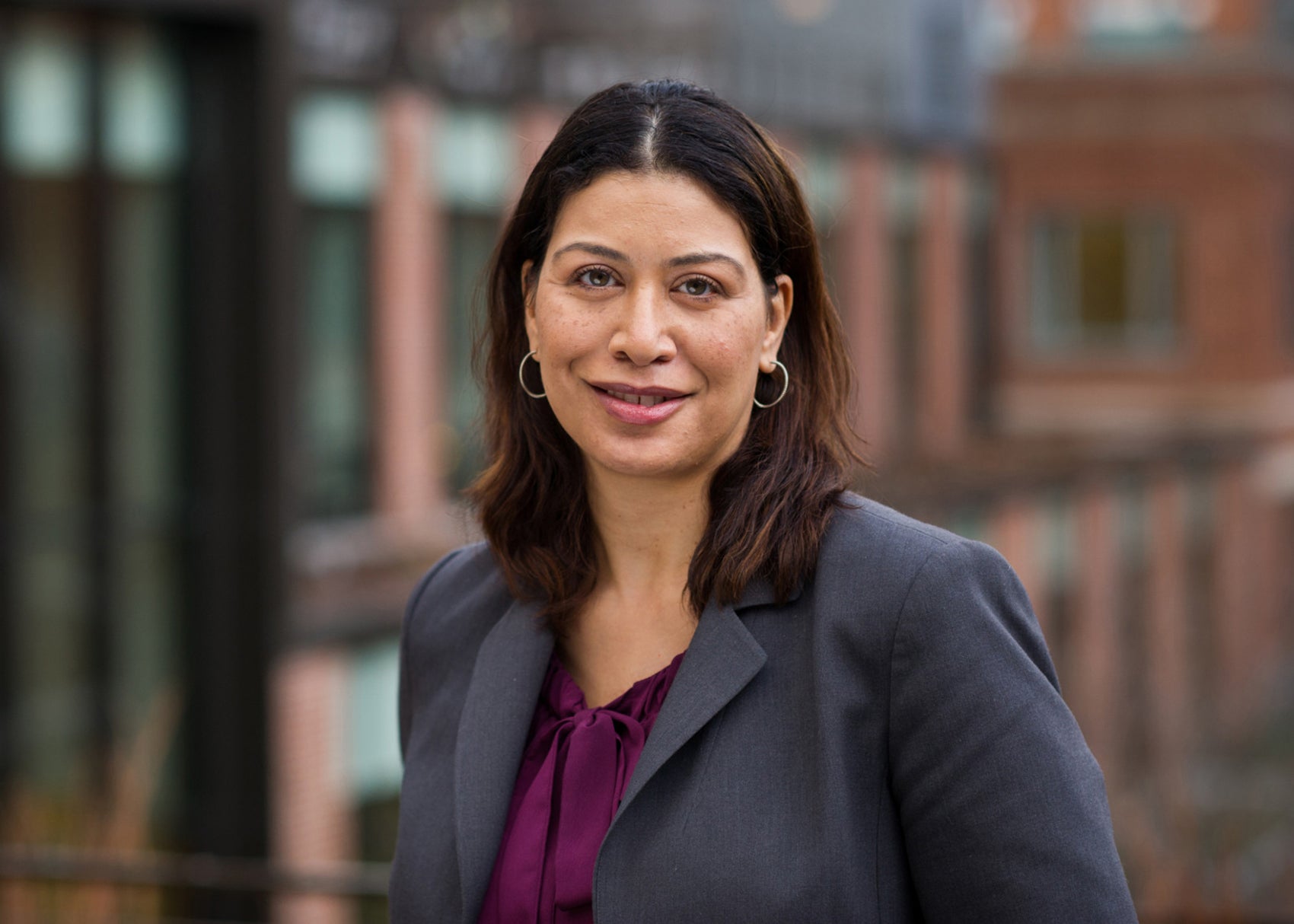 Monica E. Monroe has been named Harvard Law School's new assistant dean for community engagement, equity, and belonging, beginning Feb. 22. She has most recently served as the inaugural associate dean for equity and inclusion at the University of Pennsylvania Carey School of Law.
In an email announcing Monroe's appointment to the HLS community, John F. Manning '85, the Morgan and Helen Chu Dean and Professor of Law at Harvard Law School, and Dean for Student Services Jessica Soban '07 wrote: "Helping law school students from all backgrounds thrive personally, academically, and in their chosen profession has been at the heart of Monica's career for more than a decade. … Deepening our community — working always to make this a place in which everyone feels this is their Harvard Law School and in which everyone can thrive — has long been a crucial goal of this school's work. Monica's experience, expertise, empathy, commitment, and collegiality will help us further that vital objective and greatly benefit both our students and our school in the years ahead."
Monroe will oversee the Office of Community Engagement, Equity, and Belonging, or CEEB, which supports the missions of Harvard Law School student organizations and helps all students feel more connected to the larger Harvard Law School community and to smaller communities of shared interests, backgrounds, and lived experiences. Working with the CEEB team, Monroe will help lead efforts to provide and develop new programming for historically underrepresented and first-generation students; to help foster deeper connections and a felt sense of belonging across the law school community; to build on the Amicus platform as a tool for creating mentorship connections; and to support leaders of HLS student organizations and journals in achieving their goals.
"I am thrilled to be joining Harvard Law School, and look forward to helping advance the school's and CEEB's efforts to support all members of the HLS community, and to working together to celebrate and embrace differences in constructive and impactful ways," said Monroe. "The goal is for all of us to feel that we belong at HLS while affording one another grace and an equal opportunity to engage in the full vibrancy of the institution."
"While I was born and raised in Pittsburgh, I chose Boston and the surrounding area to call home when I left for college," she continued. "I feel blessed to return and to bring my personal and professional experiences and expertise to Harvard Law School, a premier institution with unmatched excellence, resources, and diversity. I am incredibly grateful for this opportunity and this homecoming. My desire to have everyone experience that same sense of belonging drives my commitment to inclusivity for all members of the HLS community."
At Penn Law, Monroe has worked in her most recent role to strengthen a culture of inclusion and engagement, to advance equity, and to implement more inclusive practices. As its dean of students between 2016 and 2019, she was responsible for creating vibrant and strategic programming and social activities; overseeing student journals; and supporting student organizations.
Prior to working at the University of Pennsylvania, she served as the associate and assistant dean of students at George Washington University Law School. She also taught classes in legal drafting, and legal research and writing.
Monroe earned her J.D. from the George Washington University Law School and her B.A. from Boston University.