Michelle Yeoh, whose performance in "Everything Everywhere All at Once" earned her the Academy Award for Best Actress last month, is this year's speaker for the Class Day ceremonies at Harvard Law School, the Dean of Students and Class of 2023 class marshals announced today. Class Day will take place on the Harvard Law School campus on Wednesday, May 24.
Noting that her father was a lawyer, which made the invitation even more meaningful, Yeoh said, "It is a tremendous honour to speak at Harvard Law School's 2023 Class Day."
Yeoh, a multi-award-winning actress and advocate for numerous causes around the world, was born in Malaysia, and began her acting career in the 1980s. She first gained fame after starring in action films in Hong Kong, for which she performed her own stunts. Roles in the 1997 James Bond film "Tomorrow Never Dies" and 2000's "Crouching Tiger, Hidden Dragon" propelled her to international stardom, and she subsequently appeared in hit films such as "Memoirs of a Geisha" (2005), "Sunshine" (2007), "The Lady" (2011), "Crazy Rich Asians" (2018), and "Shang-Chi and the Legend of the Ten Rings" (2021).
In "Everything Everywhere All at Once," which garnered the Oscar for Best Picture, Yeoh plays an overwhelmed, yet determined, immigrant mother who must deal with the dangers and unique facets of a strange and chaotic multiverse. Critics praised Yeoh's lead performance, with A.O. Scott of the New York Times writing that she exhibited "grace, grit and perfect comic timing." Last month she became the first Asian person to win the Academy Award for Best Actress for her role in the film, for which she also won a Golden Globe and Screen Actors Guild Award.
Named Time Magazine's 2022 "Icon of the Year," Yeoh is also an active supporter of numerous charitable and humanitarian causes worldwide, including poverty reduction, environmental protection, gender equity, and global health. She is the vice-president of the board of the Suu Foundation, which promotes education, human rights, and health in Myanmar. She is also an ambassador of amfAR (The Foundation for AIDS Research), and has long promoted better road safety through the Make Roads Safe campaign.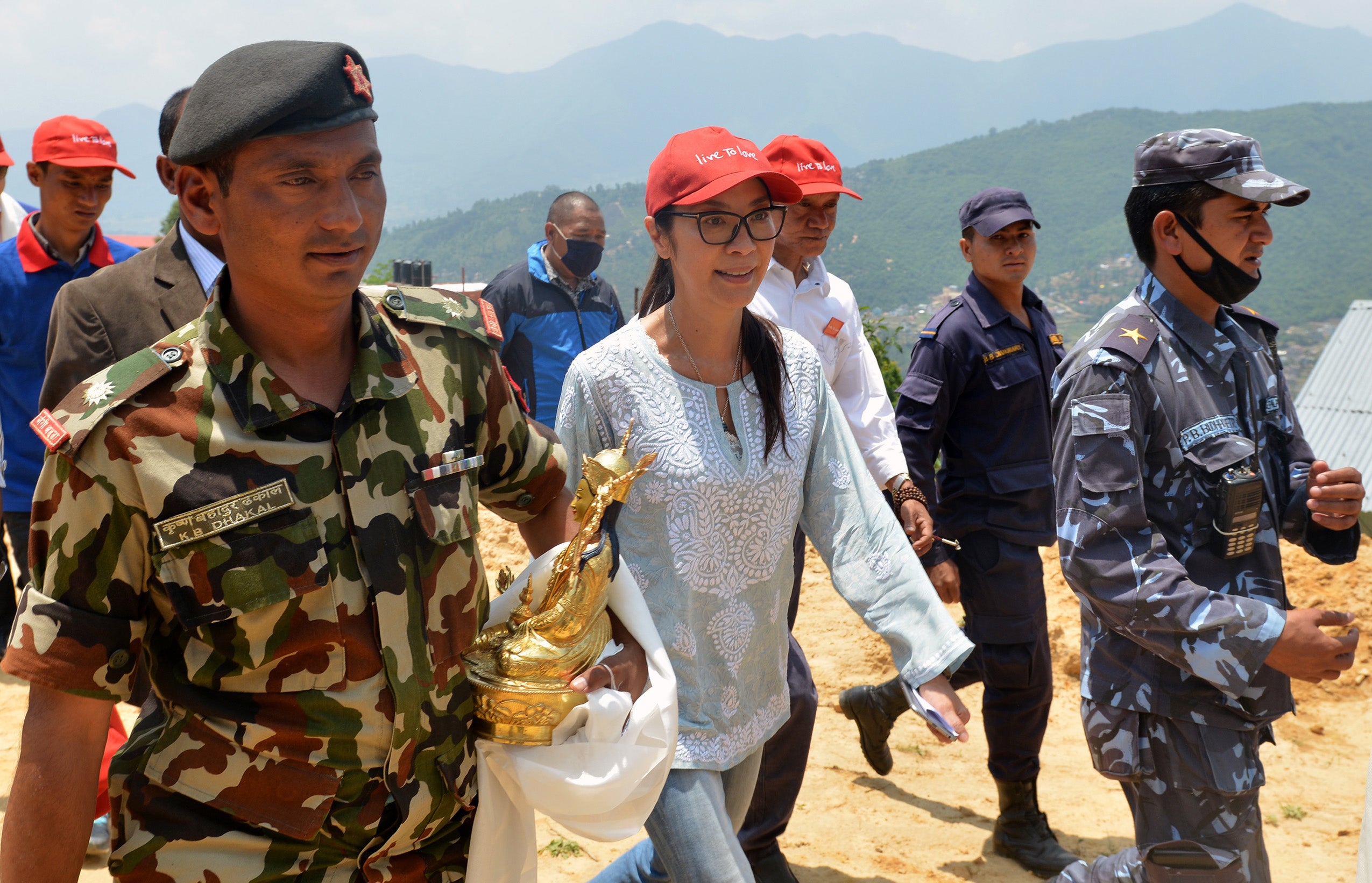 As a Goodwill Ambassador for the United Nations Development Programme since 2016, Yeoh works to raise awareness of and support for efforts to end poverty around the world and protect the planet. Just one day after her win at the Academy Awards in March, seeking to "redirect that global spotlight to an issue that is very personal to me and warrants the world's attention," Yeoh published an essay in the New York Times about the devastation she witnessed in Nepal after the 2015 earthquake. She also implored governments and organizations around the world to center the needs and voices of those living in poverty, particularly women and girls, in disaster relief efforts. "Crises aren't just moments of catastrophe: They expose deep existing inequalities," wrote Yeoh, who has made repeated visits to Nepal to support recovery work and as a Goodwill Ambassador.
Also in her capacity as a Goodwill Ambassador, Yeoh has worked on environmental causes, such as helping to shed light on the ecological impact of the clothing manufacturing industry and promote sustainable fashion. And in 2009, she collaborated with National Geographic to produce "Among the Great Apes with Michelle Yeoh," which brought attention to the work and advocacy of an orangutan rehabilitation center in Malaysia.
Among many other distinctions, Yeoh was named a Commander of the Order of Loyalty to the Crown of Malaysia, which carries the title Tan Sri, and in 2017, former French president François Hollande honored her as a Commander of the National Order of the Legion of Honor.
In an email to Harvard Law School's graduating class announcing Yeoh as speaker, Dean of Students Stephen Ball and the class marshals wrote: "We are thrilled to welcome Michelle Yeoh to campus to celebrate our commencement and help us mark this important milestone. As an acclaimed actress and advocate for so many important causes, she will undoubtedly inspire us, the Class of 2023, as we prepare to make a difference in our world and in peoples' lives."
---
Want to stay up to date with Harvard Law Today? Sign up for our weekly newsletter.