Frank E.A. Sander '52, a longtime Harvard Law School professor and a pioneer in the field of alternative dispute resolution, has died. He was 90.
Sander was on the faculty at Harvard Law School from 1959 to 2006, where he first taught taxation and later family law and welfare law, and served as Associate Dean from 1987-2000. He also co-founded Harvard's Program on Negotiation, which advanced teaching and scholarship in the field of alternative dispute resolution.
"Frank played a preeminent role in shaping that important discipline, which has transformed our legal system," said Harvard Law School Dean John Manning '85. "He was a beloved teacher and mentor to our students, a wise and selfless administrator of our school, and a cherished colleague and friend to faculty and staff. He will also be remembered for his exceptional kindness, his unerring generosity, and his ability always to bring out the best in people."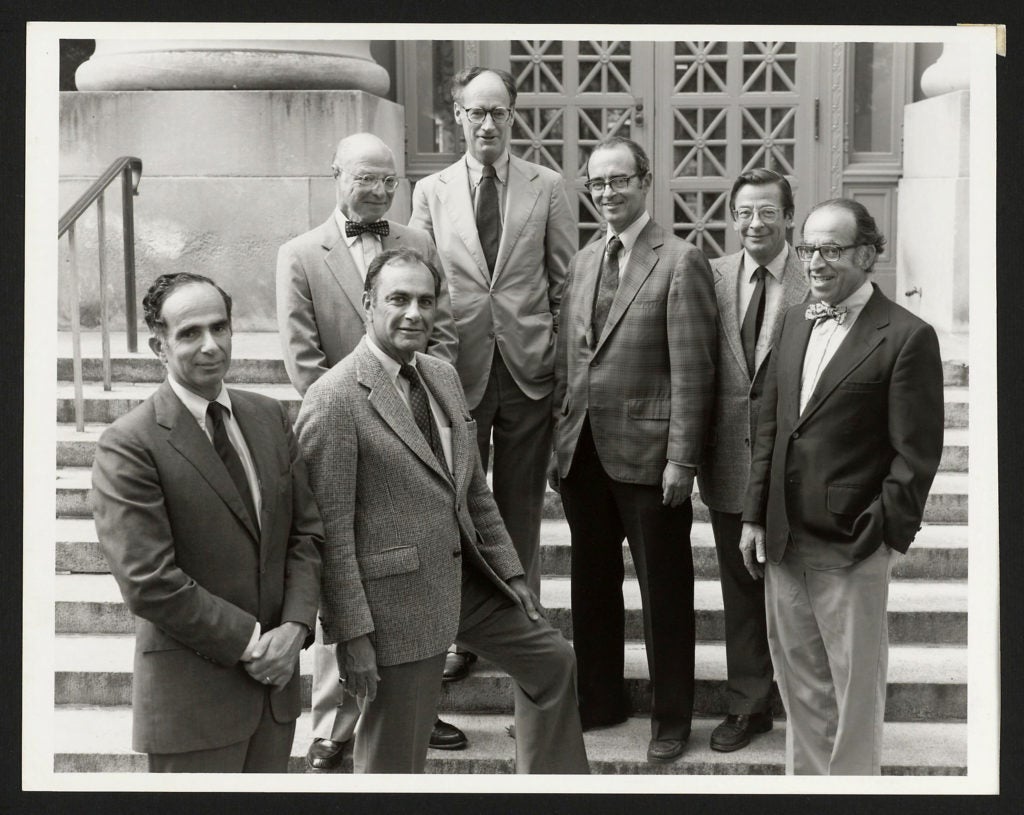 In the 1970s, when courts were increasingly jammed by backlogs and protracted litigation, Sander was struck by the contrast between litigation and labor arbitrations, in which disputes were resolved quickly, inexpensively and effectively outside the courts. He began advocating for more use of alternatives to litigation, and his ideas gained significant traction after Chief Justice Warren Burger invited him to deliver a paper at the Pound Conference on the causes of popular dissatisfaction with the court system.
Sander's key proposal was a "multi-door courthouse" where a court official would assess the nature of each new dispute during intake and decide on an optimal dispute resolution process (such as litigation, mediation, arbitration, conciliation, etc.) for that kind of dispute. The proposal got the attention of Federal Judge Griffin Bell who later became President Carter's Attorney General. With Bell's leadership, multi-door courthouses were established in many cities and countries around the world.
"Frank Sander was one of the great pioneers in ADR and had a monumental impact on both the world of legal scholarship and legal practice," said Robert Bordone '97, a clinical professor of law at Harvard. "Thanks in large part to him, court systems in the U.S. and around the world now offer mediation and other non-litigation approaches to the management and resolution of disputes. His innovative spirit launched ADR in the U.S. and made possible new and creative approaches to the resolution of disputes both in and outside of court."
Sander co-wrote the first legal text book on dispute resolution, which is still widely used in law schools. He inspired the American Bar Association to set up its Committee on Dispute Resolution (now with 20,000 lawyers as members). Through his teaching of students and lawyers, Sander mentored many of the first generation of leading ADR scholars and practitioners.
Harvard Law School Lecturer on Law David Hoffman, '84 founding partner of Boston Law Collaborative, said: "Just as important as all of these contributions, however, has been Sander's mentorship of many hundreds of people over the years –from all walks of life–who sought to develop careers as scholars and practitioners of mediation and arbitration. On a more personal level, he opened doors for me as a teacher and writer in the field of mediation, and was unfailingly generous with his time and advice. He had a strong commitment to social justice, and was one of the leaders of the movement to bring more students of color to Harvard Law School."
Sander played a key role in bringing more African American students to Harvard Law School and other law schools. In 1966, he helped launch a Rockefeller Foundation-funded program that brought 40 African American college juniors to Harvard Law School for the summer to excite them about legal careers, and help them apply to HLS. The program became a model for CLEO (Council on Legal Educational Opportunity), with Sander as its initial board chair from 1968-1970. In the ensuing decades, CLEO has helped 10,000 lawyers of color graduate from American law schools.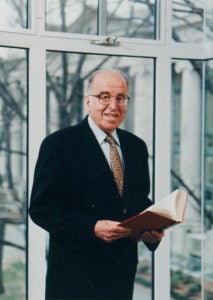 Sander was the author on 14 books, including one of the first legal textbooks to incorporate social science. His subjects included tax law, family law, dispute resolution, and welfare law. His teaching of a tax workshop in the 1970's was notable for using the flipped classroom (where students read text at night and worked through problems in small groups in class during the day) some 3 to 4 decades before this practice became widespread.
Born in Stuttgart in 1927 to a family of secular Jews, he escaped Nazi Germany in 1938 on a kindertransport via the Netherlands to England at age 11 after kristallnacht. He came to Boston via New York on one of the last passenger ships to leave England during WWII.
Sander studied at Boston Latin for one year and then Brookline High School. He graduated magna cum laude from Harvard College in 1949, majoring in mathematics, and then received his law degree from Harvard in 1952, graduating magna cum laude and serving as treasurer of the prestigious Harvard Law Review. After law school he clerked for Chief Justice Calvert Magruder LL.B. 1916, First Circuit U.S. Court of Appeals, and then for Associate Justice Felix Frankfurter LL.B. 1906 of the U.S. Supreme Court, during the term when the Court decided Brown v. Board of Education. Before joining the Harvard Law faculty, he worked briefly in the Tax Division of the U.S. Department of Justice and as an attorney at Hill & Barlow in Boston.
Sander leaves a daughter Alison (of Cambridge, MA) and two sons Tom (of Lincoln, MA) and Ernest (of New York, NY), and 4 grandchildren.
***
Related Readings