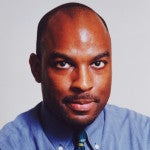 On Oct. 23, Professor Kenneth Mack '91 delivered a lecture at the Supreme Court as part of the Supreme Court Historical Society's 2013 Leon Silverman Lecture Series.
This year's theme was "Litigants in landmark Supreme Court cases of the 20th century." Mack, whose research and writing have concentrated on the legal and constitutional history of American race relations, focused his talk on recently retired Chief Judge Robert Bell '69, the lead plaintiff in Bell v. Maryland.
In her introduction, Associate Justice Elena Kagan '86 referred to Judge Bell, who was in attendance, as a "living legend." When Bell was sixteen, he and eleven other African-American high-school students were arrested under the auspices of trespassing after refusing to leave a Maryland restaurant that had not yet integrated. The case eventually made its way to the Supreme Court, which vacated the judgment of Maryland Court of Appeals and remanded the case to that court to determine whether the convictions for criminal trespass should be dismissed. Eventually all charges were dropped. Bell went on to graduate from Harvard Law School and became chief judge on the Maryland Court of Appeals, serving alongside judges, prosecutors and defense lawyers who were involved in his case.
Mack's lecture, which will be printed in the forthcoming issue of the Journal of Supreme Court History, outlined three common ideas surrounding the Bell case that he believed to be misconceptions: first, that the case could be resolved by the holding of the Civil Rights Act or the Text of the Fourteenth Amendment; second, that the protestors were acting against the state trespass law; and third, that Bell should be regarded as a rebel and protest leader.
Read more about his lecture and Mack's defense of these points on SCOTUSblog.
Read a profile of Judge Robert Bell, published in the Summer 2013 Harvard Law Bulletin.
Mack is the inaugural Lawrence Biele Professor of Law at Harvard University. His 2012 book, Representing the Race: The Creation of the Civil Rights Lawyer (Harvard University Press), was selected as a Top 50 Non-fiction Book of the Year by the Washington Post, was awarded honorable mention for the J. Willard Hurst Award by the Law and Society Association, and was a finalist for the Julia Ward Howe Book Award. He is the co-editor of The New Black: What Has Changed –
And What Has Not – With Race in America (New Press, 2013) and he has written many opinion pieces for the Washington Post, Boston Globe, Los Angeles Times, Huffington Post, The Root, Baltimore Sun, and other publications.
He began his professional career as an electrical engineer at Bell Laboratories before turning to law, and history. Before joining the faculty at Harvard Law School, he cl
erked for the Hon. Robert L. Carter, in the United States District Court for the Southern District of New York, and practiced law in the Washington, D.C. office of the firm, Covington & Burling.