Alejandra Parra-Orlandoni '15 was 24 years old when she arrived in San Diego to board the USS Germantown.
"It was raining ashes the day I arrived," she remembers. "There had been a bad fire, and they closed the whole city down, except for the Naval base."
A mechanical engineer who had recently earned a master's degree from Massachusetts Institute of Technology, Parra-Orlandoni was reporting for her first tour as an officer in the US Navy.
It was a day that had been eight years in the making, and could be traced back to one unassuming day at her high school in southern New Jersey.
"In high school I was very passionate about many things," says Parra-Orlandoni. "Music, art, math, reading. One day my teacher suggested that I consider applying to the Naval Academy. I had no idea what that meant. My parents came to the US from Europe and Venezuela, and we're not a military family.
"But the more I thought about it," she continues, "the more I thought it sounded like a great opportunity and a really exciting challenge. I thought it was a great way to serve the society that had given my family so much."
She decided to apply to the Naval Academy, was accepted, and focused her studies on control systems engineering at a time when the Academy was only 12% women (it's now 27%). She graduated with honors and moved to Cambridge, Massachusetts, to pursue a master's degree through the MIT Woods Hole Oceanographic Institute Joint Program. She worked on a project sponsored by the Office of Naval Research to optimize underwater targeting by autonomous underwater vehicles towing sonar.
Still, Parra-Orlandoni remembers being very nervous that day in San Diego, ashes raining all around her.
"I had just come from MIT, which was a very different place, and because of the way the Navy works, I had been promoted while I was studying there. So I was showing up to my first tour without knowing anything about working on a ship, and yet I technically outranked many of the people I was managing."
In addition to her main responsibilities as a naval officer, Parra-Orlandoni had also been randomly chosen to serve as the legal officer of the amphibious ship she was about to board.
"I didn't have any legal training at that point," she remembers, "and I didn't know what being a legal officer entailed. So I arrived in San Diego and attended three weeks of training to become a legal officer, and that was that. We sailed west."
As Parra-Orlandoni points out, legal officers on ships do not serve as military counsel. Rather, they learn the Law of the Sea, the Uniform Code of Military Justice, and the Military Personnel Manual to serve as the right-hand assistant to the ship's captain on potential legal issues that may arise on the ship.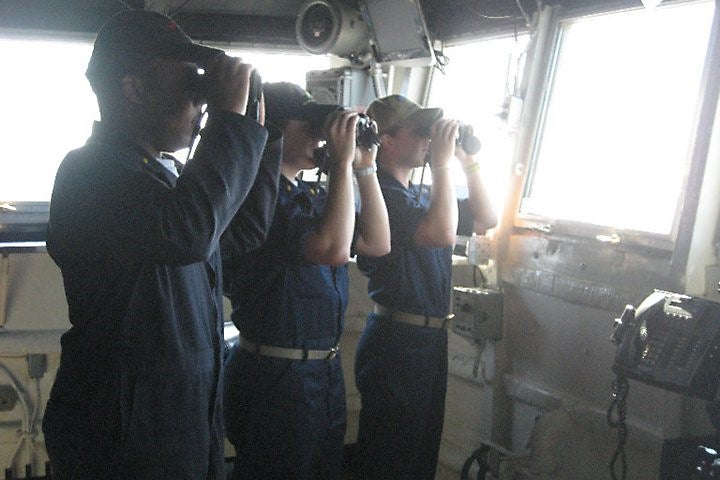 Parra-Orlandoni relished both her position as naval officer and her position as legal officer, despite the challenges presented by each.
"Watch teams are on duty for five-to-six-hour blocks each day, with daily rotating time blocks. So you don't get very good sleep," she says with a laugh.Serving as a naval officer in the US Navy breaks down into two parts, she explains, distinct but intertwined: operations on one hand, and personnel and equipment management on the other. Parra-Orlandoni's personnel- and equipment-related duties on the USS Germantown were focused on topside systems and heavy machinery operations, oversight, and maintenance. Operationally, she was responsible for leading the on-duty watch team in the safe navigation and operation of the ship, and completing the assigned mission or task at hand.
When she first boarded the USS Germantown, Parra-Orlandoni was charged with leading a division of 15 sailors, but she was quickly moved into the position of Assistant Department Head of Deck Department, managing 120 people.
"Serving on a ship, you have real people's lives in your hands," she says. "You quickly come to understand that an amphibious ship is not only an operational entity that fights wars and executes missions but is also this huge organization of people. So much of being successful as a naval officer is knowing how to connect with people and lead them in the right direction."
Becoming a Trusted Advisor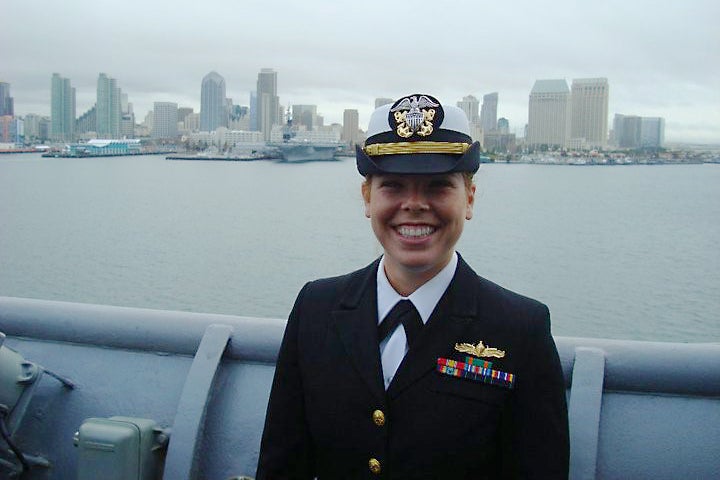 "I missed my nerdy days of engineering," she says, "but I was also very interested in national security and patent law, and I remembered how much I had enjoyed serving as a legal officer in the Navy. I really fell in love with the idea of becoming a trusted advisor."After her time on the USS Germantown, Parra-Orlandoni was stationed on the USS Dubuque, where she served as Assistant Operations Officer on the ship's sunset cruise. When she returned, her six-year service was complete, and she began to think about what to do next. She considered attending business school to earn a PhD in behavioral economics, but ultimately she decided to attend Harvard Law School.
During her time at Harvard Law School, Parra-Orlandoni focused on international law and national security, but the most important things she learned, she says, were the ability to think critically and the importance of learning from the experience of others.
"My Harvard Law School education taught me to know what to look for in a set of circumstances, how to put them together in a coherent way, and how to question myself to make sure I'm not making unfounded assumptions.
"It also taught me that for every time you think you've figured something out, there's someone else out there who sees it differently and is going to challenge you."
Today, Parra-Orlandoni brings each of the lessons she's learned throughout her journey – as an engineer, a naval officer, and a lawyer – into her current role as Associate General Counsel at the technology company QuantumBlack (a McKinsey company), where she melds her expertise in law and technology to advise on emerging legal issues in artificial intelligence.
"I love the work that I do at QuantumBlack," she says, "and I see it as a great opportunity to combine my technical background with the things I learned at Harvard Law School. Our professors taught us to think about second-, third-, fourth-, and fifth-order implications, and that's exactly what I do now as I think about the impact our services might have on the world. It's been very interesting to apply that critical analysis to questions coming up about bias and ethics in artificial intelligence."