Lyla Wasz-Piper '20 and Kennedi Williams-Libert '20 have received the 2020 Outstanding Clinical Student Team Award from the Clinical Legal Education Association. They were recognized for their unique partnership and exemplary teamwork during their time as student attorneys at the Criminal Justice Institute.
"I have never seen a student team work in such a collaboratively succinct, seamless manner to zealously and skillfully provide client-centered representation to indigent and maligned clients" said Professor Dehlia Umunna, clinical professor of law and faculty deputy director of CJI.
The award is presented annually to one student or student team from each U.S. law school for outstanding clinical coursework and contributions to the clinical community. Students are nominated by full-time clinical faculty at each law school.
The Clinical Work
Both Wasz-Piper and Williams-Libert joined CJI in the fall of 2019 to gain experience in the courtroom, to work with mentors who would ultimately make them better advocates, and to directly serve those most in need of representation.
The work they were given could be seen as daunting. They were assigned an assault and battery case with serious allegations of domestic violence. During the course of the semester, Wasz-Piper and Williams-Libert thoroughly investigated the case, interviewed witnesses, wrote and filed pre-trial and trial motions, and prepared their client to testify.
"Being in a legal environment where Lyla and I got to work together was so meaningful to my HLS experience because I don't know that I can point to another instance, aside from extra-curriculars, where a classmate and I got to put our talent on the line all in one go, together" said Williams-Libert.
Wasz-Piper echoed the sentiment and noted how their ability to connect offered a space for mutual growth.
"One of the things I valued the most in our teamwork was that we built a level of trust that allowed us to critique each other's work in a way that never made us feel defensive," she said, and that ultimately served the client.
Just weeks out from trial, they were spending 12-hour days in the clinic office and were in constant communication, something that carried over into the courtroom.
"Kennedi and I spent so much time together that we could sense each other's emotions and needs. During trial, she could turn around and look at me and I would know she needed a specific document while she was crossing a witness. Or I would turn around while [delivering my] closing and see her and it would give me that moment of inspiration" said Wasz-Piper.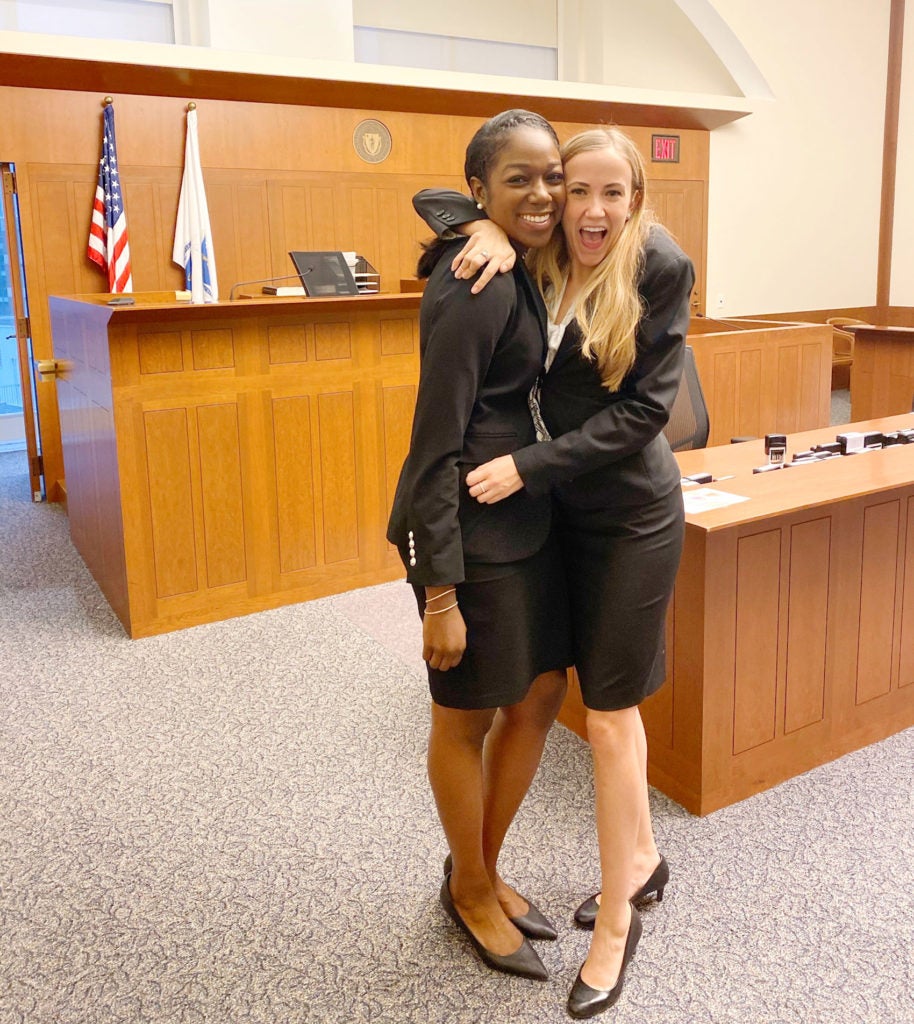 After a short deliberation, the judge delivered a "not guilty" verdict that was witnessed not only by the client's family but also by the many CJI students who were in attendance. Wasz-Piper and Kennedi-Williams both saw the kind of support from their classmates as an extension of their partnership and representative of CJI's clinical teamwork.
"To hear the sigh of relief from the client, see the tears of joy in the client's mother's eyes and receive tight hugs from her was inexplicably rewarding. I was thoroughly impressed with the kindness that was central to their team. There was never a harsh word, nor any tension," said Umunna. "They were fully focused on securing the client's freedom and lifting each other up the entire time."
---
Kennedi Williams-Libert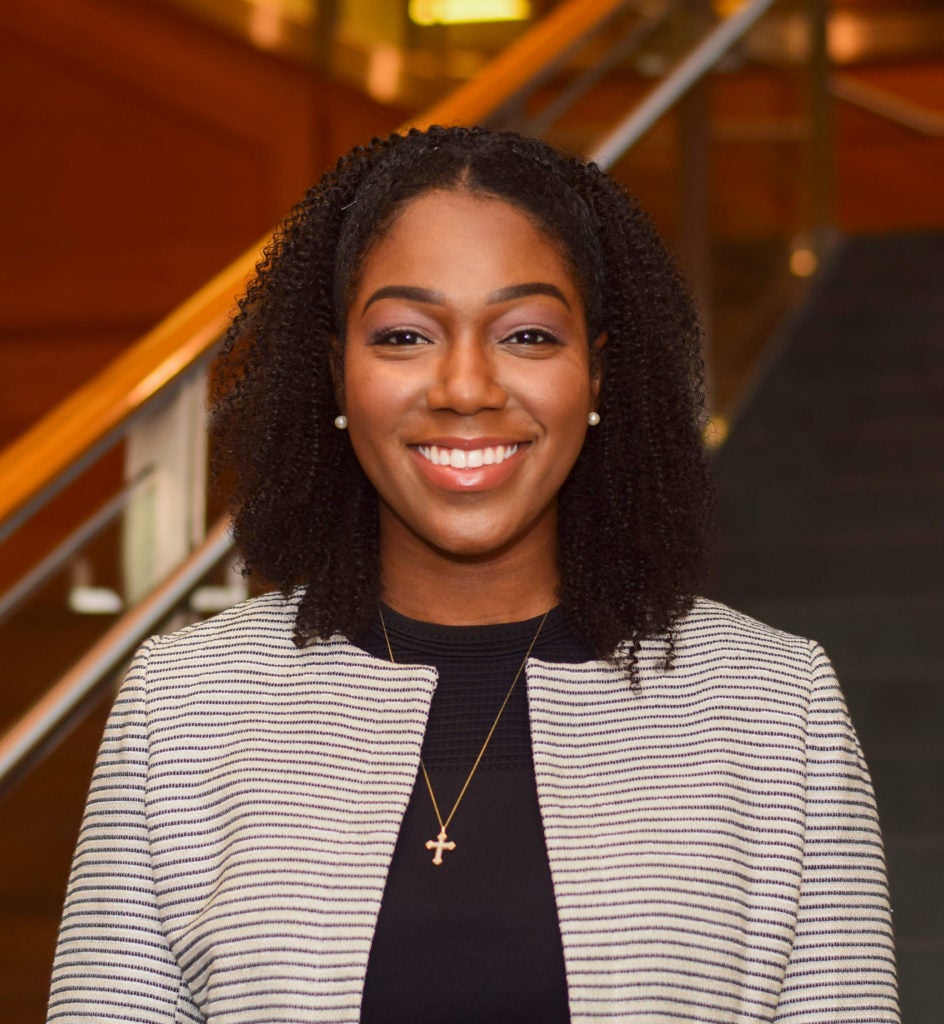 Having grown up in Brooklyn, New York, Williams-Libert notes her experiences as an Afro-Caribbean-American woman and her exposure to politically and socially active communities shaped her interest in fighting for representation of marginalized groups in legal forums.
During her time at HLS, she was a member of the archival research team with the Harvard Blackletter Law Journal, formally the Harvard Journal on Racial and Ethnic Justice, and she worked on preserving institutional knowledge, as well as documenting the impacts of black legal scholarship at HLS and beyond. In her capacity as an executive article editor, she helped devise themes for volumes, select articles, and helped expand the breadth of authors included in the journal.
She co-founded the Caribbean Law Students Association to promote legal scholarship and to leverage her role as a Harvard Law student to create a space for other students of the Caribbean diaspora. She served as president of the organization during the 2019-2020 academic year. Williams-Libert has also served as the chair of community outreach for the Black Law Students Association.
Williams-Libert spent her 1L summer as a judicial intern in the U.S. District Court in the Eastern District of New York. Her 2L summer was spent at Davis Polk & Wardwell, where she will return after graduation.
Lyla Wasz-Piper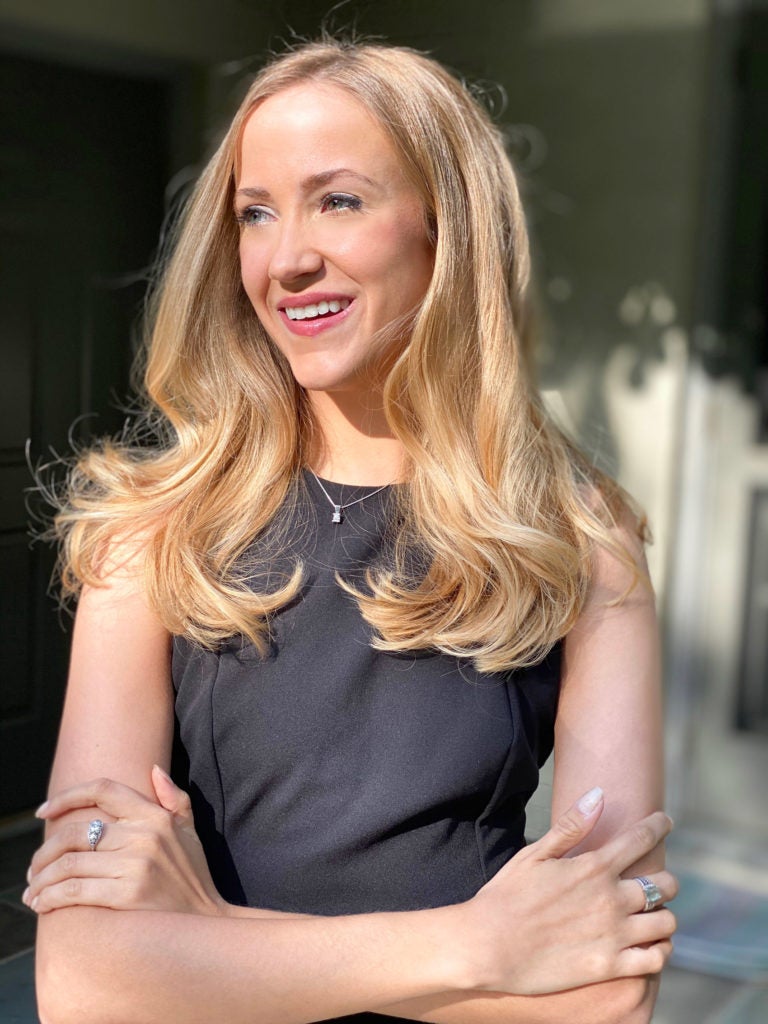 Wasz-Piper recalls her first exposure to prisoners' rights and civil rights cases during a college internship with Uptown People's Law Center and says it was one of the factors that drew her to want to pursue a career in criminal justice. Wasz-Piper also cites her father as a figure who was a big motivation in her work.
Beyond her clinical placement at CJI, Wasz-Piper was also a student in the Crimmigration Clinic, where she advocated for a client's release in light of the COVID-19 pandemic, drafted an amicus brief in a case in the 9th Circuit Court of Appeals, and wrote a bond hearing letter for a client who was eventually granted asylum.
She was also very involved in the Prison Legal Assistance Project, serving as a parole coordinator her 2L year and as executive director her 3L year. At PLAP, she represented clients in disciplinary hearings, parole hearings, and emergency parole revocation hearings. At both PLAP and CJI, Wasz-Piper was a mentor to her fellow students, her guidance spanning not only clinical work but also post-law school careers in public-interest.
During her 1L summer, Wasz-Piper focused on criminal and immigration reform legislation at the House Judiciary Committee, and she spent her 2L summer at the Legal Aid Society in New York, focused on public defense litigation.
After graduation, she will join First Defense Legal Aid, in Chicago, as a Public Service Venture Fund Fellow, focusing on civil rights work and in particular on police brutality. Wasz-Piper also plans to serve as a law clerk in the Northern District of Illinois in 2021.