Suleyman Wellings-Longmore LL.M. '22 hasn't always considered his legal career and his artistic pursuits as related. "At one point, I saw them as two distinct sides of myself," he says.
But today, as an LL.M. student at Harvard Law School who is about to launch both a solo show and a collective exhibition with other Black artists across Harvard, Wellings-Longmore says he can finally see how his two passions inspire and fuel one another.
Growing up in London, Wellings-Longmore first earned a degree in philosophy, then decided to pursue a career in law. He began training to be a solicitor in 2017 (in the U.K., the legal profession is split into solicitors, who tend to focus on preparing documents and writing legal briefs, and barristers, who are authorized in representing, advocating, and defending its clients in court and must pass the bar exam). At the end of his training period, Wellings-Longmore relocated to Paris to practice international arbitration.
It was in 2019, when he was in Lebanon briefly as a volunteer with the International Refugee Assistance Program, that he began creating art. When Wellings-Longmore returned to Paris, he continued to create. It helped relieve stress, he says, and allowed him to express his thoughts about what was going on in the world. "I wasn't really doing it for anyone other than myself," he says.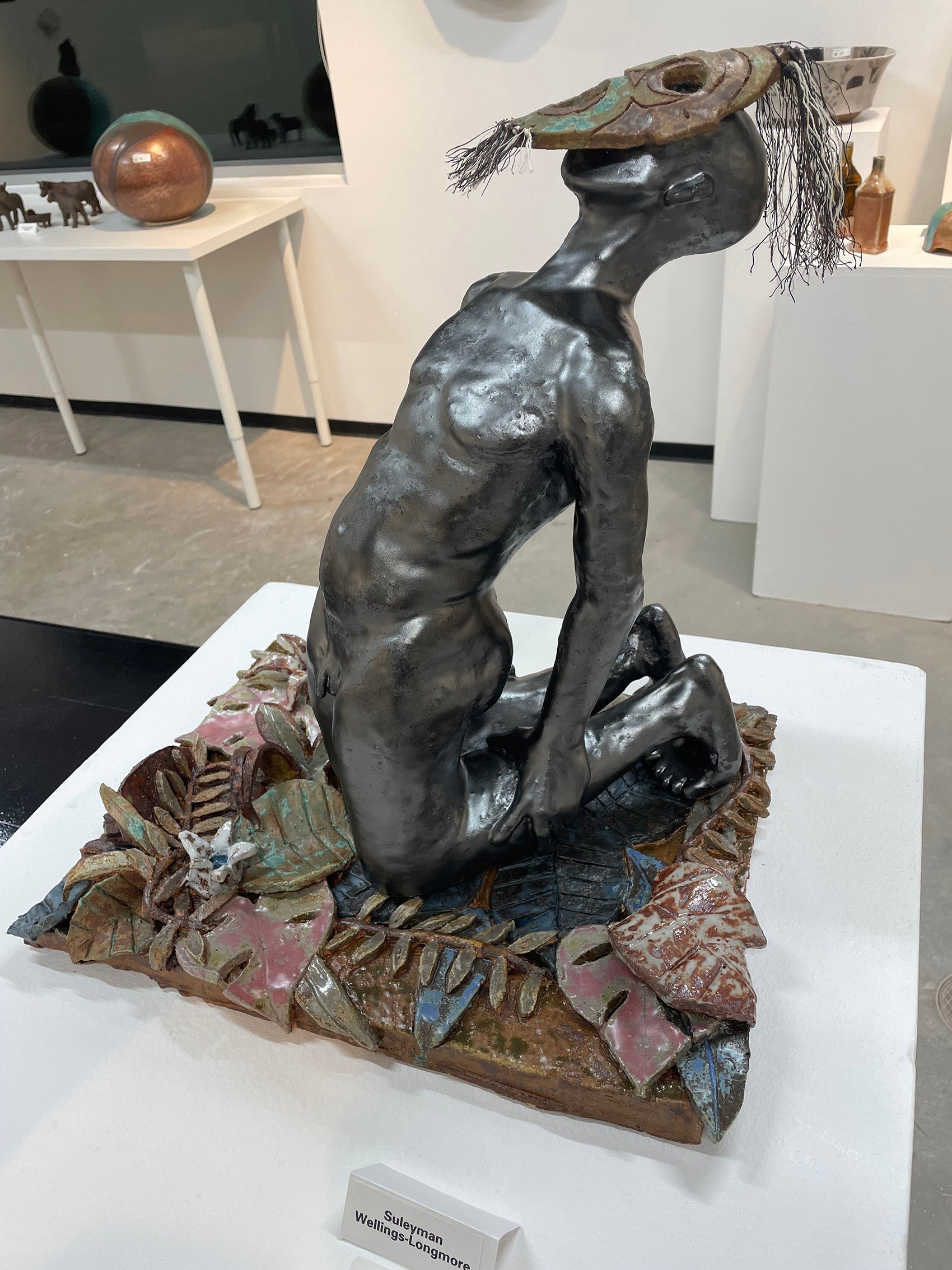 By day, he was a practicing attorney, and by evening, his practice was his art — creative works that explore and celebrate the Black experience. Still, he was not sure how his pieces connected to other parts of his life and career. "My flat mate liked them, and my mom liked them, and they offered a nice balance to the work I was doing at the firm."
During this time, he was considering some personal moves as well. While he says he enjoyed working in international arbitration, Wellings-Longmore had begun thinking more about how he could incorporate other things he cared deeply about — international human rights and social justice — into his legal practice.
"Coming from Harlesden, a close community in London that is sadly often more known for its crime than vibrant ethnic diversity … [and] as someone who has gotten to a place of seeming responsibility, I wanted to try give back in some way," he says.
One way Wellings-Longmore saw to do that was to continue his legal education and become a barrister, with a focus on human rights law. He says this path will allow him to directly fight for clients' rights, and would help bring greater representation to the U.K. bar, which he says can lack diversity. "When you look at the figures, it can feel disconcerting that there aren't more people who look like you, or come from similar backgrounds," he says.
As he continued to develop his techniques alongside these career reflections, the self-taught artist says he gathered the courage to launch an Instagram page and begin promoting his artwork. And, he says, "I started to see the inherent benefit of this sense of expression."
Others were seeing it, too. Several of Wellings-Longmore's pieces were included in group exhibitions, and he had his first solo show in London in July 2021. In this exhibition, his paintings and sculpture were accompanied by work by a poet and a dancer — both of whom had been inspired by Wellings-Longmore's art.
Wellings-Longmore says he chose to pursue an LL.M. at Harvard Law to bolster his academic bona fides in preparation for his career move, and, he says, "to have a bit of fun as well." As a student, he has done work with the Harvard Prison Legal Assistance Project, and is a vice president of the Harvard International Arbitration Law Students Association. He worked with REDRESS, an international human rights organization, during the January term, and prepared a report for the Harvard Law School Advocates for Human Rights last semester.
He's also continued to make art. In fact, during his time at Harvard Law, he has created a new series of works that will be featured at his upcoming solo show and in the collective exhibition he organized. He says the series is in part based upon images he first saw while studying migration and human rights at the Kennedy School — photos showing American border patrol officers on horseback brutally confronting Haitian migrants in Del Rio, Texas last year.
"They were shocking — I was appalled by these photos, and by what they say about how our society treats Black people," he says.
Galvanized by the images, Wellings-Longmore ultimately created a series of three paintings and a sculpture that collectively map migration from Haiti through South America, culminating in the scenes along the Rio Grande. "This is a particularly vivid example of my two interests coalescing," he says. "My work wasn't always political, but as I have continued in my practice, I have developed my ability to more accurately convey the messages and themes that inspire me."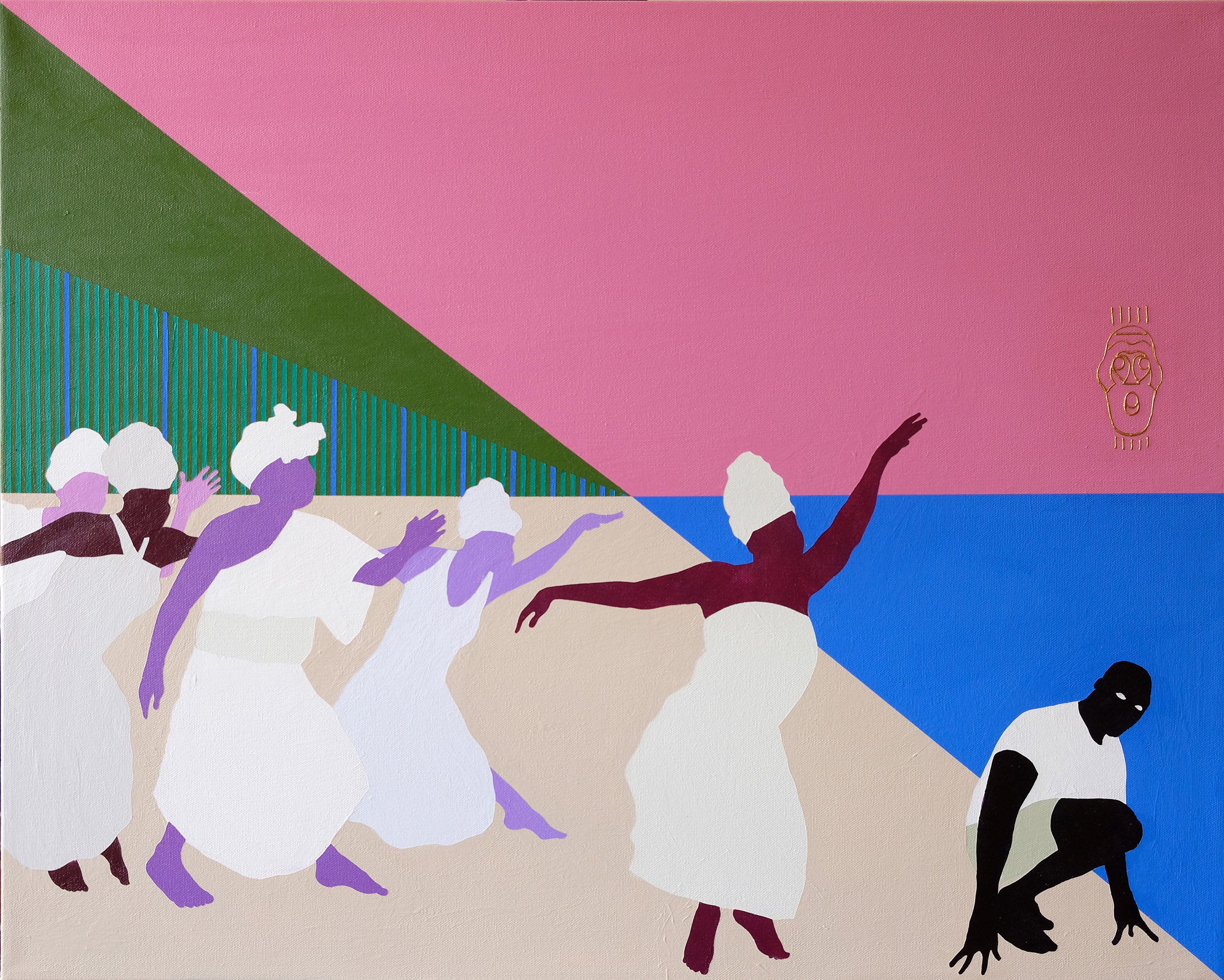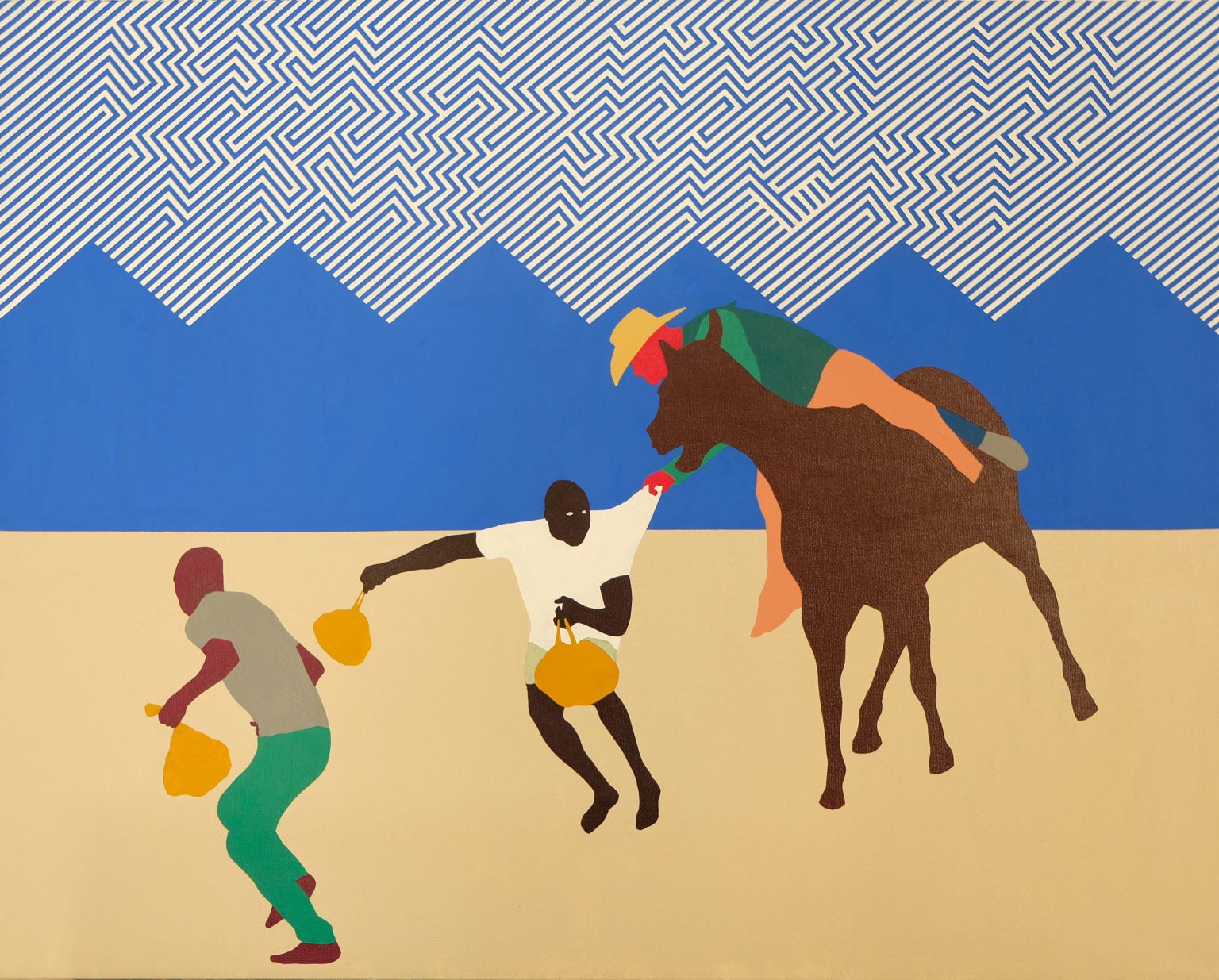 And just as he has found his own voice, Wellings-Longmore wanted to create a platform for other talented Black creatives he met across Harvard's campus. He is organizing the upcoming exhibition, "All That We Are," which will run from April 11–22 in the Arts Wing at the Smith Campus Center, and says he received submissions from Black artists at Harvard College, the Graduate School of Design, Graduate School of Education, T.H. Chan School of Public Health, and beyond. Although the show has no set theme, Wellings-Longmore says that an unofficial one has emerged: a celebration of Harvard's Black creatives. "There is an immense diversity of personalities, experience and philosophies when we consider the Black experience here at Harvard." he says. "Alongside academia, many of us balance an established career, a committed side-hustle or a fledging practice in the arts and there is a deep and powerful beauty in such a multifacetedness."
Wellings-Longmore's Haitian migration series will be the basis of his solo show at the Harvard Ed Portal Gallery in Allston from April 18–May 20. Titled "Running in the Rain" after a Haitian proverb that means to escape one bad thing but befall another, this exhibition will feature his work alongside poetry by Seun Matiluko LL.M. '22, who is also a Harvard Law student.
And even as he is busy preparing for his two upcoming shows, Wellings-Longmore is interviewing for positions that will enable him to become a barrister. He is also musing about how far he has come from the days when his legal and artistic sides were divided. "At first, it was hard to reconcile my work in commercial arbitration with going home and painting Black women braiding hair, for example — there was a sometimes quite a big void in between," he says.
Now, Wellings-Longmore says he sees a clear correlation. And while it is not unheard of for legal and social issues to inspire creativity, Wellings-Longmore says that lately, something even more unexpected has happened: his art has started to direct his legal career, too. While working on his most recent series, he connected with the Haitian Bridge Alliance, a nonprofit that supports Haitian migrants and is bringing a claim against the Biden administration on behalf of those assaulted at Del Rio, and will hopefully work with them post-graduation. He says proceeds from the sale of 3D-printed sculptures at his solo show will support the organization.
"I saw those photos, which inspired my artwork," he says. "But in turn, through developing my artistic expression, I now have the chance to work with the Haitian Bridge Alliance and hopefully offer real, tangible support to those that need it. In other words, art has guided my legal process. It's wonderful to be inspired on both fronts."
---
"All That We Are" runs from April 11–22 in the Arts Wing of the Smith Campus Center (Harvard University ID required).
"Running in the Rain" runs from April 18–May 20 at the Harvard Ed Portal's Crossings Gallery in Allston.