Peter Berkowitz, a political scientist and the Tad and Diane Taube Senior Fellow at Stanford University's Hoover Institution, delivered the Scalia Lecture at Harvard Law School on Feb. 5. Harvard Law School Dean John Manning '85, who delivered last year's Scalia Lecture, introduced Berkowitz.
The Scalia Lecture series is aimed at promoting and advancing the understanding of the founding principles and core doctrines of the U.S. Constitution. Named in honor of the late Justice Antonin G. Scalia '60, the series was established in 2013 by an anonymous donor.
In his introduction, Manning said: "It's very meaningful to me to convene the Scalia Lecture. Justice Scalia was, of course, a very deeply influential justice who changed the way lawyers and judges think and reason about statutes and the Constitution."
This year, the late Justice's wife Maureen Scalia, his son Eugene Scalia and his grandson Will Courtney attended the lecture.
A leading public intellectual and advocate of classically liberal education, Berkowitz focused his lecture on the importance of liberal education to legal education and liberal democracy.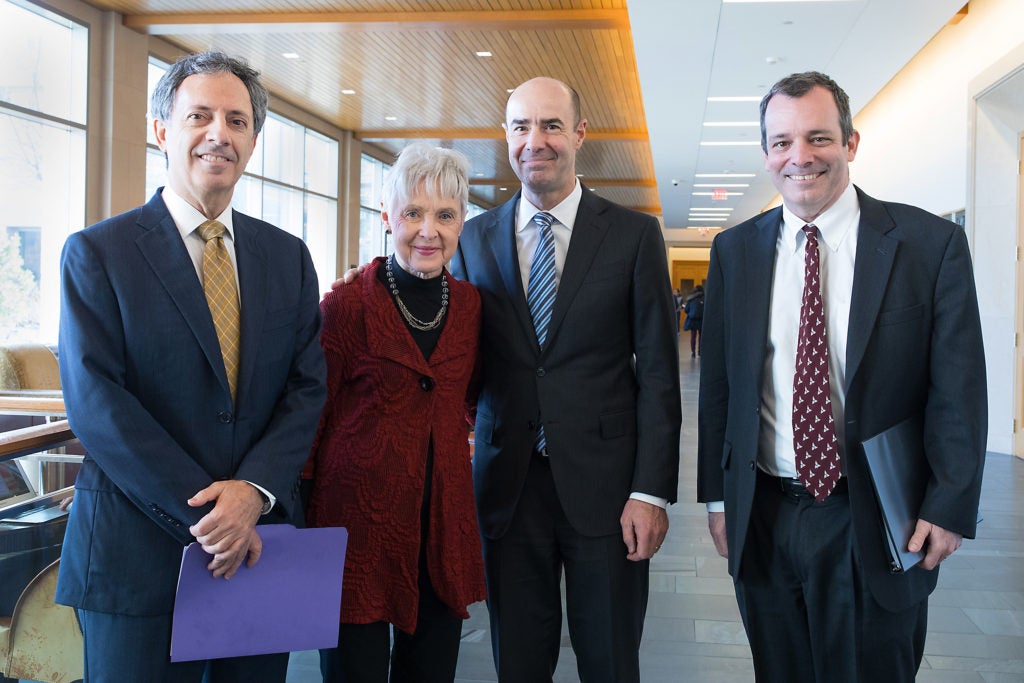 Berkowitz referenced John Stuart Mill's 1867 address at the University of St. Andrews outlining the aim of a liberal education and its distinction from and connection to a professional education. According to Mill, professional education trains one for remunerative work while liberal education develops cultivated human beings capable of appreciating the complexities of critical issues. Mill believed that liberal education enables lawyers to practice their profession more effectively, making them more "philosophic lawyers."
"Some might suppose nothing could be more anathema to Justice Scalia and his originalist jurisprudence than 'philosophic lawyers,'" said Berkowitz. "To the contrary."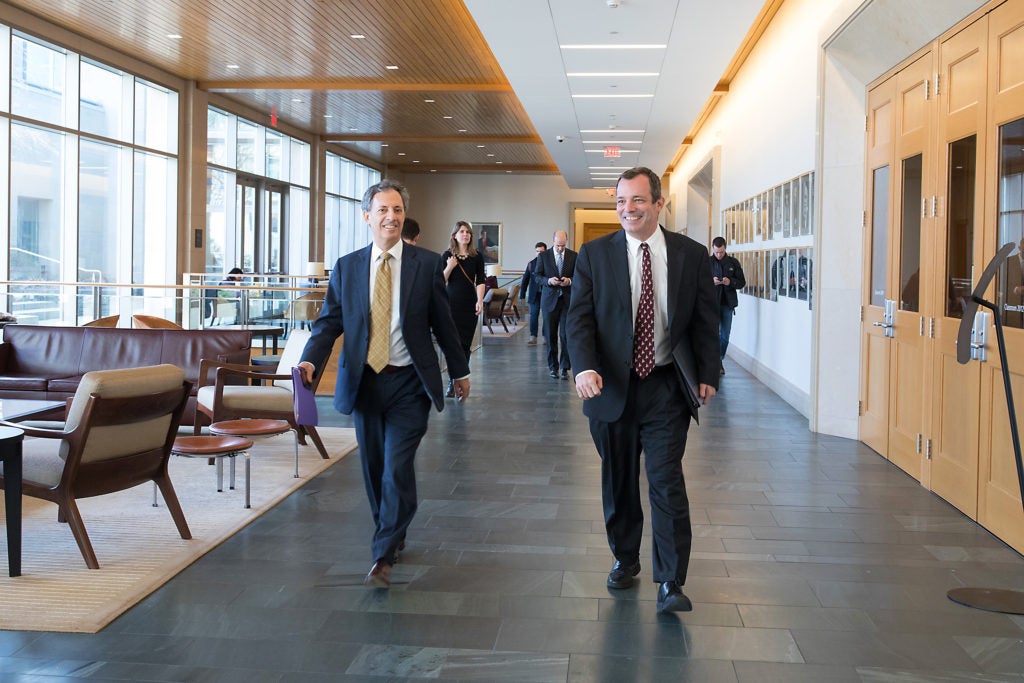 According to Berkowitz, while Scalia was a "blistering critic" of moral and political theory in deciding constitutional questions, the late justice's originalist reading of the Constitution stemmed from serious study of the history of jurisprudence and theories of the role of courts. "I want to emphasize that the quarrel between originalism and the living Constitution turns on just the sort of learning and thinking at the heart of liberal education," he said.To understand the Constitution, one needs to study cases and jurisprudence, as well as history, political theory and competing traditions.
But today, said Berkowitz, liberal education is at risk because of threats to free speech, due process and the curriculum. "Free speech has been attacked and curtailed; due process has been denigrated and diluted; and the curriculum has been hollowed and politicized," said Berkowitz. These threats are interconnected and rooted in what Berkowitz calls the "conceit of infallibility." "Remedying one requires progress in remedying all three," he said.
A 2017 winner of the Bradley Prize, Berkowitz is the author of several books, including "Constitutional Conservatism: Liberty, Self-Government, and Political Moderation," and he has written hundreds of articles, essays and reviews.
Berkowitz expanded and adapted his talk in an essay in an April 20, 2018 essay "Liberal Education and Liberal Democracy" in the Weekly Standard.
Berkowitz, who holds a J.D. and a Ph.D. in political science from Yale University, an MA in philosophy from the Hebrew University of Jerusalem, taught constitutional law and jurisprudence at George Mason University School of Law from 1999 to 2006, and political philosophy in the department of government at Harvard University from 1990 to 1999.
The Scalia Lecture series is set to include one lecture per academic year for ten years, with speakers drawn from the fields of political science, history, philosophy, law, government, religion and related disciplines.
In 2014, Justice Scalia attended the inaugural Scalia Lecture delivered by Judge Frank Easterbrook of the Seventh Circuit Court of Appeals. Easterbrook was a former colleague of Scalia's on the faculty of the University of Chicago Law School and in the Ford Administration. In the 2015 Scalia lecture, Associate Justice of the U.S. Supreme Court Elena Kagan '86, former dean of Harvard Law School, discussed statutory interpretation in a conversation with Manning.