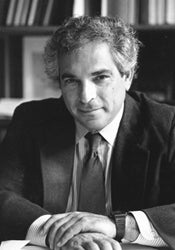 Harvard Law School's Program on International Financial Systems is announcing the establishment of the Cleary Gottlieb Steen & Hamilton Guest Lectures in International Finance. The series will serve as a cornerstone of the International Finance (IF) Concentration of the LL.M. degree program, which combines international finance and law.
"We are pleased that Cleary Gottlieb, a preeminent law firm and a leader in shaping the globalization of the legal profession, is partnering with us in our endeavor to supplement the academic curriculum of the IF Concentration students with real world insights from speakers with international experience," said Hal Scott, Nomura Professor of Law and faculty director of the Program on International Financial Systems.
Almost 90 foreign lawyers from every part of the world have completed the concentration at HLS. The lecture series will offer students the opportunity to hear from practitioners working at the intersection of international business and law.
To support the guest lecturers and the PIFS in assisting the IF Concentration, Cleary Gottlieb has agreed to contribute $50,000 annually for the next two years.
"We are proud to count so many Harvard Law School graduates among our associates and partners at Cleary Gottlieb," said Les Silverman, a partner at the firm. "[We] are very much looking forward to providing International Finance students with a global business perspective that will complement what they are learning in the lecture halls."
One of the first guest lecturers for the upcoming academic year will be Yasuhisa Shiozaki, Japan's senior vice-minister for foreign affairs. Shiozaki is a graduate of the University of Tokyo and holds an M.P.A. from Harvard's John F. Kennedy School of Government.