What happens on Commencement Day after 801 graduates, family and friends (not to mention faculty and staff) finish lunch at Harvard Law School's afternoon diploma ceremony on Holmes Field? If you're part of the HLS Green Team, you spend the afternoon sifting through bags of recycling, compost, and trash.
On May 30, in the Zero-waste Commencement Tent at the back Holmes Field, volunteers sorted the lunch waste into 99 bags of compost, 29 bags of recycling, and 11 bags of trash, resulting in less than 8% of the waste going to a landfill. (The Environmental Protection Agency standard for zero waste is 90% of waste being diverted from a landfill. The rate at Commencement 2019 was 92%, up from 89% last year.) The extra meals were donated to Food for Free, a local Cambridge nonprofit, and redistributed to families in need in the Greater Boston area. The compost was sent to a facility in Charlestown, Mass., where it's used to produce renewable energy.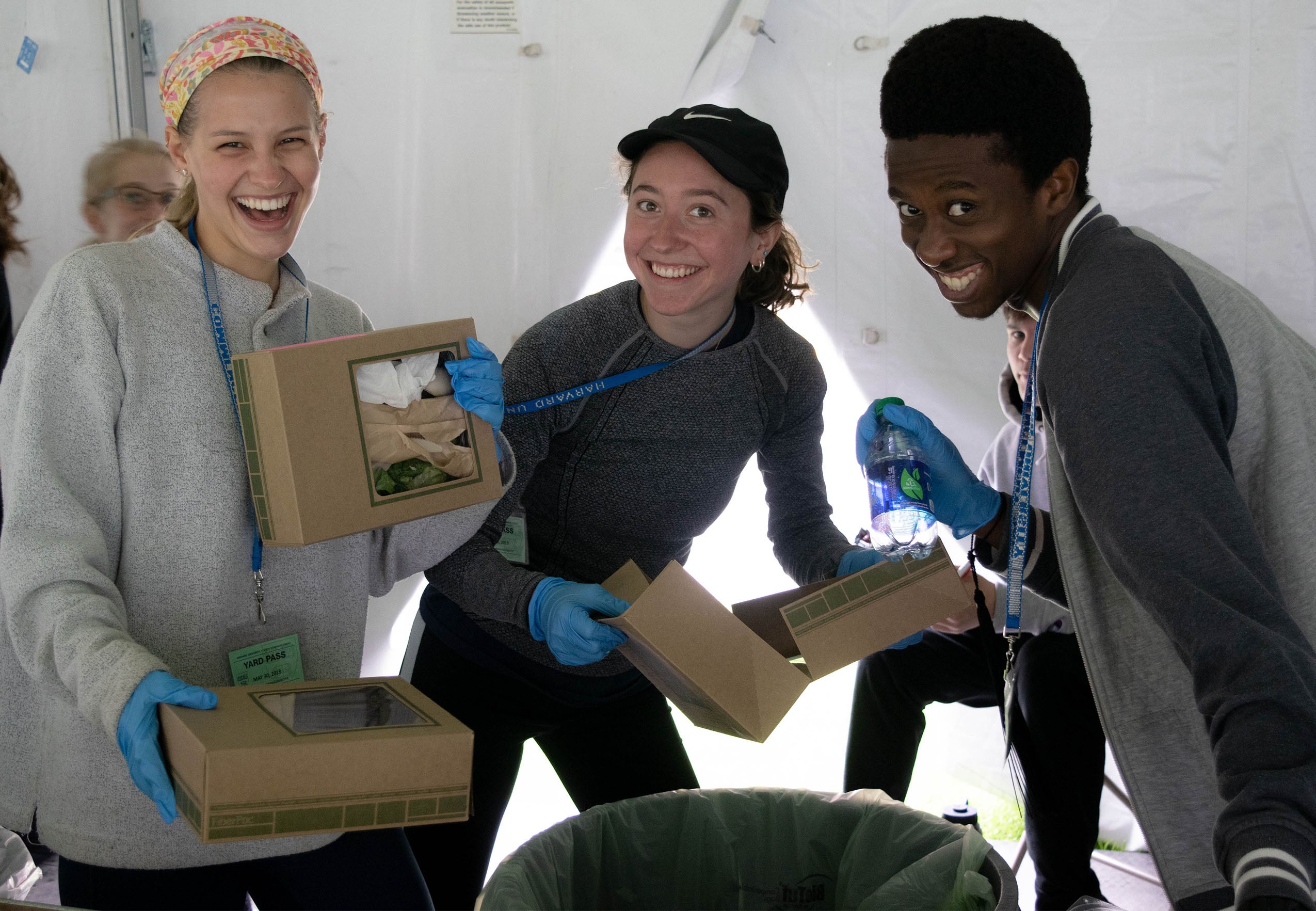 Making Commencement lunch waste-free is a huge effort, according to Carrie Ayers, HLS Green Team member who has been working in the sorting tent since its inception in 2011. The Dean of Students Office and dining services provider Restaurant Associates work together to make sure all materials are compostable, including food packaging and utensils; the Facilities Management Office sets up the bags on the field, delivers them to the compost tent throughout the day, and cleans up afterwards; and HLS staff volunteers and Harvard undergraduate students sort every single item in every bag and place it in the proper compost, recycle, or trash bin. "It wouldn't be possible without every one of these people," said Ayers. "The Commencement guests love it, too. Many of them walk into the tent to thank us for what we are doing."
The Harvard Law School Green Team is a network of HLS staff committed sustainability through educational and impact-driven campaigns, events, and projects. In addition to Zero-waste Commencement, the group regularly hosts Freecycle events and promotes landfill waste diversion through programs such as Terracycle and composting. The Green Team also organizes Earth Day-related activities on campus, and holds educational lunchtime talks.