As a former military intelligence officer, there's a lot that Kristian Anne "Krissy" Annunziata '22 can't share about her seven years in the U.S. Air Force. Her tenure in intelligence included a deployment to Afghanistan, where she flew dozens of missions to collect intelligence to support American ground troops, and a three-year stint at the National Security Agency, where she focused on signals intelligence, intelligence gathered from electronic signals used by foreign targets such as radar and weapons systems.
"It was very high level and very international-relations focused," says Annunziata, who grew up primarily in Southern California. Among other duties, she managed dozens of people executing intelligence operations that affected global combat missions and delivered that intelligence to national-level decision makers. Given the nature of her work, she is precluded from discussing details but says, "it was very interesting to see what's going on in the news versus what's not going on in the news" as well as "how the intelligence community focuses its energy."
Annunziata, who this semester is attending HLS virtually from her family's farm in Ohio, comes from a tradition of military service. Her parents met as students at the U.S. Military Academy at West Point, where her mom was in one of the first classes to admit women, and both Annunziata and her older sister are graduates of the U.S. Air Force Academy. After graduating from the Academy in 2012, Annunziata chose to go into military intelligence and did her training at Goodfellow Air Force Base in Texas, where she received an award as one of the top students among the 220 in the class. Her first assignment was at the NSA, based in Maryland.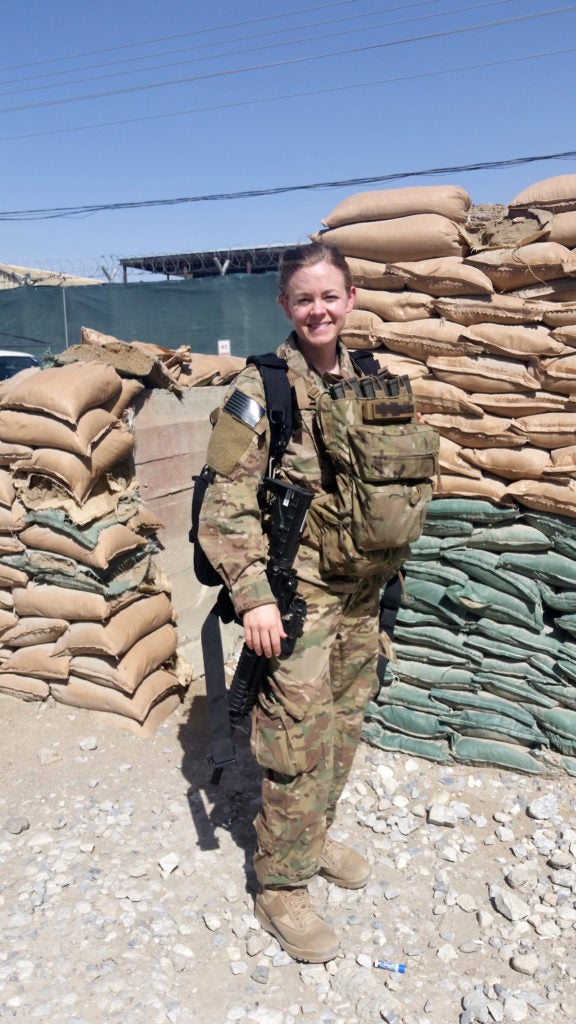 In 2015, she volunteered to deploy to Afghanistan, where she spent six months based at Bagram Airfield. As an intelligence officer, she was part of air crews that flew 81 combat missions that identified enemy targets for direct action in order to support ground troops. "It was about as direct-action as flying can get," says Annunziata, whose combat missions were designated a "highest priority" by the Joint Task Force. For her service on those missions, she was awarded four Air Medals for meritorious achievements.
Annunziata also served for eight months at NATO headquarters in Belgium, where, as an air operations officer, she was part of a multi-national team coordinating airlift operations in and out of Afghanistan. "I loved it," says Annunziata. "It was an opportunity to work with officers from other nations, and a huge learning curve of seeing how different countries operate and how different military officers are viewed by their own countries."
Annunziata, who holds a degree in economics, also did a stint in military acquisitions at Wright-Patterson Air Force Base in Ohio. Her focus was on F-15 fighter jets, and she worked with military test pilots, the Boeing Company, and others to ensure that new aircraft and related software were developed and tested to operate safely and effectively. An important part of her role was protecting taxpayer dollars.
"We managed contracts for the Air Force to make sure it was getting what it paid for," says Annunziata. "It was a totally different side of the Air Force, very forward-seeking and very rewarding."
Annunziata always planned to be a lawyer once she left the Air Force. Military service "was a really great chance to experience something different and serve my country, and to do something other than what I knew I'd do for the rest of my life," says Annunziata, a 2L who transferred to HLS this year from Ohio State University Moritz College of Law in Columbus, Ohio, where she achieved a 3.914 GPA and was elected to the Student Bar Association. This past summer, Annunziata interned in the habeas corpus unit of the Ohio Public Defenders Office, conducting research for the defense of death row inmates and drafting appeals to the Sixth Circuit Court of Appeals. She plans a career in corporate law, perhaps with an international focus; she speaks Spanish and is learning Italian. She has found online classes at HLS, while obviously not the same as in-person, nonetheless "very meaningful," with certain benefits such as more guest speakers, since it is easier for them to attend by Zoom. HLS is offering a variety of social events for transfer students to build community online, she notes, and she's also a member of the International Law Journal, the Harvard Business Law Review, the Women's Law Association, and the Christian Fellowship, through which she attends Bible studies.
"I've been really impressed by the way Harvard has handled everything" during the pandemic, she says. "The school has provided so many events to help transfer students get to know each other. Even remotely, it's a pretty special place go to school."
Now that HLS has announced that spring semester 2021, too, will be virtual, Annunziata hopes to spend it in Italy with her husband, an officer and pilot in the Italian Air Force, whom she met when they were both stationed at NATO headquarters. They had planned a big wedding on the Amalfi Coast for June 2020 but also decided to get married in the U.S. last Christmas Eve to "streamline paperwork," she says. It proved a wise decision. Once the pandemic broke out, she would be unable to travel to Italy if they weren't married. With a laugh, she adds, "I never thought I'd be going to Harvard in Italy."