This year, Mandy DeFilippo '00, managing director and global head of risk management for Morgan Stanley's Fixed Income Division, was named the Steven and Maureen Klinsky Professor of Practice for Leadership and Progress, a professorship endowed in 2013 by Steven Klinsky J.D. '81 M.B.A. '79, and his wife, Maureen Klinsky. The professorship was designed to bring visiting leaders from a wide range of fields beyond law to campus to teach and bring inspiration and broad perspective to Harvard Law School and, more generally, to Harvard University.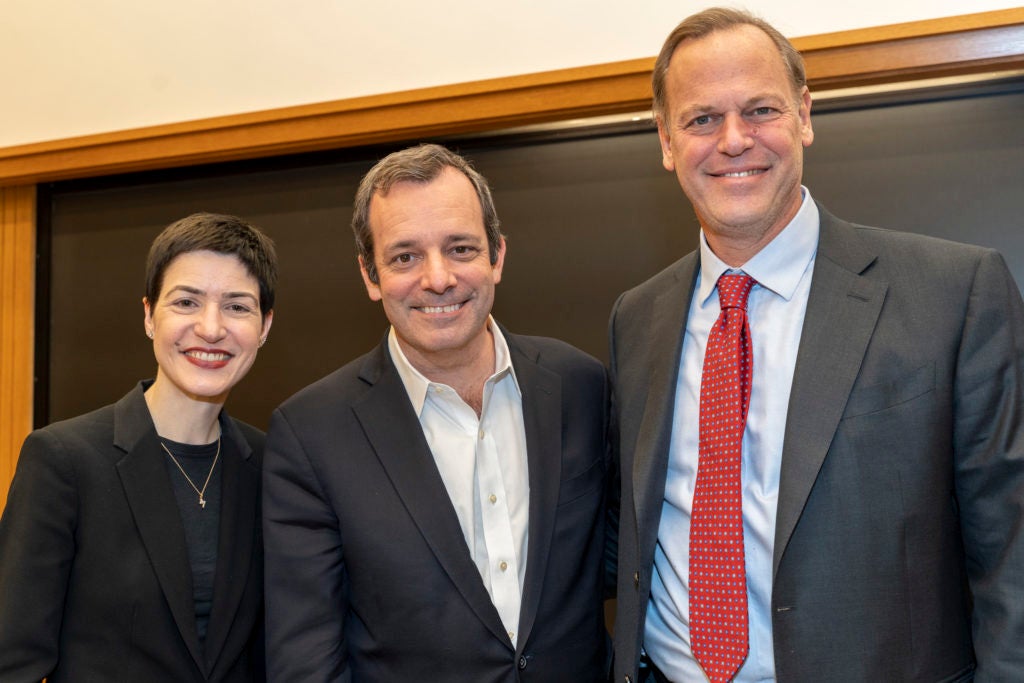 An investment banking professional with experience managing large teams on both the private and public side, DeFilippo joined Morgan Stanley in 2007 as a banker in global capital markets and now manages a team of 260 people worldwide as global head of business unit risk management for the fixed income division. She is based in the company's London office.
To mark her appointment, DeFilippo delivered a lecture in April on "Leading from the Middle," in which she explored what defines leadership for those who are not "the boss," and what the benefits and opportunities look like for people in those positions.
Big organizations need leaders from the middle to foster positive change and progress from within, said DeFilippo. "When you're leading from the middle you're not in charge, at least not of the whole enterprise. Your job is to execute the vision and strategy that's been set for you by the head of the organization," she said.
Those in the middle should look for opportunities that are in line with management strategy, she said. "Someone in the middle is senior enough to understand the problem. They've built a network around them of people who can help solve [the problem], and they're still junior enough to have time to address it."
She shared several examples from her organization. Eight years ago, someone who was "in the middle" approached senior management and proposed creating a staffing program that would better utilize junior associates. Because teams within the organization tended to be structured hierarchically, with individual employees assigned to specific teams, certain sectors tended to be busier at different times than others. The proposed staffing program, which would be individually managed by two independent staff members on a rotating basis, would ensure that junior members across all teams were accessed appropriately and calibrated to the workflow management. The program was a big success, and the person who proposed the change was promoted to managing director two years later.
"Taking ownership at a relatively junior level and being able to marshal something that benefits the community really made a lot of people not only notice them and feel good about what was going on," she said.
As part of her talk, DeFilippo talked about her circuitous route to her current position by way of Harvard Law, Columbia University and Juilliard, where she studied flute from the age of nine.
After graduating from HLS, DeFilippo joined Allen & Overy in London, where she practiced as a corporate lawyer focused on M&A and capital markets work. DeFilippo joined Morgan Stanley as an equity capitals market banker in 2007, just before the global financial crisis, which, she said, "was a very interesting time to be at an investment bank."
She eventually took over a structuring team that did debt and equity products and, in 2013, she was named CEO and the global capital markets for Europe. Later, she was named chief operating officer for GCM EMEA (Europe, Middle East and Africa region), and chief risk officer for all of GCM's International business (EMEA, Asia-Pacific and Japan regions). Her responsibilities extended across the full range of Morgan Stanley's capital markets business.
Since its endowment in 2013, the Klinsky Professorship has been held by former FCC Chairman Julius Genachowski '91 (the inaugural holder); Dr. Eric Lander, president and founding director of the Broad Institute of MIT and Harvard; attorney Kenneth Feinberg; former U.S. Representative Jane Harman '69; entrepreneur, attorney and activist Chris Kelly '97. The first lecture under the auspices of the Klinsky endowment was delivered by His Eminence, Cardinal Timothy Michael Dolan, in 2014.