U.S. Supreme Court Associate Justice Stephen Breyer '64 visited Harvard Law School on Jan. 25 to discuss his new book, "The Court and the World: American Law and the New Global Realities." Breyer, who taught at HLS from 1967 to 1994, spoke about his analysis of U.S. courts' role in an increasingly globalized world.
Vicki Jackson, Thurgood Marshall Professor of Constitutional Law, moderated the discussion. An expert on comparative constitutional law and federalism, Jackson is the author of "Constitutional Engagement in a Transnational Era." She is also the coauthor, with Mark Tushnet, of "Comparative Constitutional Law," a leading course book in the field.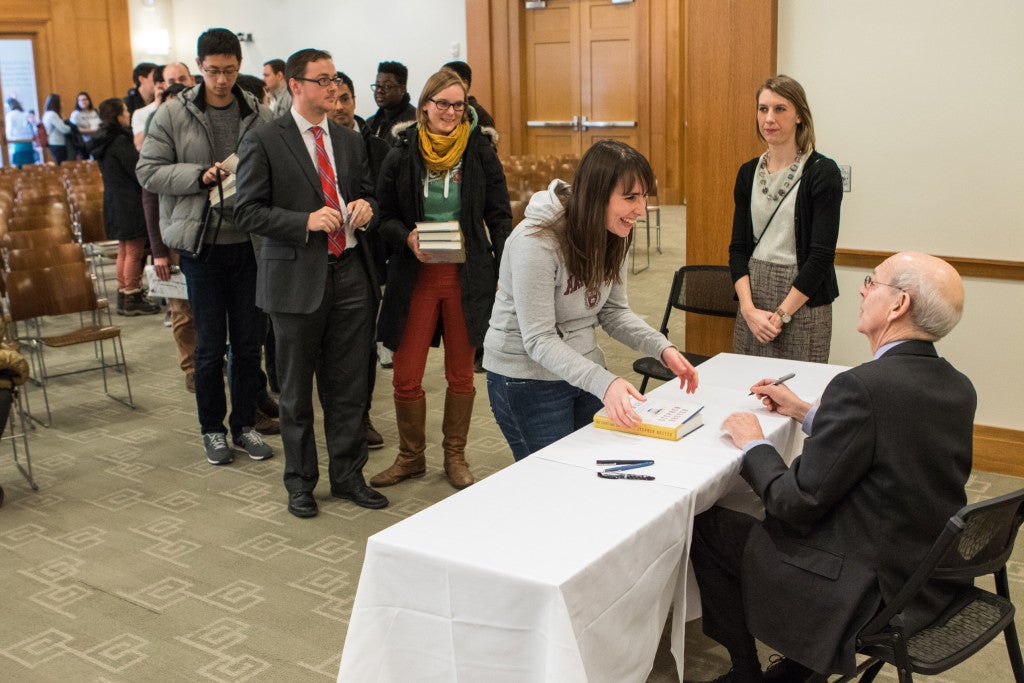 At Jackson's prompting, Breyer shared a metaphor by Albert Camus that Breyer references in his book to describe the legal system. "The plague germ never dies, it just goes into remission," Breyer said. "It lurks in the cupboards, in the bedrooms, in the files, in the hallways, for one day to reawaken and once again—for the education or for the misfortune of mankind—send its rats forth into a once happy city."
"What we're doing is one weapon—one, not alone successful—in an effort to keep that plague germ from reawakening. And it's called rule of law."
---
---
Further Reading
from the Harvard Gazette
From the outside, it can look like life on the U.S. Supreme Court is little more than a succession of sour exchanges between ideological gladiators, a grind that's more intellectual food fight than dispassionate debate.
But for all of the tough talk and purple prose that can find its way into the court's most closely watched 5-4 decisions, Associate Justice Stephen Breyer '64, says don't mistake the rhetoric of political disagreement with personal animosity. This is not an angry bunch who can't see straight enough to understand the arguments on both sides of an issue. Continue Reading
---
from the New York Times
"I hope that by the time you finish this book, you will agree with me that the best way to preserve our basic values is not to ignore what goes on elsewhere, but the contrary." Read more at NYTimes.com