"I've always had a passion for engaging in my curiosity," says João Marinotti '20, a linguist turned lawyer whose work focuses on sustainability, business, property, and private law. Born near São Paulo, Brazil, Marinotti immigrated with his family to California at 10, knowing no English. Through this experience, his interest in language was determined at an early age. "The immigrant and international perspective gave me more of an initiative to take international development and sustainability more seriously," he says.
Marinotti's curiosity has taken him from the forests of Brazil, where he spent a summer doing ecological research as an undergraduate at Columbia University; to Edinburgh, Scotland, where he completed his M.S. in cognitive science and developed his coding background; to Liaoning, China, where he taught English for a year. In New York City, he began a Ph.D. in linguistics and worked with the United Nations on a symposium on language and sustainable development.
In 2017, he matriculated at Harvard Law School. In addition to studying law, he completed a certificate program at Harvard Business School, a summer diversity fellowship with Milbank, a research assistantship on the American Law Institute's Property Restatement with Professor Henry Smith, a research fellowship on property and private law at the Project on the Foundations of Private Law, and he even founded a nonprofit organization.
"What drives each of these interests is an understanding of how do things work, and how are things not working?" says Marinotti. "These two questions together are what all of law is about, but it's what other fields are about as well."
Marinotti says his education at Harvard Law School has broadened his perspective on the power dynamics and the intricate systems and consequences that are the basis of justice and policy. "What's tying all this together, even theoretical linguistics, is helping the world to work better. We live our entire lives through language, and yet we pay no attention to it. The same questions can be applied in law, specifically property and sustainability."
Growing up near São Paulo in the Atlantic Rainforest, Marinotti saw firsthand the effects of environmental degradation through deforested land and polluted rivers. His experience at the United Nations exposed him to law as a lever of change. "Thinking like a lawyer is looking at an issue and being able to understand that there is an entire system of interacting doctrines and power structures and society behind every human decision and struggle," he says. "To bring an appropriate perspective toward justice and compassion, and to find a sustainable solution that is the best for all involved."
As a law student, his experience has been as varied and diverse as his interests and passions. As co-president of the Harvard Law and International Development Society, he wanted to bring a more interdisciplinary perspective to sustainability, and worked with his fellow students to found Discus Institute, a volunteer-run nonprofit that has worked with clients like Latham and Watkins, Milbank, and the Permanent Mission of Costa Rica to the United Nations, to incubate innovative sustainability projects and provide pro-bono consulting for global sustainability.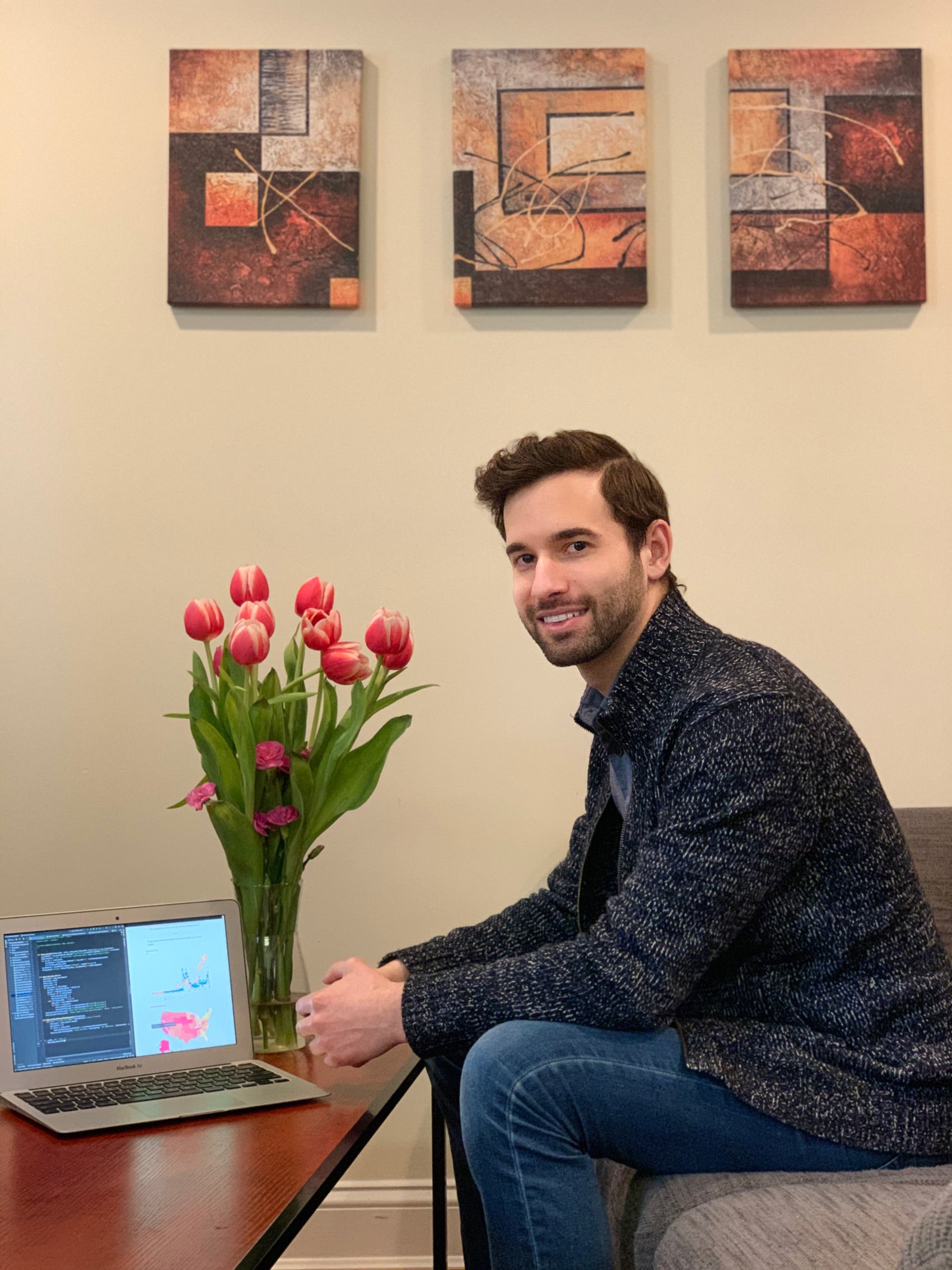 His new project—the Caselaw Visualization Blog, which he started at the end of his 3L year—illustrates his self-driven approach to scholarship. After meeting with Professor Jonathan Zittrain '95 as a 2L, Marinotti learned of the Caselaw Access Project at the Harvard Law School's Library Innovation Lab, which provides unrestricted access to all U.S. case law through 2018. After participating in the Cyberlaw Clinic and engaging with Professor Christopher Bavitz and Jessica Fjeld's innovative work at the intersection of law and technology, Marinotti was inspired to launched his new blog. The blog explores the entire body of case law from a computational angle, using Caselaw Access's open framework to answer questions that would be difficult in other databases. This project is a capstone of his time at HLS, which helped him interconnect his parallel interests in sustainability, business, technology, linguistics, systems, and justice, asking the question he brings to all his work: "How does the world work?"
In the fall, Marinotti will be the Jerome Hall Fellow at Indiana University School of Law's Center for Law, Society and Culture, an interdisciplinary university center, where he will work on computer science, law, and sustainability, while completing his Ph.D. in linguistics at CUNY Graduate Center. He will also continue his work on property theory and doctrine with Professors Henry Smith and John Goldberg at the Project on the Foundations of Private Law, researching, among other topics, a better way to recognize digital property rights. The initial findings of this research led to Marinotti's piece on "Tangibility as Technology," which won this year's Harvard Law School Private Law Writing Prize. According to Smith, Marinotti has been doing "creative and insightful work" on property theory in relation to intangible assets arising out of new technologies. "Our understanding of these issues benefits from his unique perspective based on his legal education here and his prior training in linguistics and cognitive science," says Smith.
At HLS, Marinotti says he learned to "take a 360-degree view of legal issues instead of a quick glance or judgement. I always want to have a more balanced perspective." His classes have allowed him to look at law from this viewpoint and inspired him to teach in the future. For him, the key is to "use this passion to help people see that what they might consider boring—is actually really fascinating."
***