Imagine that you've come to law school knowing that you want to be a great public interest lawyer or an inventive entrepreneur or a savvy trial lawyer. Or you want to focus on what it takes to be an effective public- or private-sector leader. Or perhaps you don't yet know exactly what you want to do, but you're curious about the options. Through a sweeping array of new, hands-on courses, Harvard Law School's January Experiential Term, or JET, gives 1L students a chance, early in their time on campus, to learn by doing, to work in teams, and to explore—or discover—what inspires their passion in the law.
Armani J. Madison '21 arrived at HLS with the goal of working for the public interest, possibly with a civil rights law firm that represents lower-income clients. For his January term course, he chose Lawyering for Justice in the United States, one of eight courses created for the new curriculum, all of which are designed to give students time to develop practical lawyering skills, to reflect on their studies and careers, and to connect with each other.
Lawyering for Justice explored how lawyers can contribute to broader movements for social change through impact litigation, legislative and policy advocacy, transactional work, and community lawyering. Team-taught by four clinical professors—Esme Caramello '99, faculty director of the Harvard Legal Aid Bureau; Tyler Giannini, co-director of the International Human Rights Clinic; Michael Gregory '04, clinical professor, Education Law Clinic; and Dehlia Umunna, faculty deputy director of the Criminal Justice Institute—the course focused on a different social justice issue each day. Covering areas such as criminal justice, education, human rights, immigration, and predatory lending, it enabled students to practice core competencies required for effective, systemic advocacy, including diagnosing problems, identifying stakeholders, and designing remedies. Working in teams, students also engaged in exercises that included participating in a mock bail argument on behalf of a client they had just met and counseling clients on whether to take a settlement. The course culminated in a daylong "hackathon" in which student teams developed a plan of action to address a specific social justice lawyering challenge.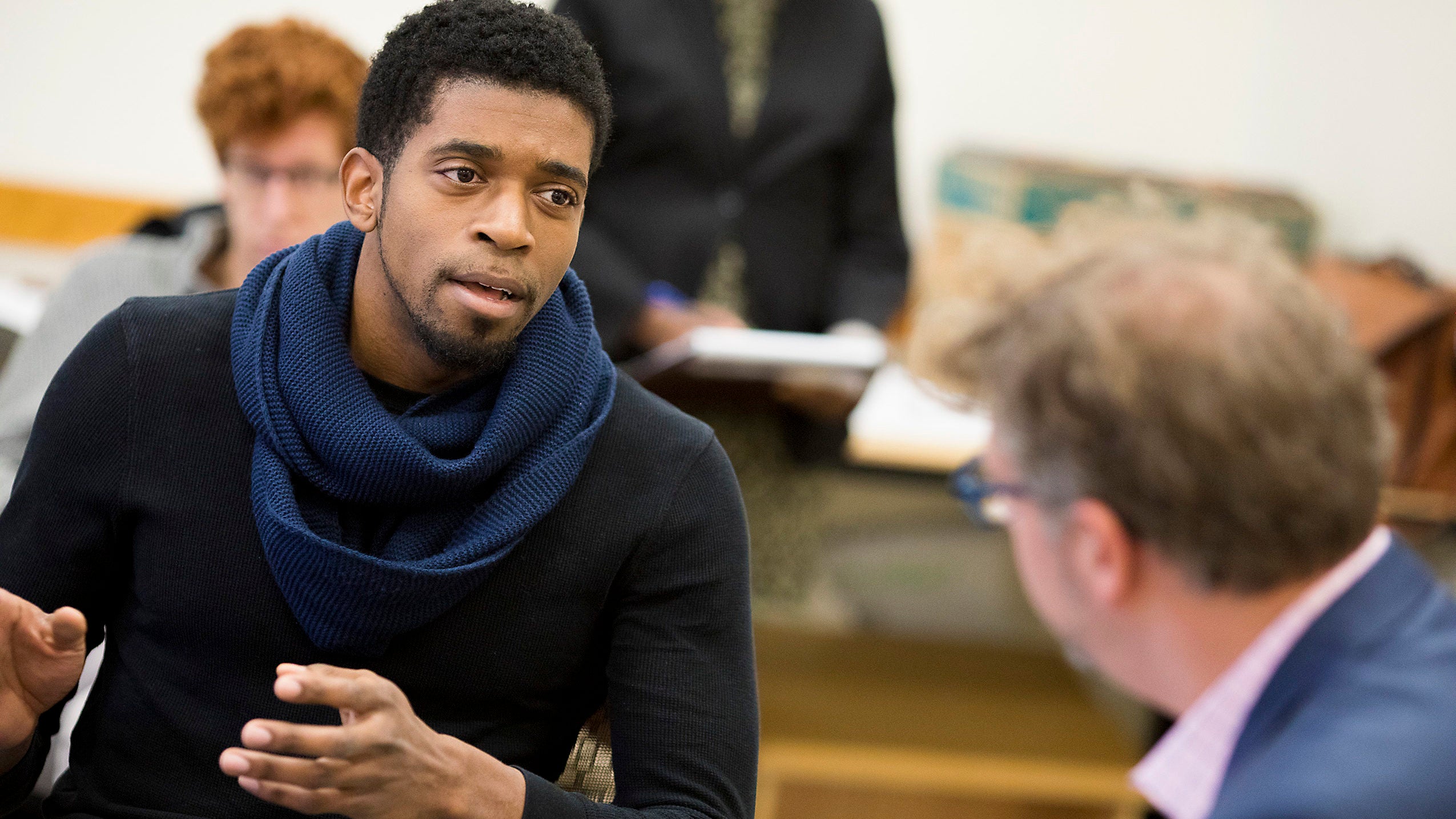 Madison says he valued the opportunity to see what actual lawyering is like; the mock bail hearings, for example, had a significant impact on his understanding of the criminal justice system.
The new experiential learning curriculum offered during January term allows first-year students to explore different areas of law and experience what it's like to practice in a range of settings. It aims to help students bridge the gap between academic courses and practical lawyering, while making connections across the first-year class.
Viroopa Volla J.D./M.B.A. '21, who worked for McKinsey & Co. and then Walmart before matriculating at HLS, chose Financial Analysis and Business Valuation as her J-term course. Working in three-person teams, students learned the basics of accounting with a focus on valuation of companies. As a final project, they were given four hours to value a real company and then advocate for their position. The course "made me more excited about" pursuing a career at the intersection of business and law, Volla says.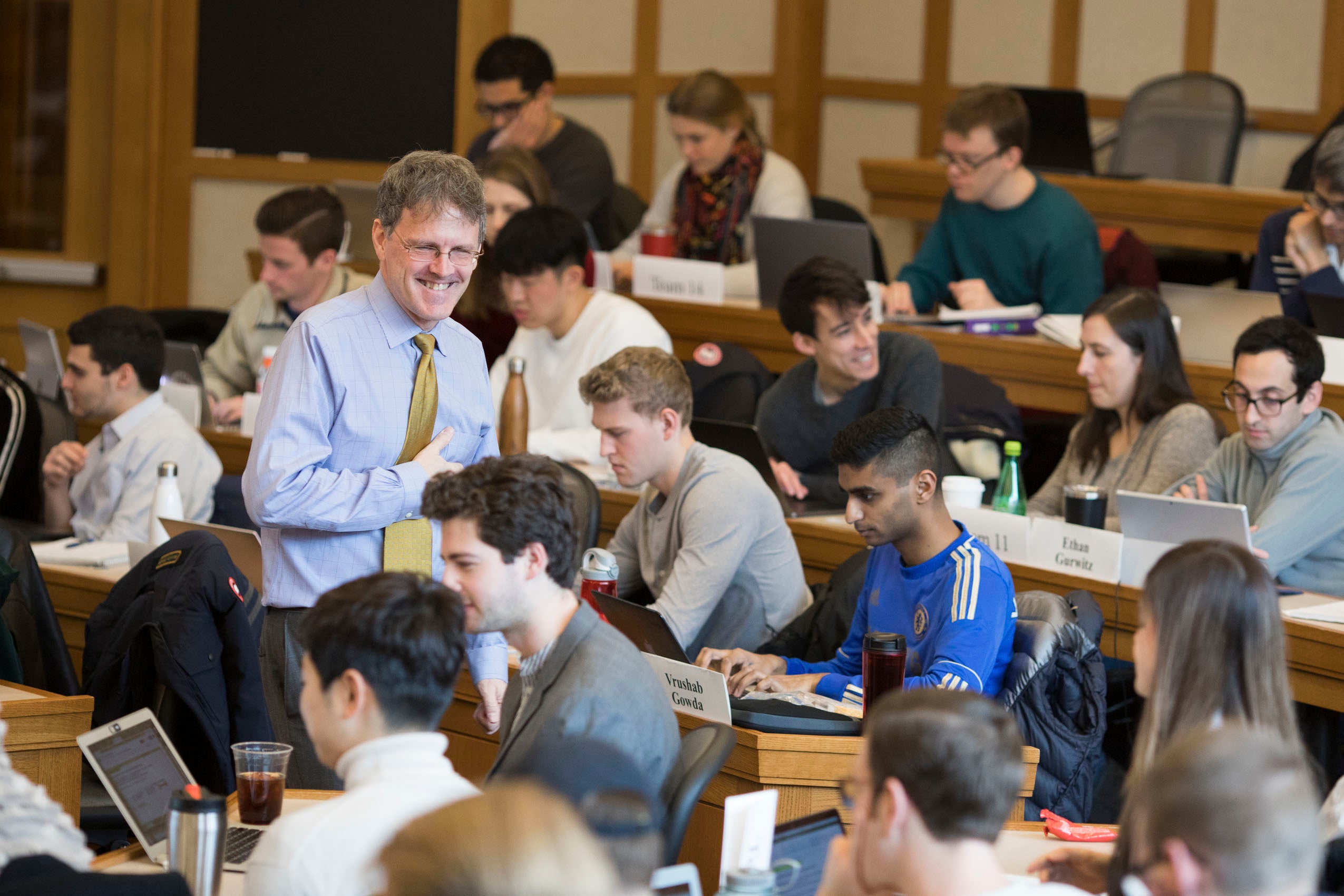 John Coates, HLS professor and vice dean for finance and strategic initiatives at the school, created the course because he believes that all law students need basic literacy in accounting and financial skills; it's something that employers have urged law schools to put more emphasis on, he notes. At least two-thirds of the class had had no significant exposure to accounting before, yet by the end of the first week they were able to "throw around phrases like capital expenditure and expensing, and were using the language real-time in a very energetic way," Coates says. A key goal, he adds, "was to make it experiential, hands-on—not simply me lecturing or even them discussing, but actually doing work with numbers and financial statements."
Emma Hobbs '21, who selected the JET Introduction to Trial Advocacy, says she did not want the class to end: "It was so empowering." Under the leadership of Ronald Sullivan '94, clinical professor of law and director of the Criminal Justice Institute, it offered 1Ls a crash course in effective advocacy, including how to interview witnesses and conduct cross-examinations. Hobbs and her classmates learned under the tutelage of judges, prosecu­tors, and defense attorneys. She also loved the opportunity to learn from other students. "I would see a technique that one of my peers was implementing and jot it down in my notebook so I could go home and practice it."
In Advocacy: The Courtroom and Beyond, students explored the many settings in which advocacy can be a tool, whether in the courtroom, before a legislature, in impact litigation, or in a transactional setting. Designed and taught by Ara B. Gershengorn, a lawyer with the Office of the General Counsel at Harvard University, and Erin Walczewski '10, pro bono counsel at Cooley, the course also taught students how to review complaints, develop advocacy plans, and write speeches and op-eds, among other things.
Zekariah McNeal '21, who worked as an electrical engineer before law school, says he chose the Negotiation Workshop because it would provide him with useful skills no matter what he ends up doing. Each day, students in the workshop, taught by Visiting Professor Michael Moffitt '94, were placed in a series of simulated negotiations and videotaped so they could receive individualized feedback. "These negotiation skills aren't just for the boardroom and for sitting across from a business partner; they're also for everyday life," McNeal says, adding that the course spurred his interest in a career that involves resolving disputes through collaborative solutions.
Like McNeal, and the majority of today's students, Parisa Sadeghi '21 arrived at HLS with several years of post-college work experience. Sadeghi, who taught English in Paris for a year before becoming an investment banker at Goldman Sachs in Manhattan, describes herself as having "a lot of interests and passions." When it came to reflecting on how to translate her diverse interests into a legal career, the new curriculum turned out to be a game-changer.
In Pathways to Leadership: Workshop for the Public/Non-Profit Sector, Sadeghi and her classmates learned leadership and team-building skills while being exposed to a variety of career choices. They participated in a simulated negotiation in which they took on the role of legal counsel on each side, and also a software simulation of climbing Mount Everest. They also met with more than a dozen alumni with careers in fields that varied from federal prosecution to politics.
"If you want a unique opportunity to engage in some serious introspection about what your values are, what your leadership style is, what you want your career to look like … this is the class for you," says Sadeghi. The class, which also included a rigorous examination of leadership theory, was developed and taught by Clinical Professor Susan Crawford.
For those interested in applying leadership skills in a slightly different venue, Pathways to Leadership: Leading Change in the Legal Profession was created for JET by Scott Westfahl '88, professor of practice and faculty director of the HLS Executive Education program. The course emphasized team-building and the psychology of motivation and influence, as well as design theory. As a final project, each team presented an idea to change legal education or practice. Speakers in Westfahl's class included Daniel Yi, senior counsel for special projects and innovation, Department of Justice, and Ally Coll Steele '16, president and co-founder of the Purple Campaign, whose mission is to end sexual harassment in the workplace. "I wanted students to understand that you don't have to be 20 years into your career to start trying to create change if you see a need," says Westfahl.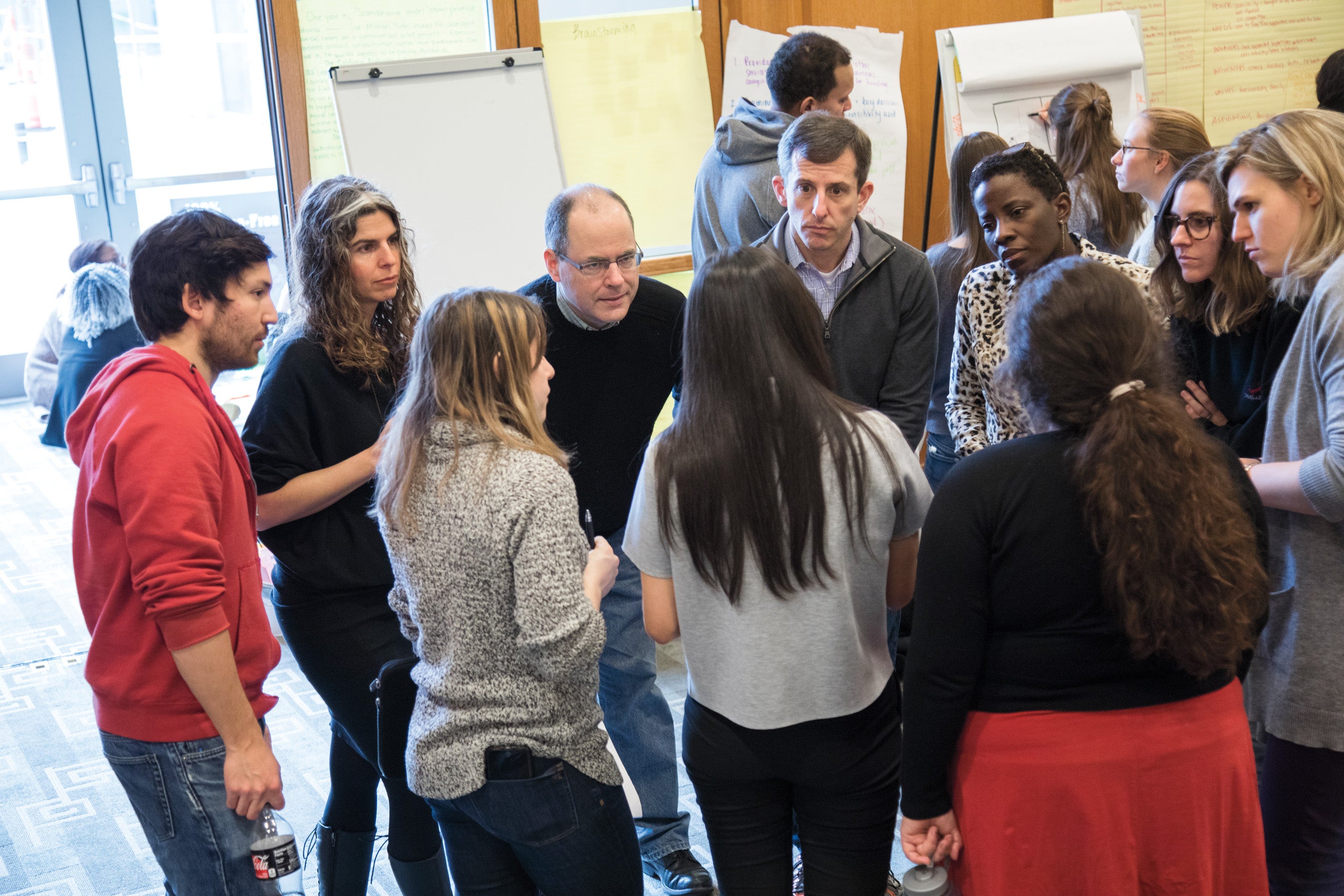 Professor Todd Rakoff '75 created a JET class called What Kind of Lawyer Do You Want to Be?, which directly poses the question all the JET classes aim to help students answer. Co-taught with Jamie Wacks '98, a lecturer on law and former federal prosecutor, the course presented students with simulated problems in different practice settings, had them undertake fundamental skills training such as interviewing or advising a client, and gave them access to a range of practitioners.
"The course was fun and instructive," says Ioana Davies '21, "which is not easy to come by in life." Davies loved the role-playing, "dealing with problems real people would have"; the chance to ask questions of practitioners; and the opportunities for reflection. The class confirmed for her what practice settings she is more drawn to and the types of pro bono work she might like to do. She also feels even more convinced that at some point, she would like to teach—and just such an experiential course.