A jubilant Class of 2022 and their proud families celebrated their long-awaited in-person commencement ceremony at Harvard Law School on Thursday, May 25. With faculty, friends, and family looking on, the graduating J.D., LL.M., and S.J.D. students processed across Holmes Field to receive their diplomas. Harvard Law Today caught up with a few family members to hear what the day means to them.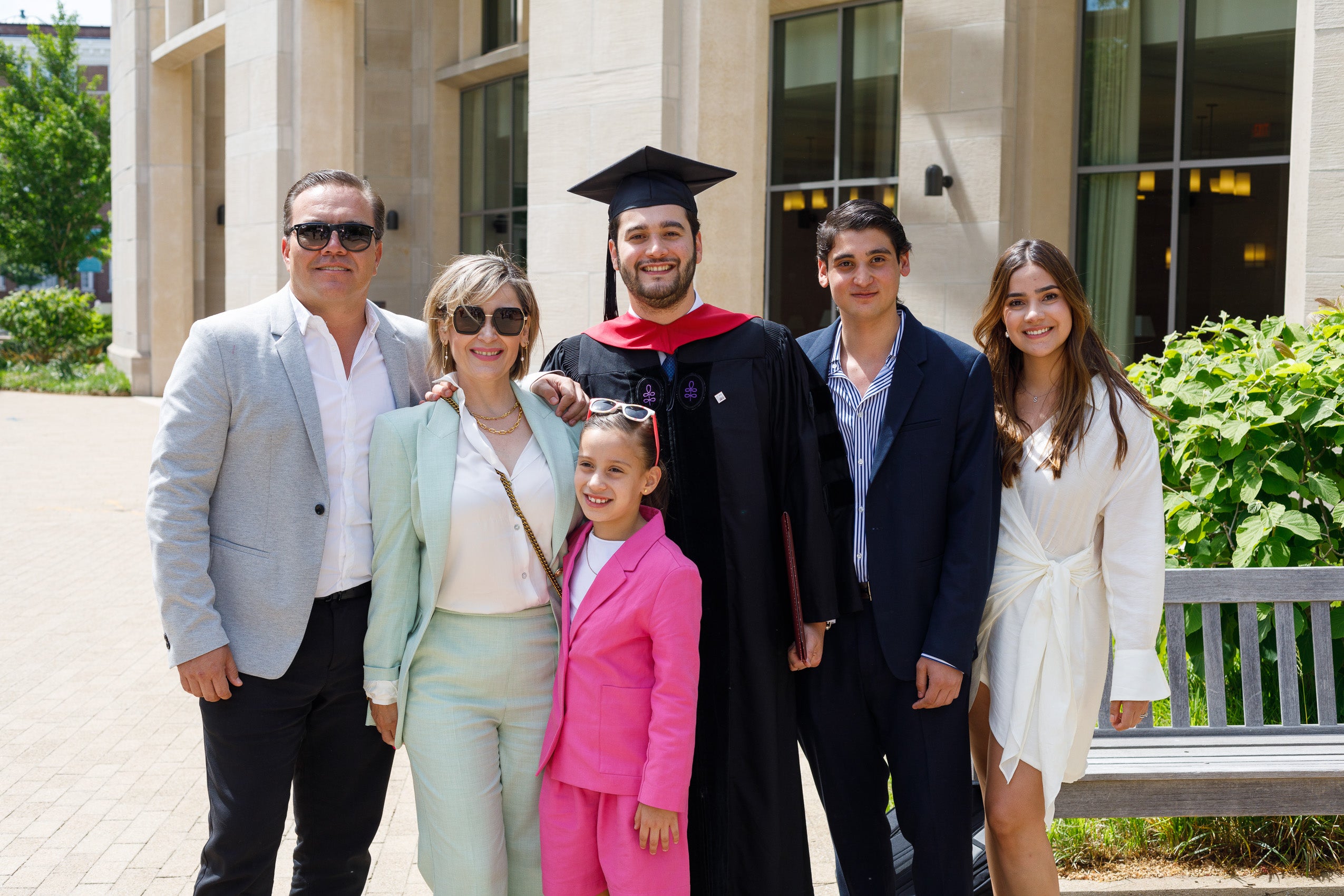 Federico del Rio Abundis received his L.L.M. on Thursday and celebrated with his family, including his mother, Martha, and father, Toby, who traveled from Mexico.
"It's a great pride for both myself and my family at large, I feel deeply satisfied," said Martha, whose delight shown through Federico's translation.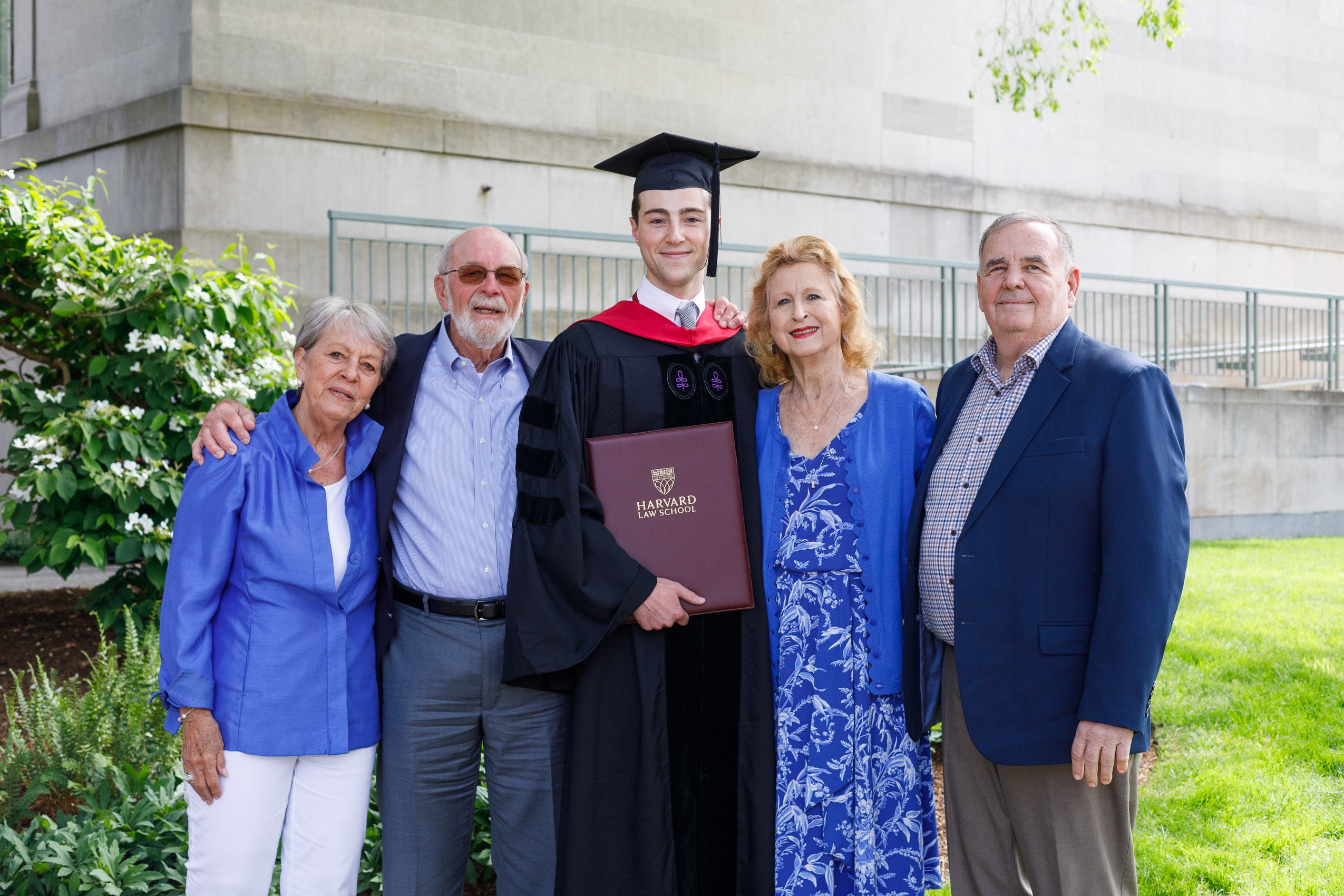 Zachary Boulden '22 had support from his whole family on Commencement Day.
"It's overwhelming and just so exciting," said his maternal grandmother, Patricia Cockfield, of South Carolina. "This is Zach's dream since he's been 12 years old and he made it come true today, and it's perfect," said his paternal grandmother, Nancy Boulden, of Delaware.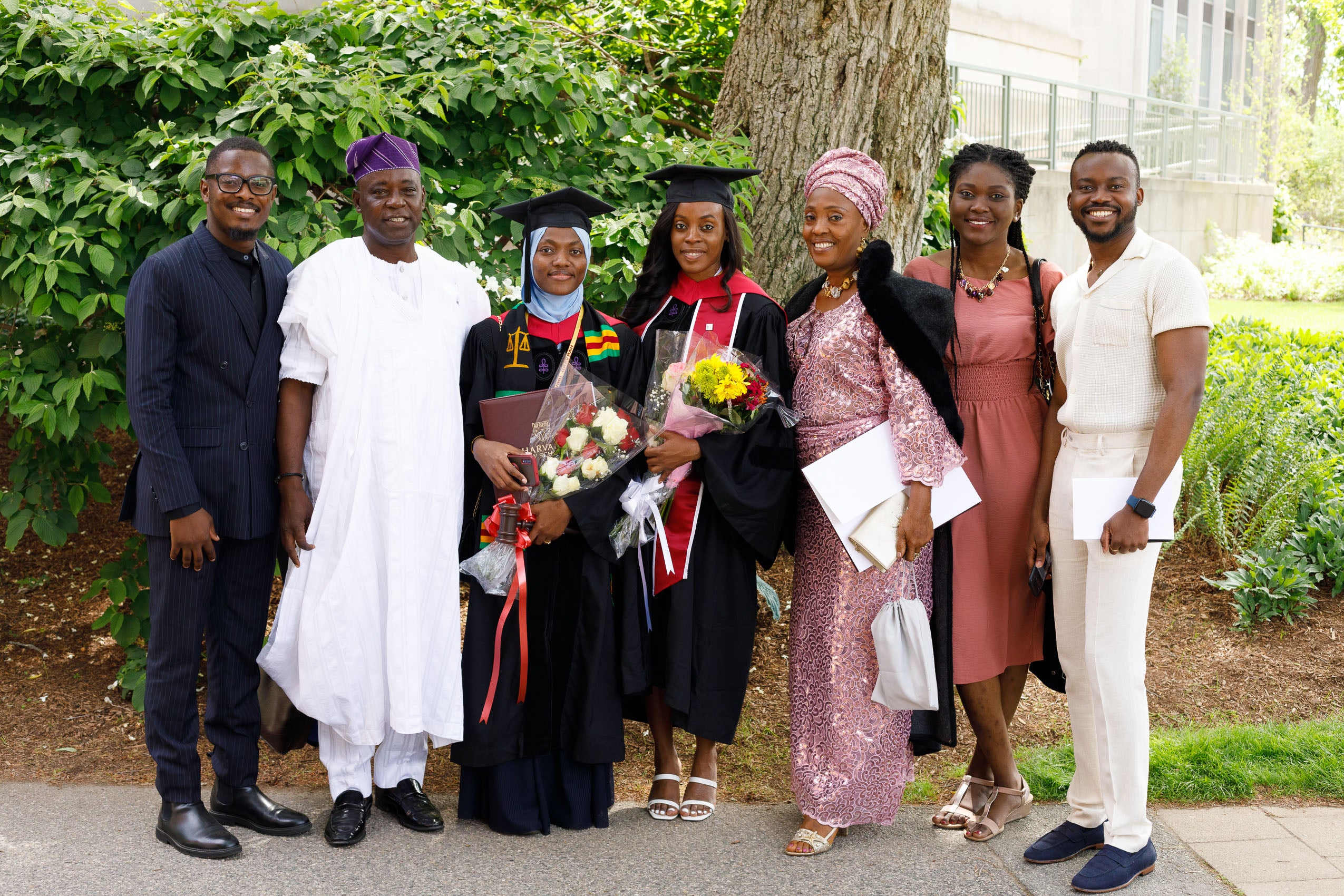 Ezomime Onimiya, LL.M. '22, from Nigeria, celebrated with friends and family on Thursday.
"I'm so happy. It's like butterflies flying in my tummy, I'm so happy and joyful," said her mother, Angela Onidiya. "Today's a very wonderful day. We are glad we are alive to witness it," said Onimiya's father, Gbenga Onidiya.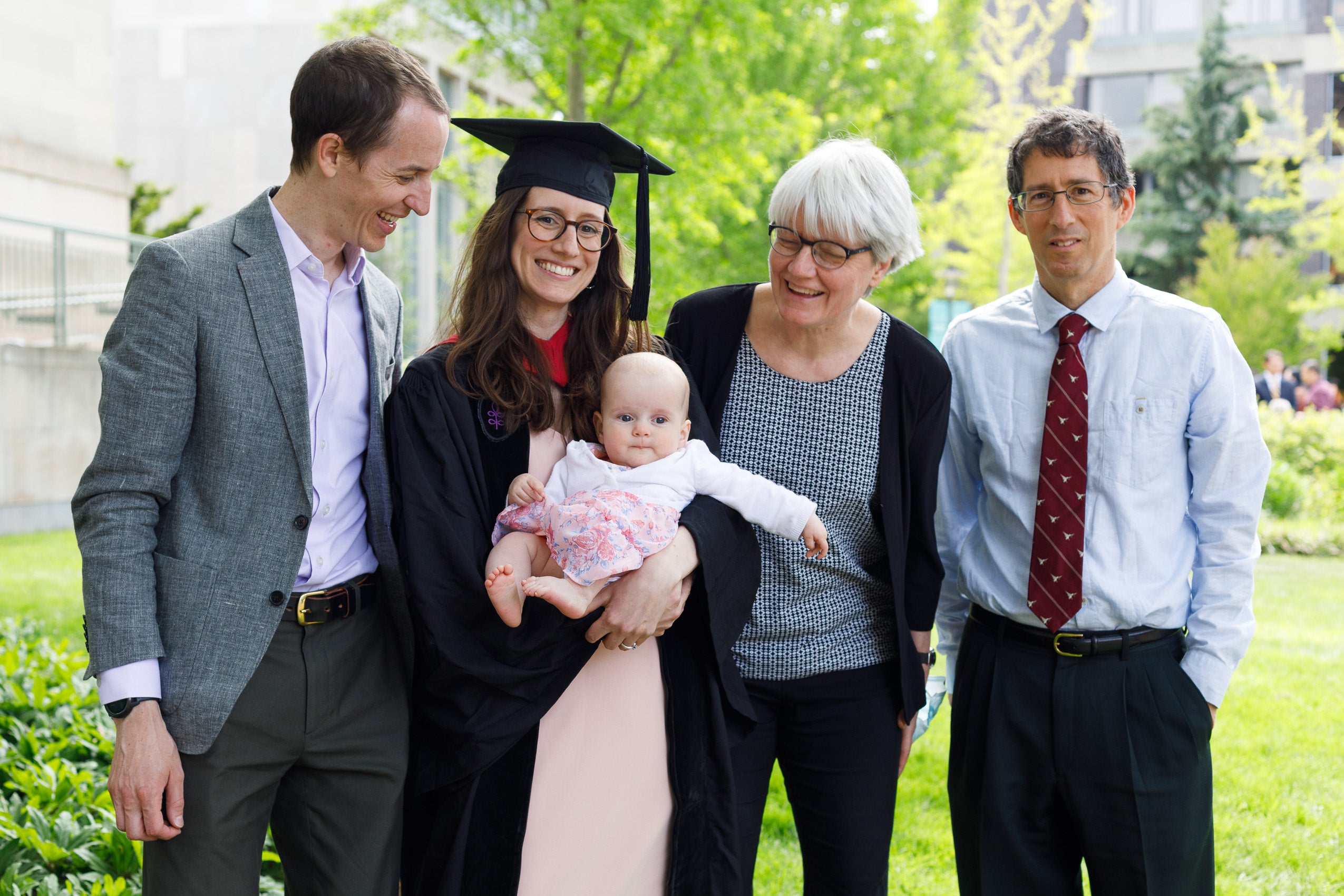 Jenna Becker received her J.D. on Thursday, a feat she accomplished while having her baby, Remy — with a little help from her mom.
"It's been quite a time," said her mother, J.J. Henricksen, of Wisconsin. "With the baby, and also of course because of the pandemic, but it's amazing she was able to do this."
"It's hard to imagine 30 years ago we'd be standing here with our daughter. We're very proud. It's hard to describe in words," said her father, Andrew Becker.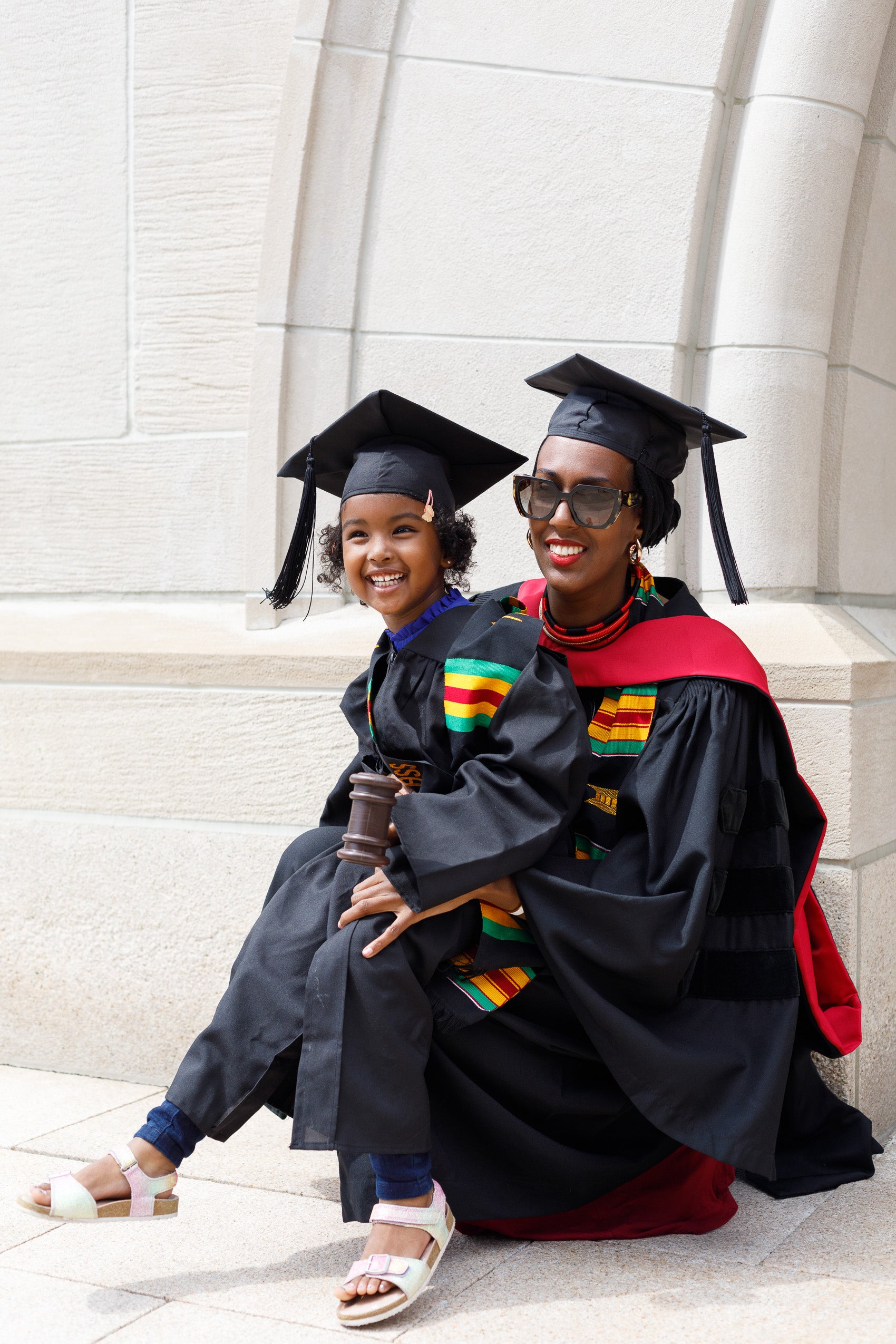 Maryan Hassan LL.M. '22 completed her post-graduate degree as a single mother to her daughter, Sofia. She is the first Black woman to be president of the Harvard International Arbitration Law Students Association and co-founder of the Harvard United Kingdom Student Law Association. Hassan is also an Obama Foundation Leader for Africa.
"With my daughter, seeing how she has engaged with everybody here with openness and curiosity has helped me reassert how I view the institution, how I view myself, that I shouldn't take things too seriously. I think I've been allowed to have fun here through her."
Attending a rigorous program of legal studies while raising Sofia had its challenges, but Hassan said several administrators, particularly Dean Catherine Peshkin and Title IX coordinator Sasha Tulgan, were immensely supportive throughout her time at Harvard Law.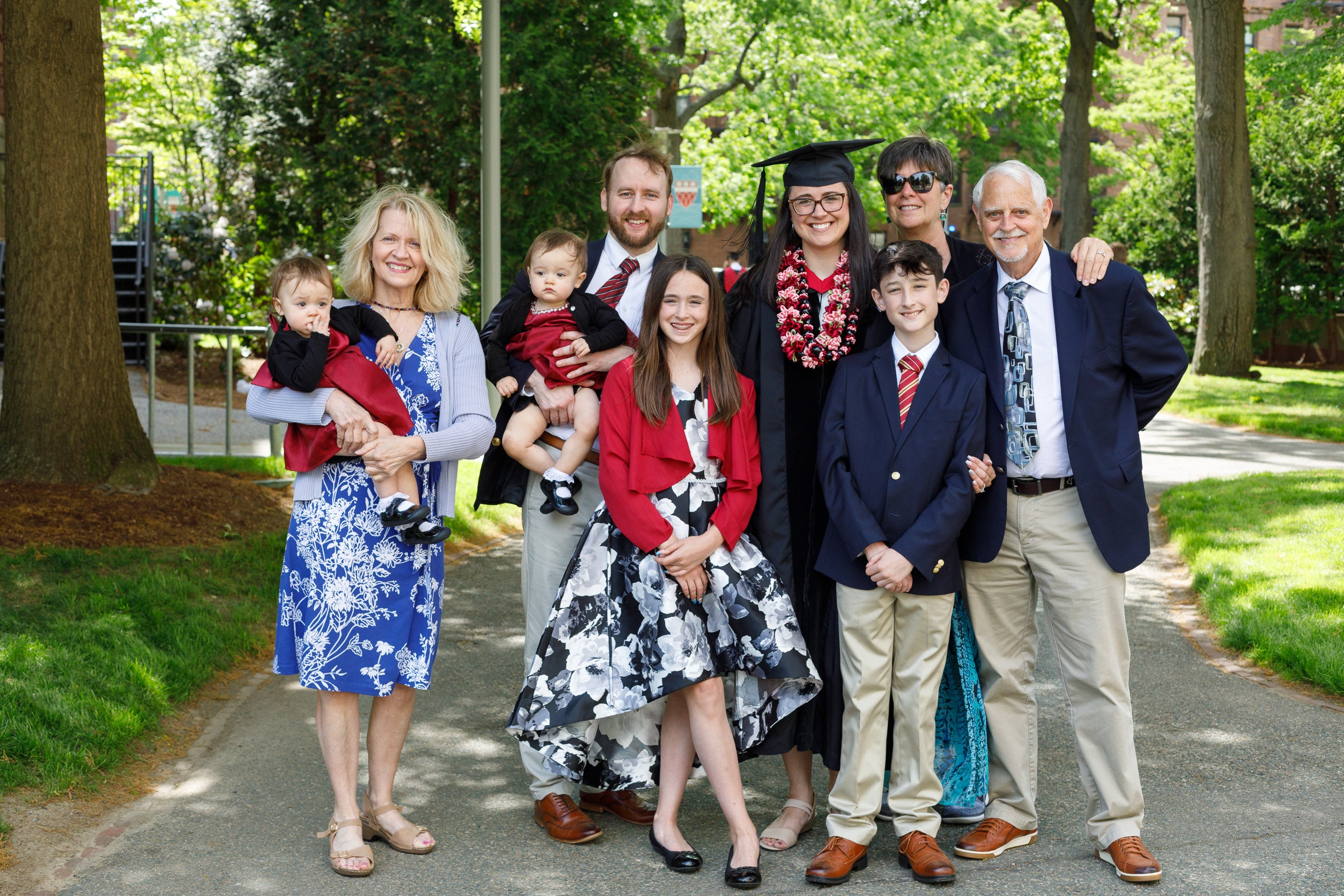 Jessie Dawe '22 traveled every week from Cambridge and Virginia to be with her children, Adelynn, Michael, and also twins Isla and Esme, who were born during her 2L year.
"Today marks the culmination of a healing and transformative journey, and, at the same time, it is just the beginning of a beautiful and exciting new chapter. I am here because of family — most especially my children."
"It was stressful, but now that it's over it's pretty fun," said Adelynn of her mom's Harvard Law journey. "I feel happy she doesn't have to fly up here every week and she can be down home with us all the time. She's finally done after three years!" said Michael.