This is an encouraging moment for labor law — and a potentially scary one as well, according to Harvard Law School Professor of Practice Sharon Block. But as she told an audience of law students on Friday afternoon, the times are certainly not boring.
"The real world is exciting and fun in a way, which for labor lawyers hasn't always been true," she said in a conversation with Kestnbaum Professor of Labor and Industry Benjamin I. Sachs. Block recently returned to Harvard as executive director of the Labor and Worklife Program at Harvard Law School after a career that included key positions in both the Obama and Biden administrations — serving on the former's National Labor Relations Board, and as acting administrator of the Office of Information and Regulatory Affairs under President Biden.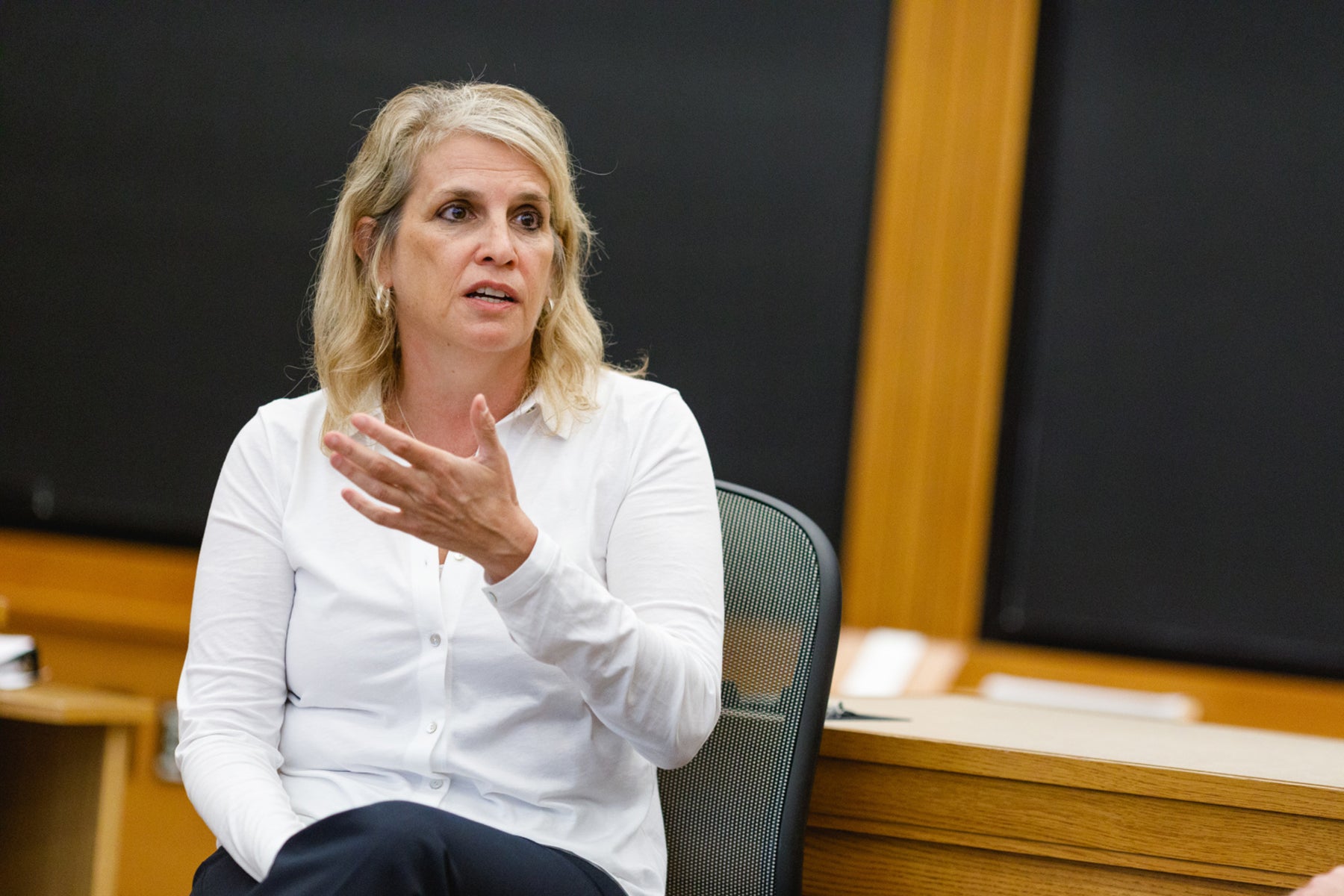 Speaking with Sachs, Block cited recent organizing efforts at Amazon and Starbucks as encouraging signs. "Where is this all going? We're seeing organization in workplaces that were previously thought to be un-organizable. These workers are getting over that hurdle, so is that going to inspire more organizing?"
She also cited the changing demographic of organizers, with many being young. "They look a lot different than the traditional labor movement, and they're organizing in different ways. Amazon and Starbucks are not affiliated with an international organization, they were grassroots. Support is higher than ever among African Americans and young people. If that can be sustained, it is something to be optimistic about."
We're seeing organization in workplaces that were previously thought to be un-organizable. These workers are getting over that hurdle, so is that going to inspire more organizing?

Sharon Block
That's the good news, she said. The bad news is that change is moving at a frustratingly slow pace. Singling out Amazon, she said "It just shouldn't be this hard. There's a chance they are going to wring some real change out of this company, but it's going to take years — and that's nuts. Amazon hasn't even gone to the neighborhood of the negotiating table yet; and with the richest person in the world as the head of the company, they can fight this forever. Starbucks is still dealing with organizers getting fired, stores getting closed. When you do fight that hard, you should have the power to change the conditions under which you work."
The path to change, she said, may instead be political. "Not to abandon organizing but having more people in Congress who will vote for labor law reform. You mobilize people around the big issues, not by nibbling around the edges."
In 2017, with Sachs, Block cofounded the Clean Slate Project for Worker Power, an initiative focused on building a policy agenda to reconstruct labor law. The project's report, released in January 2020, received extensive coverage in the national media.
She recalled her start in the Biden administration as the most chaotic time of her career. "There was no time for a learning curve. There was total devastation left in the government — even worse than what you've read about how the previous people had conducted themselves. We were still in a terrible financial crisis, and a racial justice crisis, and a raging COVID crisis, all of which needed the government to step up and act quickly."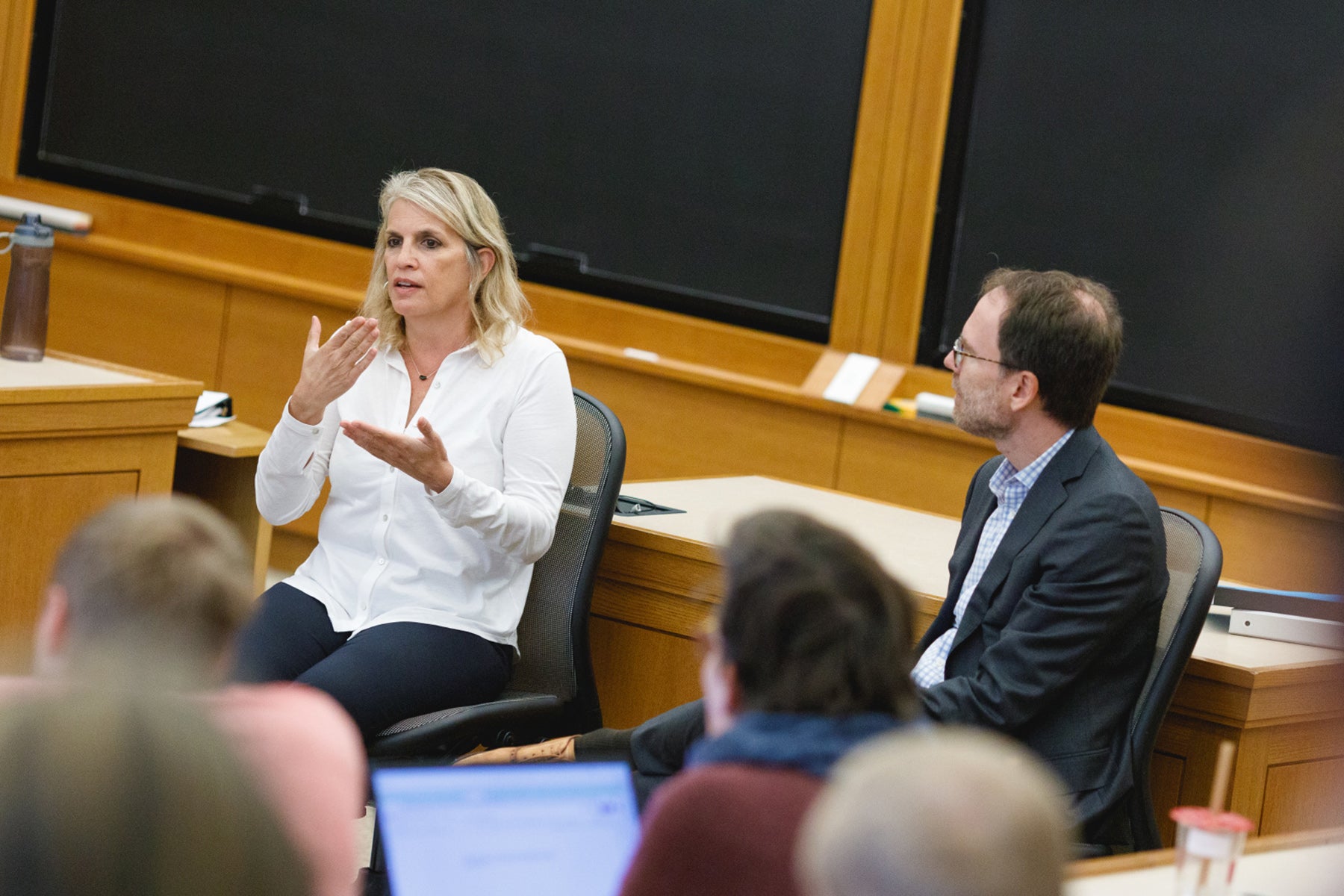 As the head of Office of Information and Regulatory Affairs, she oversaw all government regulatory policy, and said that Biden had worked to modernize this process. "It's really the most powerful organization that nobody's ever heard of."
Asking about the biggest challenge that Block has faced, Sachs suggested that it may have been the time that her work as an Obama appointee was effectively declared unconstitutional. This happened in June 2014, when the Supreme Court voided three recess appointments that President Obama had made to the National Labor Relations Board — Block, Terence Flynn, and Richard Griffin — on the grounds that the three-day break during which they were appointed did not qualify as a recess. All decisions made in their tenure were likewise voided.
In Block's view, she was caught in a political bargain: The Republicans agreed to stop filibustering each one of Obama's nominees if she and her two colleagues were cut loose. And she suggested that Senate Republicans were hoping to leave the board with few enough members to render it nonfunctional.
"It was kind of cool that the Senate cared so much about the NLRB that they were willing to bring the government to the point of not functioning because of our little agency," she said. "It became a political crisis — not a legal crisis because the law ultimately worked the way it was supposed to. But it was hard, it wasn't fun, and I had some very unpleasant meetings with Senate members."
Yet she said the situation had two positive outcomes. Obama worked more aggressively on labor in his second term. And Secretary of Labor Tom Perez '87 then invited her to serve as principal deputy assistant secretary for policy at the U.S. Department of Labor. "That turned out to be one of the most pivotal moments in this career that I love — and it might not have happened if I had not been thrown under the bus. So, you have to look around — sometimes there's good things under that bus."
During the student Q&A, she was asked about the Biden administration's COVID-19 vaccine mandate, which was implemented by the agency she led and which the Supreme Court later struck down. Her answer was brief but impassioned.
"I will own this: I was a big proponent of doing a vaccine mandate," Block said. "Our analysis showed that there would have been 20 million more people vaccinated if it hadn't been struck down, and it seemed the vaccine approach was the most effective way of getting a handle on the spread of the virus. There were people dying at work or dying because of work. [Striking the mandate down] was absolutely wrong, and I can't say that any other way."