Harvard Law School Professor Intisar Rabb was named as one of 17 special advisers to the new chief prosecutor of the International Criminal Court, Karim A.A. Khan. The faculty director of the Program in Islamic Law at Harvard Law School, Rabb was appointed as a special adviser on Islamic Law.
Other appointments, who are drawn from different regions of the world, and bring expertise and experiences from different legal systems and specializations, also include HLS alum Payam Akhavan LL.M. '90 S.J.D. '01, a professor of international law and senior fellow at Massey College, University of Toronto, who was appointed a special adviser on genocide.
Other advisers focus on topics including public international law, crimes against children, gender persecution, sexual violence and slavery.
"I am delighted to welcome such an outstanding group of experts and I am grateful for their willingness to serve as my special advisers," said Khan, who was elected chief prosecutor of the ICC, in February 2021. "I have no doubt that with their enormous experience and hugely impressive credentials, they will significantly contribute to the work of the office and the cause of international criminal justice."
Khan has created several new special advisers posts for the first time, including portfolios focusing on the Crime of Aggression; the Darfur, Sudan Situation; Gender Persecution; Genocide; International Criminal Law Discourse; Islamic Law; Knowledge Transfer; Slavery Crimes; and Public International Law. He has further appointed Special Advisers Without Portfolio.
Rabb, a professor of law and history, centers her research on methods of interpretation in Islamic, American, and comparative law. At Harvard, Rabb launched SHARIAsource – an online portal combining historical Arabic texts and data science tools to facilitate research and new insights on Islamic law, with the help of AI and machine learning. She is editor-in-chief of the Islamic Law Blog, the Journal of Islamic Law, and the Harvard Book Series in Islamic Law (published with Harvard University Press).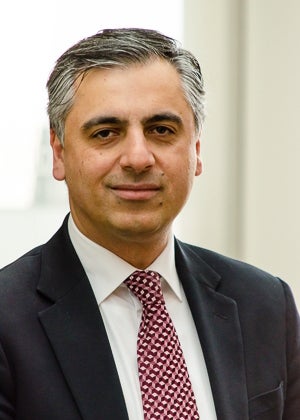 She also serves as an adviser and counsel for cases involving issues of criminal justice. She was part of the legal team that successfully represented former Buffalo police officer Cariol Horne, who was wrongfully fired and lost her pension when she intervened to stop a fellow officer's chokehold on an unarmed civilian.
Akhavan, an expert on international criminal law, and a member of the Permanent Court of Arbitration, served from 1994 to 2000 as legal adviser in the Office of the Prosecutor, International Criminal Tribunal for the former Yugoslavia (ICTY). He has also served with the UN in Bosnia, Rwanda, Cambodia, Guatemala, and Timor Leste.
In addition to Rabb and Akhavan, the other newly appointed special advisers are:
Véronique Aubert – Special Adviser on Crimes Against and Affecting Children;
Morten Bergsmo – Special Adviser on Knowledge Transfer;
Amal Clooney – Special Adviser on Darfur;
Lisa Davis – Special Adviser on Gender Persecution;
Adama Dieng – Special Adviser Without Portfolio;
Kevin Jon Heller – Special Adviser on International Criminal Law Discourse;
Claus Kress – Special Adviser on Crime of Aggression;
Vaughan Lowe QC – Special Adviser on Public International Law;
Tim McCormack – Special Adviser on War Crimes;
Mohamed Chande Othman – Special Adviser Without Portfolio;
Leila Nadya Sadat – Special Adviser on Crimes Against Humanity;
Kim Thuy Seelinger – Special Adviser on Sexual Violence in Conflict;
Patricia V. Sellers – Special Adviser on Slavery Crimes;
Ali Soufan – Special Adviser on Investigations; and
Christine Van den Wyngaert – Special Adviser Without Portfolio