Growing up gay in Iraq, Amir Ashour '24 saw firsthand many immediate needs for his nation's LGBTQ+ community. "I wanted to be able to hold my partner's hand in public and talk about being LGBTQ without fearing for my life," the first year J.D. student said at a recent Harvard Law School event marking National Pro Bono Week.
In 2015, these experiences inspired Ashour to found IraQueer, Iraq's first national LGBTQ+ organization dedicated to intersectional advocacy for LGBTQ+ rights and awareness. But due to pervasive legal and social discrimination against LGBTQ+ individuals in Iraq, it was initially difficult for Ashour to find allies. Facing hostility in Iraq, the organization quickly came to rely instead on the international community for support.
Ashour noted that security was one of the organization's primary challenges, particularly the need to protect its internal allies and employees. But through Ashour and his team's dedicated efforts, he said that the organization has become a powerful hub of education, advocacy, and direct services for the LGBTQ+ community in Iraq.
Last year, IraQueer celebrated a milestone achievement: Iraq recognized the right-to-life for all Iraqis, regardless of sexual orientation, at the United Nations. While he was overjoyed about this milestone, Ashour said now is not the time for rest. IraQueer's most pressing goal now is to have LGBTQ+ people's right-to-life recognized within the country of Iraq. And despite being immersed in his studies at Harvard Law, Ashour continues his involvement in IraQueer, driven by a deep passion and with this goal in mind.
Ashour told his story while speaking on the Social Entrepreneurs Student Panel, which was hosted by the Office of Clinical and Pro Bono Programs on October 25 as part of National Pro Bono Week. Moderated by Christopher Bavitz, the school's vice dean for experiential and clinical education and managing director of its Cyberlaw Clinic, the student panel also included Dominique Roberts LL.M. '22, co-founder of Code Your Chances, which aims to address the gender imbalance in computer science and STEM fields; and Mustafaen Kamal LL.M. '22, founder of the DIL Internship Project, which connects students and young professionals to opportunities in Pakistan.
Fellow panelist Roberts may not be a computer scientist, but the motivation behind founding Code Your Chances is close to her heart. She created the 501(c)(3) organization with her sister, who works in computer science and has seen the gender gap in the field firsthand. "It's an inequality frontier that's not recognized enough. People think that if they don't work in the field, it doesn't affect them, but it does," Roberts said.
As artificial intelligence is increasingly woven into the fabric of our daily lives, critically evaluating the data and systems behind AI becomes even more important, she explained. "Machine learning is trained by data input by humans, so bias is inherent and inevitable," Roberts said. By increasing women's involvement in the computer science field, Code Your Chances hopes to decrease these biases, creating more representative data and outcomes by diversifying the coders behind it.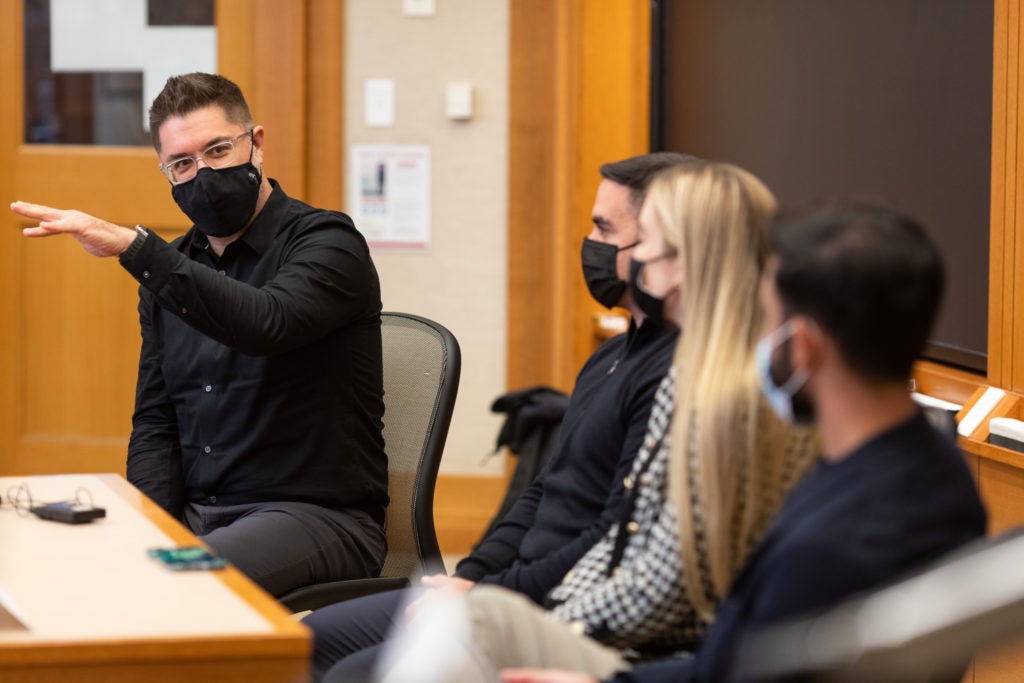 Code Your Chances has had a busy two years since the beginning of the pandemic. With Roberts' leadership, the nonprofit has developed mobile and virtual reality apps that bring creative technology education into the home, and the organization is actively finding new partnerships to bring educational programming to national afterschool communities, including YMCA and the Boys and Girls Clubs.
Although there are existing organizations that work with young women who code, Roberts identified a gap in early exposure. Code Your Chances aims to expose girls around the world with limited access to technology education to coding as a possibility for their futures, with a particular focus on the creative uses of coding in fields such as filmmaking, virtual reality, and game development. Roberts agreed with Ashour that running a nonprofit is "a labor of love," and she is driven by her mission of inspiring more girls to pursue coding in an effort to close the existing gender gap.
Mustafaen Kamal said that his organization, DIL Internship Project, was inspired in part by his experience as a diaspora student, nodding to his international student classmates at the panel. It is designed to bring skills and talent from students and young professionals to developing countries, particularly Pakistan. "We need to move beyond the monolithic narrative of helping a country and create a mutual place where growth can happen," said Kamal, who is attending HLS as a Frank Knox Fellow, which is awarded to students with a "future promise of leadership." To reach this goal, Kamal concentrates his efforts on changing the public's perceptions of developing countries into natural destinations for work and talent, with dynamic workplace environments.
"A lot of people want to do more than just charity," he said. In founding his organization, Kamal identified employment needs on both sides of the world – organizations in Pakistan that wanted strong workers and workers in diaspora nations that wanted to experience work in a new environment. There are many advantages to bringing talent to developing countries, Kamal noted: "Pakistan and other countries are at an inflection point. Many developing countries are about to emerge into an exciting new phase … we want to cement the bridge between developed and developing world."
These students' organizations each address different needs in the world, yet their founders can all agree about the value their current legal education holds when it comes to advancing their respective missions. Roberts sees the role of the lawyer as that of a problem solver, which does not necessarily need to equate to a profession as a lawyer in the traditional sense. "Legal training is transferable to so many fields and industries," she said. "Producing a film is similar to my transactional law job in so many ways … As the number and opportunity of jobs in the legal sphere changes, it'll become more common for students to find unique roles in the world that don't fill prescribed boxes."
Kamal agreed, adding that the law can be used as a tool for creative innovation, especially in the nations his organization partners with. "There's a tendency for law students to take the law as a given, but innovation in the law is something students should use to challenge the status quo, which often favors a small part of society," he said. "We need to be innovative in the way we think about the law so that we can make the change we want to. Legal education gives you the tools to do that."
In his work in Iraq, Ashour not only sees the law as a method for innovation, but for protection. "Growing up [in Iraq], I hated the law because in my world it was an excuse for mistreating people," he shared. After working with lawyers in collaboration with IraQueer, his perspective changed. "You have to translate your milestones into laws in order for them to be tools that can protect you." The urgency of securing legal rights for the next generation of LGBTQ+ people in Iraq spurred Ashour to pursue his law degree. "I don't know who's going to do it and how long it would take, so I came back to school to get the training I need to be a lawyer who can still be an activist."
Each of these students serves as a model of this year's Pro Bono Week theme, Advocacy at Work. Kamal shared a sentiment from his grandmother, which he finds summarizes his social entrepreneurship work: "When your thoughts, words, and actions are in complete harmony, that's happiness."