The scene was abundant with Harvard Law School pride: tables adorned with crimson and white signs, nametags emblazoned with the school shield, and a crowd eager to discuss their Harvard Law experiences — whether they had already happened or were about to begin. In fact, if it weren't for the mountains in the distance and the stand of palm trees lining the street below, one could be forgiven for thinking this event for incoming first-year law students, transfer students, and LL.M. program students was being held on Harvard Law's campus.
But the meet and greet, which attracted a crowd of incoming and continuing students and alumni, instead took place in downtown Los Angeles, as part of a series of nationwide summer welcome events planned by Stephen Ball '10, Harvard Law's Dean of Students.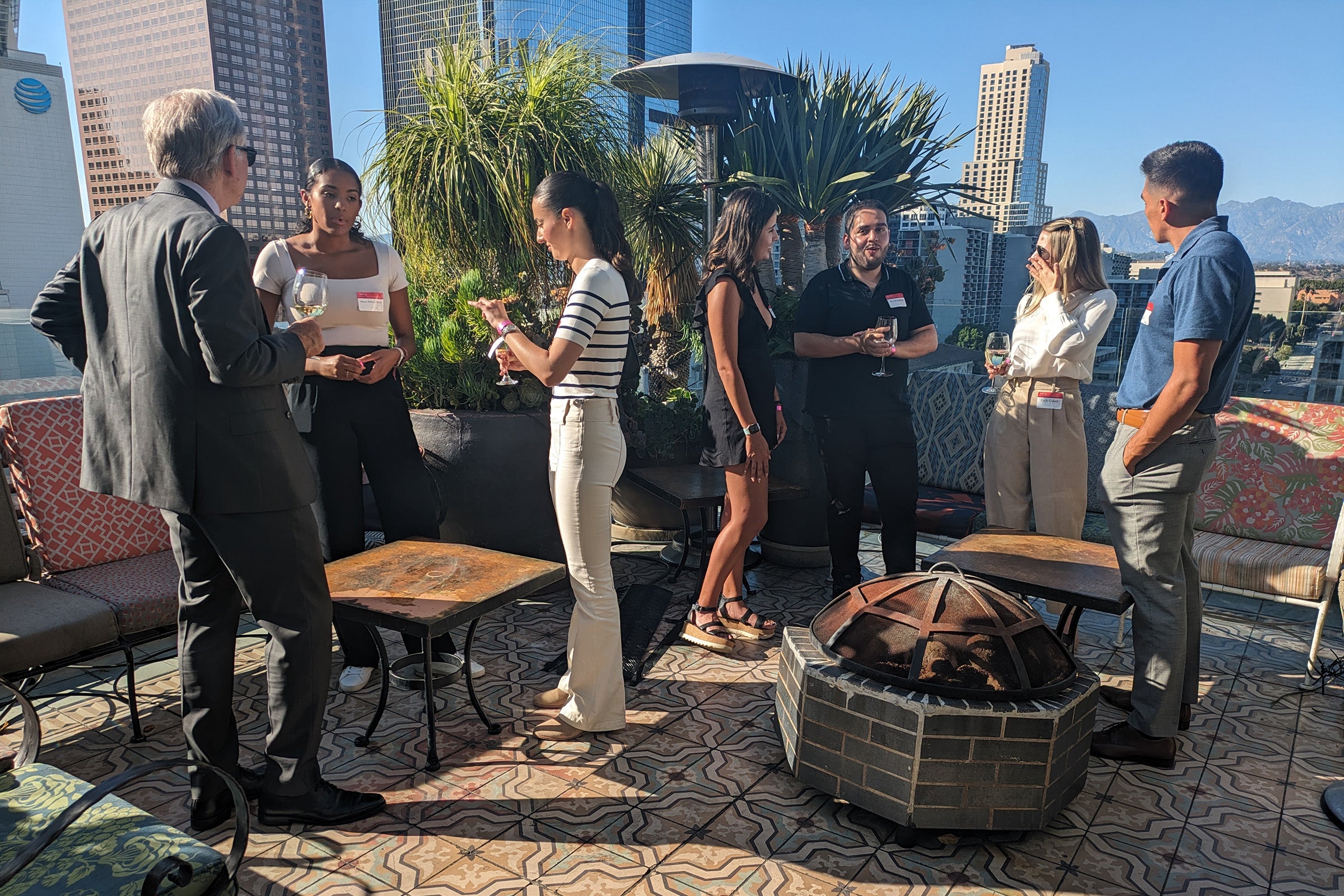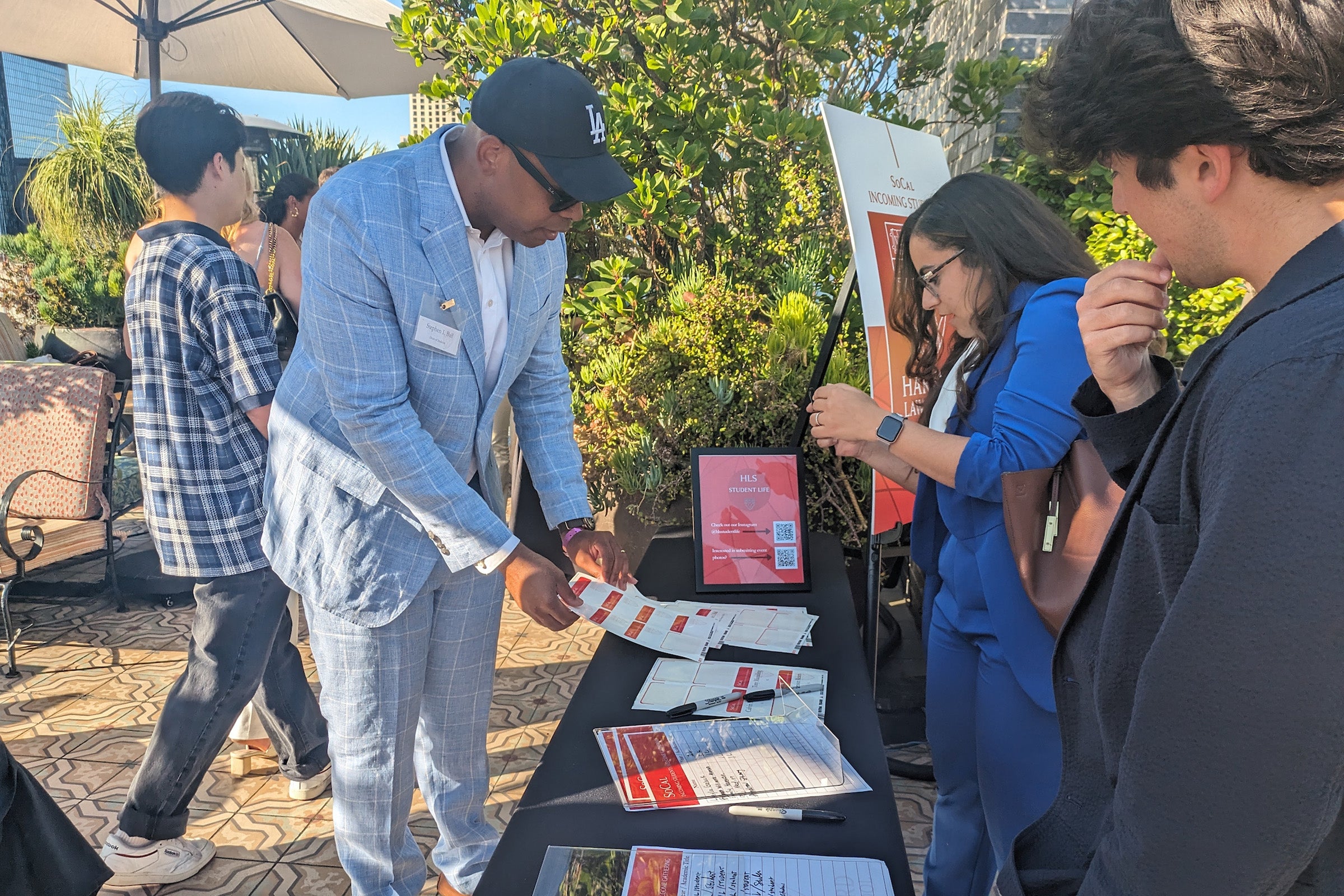 Ball said the event series, which is in its second year, was inspired by his own time at Harvard Law. "I think back to when I was preparing to start at HLS and didn't know anyone — how daunting that was on some level as a first-generation college student from the Midwest who hadn't spent much time in the Northeast."
The answer for Ball and his team was to create opportunities for new students to mix and mingle before the fall semester begins. The events, held this year in New York City, Washington, D.C., Los Angeles, and Cambridge, differ from admitted students' days because they are solely for those who have committed to attending Harvard Law, said Ball. "As a result, the goal is entirely about building community and making them feel a sense of belonging as they embark on their journey at HLS."
Ball added that the events were aimed at students not only in the host cities, but across the Tri-State, Washington metropolitan, Southern California, and New England regions, so that students could foster connections in their areas.
'Excited and nervous and eager'
The atmosphere was convivial at the Los Angeles party, held on July 13. Alumni and upper-level students chatted with incoming first-year students, who expressed anticipation mixed with some jitters at the prospect of soon embarking on their law school career.
"It's a tug of war between nervousness and excitement," said Layla Galeck '26 of Los Angeles. "But I am very excited to be able to meet other incoming students and make some connections before I move."
For Mo Dembitzer '26, who was a frontline worker during the early days of the COVID-19 pandemic, the anxiety is not related to academic concerns. Rather, he wants to be sure he takes full advantage of all Harvard Law has to offer during his three years as a student. "I'm excited and nervous and eager," he said. "I also know I'd be doing myself a disservice if I was not open minded to all the possibilities available at HLS."
Kevin Kim '26 and Ryan Holte '26, who became friends while serving in the United States Air Force, said they look forward to new and different challenges as students at Harvard. For Holte, that means exploring his interest in the legal side of artificial intelligence, while Kim said he is excited to "dust the books off again" after six years in the service.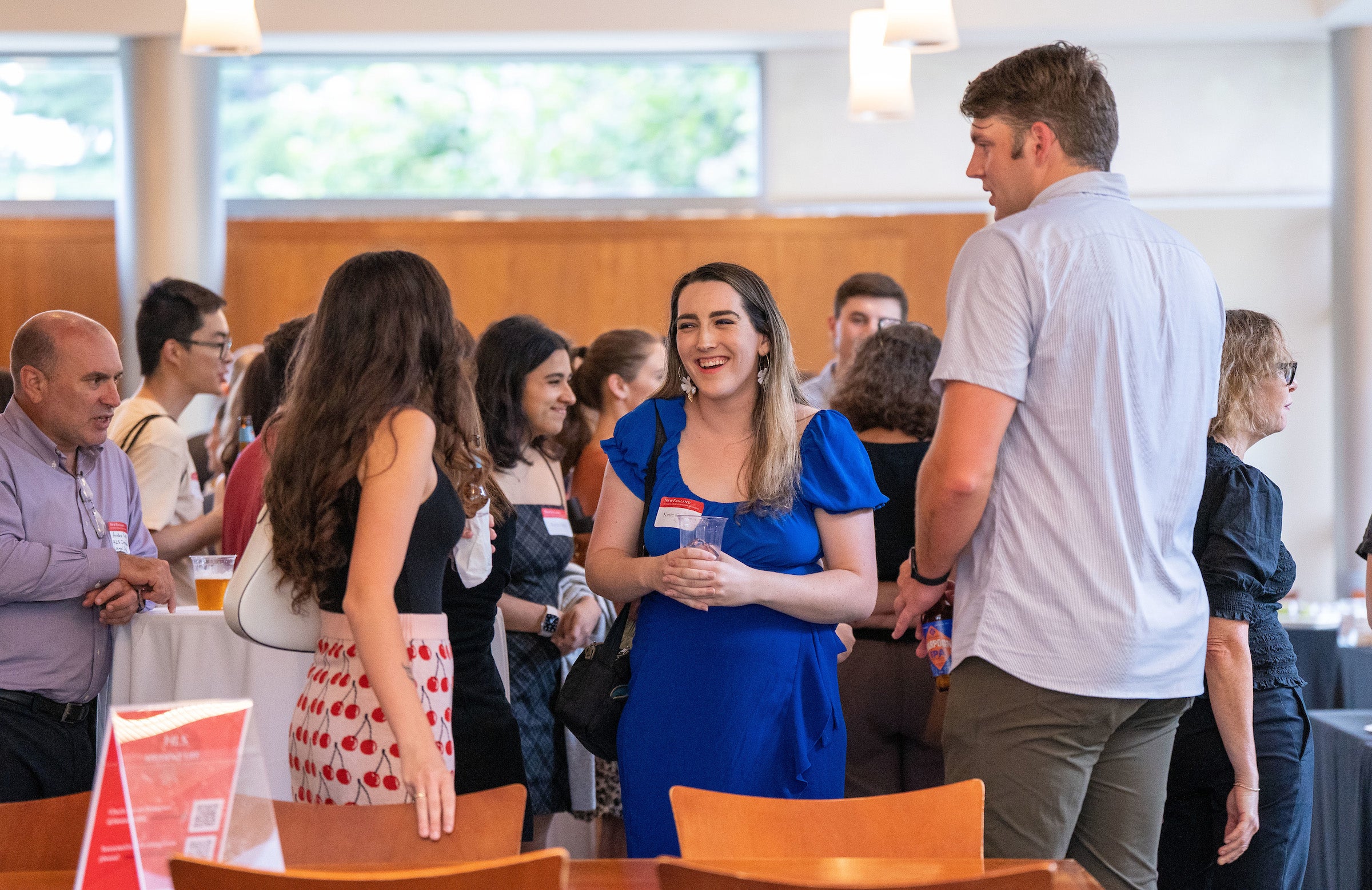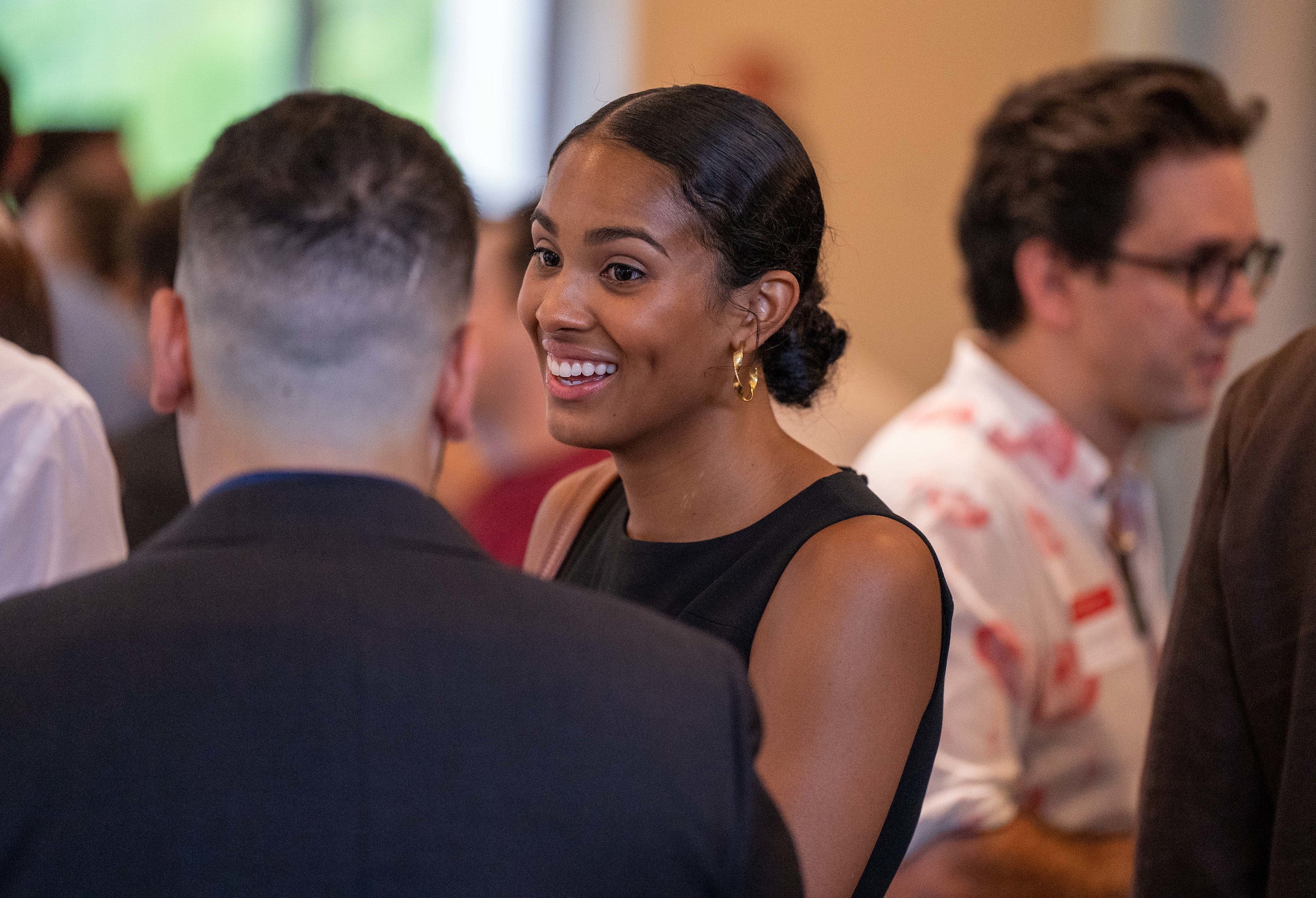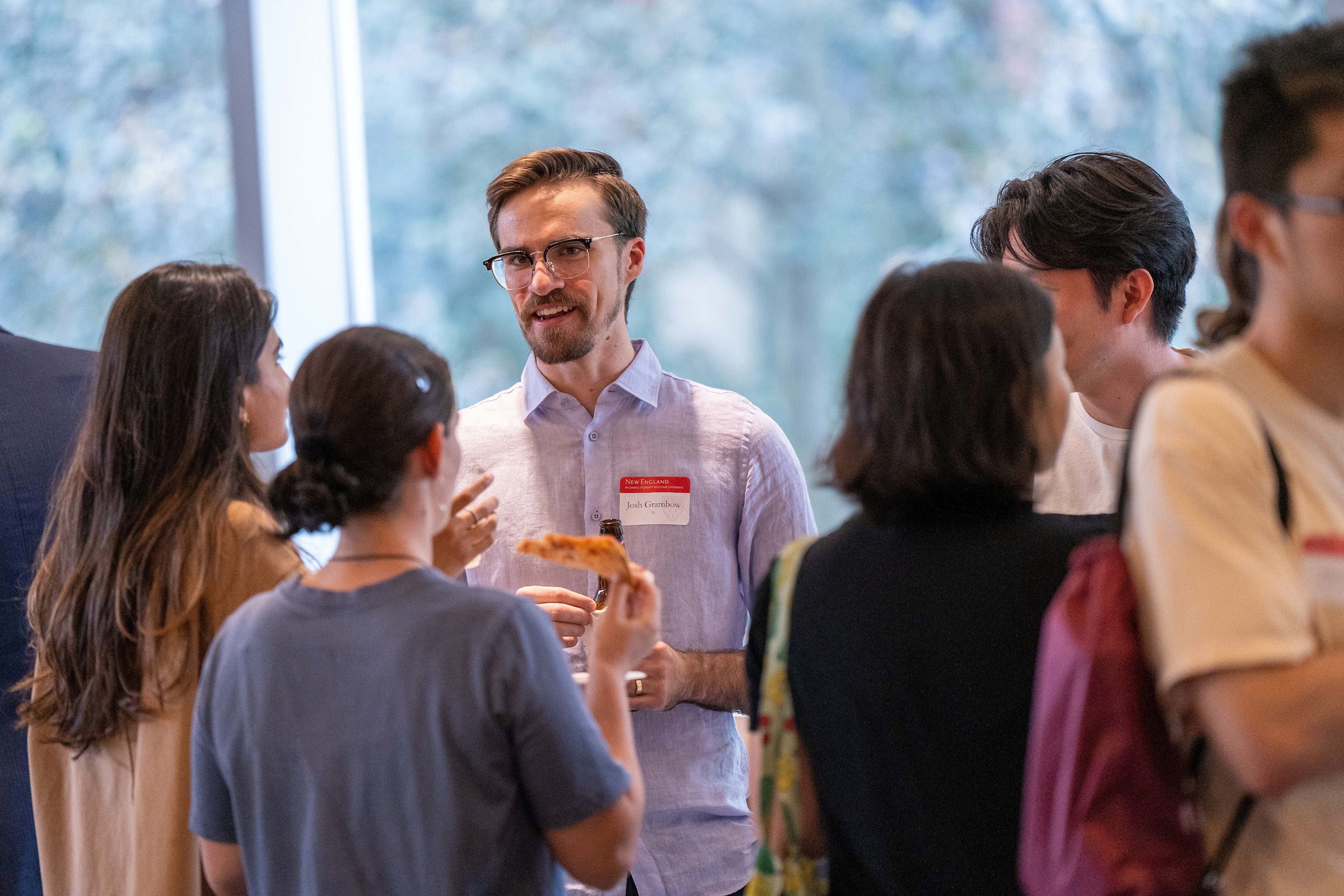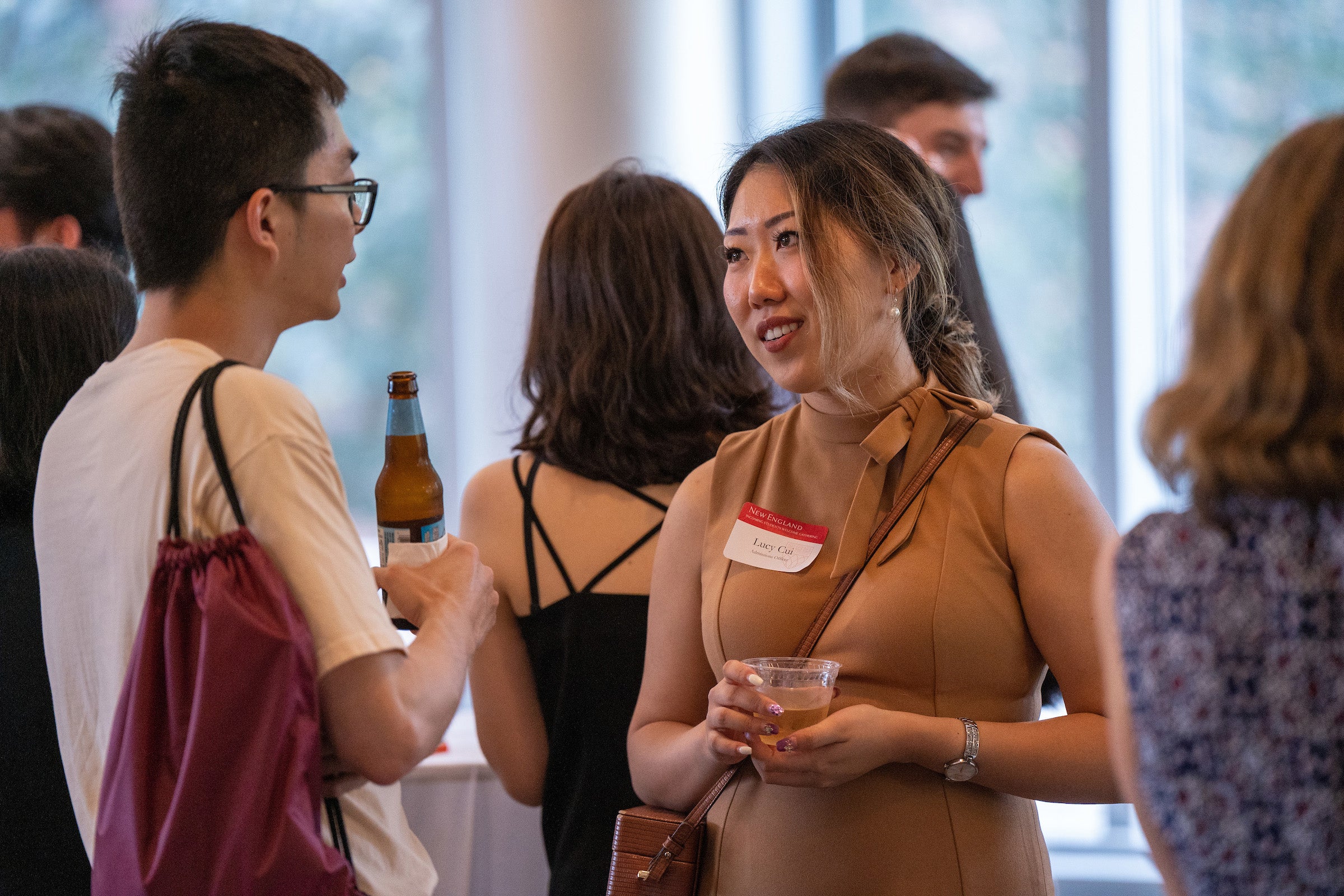 Connecting with the Harvard Law community
For this year's incoming student gatherings, the Dean of Students Office partnered with the Harvard Law School Association and First Class, a student organization focused on first-generation college students, to hold the events. "This allowed us to represent every stage of the life cycle of membership in the HLS community — incoming student, continuing student, and alum," noted Ball.
Bonnie Lee '23, a third-year student interning in Los Angeles over the summer, said she attended the L.A. event to meet some of the new students and share her experiences in law school so far. Her advice to incoming students? "Remember that we all struggle with impostor syndrome, but just know that you are meant to be at HLS. Explore your interests, find your place, and don't compare yourself to anyone else."
Sherry William '10, co-president of the Harvard Law School Association of Los Angeles and founder of Pacific Ivy Law, echoed Lee's words of wisdom. "Dream big," she said. "Don't be too focused on trying to figure it out and be open to opportunities as they arise. Law school provided some of the best opportunities in my life, and I hope it will do the same for you too."
Another alumnus, Jon Walls '90, an investment banker and entrepreneur who received a joint J.D. and M.B.A. at Harvard, advised students to slow down and enjoy the next few years. "It's a marathon, not a sprint," he assured students. "And just know that it is hard to go too far off the rails at HLS."
Citing the success of this year's events, which concluded with a gathering in Cambridge on July 27, Ball said he hopes to expand to locations in the Midwest, South, and even internationally in the coming years.
"We hope to continue to create a way for students to build connections before they get to campus or start the academic year," he said. "Ideally, they come away from these events with at least one or two new friends who will be familiar faces at orientation and beyond."
---
Want to stay up to date with Harvard Law Today? Sign up for our weekly newsletter.