As is the case for many U.S. Marines, Nathan Lowry '24 has strong feelings about the withdrawal of American military forces from Afghanistan this summer after 20 years of combat. Did the Biden administration do the right thing?
"It's a tough one," says Lowry, who served five-and-a-half years in the Marines as a ground intelligence officer, including a ten-month deployment to Afghanistan in 2017–18. "When those Marines died in the suicide bombing" — 11 Marines and two other service members were killed August 26 in Kabul, in one of the deadliest attacks of the war — "it was tough on most Marines I know. Some of them deployed three or four times. I didn't have to make the sacrifice they did, going once and being at the tail end of the war but it was still very tough to see."
Instead of a total withdrawal, "I think a small contingent [of U.S. military] would have provided enough of a supporting role to deter some of the events that ended up happening," says Lowry. "There's been a big focus on over-the-horizon targeting where we can keep an eye on ISIS-K and Al Qaeda even though there are no assets there, so I don't think it would have been that big of a marginal cost to leave a small footprint" of military in place.
He sighs and repeats, "It's a really tough one, frankly."
With a father who served in the Army and a grandfather in the Navy, the military was always a consideration for Lowry. After graduating from high school in the Washington, D.C. area, he went to Cornell and, after his freshman year, did a program called Officer Candidates School, which trains, evaluates, and screens Marine officer candidates for potential service in the Corps following college.
"It was hardest thing I'd ever done to that point," says Lowry. "I wanted the challenge. At the time, Iraq was still going and Afghanistan was starting to heat up. I felt almost like I had a responsibility; people my age were getting blown up, and I'm sitting here in college."
After graduating Cornell in May 2013, where he double-majored in economics and government, and met his wife, Jen, Lowry commissioned with the Marines. "I chose the Marines because I thought it was the most difficult branch," he says, "and also I thought it would be my best opportunity to deploy abroad." And seeing what was happening in Afghanistan, he added, "they were taking a lot of casualties," he wanted to serve his country.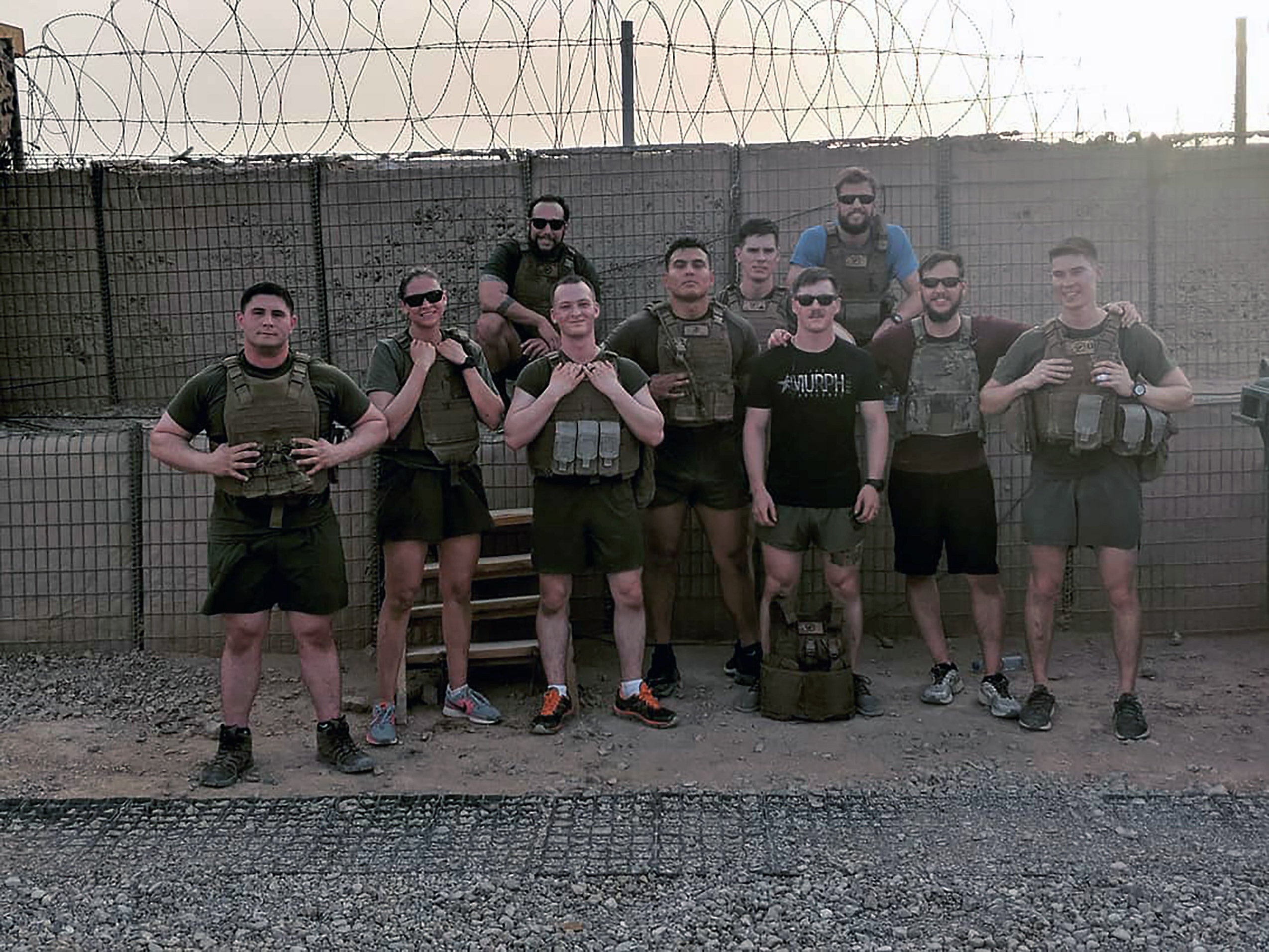 After a year-plus of trainings, Lowry, who speaks Arabic and some Russian, was selected for the Infantry Officers Course, which he describes as the Marine Corps equivalent of Army Ranger School. As an intelligence officer, he deployed to Uganda and Djibouti in support of U.S. State Department operations, including the reinforcement of the U.S. Embassy in Juba, South Sudan. When his four-year commitment was drawing to a close, Lowry was offered the chance to go to Afghanistan and signed up for another two years. While combat-deployed in Afghanistan, he led a team of intelligence specialists in conducting counterterrorism targeting operations and supporting Afghan military advising and training efforts, which contributed to a ceasefire in Helmand Province. He also worked with U.S. Special Operations and Afghan strike forces in southern Afghanistan, developing targets for raids to degrade Taliban leadership and operations while safeguarding coalition forces.
After five-plus years in the Marines, Lowry felt it was time for a change. With the GI Bill available to pay his education, he debated between law and business school. "Law had a big influence in how we did things in Afghanistan both in terms of working with Afghan and U.S. forces," he says. "I saw how much impact law had." He visited HLS and Harvard Business School and talked to veterans at both. "The guys in the law school were just so helpful and so willing" to review his application materials, says Lowry.
Carl Min '20, who was president of the HLS Armed Forces Association and a director of Service to School, a nonprofit that helps veterans achieve higher education, was especially generous with his time. "Carl was super busy, but he would get back to me within hours," says Lowry, who is now himself a director at Service to School. "It's a good opportunity for me to help out where I can."
Though he's just a few months into law school, "Harvard has been awesome," says Lowry. "I think HLS admissions, specifically, is very good at giving opportunities to veterans." He finds his classmates equally supportive. "When I'm at law school I don't feel out of place. I'm a moderate but there's a lot of preconceptions because the military, especially the Marine Corps, is very, very conservative. People have been very open, although some are probably a little bit uncomfortable with the operations that went on in Afghanistan."
There are two other veterans in his 1L section, one Army and one Air Force. "It's nice. I talk to plenty of people who are vets but it's nice to have that little community," says Lowry, who is a member of the Armed Forces Association, an affinity group at HLS. He is also a member of National Security Journal and a mentor for the Harvard Foreign Policy Initiative, working with undergrads who are interested in that field.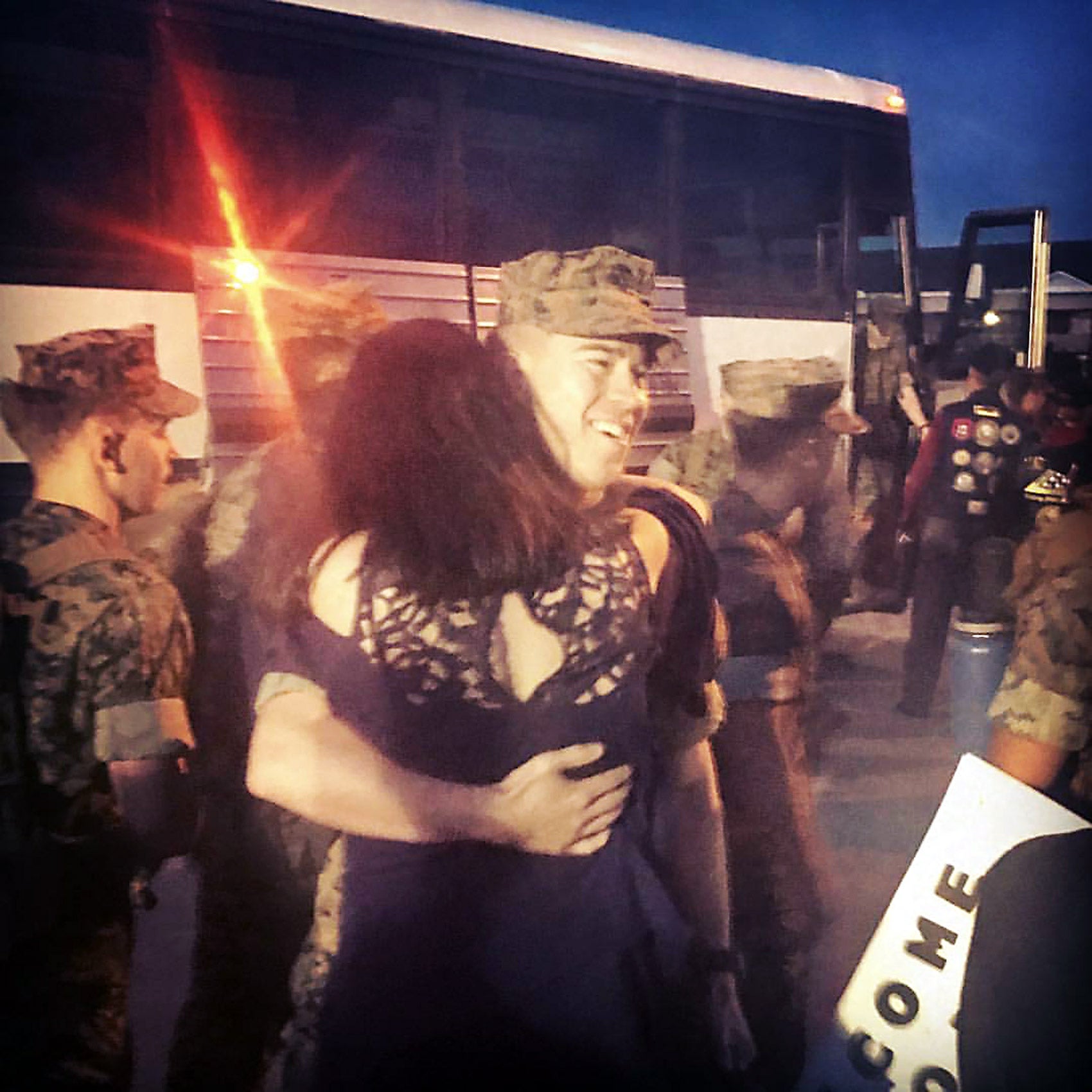 Last summer, Lowry and his wife were married, in Vermont, after postponing their wedding several times due to the COVID-19 pandemic. His wife, Jen, a veterinarian, "calls us Team Vet," says Lowry. After HLS, he plans to return to government work, probably in national security "because of the impact my deployments have had on me," says Lowry.
How hard is law school compared to the Marines? Lowry has a ready answer. "With 10 being deployment in Afghanistan and a 1 being on summer break doing nothing, I would say law school is a 6 or 6 ½," he says. "It's definitely long hours but it's nice to know I can go to bed and no one will attempt to shoot a rocket at me so that I have to go sit in a bunker."