A team of Harvard Law School students traveled to London in early October to participate in the Foreign Direct Investment International Arbitration Moot, hosted by the Dickson Poon School of Law at King's College London.
The 2015 Harvard FDI Moot Team, which consisted of Matthew Weybrecht '16, Zain Jinnah '16, Paige von Mehren '17, Danielle Young '17, and the two team co-captains, Amanda Tuninetti '16 and Anusha Pamula '16, advanced to the quarterfinals of the oral competition rounds, finishing in fifth place overall.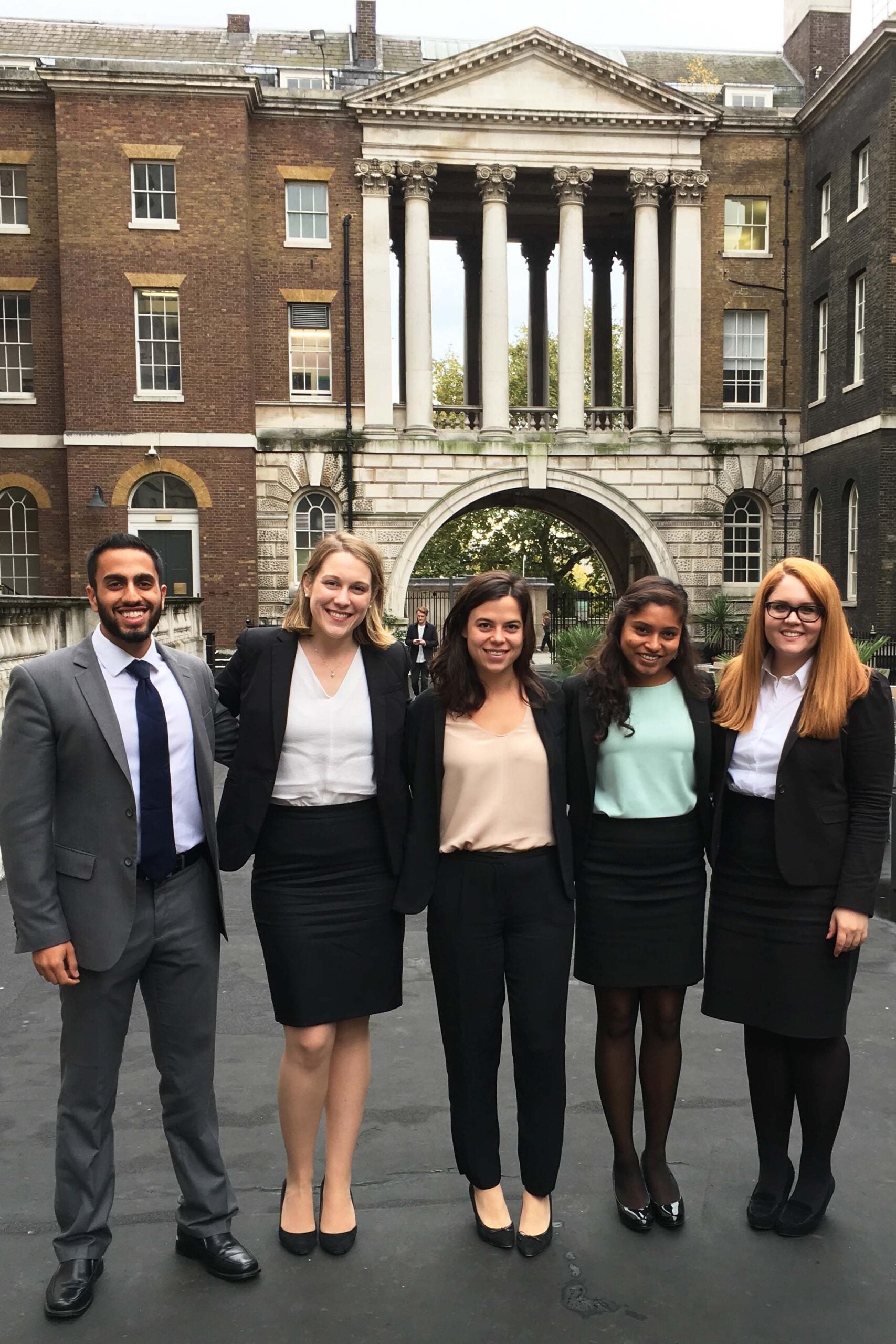 For the second year in a row, the HLS team won the Oxford University Press Prize for the Best Respondent Memorial, which will be published in the Oxford University Press "Yearbook on International Investment Law and Policy."
In total, 51 teams took part in the oral argument rounds in London, after qualifying in the competition's various regional rounds. This is the fourth year that Harvard Law School has participated in the competition.
The team was coached by Jessica Beess und Chrostin '13, who founded the team in 2012 and practices international arbitration at King & Spalding, and Ana Vohryzek, a former international arbitration associate at King & Spalding.
The FDI International Arbitration Moot Competition spans approximately six months over two phases: written memorials for the claimant company and the respondent state, followed by hearing of oral arguments before panels of judges, who are leading practitioners and academics in the field.
This year's problem raised complex jurisdictional questions relating to the validity of bilateral investment treaties between EU member states, and issues involving the long-term security of feed-in tariffs designed to encourage renewable energy investments.
"Investor-state dispute settlement has been getting a lot of media attention recently, due to its inclusion in the Trans-Pacific Partnership and the possibility of its inclusion in the Transatlantic Trade and Investment Partnership," said Amanda Tuninetti '16. "It's a growing and exciting area of practice, and we would love to see more international arbitration in the HLS curriculum."
The competition provides students an opportunity to experience briefing and mooting a hypothetical investor-state arbitration, developing legal strategy and even calculating damages.
"For me, the most fascinating part of oral argument was responding to questions from judges from different jurisdictions," said Danielle Young '17. "Some wanted textual arguments from the treaty. Some wanted arguments rooted in EU law. Others wanted arguments about broader policy implications. It was great to start learning how to be a persuasive advocate for a real range of judges."
Young and von Mehren will lead the team next year. The 2016 competition will be held in Buenos Aires, Argentina, hosted by the University of Buenos Aires.