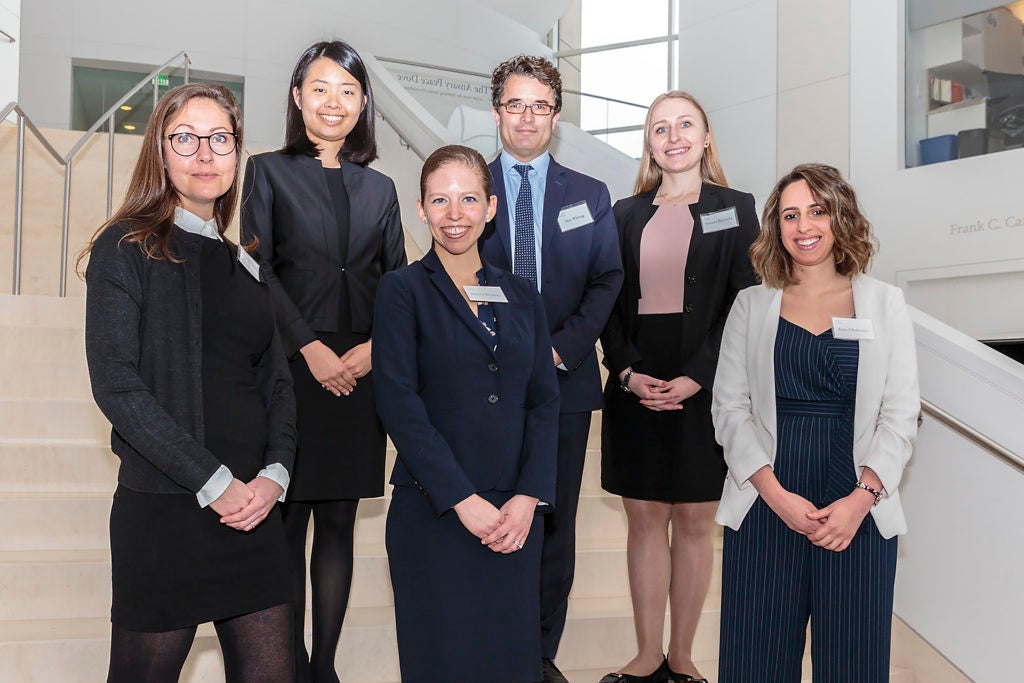 In February, five students from Harvard Law School were selected to join their peers from 10 other leading U.S. law schools in Washington, D.C. to explore the future of public and private international law at the sixth annual Salzburg Cutler Fellows Program.
Marissa Brodney '18, Rana Elkahwagy S.J.D. candidate, Tetyana Payosova LL.M. '18, Jenny Sandvig LL.M. '18, and Hiroko Yamamoto '18, joined faculty representative Alex Whiting, professor of practice at Harvard Law, for the Salzburg Cutler Program.
Over two days, Feb. 23-24, the Cutler Fellows engaged with prominent legal professionals and public servants, including Diane Wood, chief judge of the 7th Circuit Court of Appeals; William H. Webster, former FBI and CIA director; and Ivan Šimonović, the United Nations Assistant Secretary-General and Special Adviser of the Secretary-General on the Responsibility to Protect.
The fellows also worked with faculty advisors from each of the participating law schools to sharpen research papers which tackled issues in international law. HLS students researched reparations at the International Criminal Court, the retroactivity of decisions at the European Court of Human Rights, international regulation of small arms trafficking, mediation at the World Trade Organization, and the legal consequences of contracts obtained through bribery in international commercial arbitration.
"This program is an invaluable experience for the students selected to participate," said Whiting. "They get an opportunity to workshop their papers to other international law students and faculty, they gain a network of contacts of other students interested in international work, and they meet with practitioners in the international law world."
This year's Cutler Fellows collectively represented 23 countries, including Argentina, Indonesia, Israel, Jamaica, Pakistan and the United States. In addition to Harvard, participating schools included Columbia University, Duke University, Georgetown University, New York University, Stanford University, University of Chicago, University of Michigan, University of Pennsylvania, University of Virginia and Yale University.
Opening the program on Friday at the United States Institute of Peace, Judge Wood emphasized that international law is closer and more relevant to the students' future in legal practice than they might anticipate.
While international legal frameworks put in place since World War II have fostered the flow of ideas, goods, and services around the world, Wood said, challenges have also emerged, including the drug trade, online financial scams, and human trafficking.
"The borderless world has some sinister consequences too," Wood said, "but these are things that we are dealing with right now in the courts."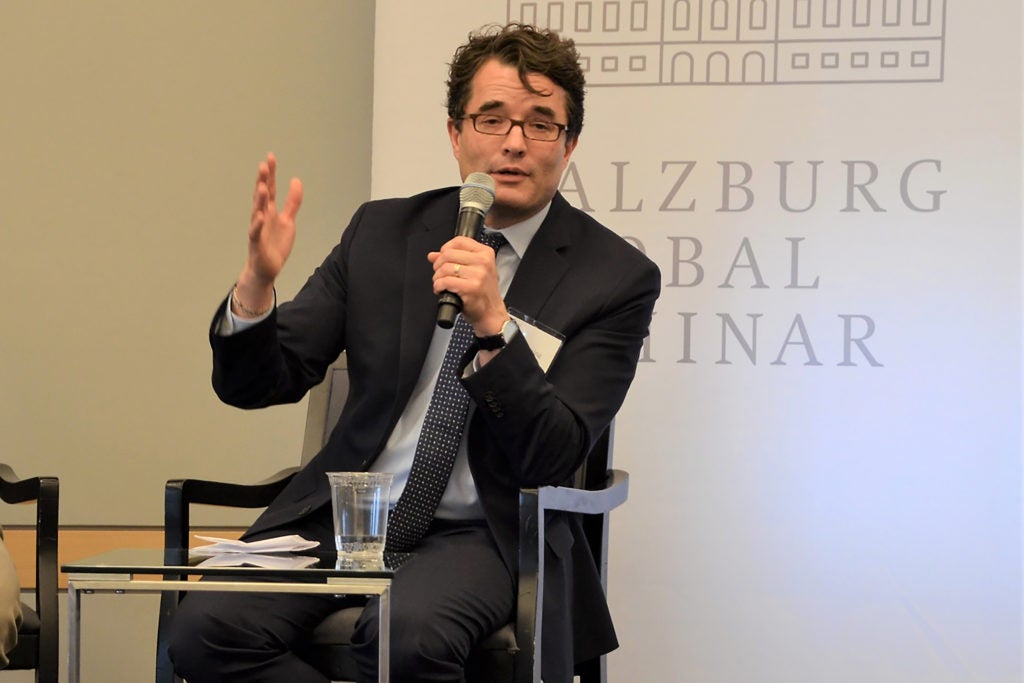 Faculty representatives Matthew Waxman of Columbia Law School and Alex Whiting of Harvard Law School engaged in a luncheon discussion with the fellows focusing on the role and recent developments of the International Criminal Court (ICC). Whiting spoke from his experience in the Office of the Prosecutor at the ICC from 2010-13.
On Friday evening, former FBI and CIA director Judge Webster joined in a conversation with John B. Bellinger '86, former U.S. Legal Adviser, reflecting on recent events in the United States and calling for the restoration of the values of public service and fierce integrity across party lines.
The following morning at New York University's Washington campus, Šimonović offered the Fellows advice based on his own work in diplomacy, justice, and international institutions. Recalling his experience as a member of the Croatian Delegation at the 1995 Dayton Peace Talks, Šimonović said, "Always remember the importance of cultural context in international negotiations."
The Fellows were also joined on Saturday by mentors from institutions including the World Bank, the Inter-American Development Bank, and New Markets Lab to discuss how legal training can be used for the public good. Two mentors, Joseph Klingler '14 and Eric Lorber, described their journeys from their participation as students in the Salzburg Cutler Fellows Program to their current work as an associate at Foley Hoag and senior advisor to the Undersecretary for Terrorism and Financial Intelligence at the U.S. Treasury Department, respectively.
At the end of this year's program, Salzburg Global Seminar President Stephen L. Salyer announced the opportunity for students to submit applications to travel to Salzburg, Austria – the home of Salzburg Global Seminar – in May 2018 to serve as rapporteur at this year's high-level meeting of the Public Sector Strategy Network, a multi-year initiative at Salzburg Global Seminar run in partnership with the Abu Dhabi Crown Prince Court and apolitical.
"This program is unlike anything else in the world, and beyond what even the top law schools can offer," said William W. Burke-White '02, Penn Law's Richard Perry Professor and Faculty Chair of the Salzburg Cutler Fellows Program. "The Fellows interact closely with top specialists in their fields of interest and scholarship, and gain access to a lasting network of peers and mentors."