Several Harvard Law School faculty members delivered commencement addresses this graduation season, including Cass Sunstein, Charles Fried and Kenneth Feinberg.
Cass Sunstein '78, Robert Walmsley University Professor, spoke at the graduation ceremony at the University of Pennsylvania Law School on May 17.
Sunstein delivered a "Star Wars" themed address about the twists and turns in life. "We see patterns in our law, but we are responsible for them," said Sunstein, "We are not finding them. We are creating them."
Sunstein is married to Samantha Power '99, U.S. permanent representative to the United Nations and Pulitzer Prize-winning author. Power was the University of Pennsylvania's 2015 Commencement Speaker on Monday, May 18. At that ceremony, both Sunstein and Power received honorary Doctor of Laws degrees from the University of Pennsylvania.
***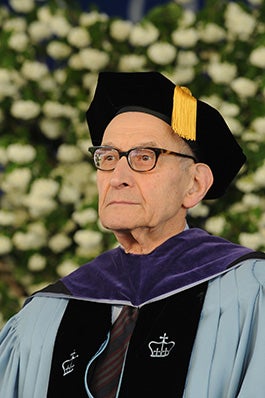 On May 21, Charles Fried, Beneficial Professor of Law, delivered the keynote address at his alma mater, Columbia Law School. In his address, Fried spoke to the graduates about the power of reason. "[T]he tribute that power pays to reason, is the whole substance of the rule of law. Government, order are, after all, to begin with, about absolute power. Without power, reason would be only poetry. But without reason, power is also tyranny, brutality."
Fried also noted that the practice and study of law and the exercise of argument "is a human activity, and a humane activity. It is accompanied by and leads to friendship, mutual respect, and downright pleasure. Your adversaries in court are still addressed as 'my sister,' 'my brother.' In the 4th Circuit, after an oral argument, the judges come down from the bench and shake hands with the lawyers. The justices of the Supreme Court—mostly—preface their use of the verb 'dissent' with the adverb 'respectfully.'"
***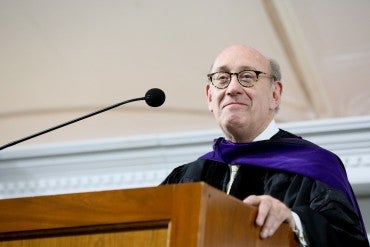 Kenneth Feinberg, a lecturer at HLS, addressed graduates of Stonehill College on May 17. Feinberg, who has managed the compensation funds for some of America's most horrific tragedies, spoke about the unexpected in life and the true meaning of happiness.
"Bask in the glory of what you have accomplished, and get ready for tomorrow," he said. "Our nation has a vested stake in you. Your personal happiness and success, your determination to make out a life while helping your fellow citizens, benefit all of us. And benefit the United States of America."