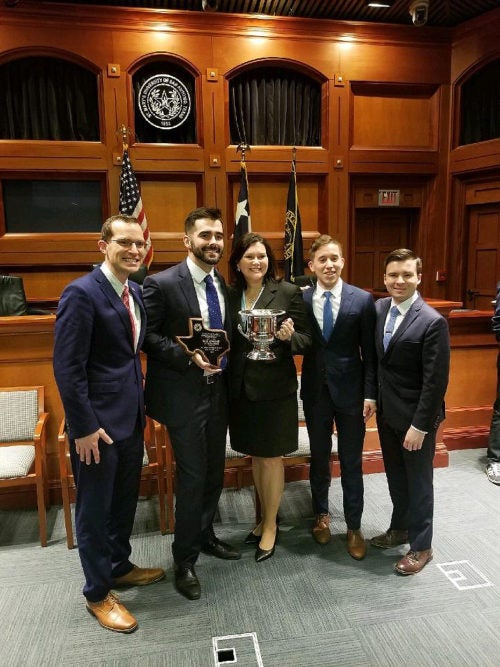 Harvard Law School's Mock Trial Team won first place at the 2018 Lone Star Classic, an annual invitational mock trial tournament open to ABA-accredited law schools nationwide. The tournament was hosted by St. Mary's University School of Law, in San Antonio, Texas, October 18-20.
The HLS team earned first place honors after defeating Emory Law School in the final-round of the competition. The combined HLS team of Justin Kenney '19, Preston Moore '20, Michael Guggenheim '20, and Matthew Folks '19 won four preliminary and two finals rounds to secure the championship.
"We were really pushed to our limits. This tournament could not have gone better for us," said Folks, who served as team captain.
In addition, Kenney took home best overall advocate for the preliminary rounds, and Moore took home best closing argument for the preliminary rounds and best overall advocate for the final round.
Since the Harvard Law School Mock Trial Association was founded as a new student organization in December 2015, HLSMTA members have won the national title and a host of regional championships. Last February, the Harvard Law School trial team of Marilyn Robb '18, Rahul Garabadu '19, and Alexis Wansac '19 represented HLS at the National Trial Competition national tournament after winning first place at the Northeast Regional Qualifiers. Since kicking off this current school year, HLSMTA has won team or individual awards at every competition attended so far.
HLSMTA thanked all of the HLS affiliates who supported them as they prepared for this competition. Lauren Papenhausen '02, a partner in the Global White Collar Practice Group at White & Case in Boston, helped judge scrimmages, and the Hon. John C. Cratsley, a retired judge of the Massachusetts Superior Court and an HLS Lecturer on Law who teaches "Judicial Process in Trial Courts," helped the team during early preparation. Shannon Schmoyer '91, a founding partner of Schmoyer Reinhard in San Antonio, Texas, served as a volunteer coach for the team while they were in Texas.