As the conflict in Ukraine enters its seventh week, some Ukrainian members of the Harvard community worry that when their visas expire, they could be forced to return to a country at war.
But there may be options to keep them and their families safe, says Mariam Liberles, a staff attorney at the Harvard Representation Initiative, which offers free consultations and representation on immigration matters to the Harvard community. Liberles says that Ukrainians in the U.S. may qualify for immigration benefits that would enable them to remain in the country — and that the Harvard Representation Initiative, which is part of the Harvard Immigration and Refugee Clinical Program, is dedicated to helping them.
"What we are seeing now are Ukrainians who are currently in the U.S. on a temporary basis, such as a student visa, or a J-1 [exchange visitor] visa, and they're looking for ways to stay here longer, because they're afraid to go back to Ukraine due to the war," says Liberles. "Many Ukrainians are also concerned about families currently in Ukraine, or who have recently fled Ukraine."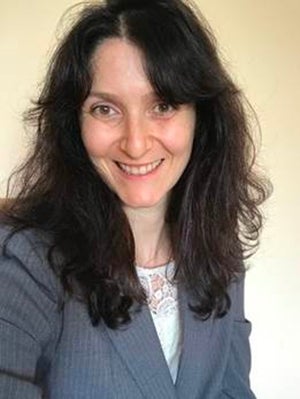 Liberles says that the Harvard Representation Initiative was established in 2017 to assist undocumented students and students who have Deferred Action for Childhood Arrivals (DACA), and that since its inception, it has held more than 1,000 consultations with members of the Harvard community and filed numerous applications for immigration-related relief for Harvard affiliates from around the world. Recently, her office filed more than 20 humanitarian parole applications for at-risk Afghan scholars and their families, to assist with their evacuation and entry to the U.S.
Today, she says she and her colleagues are fielding inquiries from Harvard affiliates affected by the crisis in Ukraine, including some students from Russia who oppose the war and fear persecution if they are forced to return to their country.
Liberles says clinic staff work to understand each person's unique situation and help them discern — and take advantage of — their options within the U.S. immigration system. "What's great is that they can have an individual consultation with an attorney who goes over all the details of their case and determines what potential options that person has and then discusses the pros and cons of each one."
While every person's circumstances differ, Liberles says that many Ukrainians in the U.S. will soon be able to apply for Temporary Protected Status (TPS) announced by the Biden administration last month.
"Ukraine was recently designated for TPS, which means that Ukrainians who are currently in the U.S., and have been living here since March 1 of this year, can apply," she says, adding that TPS enables Ukrainians to remain and work in the U.S. for 18 months with the potential for renewal. Because the special designation could impact many people, Liberles says the Harvard Representation Initiative may hold a legal clinic to quickly assist as many Ukrainians as possible to apply. She and her colleagues have held similar clinics in the past for those seeking to renew DACA and TPS from other countries.
And recognizing that 18 months' protection may not be long enough, she adds that Harvard Representation Initiative attorneys are also helping Ukrainian students, faculty, and staff understand additional avenues they could explore in the immigration system, including asylum, family, and employment-based options.
Liberles says her office has consulted with several members of the Harvard community affected by the crisis in Ukraine so far, and she expects to support many more in the coming weeks and months ahead. "We're just going to continue doing our work, and try to help as many people as we can."