Harvard Law School students Amanda Mundell '17 and Joe Resnek '17 won first place at the 41st Annual National Trial Competition in Dallas, Texas. Resnek also received the competition's Best Advocate Award for his outstanding performance in the final round.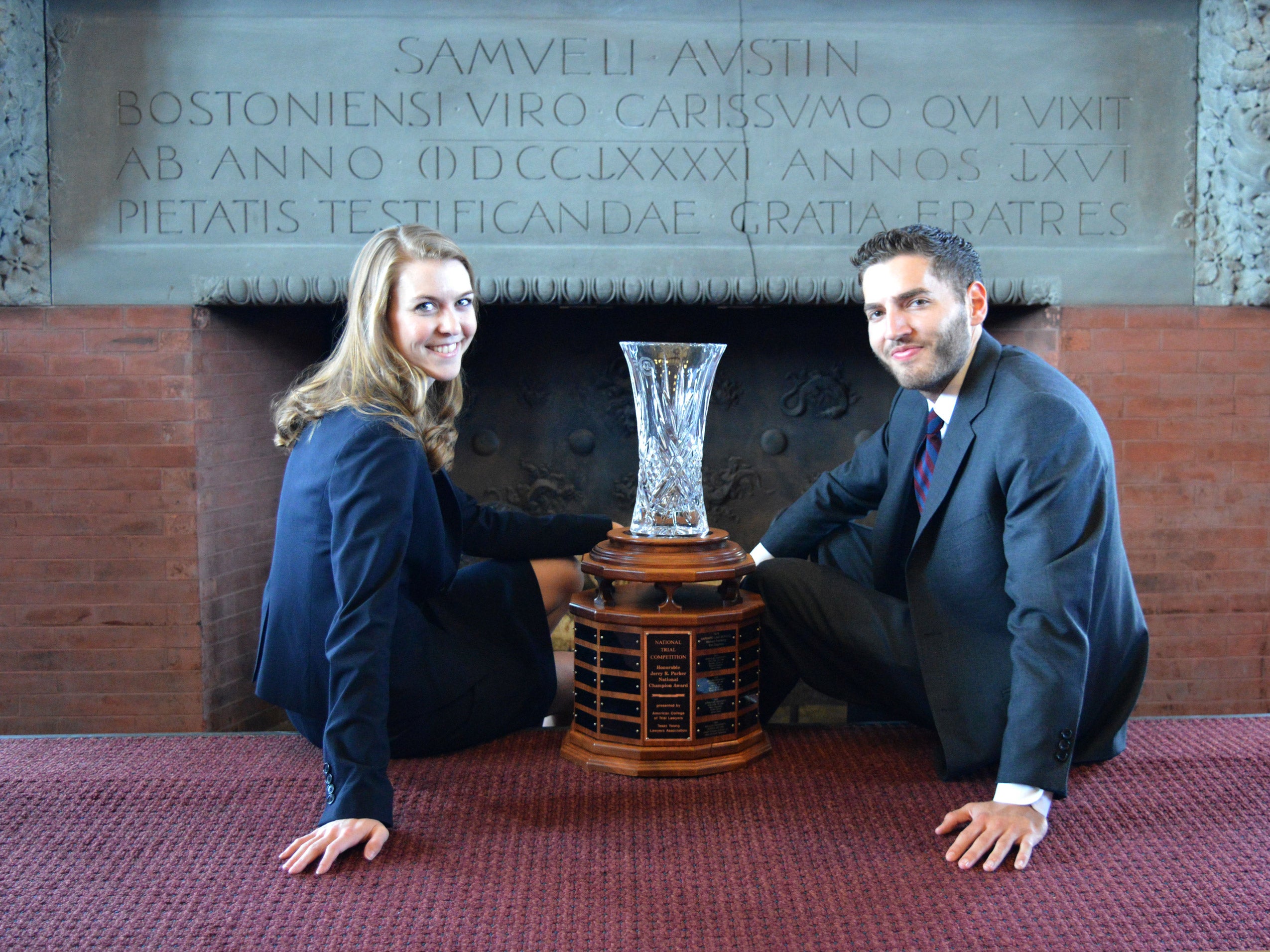 The National Trial Competition, hosted by the Texas Young Lawyers Association in partnership with the American College of Trial Lawyers, is the largest mock trial competition in the country. The competition attracts teams from more than 140 law schools, and involves more than 1,000 law students each year.
Of the original 300 teams in the competition, the top two winners from 14 regions advanced to national finals in Dallas, which were held March 30 through April 3. More than 150 attorneys volunteered to judge and more than 100 volunteer witnesses participated in the event.
Mundell and Resnek advanced to the national competition after emerging from their regional competition undefeated, with a record of 15-0. They faced law school teams from Baylor, University of Texas, Temple, Iowa, and Northwestern, before defeating California Western School of Law in the championship round.
Mundell and Resnek praised the American College of Trial Lawyers and Texas Young Lawyers Association for putting together a wonderful tournament. "The competitors were truly talented, and it was an honor to compete with them in front of the top trial lawyers in the country," Mundell said.
Harvard Law School has only won the National Trial Competition once before, in 1976, at the tournament's inaugural competition with then HLS team members Michael Feldberg '77 and Eric Zagrans '77. This year's victory coincides with Harvard's reemergence in the competitive law school mock trial circuits. In December, the Harvard Law School Mock Trial Association was introduced as a new student organization. The organization sent three competition teams to tournaments this spring, and plans to expand its membership and presence at law school mock trial competitions throughout the country beginning in the Fall of 2016.
As winners of the competition, the HLS team received the Kraft W. Eidman Award, presented by the American College of Trial Lawyers, which consists of a $10,000 award to the winning school and a plaque to each member of the winning team.
Other top finishing teams this year were National Finalist: California Western School of Law; Semifinalists: Northwestern University Pritzker School of Law and Yale School of Law; and Quarterfinalists: Mitchell Hamline College of Law, Samford University, Cumberland School of Law, University of Iowa College of Law and University of Missouri-Columbia School of Law.