A team of Harvard Law students won the North American regional competition at the European Law Students Association (ELSA) Moot Court Competition on WTO Law. This year's competition was held at American University Washington College of Law in Washington, D.C., on March 21-24.
The HLS team included Barbara Medrado '19, Ryan Manucha '19, Kevin Gu '20, and Han Seul Yoon '20, and coaches Zach ZhenHe Tan '19 and Devony Schmidt '19. Professor Mark Wu served as faculty advisor.
In addition to the team's overall victory, Gu was awarded best oralist for the final round.
"This competition has been the most challenging and rewarding experience at HLS so far," said Medrado. "We thank Professor Wu whose support has been of paramount importance to the team."
"This year's case involved not just issues of trade protectionism, but also open legal questions concerning development and regulatory sovereignty," said Professor Wu, who specializes in international economics and trade law. "At a time when trade disputes are becoming regular front page news, one quickly sees how these tricky issues are not just theoretical problems for a moot competition, but possibly the trade disputes of tomorrow. Against this backdrop, it's been especially gratifying for me to work with such a dedicated group of students to master the skills necessary to resolve these issues through rule of law."
This year, 14 teams competed from the U.S., Canada, Mexico, Guatemala, Columbia and Brazil. Harvard Law School competed against Queen's University, Canada, for the final round.
Schmidt, who was a member of last year's winning team, said: "We were excited to use the lessons we learnt from participating last year in coaching this year's team. As coaches, we were proud of how the team came together to support each other during the competition, which allowed each individual to shine as an oralist. We are especially grateful for Professor Wu, whose guidance and support was indispensable, and we look forward to more hard work as we get ready for the finals in Geneva."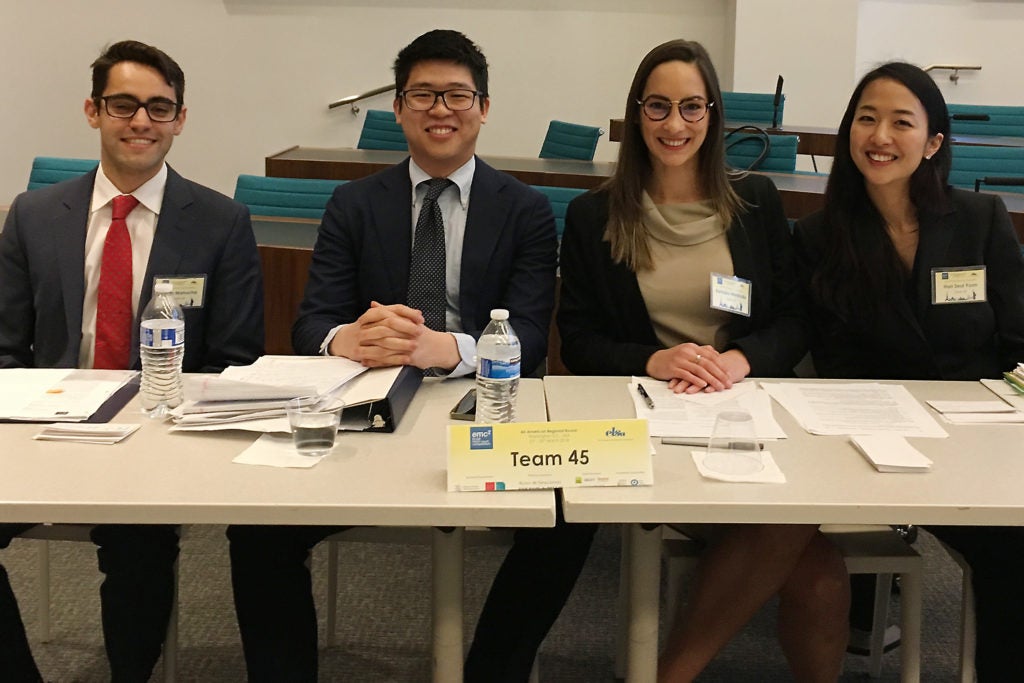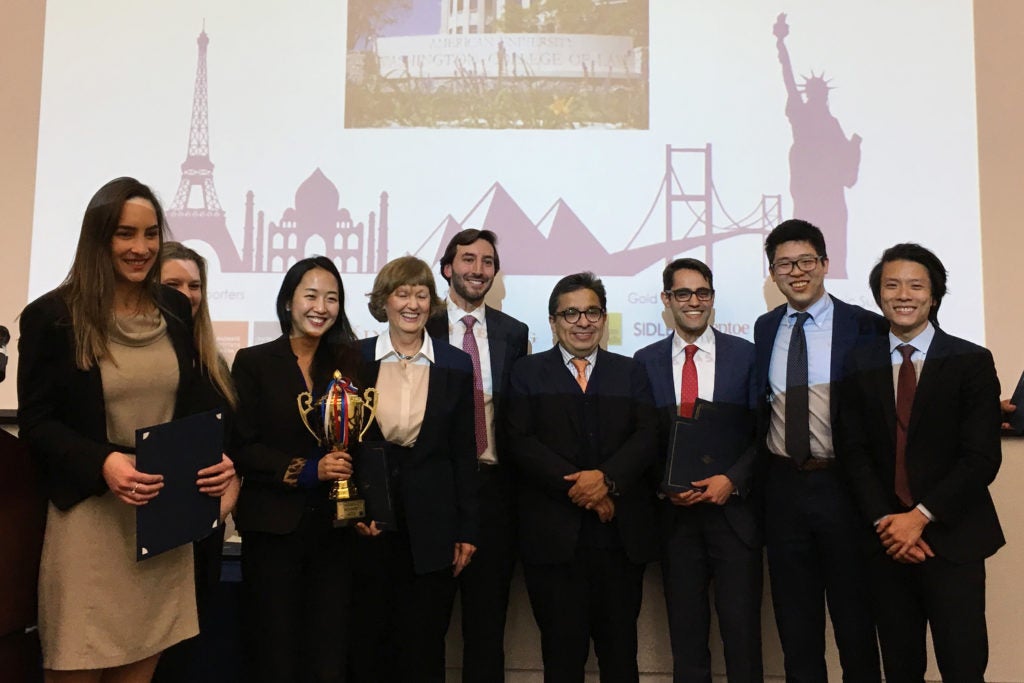 The team's success marks the sixth time in seven years that Harvard's team has won the North American regional competition. They will advance to the final round at the WTO Headquarters in Geneva, Switzerland later this spring. Last year's team, on which both Schmidt and Tan were members, won the overall world championship, becoming the first from North America to do so
The WTO moot court competition is organized by ELSA, an independent, non-profit organization, with the support of the WTO as a technical sponsor and partner. The competition brings together students from law schools across the world to participate in simulated WTO dispute settlement hearings. Students first compete in one of five regional rounds around the world to qualify for the international final round. The event is widely considered to be the world's leading international trade law moot court competition.
The panelists judging the 2018 All American Regional Round consisted of WTO counselors, World Bank consultants, U.S. trade officials, law school professors, DC-based and overseas trade lawyers, think tank economists, and foreign officials. Among the panelists were Professor Jennifer Hillman '83, a former WTO Appellate Body member, and Charles "Chip" Roh '73, former Assistant U.S. Trade Representative and Deputy Chief Negotiator for NAFTA.
Each fall, interested Harvard Law students submit applications for a spot on the HLS WTO team and coaches host individual tryouts. This year's final team of four was selected in October. Former team members help with preparations by mooting the team.