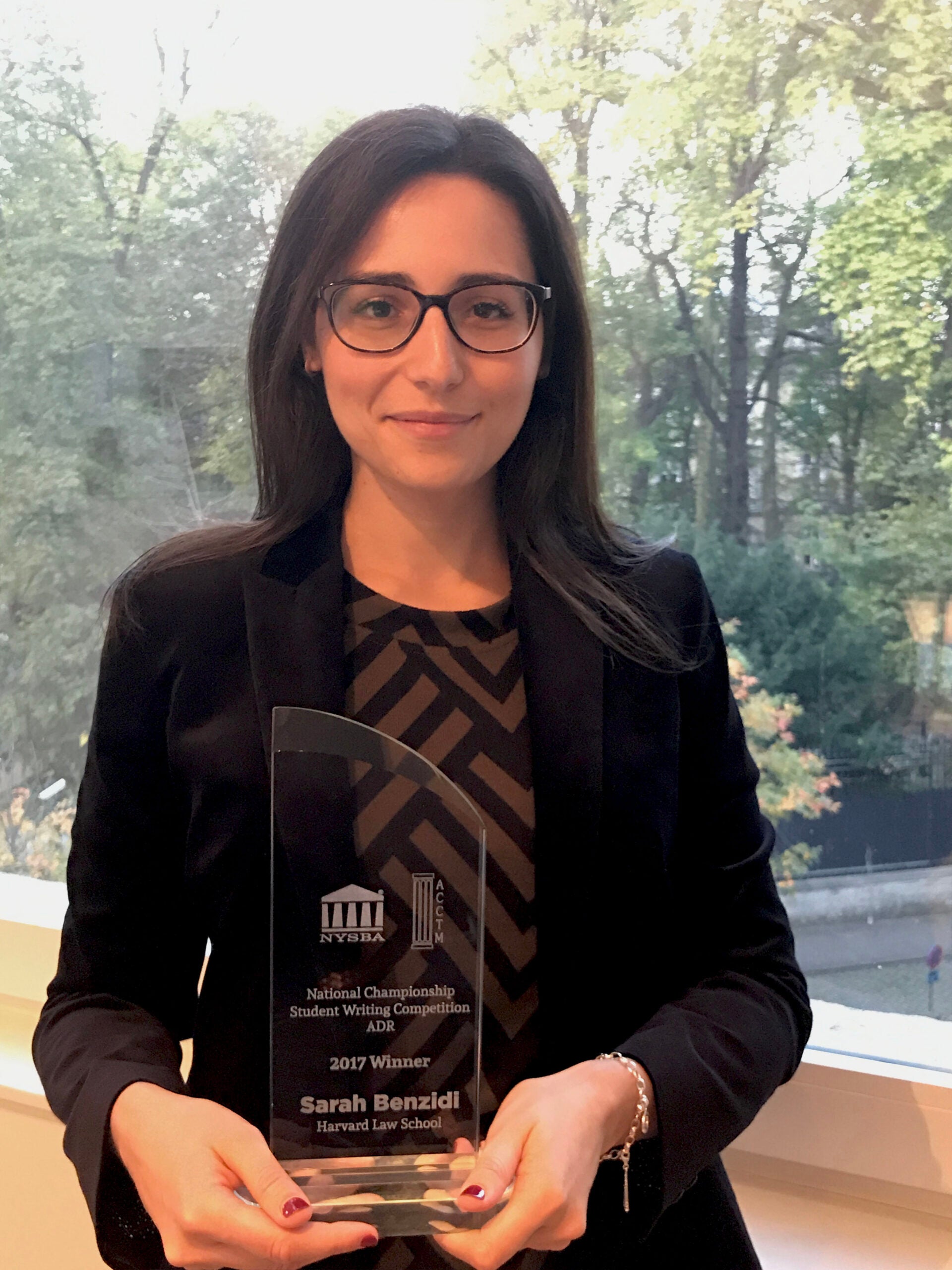 Sarah Benzidi LL.M. '17 has been named the national winner of the inaugural NYBSA/ACCTM National Championship Alternative Dispute Resolution Law Student Writing Competition. Her paper, "How to Mitigate the Risk of Setting Aside or Refusal of Recognition and Enforcement of a Med-Arb Award," was written in partial fulfillment of the academic requirements for the Harvard Law School LL.M. program. Benzidi received her award, and its $10,000 prize, at a ceremony in New York on Oct. 26.
The competition was sponsored by the Dispute Resolution Section of the New York State Bar Association and the American College of Civil Trial Mediators. The members of these organizations who served as judges considered 55 entries from law students in the United States and Canada. Benzidi's winning paper will be published in either or both of the NYBSA's New York Dispute Resolution Lawyer and the ACCTM's American Journal of Mediation.
Like many of her classmates, Benzidi was a practicing lawyer before studying at HLS. "I knew I wanted to pursue an LL.M. in the United States, to expand my knowledge of the law in general and the American legal system in particular, [and] to create a professional network, but my dream was to go to Harvard," she recalls. "I have always been very interested in dispute resolution mechanisms in general, and as a litigator I felt the need to know more about mediation and arbitration. I took the courses Mediation and International Commercial Arbitration; med-arb seemed to be a perfect topic for an LL.M. paper since it was at the crossroads of those two courses."
"From all the things I had learned, a process combining both mediation and arbitration performed by one neutral seemed practically impossible to me. I was curious to discover how med-arb could work in practice," Benzidi explains. "However, after some research, I realized that med-arb did not have a specific body of rules. I decided to think of a regime specifically applicable to med-arb that would respect its philosophy and features and clarify its framework — to see if there were ways to strengthen the legal value of a med-arb award."
"From an academic perspective, I really enjoyed writing this paper. At the beginning of the program, I must say that I saw the LL.M. paper requirement as a burden but in the end, I think it is a great opportunity to deepen your knowledge in one field of your choice."
In addition to valuing her interactions with her professors and classmates — "I learned a lot in a very positive, open and respectful environment," she recalls — Benzidi appreciated the assistance she received from Jane Fair Bestor, special assistant to the Graduate Program, as she prepared her paper for publication.
Benzidi has returned to the Brussels office of Linklaters, working in the firm's dispute resolution group, and is already looking forward to reunions with her HLS classmates in Europe.