More than a dozen Harvard Law School staff were recognized for their outstanding contributions to the Harvard community at award ceremonies this spring.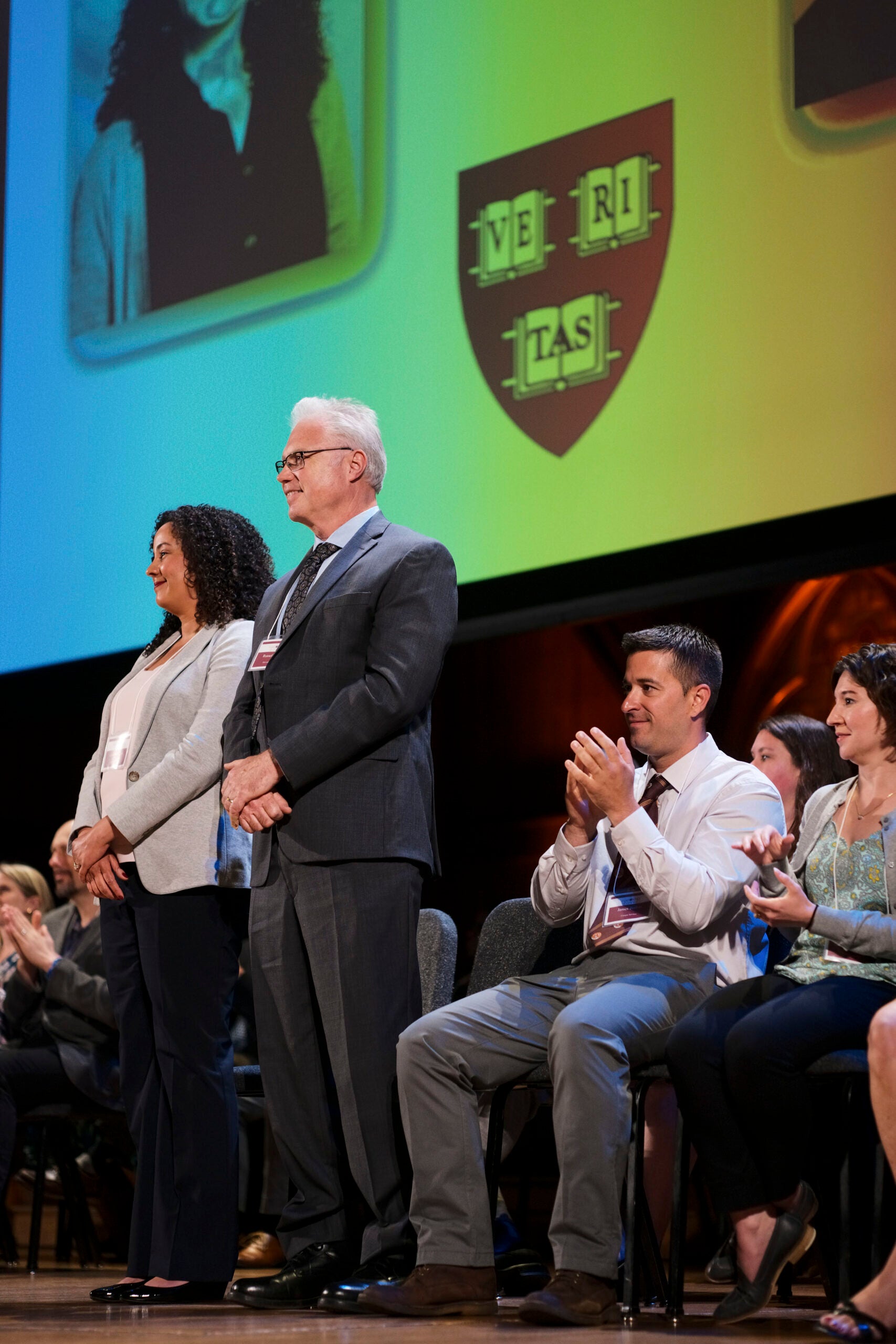 On June 14, Lakshmi Clark and Russell Keyeswere recognized as 2018 Harvard Heroes. They were among 61 Harvard University employees honored for their extraordinary dedication to the University, at a ceremony held in Sanders Theatre hosted by President Drew G. Faust.
Clark, director of student affairs in the Dean of Students Office, was credited with helping students find the right accommodations and training staff on ways to support both access and achievement. Keyes, building services coordinator in the HLS Facilities Department, was recognized for his unflappability and for being an extraordinary caretaker of the Harvard Law School community.
On May 21, ten members of the Harvard Law School community–seven individuals and one three-person team–received the 2017-2018 Harvard Law School Dean's Award for Excellence, established to recognize staff members who embody both the letter and spirit of excellence within the Harvard Law School community.
This year's Dean's Award recipients were honored at an ceremony in Austin Hall hosted by Dean John Manning.
The 2017-2018 Dean's Award Winners are:
Maggie Bay, curriculum planning and enrollment manager, Office of Clinical and Pro Bono Programs;
Kira Hessekiel, project coordinator of Harvard Law School's Cyberlaw Clinic, Berkman Klein Center for Internet and Society;
Catherine Peshkin, director of Admissions and Financial Aid, Graduate Program;
Sheena Prosper, administrative director of Publications and Student Life, Dean of Students Office;
Thomas Robinson, director, Admissions;
Patricio Rossi, clinical instructor, Harvard Legal Aid Bureau;
Lesley Schoenfeld, public services and visual collections coordinator, Library; and
The ITS Student Financial Services Web Application Team: Jacob Kantzer, Nathaniel Logus, and Lynne Prevost
For the Harvard Law School Dean's Award for Excellence, faculty and staff are invited to acknowledge the achievements of their colleagues by submitting nominations for a Dean's Award for Excellence. An advisory committee comprised of staff from a wide array of departments and previous recipients of the award meets to review nominations and submit recommendations to the Dean. The criteria for the award acknowledge excellence in collaboration, commitment, innovation, leadership and learning.