On October 22, Harvard Law School dedicated the decanal portrait of Martha Minow, the 300th Anniversary University Professor. The portrait of Minow was painted by artist Mary Minifie and will join those of past Harvard Law School leaders adorning the walls of the Langdell Reading Room.
Minow, who served as the dean of Harvard Law School from 2009 to 2017, helped steer the school through the Great Recession while expanding public interest programs and financial aid, growing and diversifying its faculty, and overseeing the construction of the Wasserstein Hall, Caspersen Student Center, Clinical Wing complex (also known as "the WCC").
In remarks opening the event, John F. Manning '85, the Morgan and Helen Chu Dean and Professor of Law, emphasized that, through her exceptional leadership, Minow "not only pulled HLS through [the financial crisis], she made us better, stronger, and deeper." He added that "Martha Minow led our institution with brilliance and conviction, with empathy and humility. She modeled openness and pluralism. … She showed friendship and concern, respect and humanity, for all. And she always, always showed remarkable dignity, strength, equanimity, and generosity of spirit."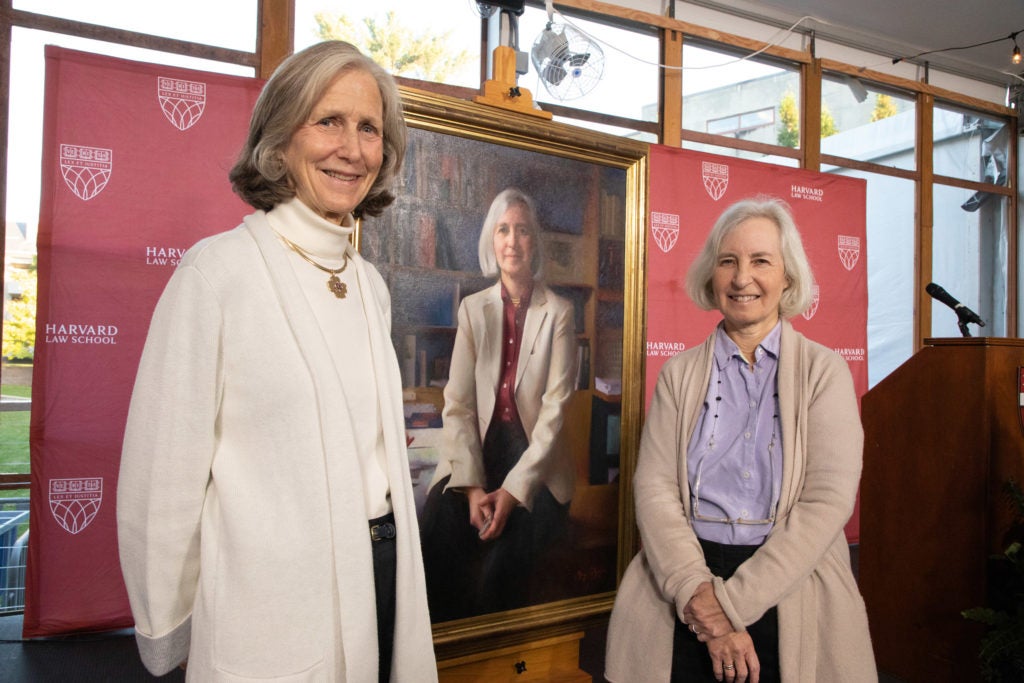 Minow's portrait is the first commissioned painting of a Harvard Law School dean by a woman artist. The dedication ceremony, which took place inside the Jarvis Field tent, featured remarks by Drew Gilpin Faust, president emerita of Harvard University; Randall L. Kennedy, the Michael R. Klein Professor of Law; Manning; Margaret H. Marshall, former chief justice of the Massachusetts Supreme Judicial Court; Minifie; and Minow herself.
"It was my great privilege to work with Martha for eight years, and to be a witness not just to her dedicated stewardship of Harvard Law School, but her contributions to the university and to higher education more broadly," said Faust. She said she wanted to mention two characteristics of Minow's leadership that stood out in her mind. "The first is intellect. Her neon brilliance cuts through complexities to find solutions when it seemed that none were there. … And the second characteristic is her compassion. It fuels her politics and her scholarship, but it also characterizes her way of leading and of deaning."
"Martha takes great intellectual risks, always … venturing into new and fairly difficult terrain," said Marshall, adding that Minow had helped pioneer the field of women and the law, and has made path-breaking contributions in many others throughout her career, including disability law and media law. "A strategic thinker, a visionary: the impact of her work is enormous."
Kennedy said he has turned to Minow for advice countless times in the 37 years they have been friends and colleagues. "You cannot become dean of Harvard Law School without a considerable amount of push, and moxie, and verve. Martha is an incisive thinker and prolific author and a much in-demand counselor and administrator, with a record that bespeaks accomplishment of a high order. … Martha, you exemplify the best in this community. And you have worked assiduously to bring out the best in your colleagues."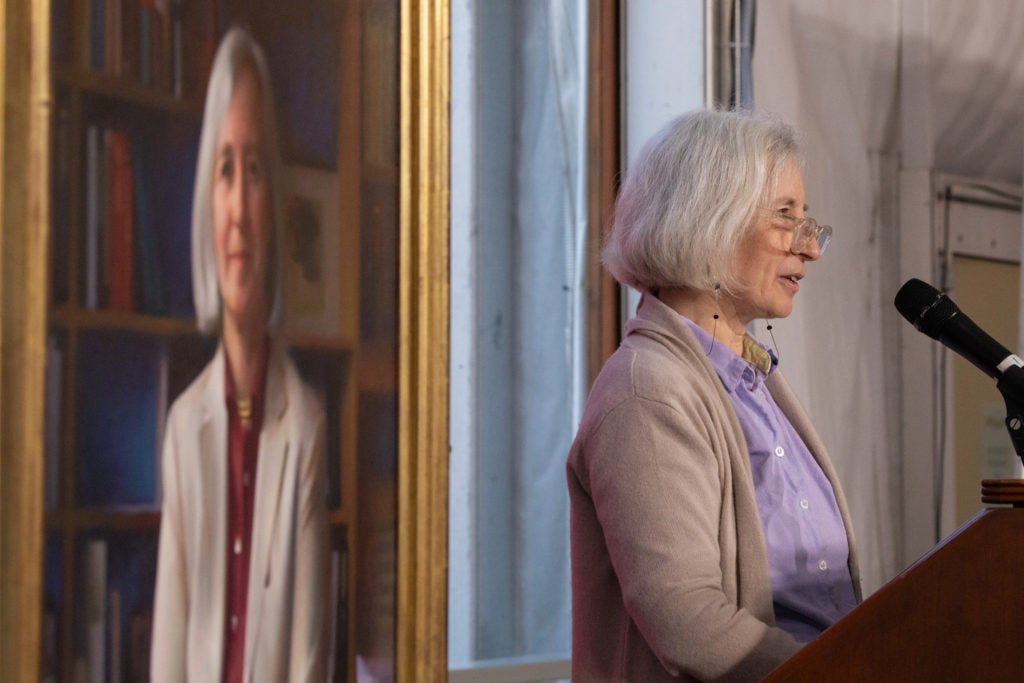 Minow concluded the program by thanking attendees — and all who helped get her to where she is today, including her parents and sisters, who were watching the event via Zoom, as well as family, friends, teachers, fellow faculty and colleagues, students, staff, and many others.
"The only regret that I have is that the portrait is just of me, rather than all the people who really deserve to be there" because they were "there every step of the way," said Minow. Becoming dean is not about oneself, she said. "It's about the opportunity to serve, to collaborate. It would not be possible without constant teamwork, and discussion, and more discussion, and connections across every possible relationship imaginable. [All] you've heard today that I did … was made possible because of a lot of other people, all those relationships, all those collaborations. That is also what makes the work so meaningful and memorable."