International Women's Day, celebrated annually on March 8, has been observed as a day to celebrate the social, economic, cultural and political achievements of women, serving as a call to action for accelerating gender parity.
To commemorate International Women's Day at HLS, the Harvard Women's Law Association hosted the "Women Inspiring Change" portrait exhibit, which features portraits of inspiring women working in the fields of law and policy. Honorees were chosen by the International Women's Day Exhibit Committee from nominations by HLS students, staff and faculty. The portrait exhibit, held annually at HLS since 2014, will be on display this year through March 9.
Among the 25 women honored this year are a Nobel Peace Prize recipient, the creator of the "Me Too" phrase invented to raise awareness of the prevalence of sexual abuse, the first openly transgender woman of color elected to public office in the United States, as well as women's rights advocates from Iran, Saudi Arabia, Malaysia, China and Tibet. Three HLS faculty members, Professor Ruth Okediji, co-director of the Berkman Klein Center, Clinical Professor Susan Farbstein, co-director of HLS's International Human Rights Clinic, and Lecturer on Law Mary Bonauto, and one student, ImeIme Umana '18, who served as president of the 131st volume of the Harvard Law Review, were also honored.
On Monday, March 5, the WLA hosted a keynote lunch and reception at Harvard Law School's Wasserstein Hall to recognize this year's honorees.
This year, Canadian Minister of Justice and Attorney General Jody Wilson-Raybould delivered the luncheon keynote. A lawyer, advocate, and leader among British Columbia's First Nations, Minister Wilson-Raybould was recognized in this year's exhibit for her work on the rights of indigenous peoples, the advancement of First Nations governance, fair access to land and resources, and improved education and health care services.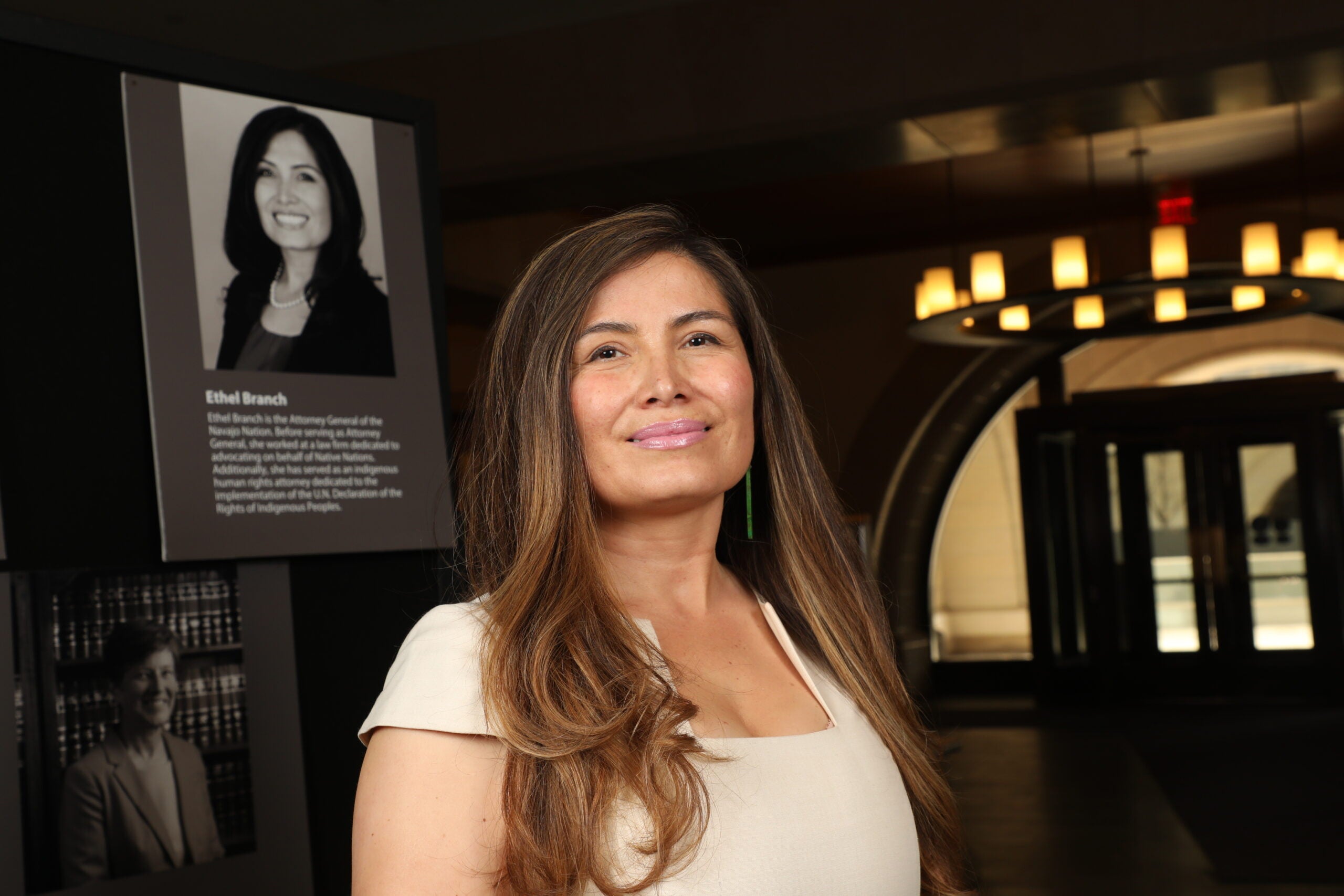 Also in attendance was Ethel Branch '08, attorney general of the Navajo Nation, who was recognized this year for her advocacy on behalf of Native Nations and her prior service as an indigenous human rights attorney dedicated to the implementation of the U.N. Declaration of the Rights of Indigenous Peoples.
The exhibit is on display on the first and second floors of Wasserstein Hall at Harvard Law School through March 9th. The gallery can also be viewed on the Women's Law Association's 'Women Inspiring Change' website.