A student delegation from the Harvard Association for Law and Business (HALB) visited business, legal, and government leaders in London and Brussels, Belgium, in late August, as part of HALB's second-annual International Trek. While last year's trek across China was centered around the country's rapid emergence as one of the world's most powerful economies, this year's trek was intended to give students exposure to international business and global leadership in a post-Brexit Europe.
HALB co-presidents Elizabeth Ferrie '19 and Heather Lee '19 chose Europe for the trek's destination because they thought London and Brussels perfectly aligned with the International Trek's core mission of exposing students to business leadership lessons in a global context.
"After participating in HALB's first-ever International Trek to China in 2017, we were inspired to cultivate a similar experience for students," said Ferrie. "We thought the theme of Europe while Brexit negotiations continue nicely followed the China Trek's exploration of themes such as the business implications of rapid economic change and political uncertainty."
Ferrie was quick to add that the International Trek would not have been possible without global law firm Morgan, Lewis & Bockius, stating, "I pitched the idea to Jami Wintz McKeon, Chair of Morgan, Lewis & Bockius, over lunch while she was on campus for a HALB Women's Leadership Speaker Series event, and she was incredibly supportive." Morgan Lewis is the largest law firm chaired by a female.
In London, the delegation visited Spotify, the multi-billion-dollar music streaming service that just completed its direct listing on the New York Stock Exchange in April. At the company's office in Soho, London, the students met with two members of Spotify's legal team, Jo Lalor and Tony Woods. Kike Aluko JD/MBA '19, who previously interned in Spotify's New York office and aspires for a career in the music industry, found the visit to be especially insightful. "Our visit at Spotify helped to illuminate not only the legal issues facing the music industry as a whole, but also how in-house lawyers at Spotify are helping to shape the future of the music business," she said.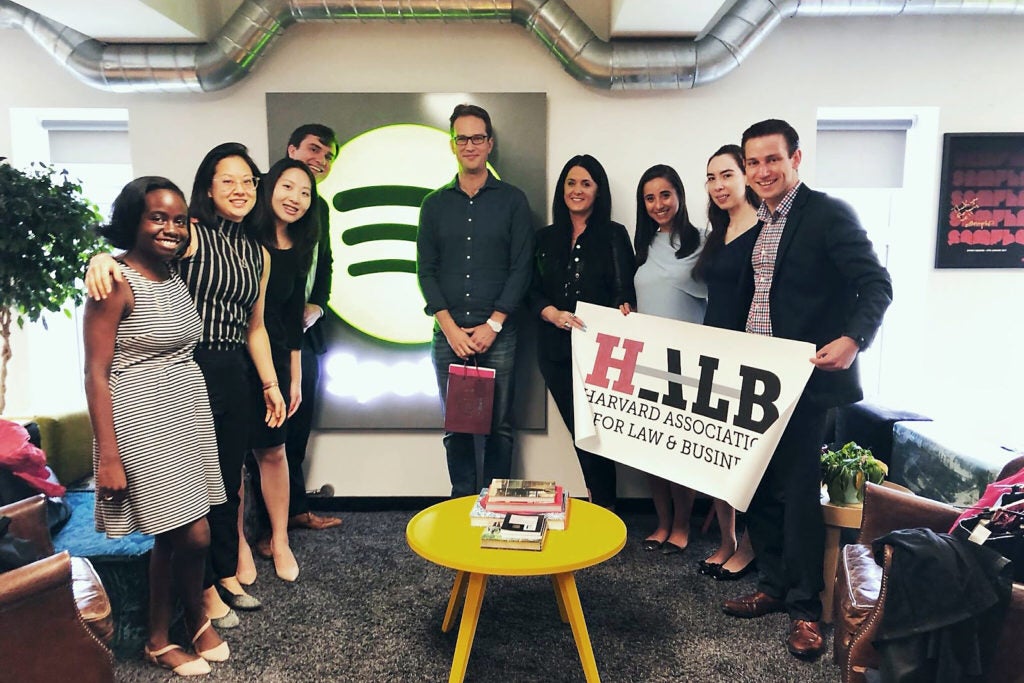 The students later received a tour of London Stock Exchange Group and engaged in a roundtable conversation with LSEG leaders including Murali Subrahmanyam, Head of Business Services Ltd (BSL) Core Services, LSEG shared services company, James Kerton, Head of Legal & Corporate Transactions, Gavin Sullivan, Group Director of Communications, and Adam Scheuer, International Government Relations Manager.
The discussion, which Scheuer described as a "stimulating exchange," was far-reaching and ranged from LSEG-specific topics—such as its multifaceted business model and its extraordinary commitment to corporate social responsibility (e.g., LSEG's ELITE program/platform and its "Companies to Inspire" initiative in Africa and Europe)—to general academic topics such as artificial intelligence, blockchain technology, international relations, and even applied physics.
Notably, a few weeks before HALB's visit, Harvard Law School alumni David Schwimmer '96 stepped into his role as chief executive officer of LSEG, a position to which he was appointed in April.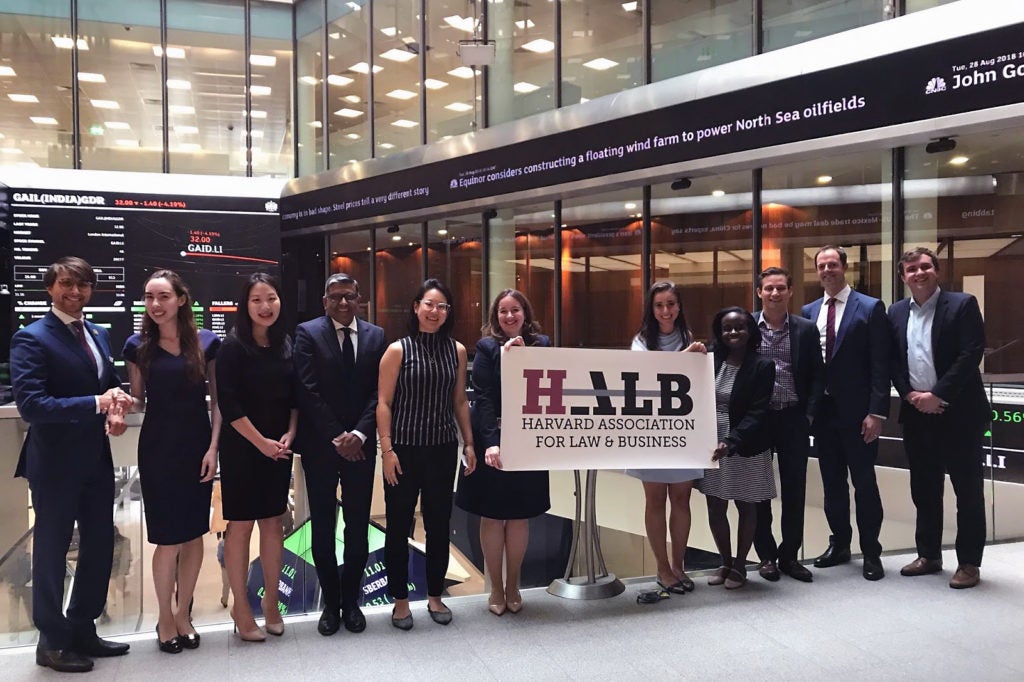 HALB's London tour included office visits to Morgan Stanley and Google. At both companies, the delegation met with individuals who were Harvard Law School alumni working in global careers outside of the legal industry, and discussions focused on individual career growth and the value of a Harvard Law School education across disciplines. At Morgan Stanley, the HALB delegation had a small-group discussion with Mandy DeFilippo '00, managing director and head of risk management for Fixed Income and Commodities in Europe, the Middle East, and Africa. DeFilippo, who is also the first female to serve as chair of the International Capital Market Association in the organization's 50-year history, provided the HALB delegation with invaluable career advice as she explained her fascinating journey from classically training as a flutist at Julliard, to studying humanities as an undergraduate at Columbia, to attending Harvard Law School and deciding to practice law in London, to transitioning from working as a corporate lawyer to working as an investment banker.
At Google, the students met with Amrit Dhir '13, who currently maintains two jobs at the company: acting head of Campus London and senior global operations and expansion lead for Google for Entrepreneurs. Unlike DeFilippo, whose career has included a number of years as a practicing lawyer, Dhir explained that while he loved law school, he realized within his first three weeks at HLS that he didn't want to work as a practicing lawyer. As such, Dhir spent much of his three years at HLS hustling—first to obtain a 1L legal internship at Google, and subsequently, to leverage his Google legal internship into a full-time business development job at the company. Amy Zhang '20 found Dhir's career path inspiring, stating, "Alums like Amrit are living proof that law students don't have to settle for a job. You can go out, strive, and find the work you dream to do."
In between the visits with DeFilippo and Dhir at Morgan Stanley and Google, respectively, the students were hosted by a number of lawyers, including partner Louise Skinner, for a meet-and-greet at Morgan Lewis's London office.
The students took the Eurostar train from London to Brussels, marking the beginning of the second—and final—leg of the trek. Unlike the delegation's itinerary in London, which was focused on private-sector enterprises, the Brussels itinerary was primarily comprised of visits to governmental offices, as Brussels is home to the many international political organizations' headquarters, such as the European Union (EU) and North Atlantic Treaty Organization (NATO).
In Brussels, HALB's delegation had several meetings with individuals at the European Commission, Directorate-General for Competition—including a mergers-focused economist, an antitrust economist, and a communications expert. Though none of the students in the HALB delegation had taken an antitrust course at HLS to date, many of the topics that were discussed built on legal concepts the group had learned about in their required 1L International and Comparative Law courses such as "Law and the International Economy," taught by Professor Mark Wu.
Later that day, the students visited the Council of the European Union for a meeting with Dr. Christiane Höhn LLM '03, who serves as principal advisor to the EU Counter-Terrorism Coordinator. Höhn emphasized how enriching the broader Harvard ecosystem was during her time at Harvard Law School—she spent significant time at Harvard's Kennedy School of Government working with Professor David Gergen '67—and encouraged the HALB delegation to similarly explore complementary areas of interest outside of the Law School.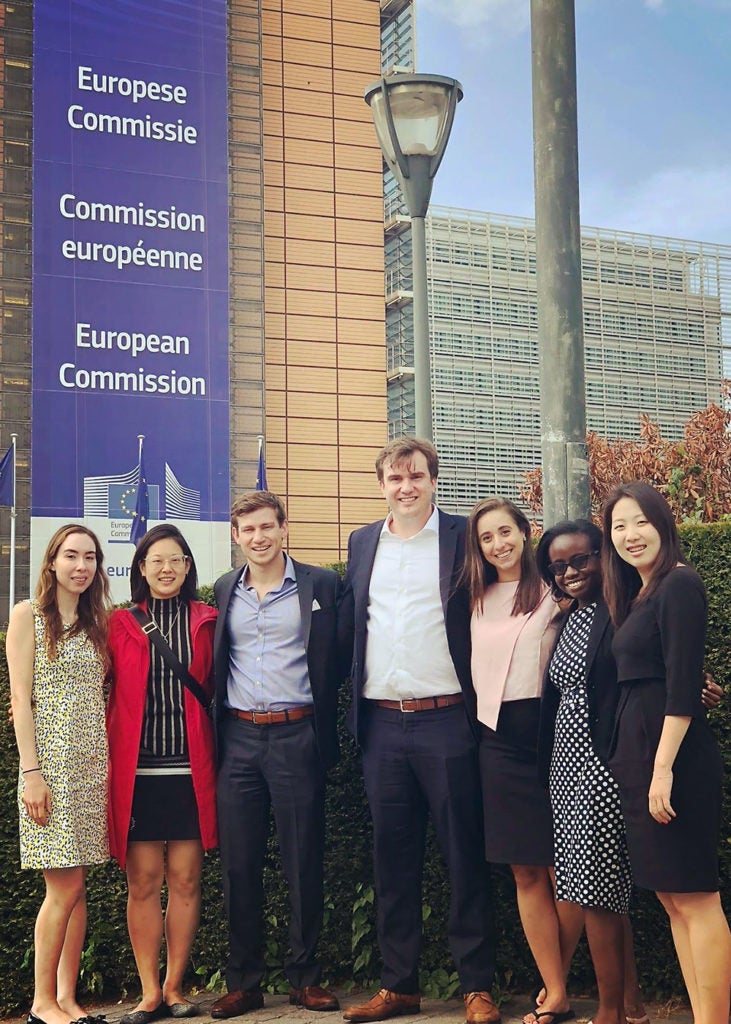 The final visit was to Morgan Lewis's Brussels office, where the students took part in an insightful roundtable discussion on EU antitrust law with partner Christina Renner and associate Petra Kupka.
Related