On April 20, Harvard Law School honored two members of its community—Donna Harati '15 and Laura Maslow-Armand '92—with the Gary Bellow Public Service Award, established in 2001 to recognize commitment to public interest work.
The annual award, which is entirely student-run, honors one student and one graduate whose commitment to social justice "makes us proud to be members of the law school community," said Colin Ross '16, one of the students announcing the winners at the event. The award was established in memory of the late Gary Bellow '60, a pioneering attorney specializing in public interest and poverty law, who founded and directed the HLS Clinical Programs.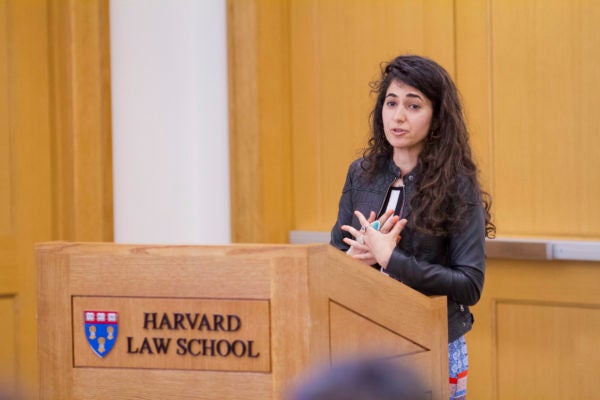 Prior to law school, student award recipient Harati spent two years teaching at the Penitentiary of New Mexico and the New Mexico Women's Correctional Facility and volunteered with the Solace Crisis Treatment Center, a center for victims of sexual abuse and other traumas. At HLS, Harati has served as a student attorney with the Harvard Legal Aid Bureau, where she worked on family, social security, unemployment, housing, and wage and hour cases, and on the boards of Project No One Leaves, a tenants' rights organization, and the Harvard Mediation Program. She was also a member of the Prison Legal Assistance Project, where she represented inmates in disciplinary hearings, as well as the Harvard Ferguson Action Committee and the Affinity Group Coalition.
One of the students who nominated Harati said in her nomination, "No aspect of [Donna's] life, no human interaction, no problem that she faces is treated as routine. She brings radical empathy to bear every day on behalf of clients, the organizations she supports, and her peers." Harati thanked her fellow classmates at the ceremony, including student finalists Seth Packrone '15 and Greg Baltz '15, for showing her the possibility of simultaneously wielding "a tough mind and a tender heart," the title of a sermon by Dr. Martin Luther King, Jr. that Harati said has resonated with her in law school.
After graduating, Harati, who spent her law school summers at the Ohio Justice and Policy Center, the Restorative Justice Project at the National Council on Crime & Delinquency, and Homeboy Industries, will be clerking for a federal judge in Cleveland, Ohio, and hopes to continue pursuing her commitment to reentry work and restorative justice.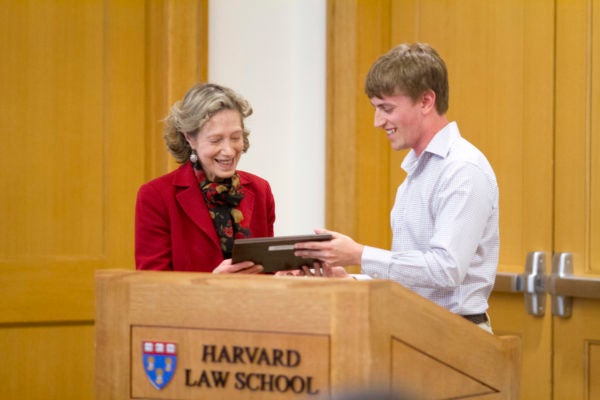 Alumni winner Maslow-Armand graduated from HLS in 1992 after receiving two Ph.Ds—one in history from Harvard and one in American Studies from the University of Paris—and teaching courses for years on race relations and urban poverty. After law school, Maslow-Armand worked for nine years as an assistant attorney general in the Civil Rights and Public Charities Divisions at the Massachusetts Attorney General's Office, litigating housing discrimination and hate crime cases. She then moved to the Lawyers' Committee for Civil Rights and Economic Justice, where she represents victims of racial discrimination in housing and employment actions. In 2003, she launched a legal services program and legal-medical partnership at the Massachusetts General Hospital Healthcare Center in Chelsea, where she assists low-income immigrant families in obtaining affordable housing, disability awards, unemployment benefits, child support and naturalization.
Maslow-Armand, who worked with Bellow and took courses from him when she was a student at HLS, said she was just a "foot soldier" in the world Bellow and his wife, Senior Lecturer on Law Jeanne Charn, had helped create. "What I do in Chelsea is quite amazing, because in fact I do very little," Maslow-Armand said, describing a team of 45 people who "wrap around" patients by providing services ranging from medical care to therapy to legal services.
Dean Martha Minow opened the ceremony by remarking on her friendship with Bellow, whom she credited as one of the reasons she came to Harvard. "He had a vision about how law can make a difference in the lives of ordinary people, and also had a vision about how law schools can change what the provision of legal services is," Minow said.
Charn also spoke, praising this year's award winners as sharing with Bellow "an abiding commitment to using law and working inside the law to make things better for those who have little." According to Charn, Bellow understood both the challenges and the "seduction" of doing good—the many uphill battles, paired with the risk of being so invested in a cause that one would be tempted to make the cause about him or herself, rather than those that needed help. One solution, Charn suggested, was to look for and build environments with tough critics, be quick to change direction when something isn't working, and to remain flexible to innovation—all values that were central to Bellow, she said.