It's no secret that Americans are politically polarized, and that our beliefs seep not only into who we vote for, but how we fundamentally feel about our electoral system. A recent Morning Consult poll shows that while 65% of all Americans believe that the 2020 presidential election was "free and fair," only 33% of Republicans agree. Republican state legislatures across the country have since responded by introducing bills aimed at reining in absentee voting and other measures they say will improve election security, while Democrats fear that these attempts could restrict access for millions of voters, particularly those of color.
But judging by the historic turnout last November, the right to vote is still vital to Americans on both sides of the aisle. Could H.R.-1, an omnibus bill aimed at strengthening voting rights and reforming campaign finance and government ethics rules, serve as a détente by fortifying democratic norms important to everyone? Or would passing it on a party line vote only inflame tensions and shatter bipartisan support for some of its key provisions?
Yesterday, at the Harvard Law School Rappaport Forum, two experts in voting rights, political campaigns, and election law debated the merits of H.R.-1., which was recently passed by the U.S. House of Representatives and is headed soon to the Senate.
The event was moderated by Guy-Uriel E. Charles, currently the Edward and Ellen Schwarzman Professor of Law at Duke Law School, who will join HLS in July as the Charles J. Ogletree Jr. Professor of Law and director of the Charles Hamilton Houston Institute for Race and Justice. Joining him was Wendy R. Weiser, director of the Democracy Program at the Brennan Center for Justice at NYU School of Law, and Benjamin L. Ginsberg, a Republican election lawyer who served as counsel to the Mitt Romney and George W. Bush presidential campaigns.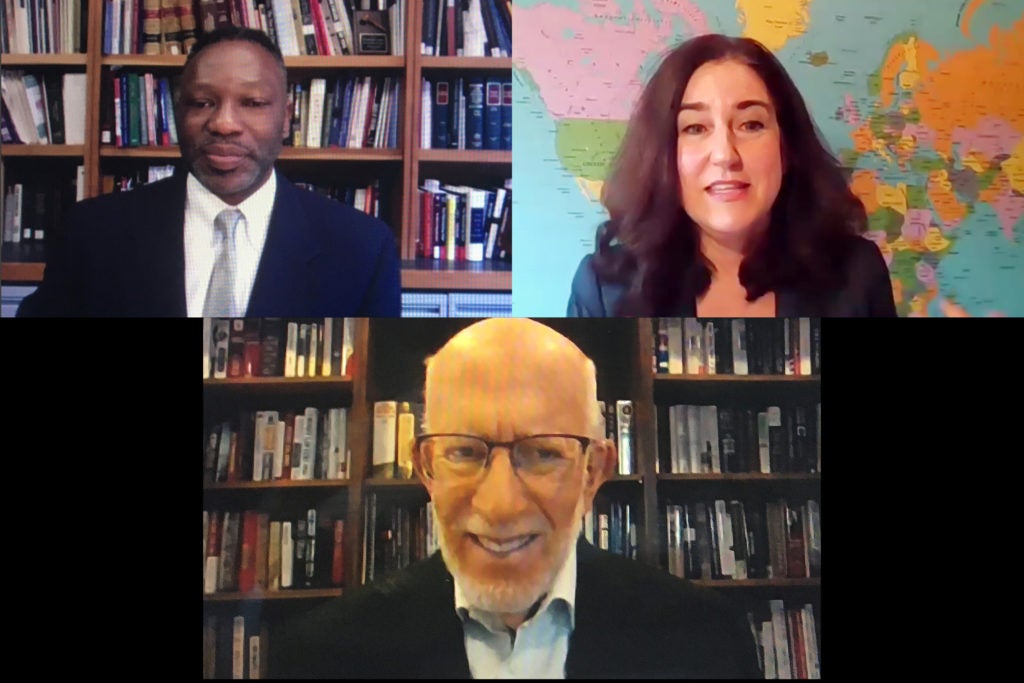 Charles began by asking Weiser to state her case for H.R.-1, also known as the "For the People Act of 2021." The bill includes provisions to expand federal voting rights through automatic registration, early voting, voting by mail, and nonpartisan redistricting. It also targets campaign finance rules by requiring new disclosures from political action committees, and introducing a small-donor matching program for congressional candidates. And by mandating the release of tax returns by future presidents and vice presidents, it attempts to strengthen ethics standards for government officials.
"H.R.-1 aims to markedly improve the workings of American democracy," said Weiser. "To modernize it, open it up, restore public trust. It is coming at a time of real crisis for our democracy on multiple fronts. … Coming out of this election, across the country we are seeing a fierce assault on the right to vote. Legislators are rushing in a wave of new voting restrictions … There are more than 360 bills moving in 47 states that would roll-back access to voting. This could be the most significant cut back on voting rights since the Jim Crow era."
This bill, said Weiser, would not only prevent the disenfranchisement of voters of color and diminish political parties' ability to draw electoral districts that favor themselves, it could also reduce the influence of money in politics.
"A strength of this legislation is that we have an opportunity to address all of these [crises] at once, these things that are dampening the voices of millions of Americans, that are bringing our democracy to the brink of crisis," she argued.
Ginsberg agreed that some of H.R.-1's reforms were necessary, even desirable, but said that given current levels of political polarization and widespread disillusionment with the electoral process, the bill could end up backfiring on Democrats.
"It is an 800-page bill. And there are good provisions in [it], ones that should be the subject of bipartisan agreement," he said. "But while it may have started out with all the best intentions, it's got some problems. There are enough provisions in it that those good intentions got hijacked by the Democrats' wily political operatives, who are trying to put in provisions to gain a Democratic electoral advantage in the future."
Ginsberg said that he disagreed with many of the voting bills making their way through Republican-dominated state legislatures, but he also saw parallels in the way members of his party viewed H.R.-1. "I don't want to draw a false equivalency between the Republican voting rights bills. … But here's the reality of what Republicans think when they see H.R.-1: 'Democrats did not meet their expectations in some states in 2020. … And H.R.-1 is an attempt to change the rules of the game because they did not win.'"
But, countered Weiser, the ideas proposed in H.R.-1 have broad bipartisan backing: "There's a deep well of support, in principle, for these kinds of reforms – automatic voter registration, restricting dark money in elections, ending partisan gerrymandering," she said. "So, it is not clear to me that they will lead to any additional polarization."
Ginsberg rejected the idea that the bill wasn't inherently political. "Wendy can talk about the really meritorious provisions in H.R.-1, and I'm going to agree with her on a whole bunch of them," he said. "But again, this bill is taking the meritorious positions – the ones that can get bipartisan agreement – and including them in the overall bill with the overtly partisan ones, saying 'you've got to pass this one big, sprawling 800-page bill that will only go through on a party line vote.' If your real goal was enacting those meritorious provisions, you would break it up and deal with the individual provisions [separately]."
"I'm thrilled that Ben Ginsberg believes in and actually supports a number of the provisions of the bill and believes that there are major portions that could be achieved with bipartisan support in Congress," responded Weiser. But, she added, "I do not believe that it is possible at this point, because the parties have become very polarized, especially on the issue of voting rights."
But is it constitutional?
Of course, the desirability of the bill's provisions matters little if they are unconstitutional, pointed out moderator Charles. H.R.-1 raises questions about the federal government's role and reach. If passed, could it survive the Supreme Court's scrutiny?
"Each of the provisions of H.R.-1 are designed to be – and are – constitutional under existing precedents of the Court," replied Weiser. A future Court could change course, she conceded, but nonetheless, "this is one area where the Roberts Court, and even the most conservative justices, have been very emphatic: that Congress's power to regulate federal elections is extremely broad."
Ginsberg countered that although the Court had given Congress latitude in controlling most federal elections, it is likely to reject Congress's intervention in presidential ones: "… in Article Two, Section One [of the Constitution], it talks about presidential elections having no role for Congress, that it is all deferred to the state legislatures. I think if passed, the textualists on the Supreme Court … would probably have some real difficulties with that."
He added that, if enacted, the law would encounter a barrage of other legal challenges that could chip away at key provisions, because "the concept of what is constitutional by people who put [them] up is markedly different from what the courts believe." Ginsberg pointed to First Amendment concerns about the campaign finance reform portion of the bill as another example of where it could fail.
In the end, argued Weiser, "The 'For the People Act' and its reforms have been pushed for and desired for many years, and have been successfully put in place by both Democrats and Republicans in states and localities across the country. … They are neutral in their conception. Under a veil of ignorance as to who [currently] holds power, it would be a fairer system that puts voters in control."
Not so fast, said Ginsberg. "I think there are a number of areas where you can fight the polarization a bit by finding bipartisan agreement, but I think that's not going to occur at all if H.R.-1 is, in its current form, brought forward in the Senate on a party line vote."
The HLS Rappaport Forum was launched in spring 2020 to promote open and respectful discussion on ideas critical to the nation and world. It is supported by Phyllis and Jerry Rappaport '49, and modeled after a similar forum founded by Jerry at HLS in the wake of the Second World War.