Harvard students who have served in the various branches of the Armed Forces represent a diverse range of backgrounds and experience, but all have at least one thing in common: a profound dedication to serving the nation, under the most perilous of circumstances.
Fifteen active duty or military veterans have matriculated at Harvard Law School this year. Below, three of those students share their perspectives on their service and their experiences at Harvard:
Anne Stark '18
During her 10 months as company commander in a U.S. Army attack reconnaissance battalion in a volatile region of Afghanistan several years ago, Anne Stark '18 commanded a company that was responsible for the daily operations of a 500-soldier battalion. Charged with all aspects of her soldiers' welfare, equipping and training, Stark was so exceptional at her job that she was recognized as one of the top five commanders among the 47-commander brigade, according to the brigade commander.
As pilot of an AH-64 Apache attack helicopter, Stark also flew 150 hours in combat operations in Afghanistan, heading out three or four times a week for eight-hour missions to protect soldiers on the ground. Though she was company commander with significant responsibility, there were never enough pilots to fly missions, so she and every other qualified Apache pilot pitched in.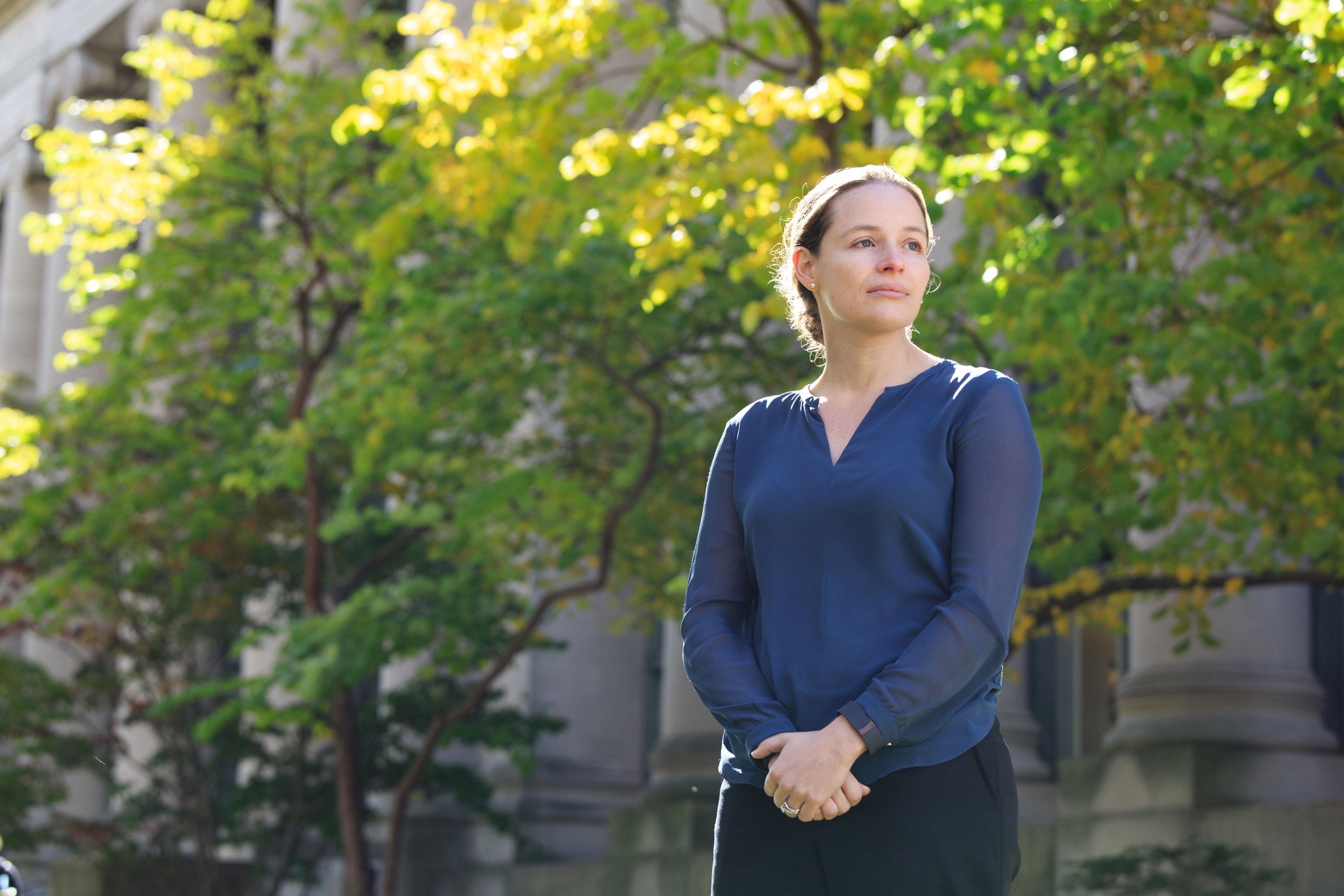 "The area we were stationed in in Afghanistan was at the time, and still is, very volatile, so there was heavy demand for aviation assets," says Stark, a graduate of the U.S. Military Academy at West Point and one of the few women in her battalion who are pilots of the Apache, which carries missiles, rockets, and reconnaissance equipment. "Insurgents recognize what the Apache looks and sounds like and they very rarely attack a convoy if it's being protected. I feel being in that role was a real privilege for me."
While acknowledging the inherent danger of air missions, Stark—who graduated in the top 10 percent of her class in the Army's Aviation career course—said her greatest concern was protecting soldiers on the ground. "If you ask any Apache pilot, they'd say if they were afraid of one thing, it's that we wouldn't do the best we possibly could to support troops, that we didn't get there quickly enough or deploy our weapons systems quickly enough to save American lives," she said.
Stark, whose parents both served in the U.S. Marine Corps, grew up in Ohio; at West Point, she majored in physics and earned the highest class rank in all nuclear physics classes as well as in political analysis and physical geography. Named a 2005 Marshall Scholar, she next earned a master's degree in technology policy at the University of Cambridge in the U.K., then a second master's degree, in Middle Eastern and Central Asian security studies, at the University of St. Andrews, where she played rugby.
During a college summer shadowing an Apache pilot on an Army base in Korea, Stark became fascinated with the Apache. After graduating St. Andrew's, she entered Army Aviation school in Alabama, where she met and married a fellow Apache pilot, Captain Aaron Stark HBS '17. The couple was assigned as platoon leaders at the same Army base in Colorado, then sent to Germany as company commanders. Shortly after arriving, they were deployed to different parts of Afghanistan, and Anne Stark was based in a region near the Pakistan border.
As headquarters commander, she learned that many of her soldiers struggled with serious financial problems. "I realized many of them have exorbitant loans at high interest rates," said Stark, who became a coordinator for Financial Peace University, a financial literacy course for soldiers and their families. "It outraged me a bit that these less-than-reputable companies were targeting soldiers, and that got me interested in the legal and policy side of the regulation of the financial industry."
Her final assignment before leaving the army, as Chief of Relocation Operations, involved relocating—from Germany to the U.S.—her battalion and its operations, including 55 families and $10 million in equipment. Stark then matriculated at HLS, which she chose because of its Veterans Law and Disability Benefits Clinic, which assists military veterans with a range of legal issues. "That attracted me because of what it communicated about the university's culture and its values," she said. Veterans "are a population who are underserved." Although she hasn't decided what direction her legal career will take, "because of my background, it's a population I'd be very interested in serving."
***
Eric S. Nelson LL.M. '16
As an active-duty lawyer in the U.S. Navy, Lt. Commander Eric S. Nelson LL.M. '16 has had a wide variety of experiences: prosecuting and defending sailors in courts-martial for serious crimes including murder, deploying to Iraq where he advised senior commanders on rules of engagement during combat, and serving as Staff Judge Advocate on Navy bases in Japan and Spain, where he ran the legal department and counseled on everything from foreign criminal jurisdiction to international agreements.
When the Navy offered him the opportunity to get his LL.M. at HLS, Nelson—who holds a J.D. from Washington University School of Law—seized the chance to spend a year in Cambridge, where he's focusing on international law and taking such courses as Use of Force with Professor Gabriella Blum, Foreign Relations Law with Professor Jack Goldsmith, and National Security Law with James A. Baker, the current general counsel for the FBI and a former advisor to the U.S. Attorney General and the White House on national security issues.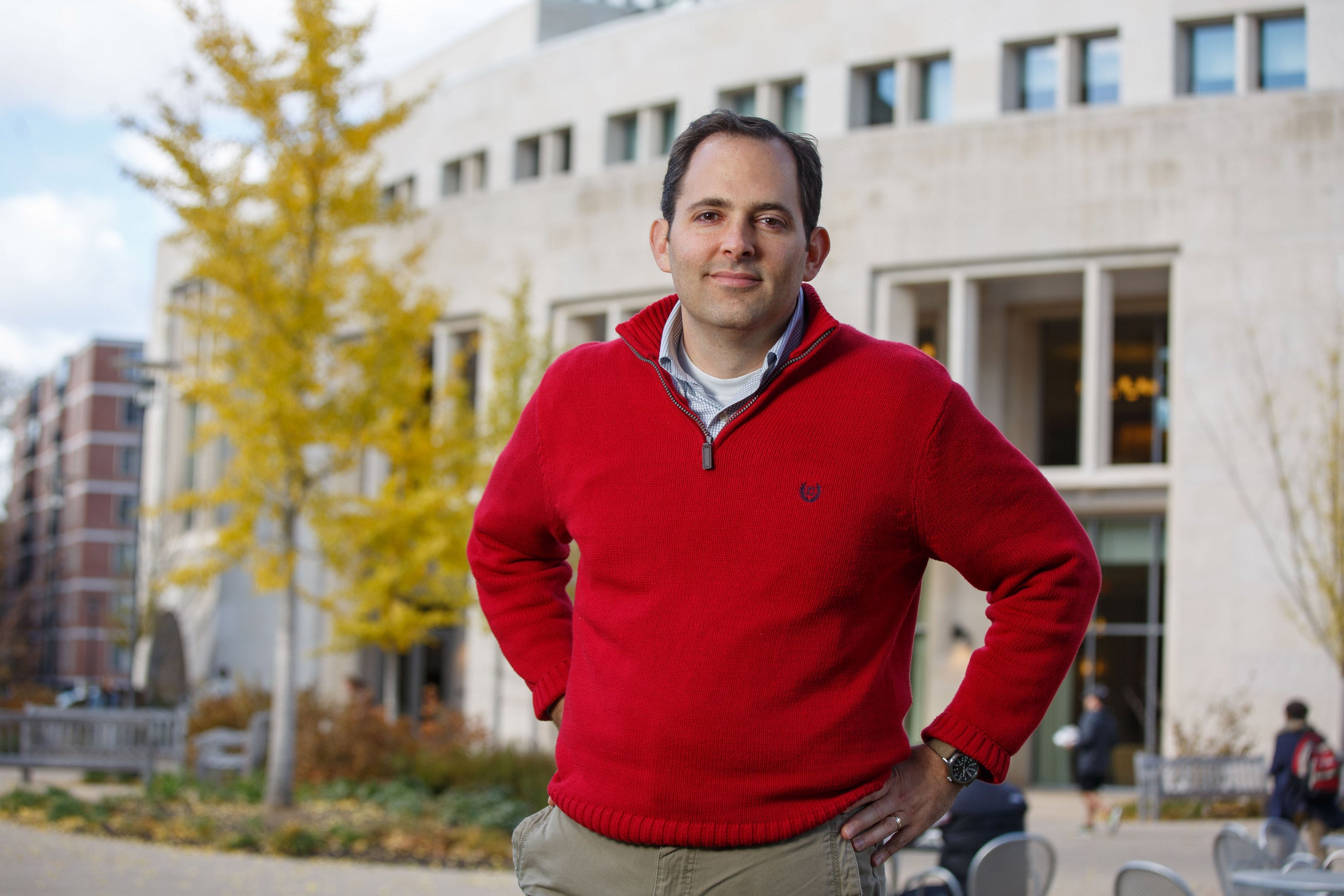 Next May, with his HLS degree in hand, Nelson will return to Japan to serve as a Staff Judge Advocate with the 7th Fleet, which is headquartered at the U.S. navy base in Yokosuka and oversees operations of 70 ships, 300 aircraft, and 40,000 Navy and Marine Corps personnel. The 7th Fleet has featured prominently in the news in past months related to its presence as a patrol force in the South China Sea, a hotly contested center of territorial claims by China and several countries from the Association of South East Asian Nations (ASEAN), which the U.S. supports. Though strategic decisions on the Fleet's action ultimately come from the White House, "Navy lawyers are involved in those international law discussions," says Nelson, who is looking forward to the assignment. "That kind of specific action has some unique ramifications."
His family is excited to return to Yokosuka, where they lived in 2009-12, and he anticipates several more overseas tours in his military career. "We like giving our kids exposure to a variety of cultures and the opportunity to see the world," says Nelson, who has four children under the age of 10, all born overseas. During his prior assignment, the three eldest attended local schools in Spain and are fluent in Spanish.
Born in Utah and raised in Chicago, Nelson graduated from Brigham Young University with a degree in economics. A member of the Church of Jesus Christ of Latter-Day Saints, he did his two-year mission in Brazil, where he became fluent in Portuguese. He then attended law school and joined the Judge Advocate General (JAG) after graduation.
"There are a lot of different reasons people join JAG, all of which resonate with me," says Nelson, who was named the American Bar Association's "Outstanding Young Military Lawyer" in 2010. From the start, JAG officers get substantial responsibility and courtroom experience, including, in his case, serving as a defense lawyer and prosecutor in dozens of cases where sailors were charged with serious crimes. In Iraq, commanding officers sought his advice on the legality of specific missions. "People would call and say, 'We want to do this operation or mission—can we? How do we make it work? Is it legal?' It was very interesting work."
As well, he's traveled far more than a non-military lawyer and worked with a larger cross-section of people, he adds. "I get to work with phenomenal people who are really dedicated, most of whom could probably go elsewhere and make a lot more money."
Nelson knows of at least two other active-duty military officers at HLS and 15 other veterans.
"One of the things I really like at Harvard is there is respect for the military experience," says Nelson. "The students, faculty and institution recognize that you have something interesting to contribute to the classroom discussion, a different perspective. It's an intellectual respect, an understanding of some of the unique experiences and sacrifices that military personnel make, and that respect is very gratifying."
***
Stephen J. Hammer '18
It wasn't until his sophomore year at Princeton that Stephen J. Hammer '18 decided to join the military.
During a job at a think tank the previous summer, "I got a little disillusioned with the policy world and the amount of talking and not much action," says Hammer, a native of Carrollton, Texas. "I thought, 'Is this really the way I want to spend my 20s? I'd rather put on a uniform.' It's the sacrifice, the fact people are putting their lives on the line for others. To me, that's something noble and admirable."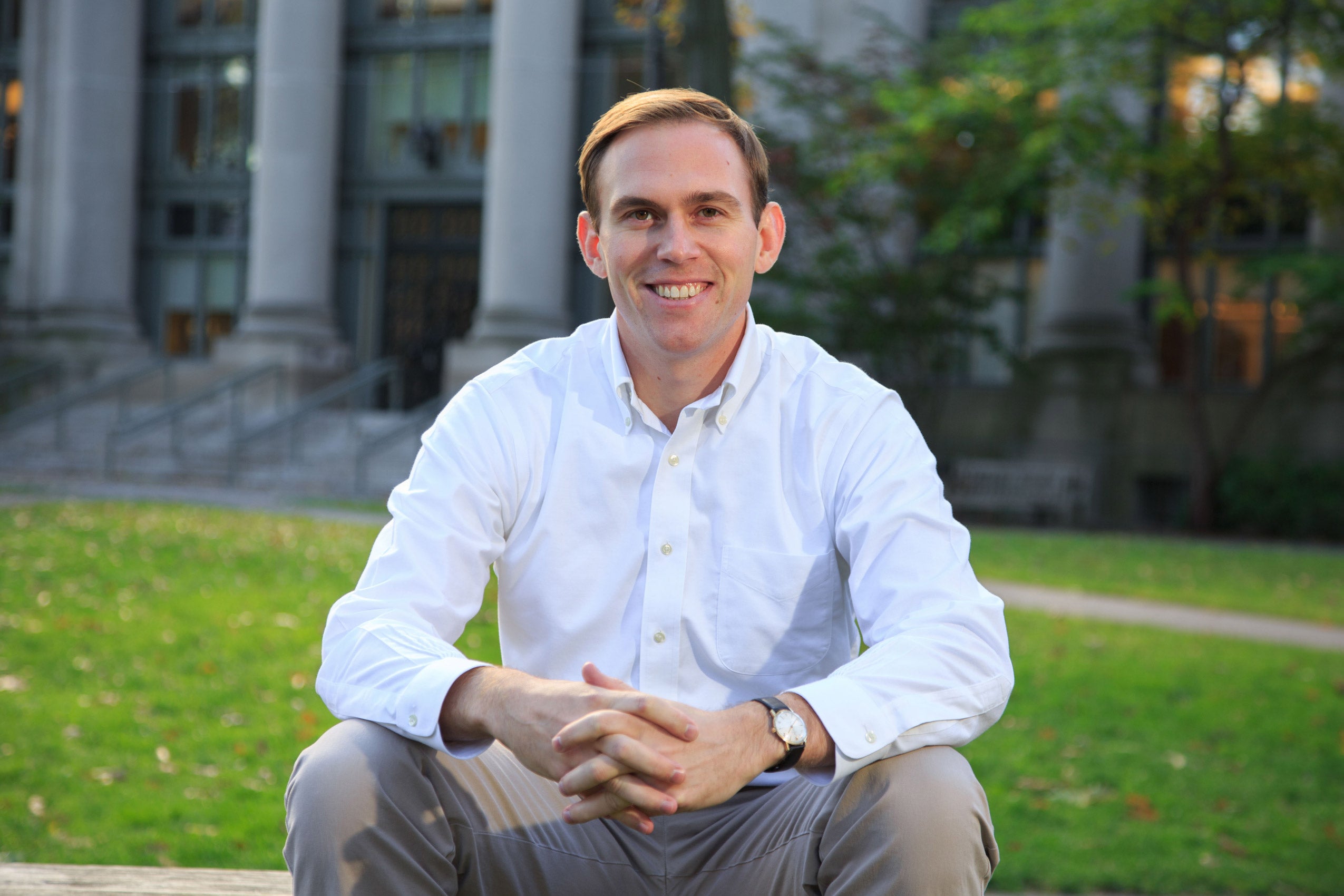 [pull-quote author="Stephen J. Hammer" content="It's hard to grasp what the rule of law means until you see its complete lack," he says. "It's easy to criticize the U.S. system but until you see true systemic corruption you don't appreciate what we have. What we have is very fragile and needs to be defended. I want to be one of those defenders. That's what brought me to law school." float="right"]
A classics major and the Latin salutatorian for the class of 2009, Hammer gave the commencement address at Princeton in Latin and received the Shapiro Prize for Academic Excellence. He put his Army obligation aside for two years to study at Oxford as a Rhodes scholar, earning a master's degree in theology and focusing his studies on the intersection of faith and public service in the thought of early Christian leaders. During his time at Oxford, he met and married his wife; today, they have three young children.
Hammer originally intended to go into the Army JAG Corps but took the advice of a mentor and instead became an Army infantry officer. "He'd said that combining the law and the Army wouldn't give me the full effect of either. He said to join the infantry and do the hard-core Army thing, then get out and pursue civilian life, and that's ultimately the path I took."
Knowing he would be charged with leading soldiers, Hammer entered Army Ranger School, considered by many the toughest combat course in the world, and became a Jumpmaster. "You're taking a 22-year-old, brand-new lieutenant and putting him in charge of a platoon of soldiers including some much older and more experienced, with more deployments," he says. "Ranger school is the test that says you might not know everything, but you have the guts and work ethic to be entrusted with that responsibility—because it is a huge amount of responsibility."
In his first deployment, to Zharay District, Afghanistan, in 2012, he led a 15-paratrooper personal security detachment platoon on over 150 patrols, securing his battalion commander and key Afghan government functions against Taliban influence. His second deployment was for nine months, in 2014, to Kandahar, Afghanistan, where he was second-in-command of a 50-paratrooper airborne infantry weapons company and managed over $20 million in mission-essential equipment.
"The greatest lesson I learned when I was in the Army was to put my trust in God and not to lean on my own understanding," says Hammer. "There's a saying I like, from a 17th-century pastor, Matthew Henry: 'Duty is ours, events are God's.' That's something I really took to heart all through my time in the Army because if I focus on my duty, whatever task is in front of me, I can trust God will protect me and my family."
Finishing his stint with the Army in August, Hammer matriculated at HLS. "It's hard to grasp what the rule of law means until you see its complete lack," he says. "It's easy to criticize the U.S. system but until you see true systemic corruption you don't appreciate what we have. What we have is very fragile and needs to be defended. I want to be one of those defenders. That's what brought me to law school."
A member of the Federalist Society and an editor of the Harvard Journal of Law and Public Policy, he chose HLS in part "because of its support for people with conservative values and interests," says Hammer, who is interested in becoming an appellate lawyer. "People are very respectful and interested in my experiences. If you can articulate your position as a conservative, people are willing to hear you out."
***
VIDEO: Veterans Legal Clinic panel discussion
---
The Veterans Legal Clinic at HLS represents clients in the areas of federal and state veterans' benefits, discharge upgrades, and estate-planning matters. They have landed numerous victories for military veterans before the U.S. Court of Appeals for Veterans Claims and in veteran-related federal and state agencies. They've assisted many more vets in companion programs at the Legal Services Center in such areas as combatting predatory student lending, foreclosure defense, family law, and tax.
During Fall 2015 Reunion weekend, Daniel Nagin, Clinical Professor of Law, Vice Dean for Experiential and Clinical Education, and Faculty Director of the WilmerHale Legal Services Center & Veterans Legal Clinic; Christopher L. Melendez '15, Associate, Morgan Lewis & Bockius; and Sara Schaumburg '16, Veterans Legal Clinic Student, participated in a panel discussion on the clinic's work.