In many areas of law, excuses can defeat liability. Criminal law recognizes duress or provocation as excuses to reduce a criminal defendant's punishment. In Contracts, "mistake," "commercial impracticability" or "frustration of purpose" arguably excuse breaches. Yet even though tort law is, like these other areas of law, focused on wrongs and responsibility it doesn't allow for excuses. That's a puzzle, according to Harvard Law School Professor John Goldberg.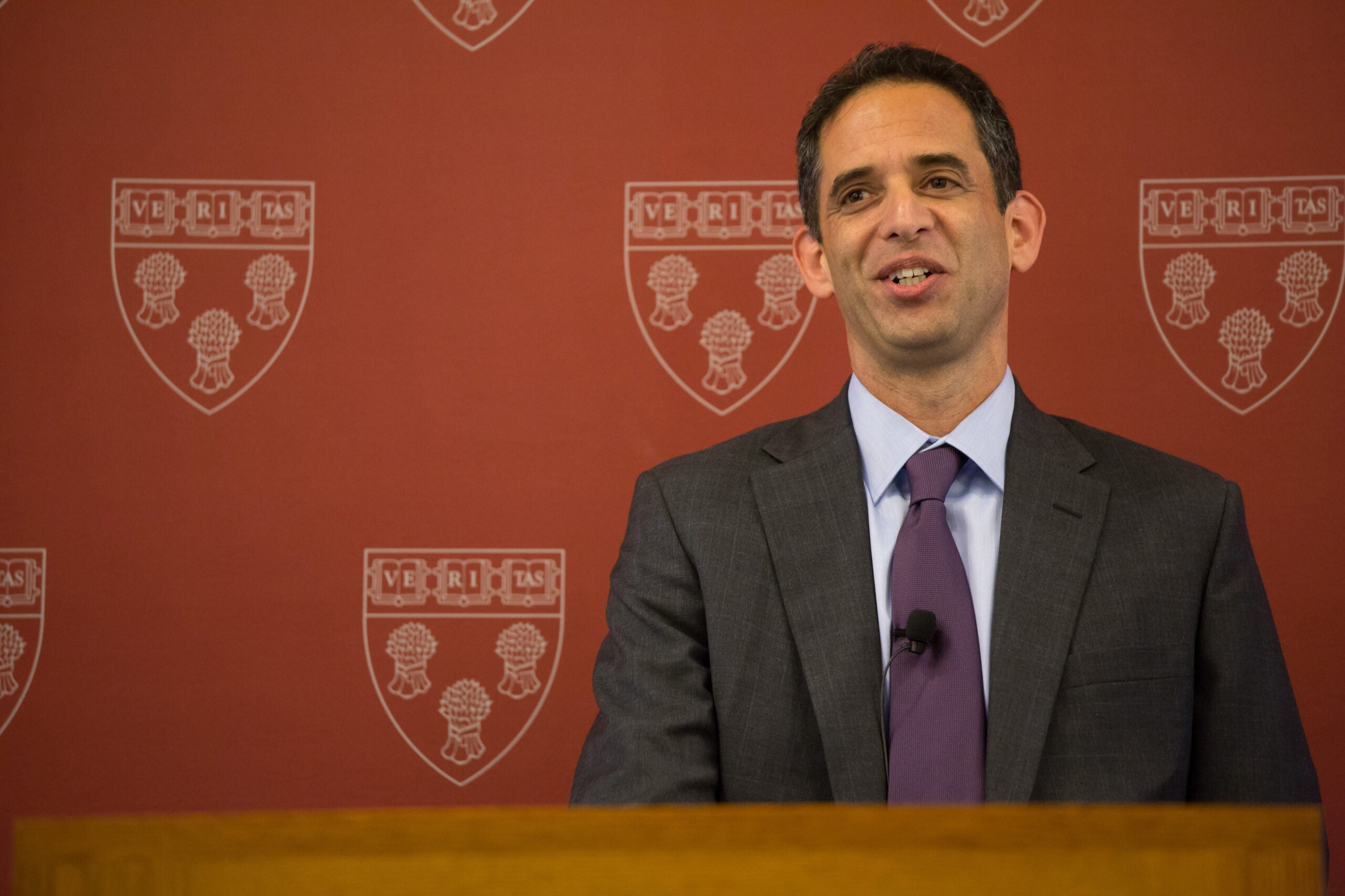 "Typical torts are 'inexcusable' in that the law does not let us off the hook even when we have a pretty good explanation for why we did wrong, including the kind of explanation that would spare us from adverse consequences in other domains," he said.
Goldberg explored these ideas in a Nov. 18 lecture titled, "Inexcusable Wrongs," at Harvard Law School. The lecture commemorated his appointment as the Eli Goldston Professor of Law. The chair, established in 1978, is one of two professorships created through the bequest of the late Eli Goldston, A.B. 1942, M.B.A. 1946, LL.B. 1949, an advocate of corporate social responsibility, who served as the chairman of Eastern Gas & Fuel Associates.
In his talk, Goldberg argued that the law of torts is concerned with occupying a middle ground between vengeance and forgiveness, not only in how it responds to wrongdoing but also how it defines the wrongs for which it provides a response.
Since joining HLS's tenured faculty in 2008, Goldberg has taught a broad array of first-year and upper-level courses, including Criminal Law and Torts.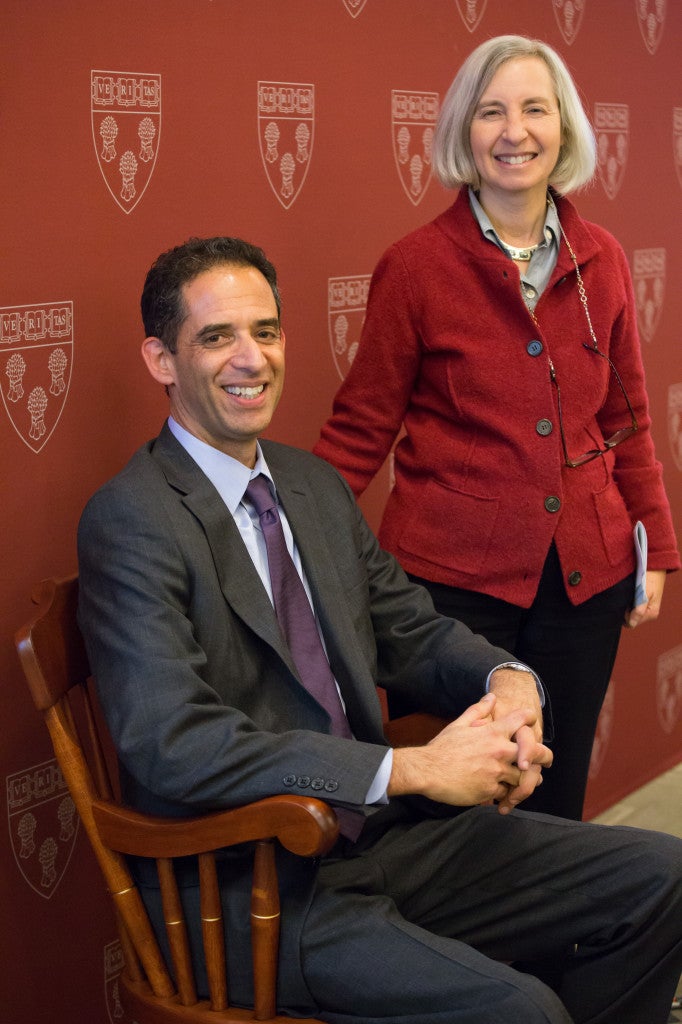 Goldberg focuses his scholarship on questions of responsibility, studying how law balances liberty of action against accountability for wrongdoing. He focuses on tort and compensation systems, private law, and political and legal theory.
He has worked with Professor Henry Smith to develop the Program on the Foundations of Private Law, an interdisciplinary research program that encourages reinvigorated study of traditional private law subjects—such as contracts, torts, and property—by rethinking their very nature and place in modern legal systems, and by examining interactions between private law subjects and economics, history, cognitive science, philosophy and other branches of study.
Through the Program's Private Law Workshop, Goldberg and Smith provide students with opportunities to interact with guest speakers about cutting-edge research in torts, property, contracts, restitution and other subjects. (Read a 2011 article on Goldberg and Smith's Private Law Workshop and a Q&A with Smith on the Project on the Foundations of Private Law.)
In the aftermath of the disastrous 2010 BP Deepwater Horizon oil spill, Goldberg was tapped by Kenneth Feinberg, administrator of Gulf Coast Claims Facility, to analyze the scope of legal liability for the economic losses resulting from the disaster. With the assistance of five HLS students, he provided a detailed report addressing liability under state and federal law that served as a guide for Fund payouts. (Read related story, "Ripple Effect," which appeared in the Summer 2011 Harvard Law Bulletin.)
An accomplished scholar, Goldberg is the co-author, with Benjamin C. Zipursky, of the forthcoming book, "Recognizing Responsibilities: Duty and Civil Recourse in the Law of Torts" (Harvard University Press). Goldberg and Zipursky, who were former 1L study partners at New York University School of Law, have also co-authored "Tort Law: Responsibilities and Redress" (Aspen, 3rd ed., 2012) with Anthony J. Sebok, and "The Oxford Introductions to U.S. Law: Torts" (Oxford, 2010). Goldberg also co-wrote with Barry Friedman a book that aims to help students navigate 1L, entitled "Open Book: Succeeding on Exams From the First Day of Law School" (Aspen, 2011).
He serves on the editorial board of the law journal Legal Theory and is the editor-in-chief of the Journal of Tort Law. He also has been an active participant in the American Law Institute's drafting of the Third Torts Restatement, and served as chair of the Torts and Compensation Systems section of the Association of American Law Schools.
In addition, Goldberg has published dozens of scholarly articles, essays and chapters on torts and related topics in leading law journals and publications, including the Harvard Law Review, the Yale Law Journal and the Stanford Law Review.
Before joining HLS, Goldberg was Professor of Law and Associate Dean for Research at Vanderbilt University, where he was a four-time Recipient of the Hall-Hartman Teaching Award. Prior to his academic career, Goldberg practiced law at Hill and Barlow in Boston, and clerked for District Judge Jack Weinstein of the Eastern District of New York and for Supreme Court Justice Byron White.
Goldberg has a J.D. from the New York University School of Law, an M.A. in politics from Princeton University, an M. Phil. in Politics from St. Antony's College at Oxford University, and a B.A. with high honors from the College of Social Studies at Wesleyan University.