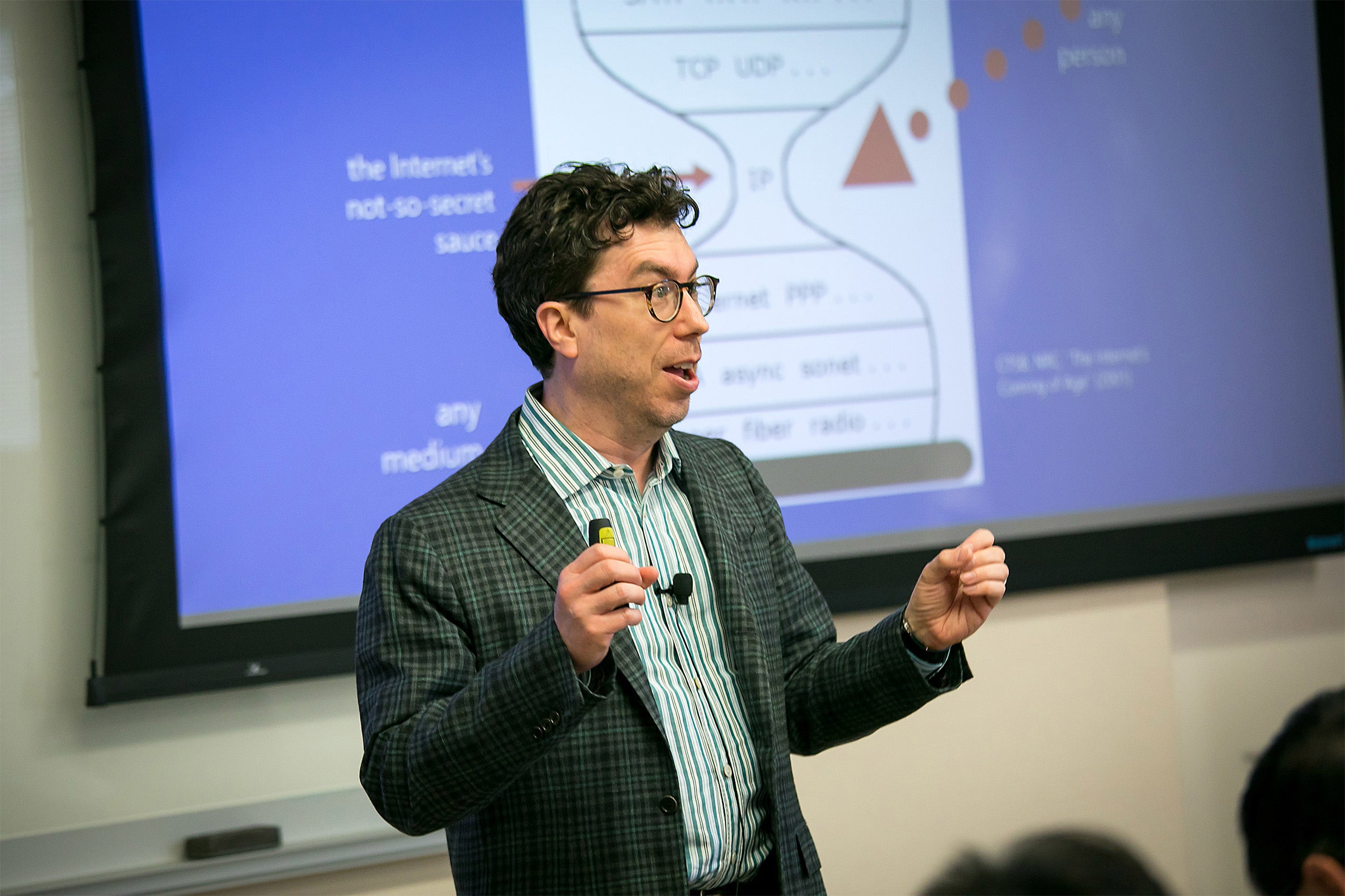 Palo Alto event showcases Harvard tech startup scene
"Bear with me," Jonathan Zittrain urged the audience as his talk — up to this point, a romp through the early history of the internet — lurched into Kantian philosophy: "I'm about to get all 'East Coast' on you."
Zittrain, faculty director of Harvard's Berkman Klein Center for Internet and Society, was in Palo Alto, Calif., delivering an energetic presentation on the ethical responsibilities of tech companies toward consumers in the era of artificial intelligence. About the shift of technology environments from unowned to owned and tightly controlled, he asked, "When is it that 'can' implies 'ought'?"
His provocative keynote was the culmination of a Harvard Tech Startup Night hosted by Harvard Office of Technology Development (OTD) and the law firm WilmerHale at its Palo Alto offices.
The soirée on June 26 showcased six early-stage startups that are commercializing innovations developed in Harvard research labs. Though all are based in the Northeast, the event provided an opportunity for the company founders to expand their West Coast connections and for Harvard to raise the profile of its tech startup scene in the heart of Silicon Valley.
"Who would have thought that two chip companies would have come out of Harvard?" remarked Sam Liss, OTD's executive director for strategic partnerships, opening the event, which drew a standing-room-only crowd of about 100 Bay Area venture capitalists and tech industry leaders. He pointed to HyperLight Corp. and Boréas Technologies, which both launched out of the Harvard John A. Paulson School of Engineering and Applied Sciences (SEAS) in the past three years.
In fact, more than 120 startups in hardware, software, materials, and a whole host of biomedical fields sprang from the work of Harvard researchers over the past decade. Scientific innovators receive support on campus from OTD's accelerator programs, entrepreneurs in residence, and a growing community of those who have already taken the leap to become founders.
The companies that presented at the event included two emerging startups that are nearing launch and are "looking for that first chunk of seed funding," as Liss put it, another two that have initial funding in hand, and a pair that have already raised $20–30 million in investment.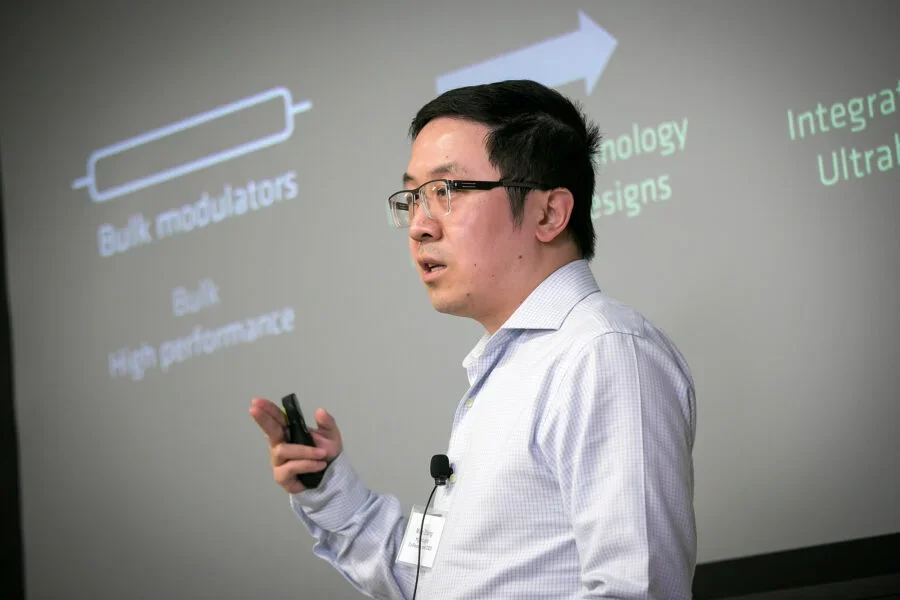 HyperLight co-founder and CEO Mian Zhang declared that the next generation of high-performance computing devices — with integrated electronic and optical circuits — will need to advance beyond silicon. With conventional materials, Zhang said, "you don't have a smaller, better device." While working in the lab of Marko Loncar, Tiantsai Lin Professor of Electrical Engineering at SEAS, Zhang and his colleagues developed methods of fabricating chip-scale electro-optical modulators — which turn electronic data into optical signals — using lithium niobate, a high-performance material that is notoriously difficult to work with. "We took the best photonic material and made it smaller," Zhang said. While in the lab, the team received support from Harvard's Physical Sciences & Engineering Accelerator to perfect their methods and shore up their intellectual property position. Cambridge-based HyperLight now has seed funding from The Engine (an organization that serves as a home for tough-tech founders) to develop fast, low-power optical chips and devices.
Quebec-based Boréas Technologies also gave the audience a peek at the future of mobile electronics. The company's low-power actuator drivers are designed to enable more powerful applications for haptics — the vibrating components in smartphones, watches, and other mobile devices that provide tactile feedback to the user.
Founder Simon Chaput, who earned his Ph.D. in 2019 from the Graduate School of Arts and Sciences,  worked in the lab of Gu-Yeon Wei, Robert and Suzanne Case Professor of Electrical Engineering and Computer Science. Based on innovations from Chaput's time in the lab, the company aims to produce chips with very precise control over the size and frequency of haptic vibrations, offering device designers a greater toolbox of sensory cues and signals, with significantly lower power consumption.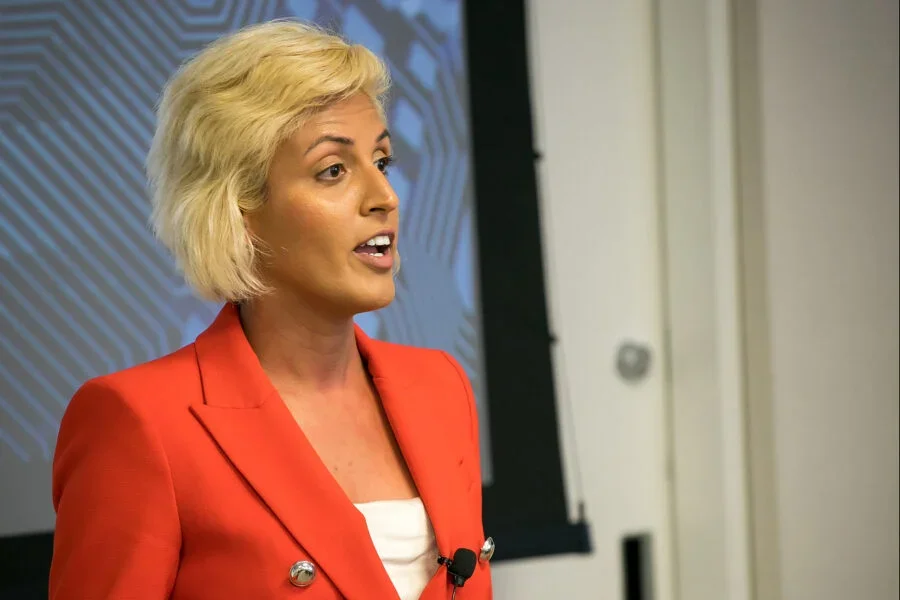 Prineha Narang, assistant professor of computational materials science at SEAS, is looking ahead to a new computing paradigm that will tap into emerging quantum capabilities. Her newly forming startup, Aliro, aims to commercialize cross-platform quantum software. Quantum hardware platforms will take numerous forms, and "when you start writing software, you want it to be portable across all those pieces of hardware," she said. Her research group has developed cloud-based software to assist with efficient compiling of quantum circuits, control flow optimization, and quantum debugging. "Quantum tools," she pointed out, "fail in very quantum ways."
Amid throngs of attendees nibbling hors d'oeuvres and exchanging business cards, certainly the best dressed was SuitUp cofounder Ignacio Galiana, who wore a soft robotic exosuit throughout the evening. A staff robotics engineer at Harvard's Wyss Institute for Biologically Inspired Engineering, Galiana was there to present his vision of "soft wearables to enable the future of augmented mobility." The technology — a lightweight device that could reduce physical strain on workers performing repetitive movements — stems from innovations in wearable robotics developed by the lab of Conor Walsh, Gordon McKay Professor of Engineering and Applied Sciences at SEAS and a core faculty member at the Wyss Institute.
Two other robotics companies made pitches, each one addressing various aspects of commercializing automated product-picking systems for applications including e-commerce order fulfillment. RightHand Robotics was launched by researchers from the lab of Robert Howe, Abbott and James Lawrence Professor of Engineering at SEAS, having received a boost of accelerator funding from OTD. The young company initially took up residence in the Harvard Innovation Labs and is now based in the former Post Office building in Union Square, Somerville, Mass. Soft Robotics, based in Bedford, Mass., is taking a different approach, based on research from the lab of George Whitesides, the Woodford L. and Ann A. Flowers University Professor in the Department of Chemistry and Chemical Biology. Both companies now have products in commercial use.
Closing the event, Zittrain gave a sweeping talk that connected the wow-factor of innovation back to the greater societal context. The George Bemis Professor of International Law at Harvard Law School and Harvard Kennedy School and Professor of Computer Science at SEAS, Zittrain reminded the audience to be mindful not only of the immense benefits of transformative technologies like artificial intelligence, but also of the potential for unforeseen risks and exploitation. "As the markets are working their magic, who should be responsible?" he asked, later, noting that "even as we might be debating this, the technology is evolving under us."