The oldest building on Harvard Law School's campus underwent a major transformation this year. Gannett House, the porticoed Greek Revival structure that has housed the Harvard Law Review since the 1920s, has been brought into the 21st century.
Beginning in December 2012, construction crews gutted and redesigned the building's interior to accommodate an elevator, central air and heating systems, a reconfigured electrical system, and redesigned office space on the first and second floors. The building also now has a new roof and new windows.
Designed by Samuel William Pomeroy, the building, built in 1838, sits on the site where 1,200 Continental troops assembled on the night of June 16, 1775, before marching to Bunker Hill. The law school purchased the building in 1897 for $35,000 and named it in memory of the Rev. Caleb Gannett, an 18th- century steward of Harvard College. A variety of residents have occupied the house over the years. From 1906 to 1923, students rented rooms for $125 to $250 a year. Amenities included a cold-water tap in the basement, available at no extra charge, and a fireplace in each room, although students were expected to carry their own firewood. During World War II, the Naval Sonar Laboratory took over Gannett House and Hemenway Gym for four years and connected the buildings with a covered elevated passageway.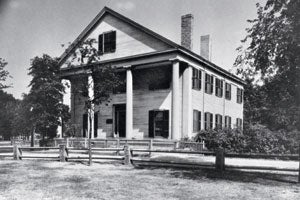 In 1938, at its 100th birthday, the building, which originally faced south toward Harvard Square, was rotated 90 degrees to the east, as part of a proposed mall that was never built. An original wing at the back of the building was torn down, and the present west entry facing Massachusetts Avenue was designed. After the first and second floors were remodeled in 1925, the building housed the Harvard Law Review, the Harvard Legal Aid Bureau, the Board of Student Advisers and the secretary of the law school. Gannett House was last renovated in the early 1980s, when the basement, described in a Spring 1981 Harvard Law Bulletin article as "a rabbit warren of little spaces," was reorganized to accommodate a larger shipping department.
In a 1987 essay, "The Harvard Law Review—Glimpses of Its History as Seen by an Aficionado," former Dean Erwin Griswold LL.B. '28 S.J.D. '29 wrote: "Gannett House is perhaps the most intensely used building in the law school. It was crowded when I knew it with thirty-five members of the law Review Board. How the present administration operates, with a Board of more than eighty members, has long been beyond my comprehension."