When 14-year-old Yvonne Smith walked across the Harvard Law School campus for the first time in 1976, little did she know that her new job would jumpstart a 46-year career at the storied institution.
Smith is the first member of her family to be born in the United States. Her mother, who was born in Barbados, came to the U. S. at a very young age. Like Smith, she stayed at Harvard for a long time. Her mother retired from the custodial department after 36 years of service.
Smith, who currently serves as the administrative coordinator of the Board of Student Advisers in the Dean of Students Office, began her career in the school's placement office and subsequently spent time working in J.D. admissions, the registrar's office, and student financial aid before she began working with the board in 1987. She plans to retire from Harvard University at the end of this academic year.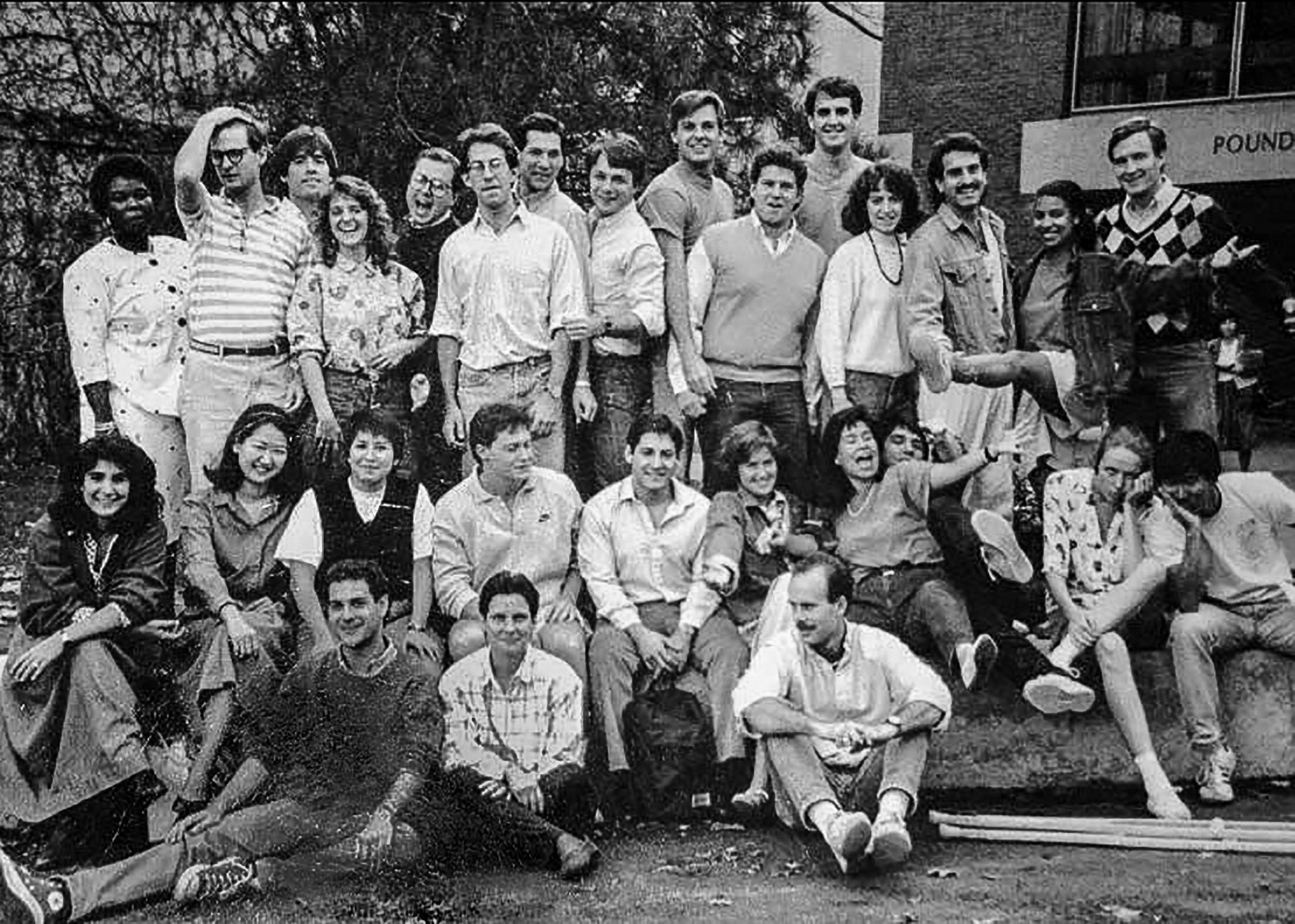 As one of the school's oldest student organizations, the BSA plays a critical role in the Ames Moot Court Competition, one of the most prestigious contests for appellate brief writing and advocacy in the nation.
Smith has worked with the highly selective group of 42 second- and third-year students at the BSA , serving as adviser, manager, scheduler, consoler, and cheerleader of the group. A former president of the organization described her as the organization's "lifeblood."
During her 35 years of managing the Ames competition, Smith has worked with more than 11,000 Harvard Law students, and more than 100 jurists, among them the U.S. Supreme Court justices, who have presided over the Ames Final Round event, including Justices Stephen Breyer '64, Ruth Bader Ginsburg '56-58, Elena Kagan '86, Anthony M. Kennedy '61, Antonin Scalia '60, Sonia Sotomayor, David Souter, and John Paul Stevens.
While often working below the radar, her efforts have hardly gone unnoticed.
Justice and former Harvard Law Dean Elena Kagan '86 personally recognized Smith's dedication in her closing remarks at the 2021 Ames Moot Court Finals competition: "I want to thank Yvonne Smith, the indefatigable. … She has been at HLS since 1987 which was the year after I graduated. … Yvonne was doing this job all the way through my deanship and year after year I thanked Yvonne," she said. And year after year, I felt really grateful to have her.
In the following Q&A, Smith shares her journey to campus, how she has managed the Ames competition, and her reflections on her life-long career at Harvard. Some answers were excerpted from the HLS podcast "Tell Me Your Story."
---
Harvard Law Today: How did you end up working at the law school and what offices have you worked in?
Yvonne Smith: I grew up in Cambridge near Central Square. One summer I told my mother that I was not going to day camp because I was too grown up and she told me 'Well, you're not that grown. You are not going to be sitting around all summer long doing nothing you have to do something.'
I was 14, a freshman going into my sophomore year of high school. So, I went to City Hall and applied to the mayor's summer enrichment program. They placed me in the office that helped students find summer jobs. In August as my position with them was ending, a job came in for a file clerk at Harvard Law School's placement office.
I continued in that position in the summers and then after school. When I graduated from high school I went to Howard University for a short time, but it wasn't the right fit for me, so I decided to come back to Cambridge. I asked for my job back again in the placement office. That was in 1978. Here I am.
HLT: What was the law school like then?
Smith: When I worked in placement, I remember using IBM punch cards to make student appointments with the law firms that came to campus to interview students. But the way we communicated with students back then is that every student had a Hark box. We would produce these little postcards that said: 'You have an appointment with Smith and Jones Friday at 2:00 p.m. in Pound Hall in room 100′. So, we'd stuff the boxes so that students would know when to show up for their interviews.
HLT: Can you talk more about your early days at the Board of Student Advisers?
Smith: When I first started working at the BSA, I believe there were 43 students.
I handled BSA finances, the budget, reimbursements, and made sure course evaluations — which were paper only, not online — were completed. I was also responsible for the first-year Ames Moot Court program, the qualifying rounds, and the final round.
At that time the BSA was located in the basement of Langdell. Suzanne Richardson, administrative dean of the clinical programs, was then working down the hall from us. I didn't have an administrative supervisor. If I had administrative issues I would go to personnel. When Suzanne became dean of students in 1993 she moved the BSA under the Dean of Students Office.
HLT: There's always such a huge buzz around Harvard Law School on the night of the Ames Moot Court Final Competition. Can you describe the scene? Why do you think this competition has remained so important and exciting to the law school community all these years?
Smith: The Ames Courtroom is packed on the night of final arguments. There is a lottery for the seats in the courtroom. Downstairs three classrooms are designated as overflow rooms to expand our capacity. Back in the day, students would go downstairs to the overflow rooms and they would end up having a party down there. One year I had to go downstairs to tell the students to tone it down a bit. "We can hear you," I said, as they cheered when a classmate made a good point in the argument.
I think the reason that the competition has remained so important is because there is an opportunity for students to argue a case in front of a Supreme Court justice — to be able to stand before the court, to have their attention, to have your voice heard. You have the opportunity to present your argument. You're not sure you're going to have that opportunity in your career. To have that experience is very exciting for them.
They have some sleepless nights. They pull all-nighters in the library. The teams pull all-nighters at someone's house. Sometimes they will go through a little struggle, understandably so because they're working their best and putting in long hours trying to come up with this great brief and this great argument. But at the end, they say they're glad they did it.
It is also wonderful that many of the judges that come back are alumni of the school. Students appreciate that. They are thrilled to be in the courtroom with the judges. At the end of the evening, there is a reception with the judges and all HLS students are invited to attend.
HLT: You have been working with the BSA and Ames since 1987. Can you remember your first Ames Final? What are some of the more memorable competitions for you?
Smith: I remember that Justice Antonin Scalia was the justice at the first Ames that I was involved in.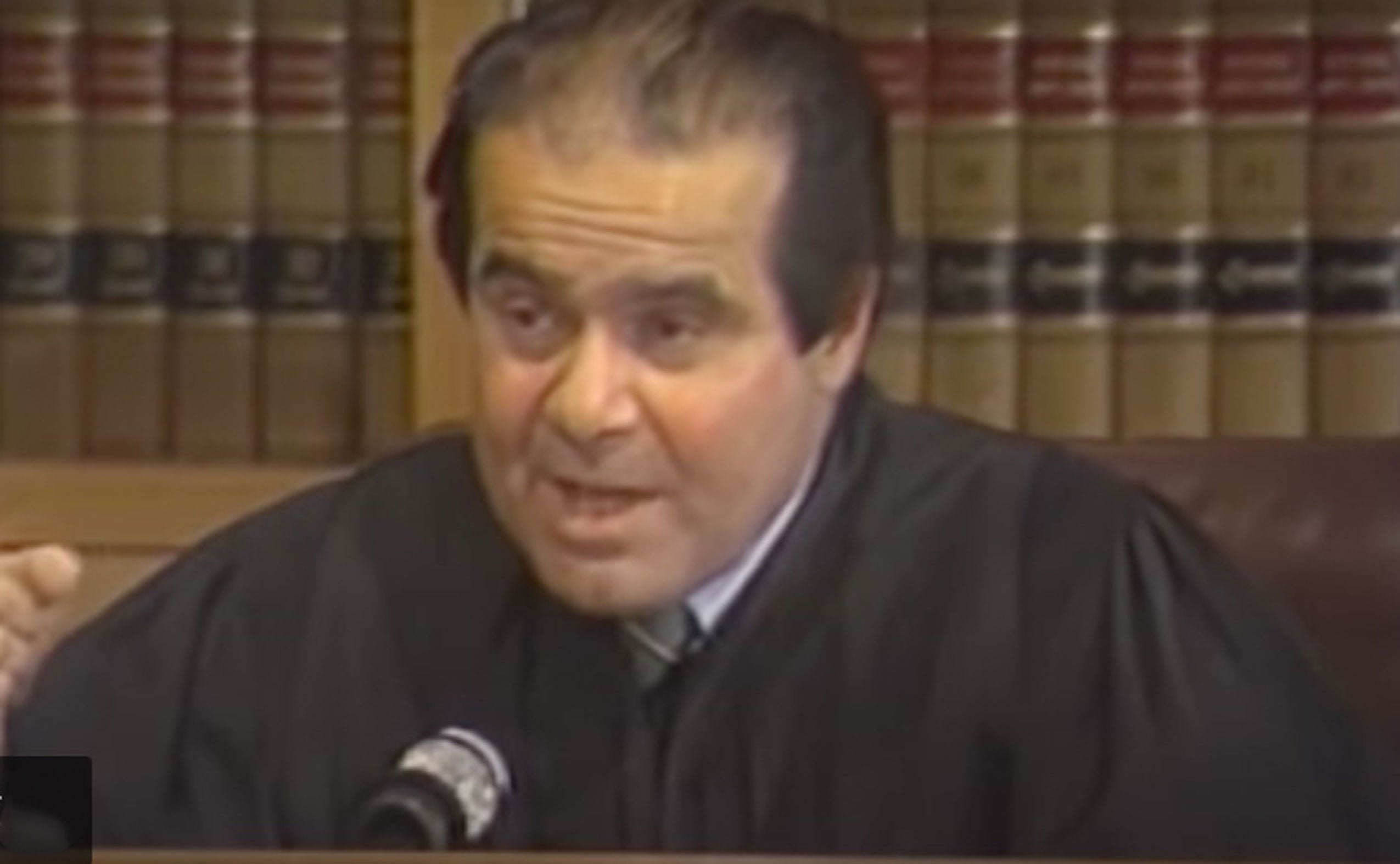 There are a few highlights that come to mind for me. The first full minority team made up of both men and women is one. It was great to see Artur Davis, a Black oralist, win Best Oralist in 1992. I hadn't seen that before, so it struck me. Recently we had an all-female team.
There was also the competition when an oralist's wife was pregnant and due at any moment. We were all on pins and needles wondering if he was going to be able to argue that night. In the end, he did get to argue, and it all worked out.
More recently, an oralist fainted as she was giving her oral argument. We took her to a back room and after a few minutes and a few sips of water, she decided that she wanted to continue. She did finish. Interestingly, she didn't want the video of the competition edited to remove that portion. 'That's what happened,' she said. 'I took my time, I felt better, and I came back and finished the argument.'
So, we kept it as is.
I think you navigate through the competition by being as organized as you can, as patient as you can, and as prepared as you can. I think it's all you can do. You make sure the i's are dotted, and the t's are crossed. And then you just let it go. And then whatever is going to happen is going to happen.
HLT: The Ames competition is 111 years old. You have been a central part of Ames for almost a third of that time. What has changed over the years? What does it take to run a competition like this?
Smith: I'm not sure if people realize all the work that goes into the finals, starting from the work of the case writer and from the dean's office finding the panel of judges. We start a year in advance. There are travel arrangements and lots of other details like making sure the chairs for the justices on the panel are the right height.
One of the things I like about the event, and about my job, is working with different students and the different pieces of the puzzle. When all the pieces are all together, you feel relieved that it all worked. I work with the student side of things and coordinate with the dean's office that works on the logistics, like selecting the judges for the finals.
One of the first things I do during orientation is to give the members of the BSA my phone number. I tell them not to call me because I will look at that phone number and not know who it is so I won't answer it. But if you need something, text me. It helps that they know I am here. I still believe in work-life balance and boundaries. I let students know I am here Monday through Friday 9 to 5. But if something is up and you need to reach me, you know where to find me.
HLT: What was it like to meet legal luminaries for the first time?
Smith: I remember being nervous. I remember feeling like I was going to stumble on my words.
I realized that they're here doing their job. Students love that they're here. And if I can be a part of that and make that happen, that's great. The same way that they're here doing their job, I'm here doing my job.
I think what helped ease me into it is that I noticed while we were helping the justices with their robes before the competition, that they were chit-chatting about their kids and their families and about everyday things with each other. Eventually, I felt comfortable chit-chatting with them as well.
HLT: So many people would be envious of the opportunity you've had to meet so many legal luminaries and justices of the Supreme Court. What has it been like for you?
Smith: The first time Justice Sotomayor came to HLS in 2011 she spoke to the BSA and had lunch with them. I was just there, as I usually am, in the background, taking care of things. And then as BSA students were all lined up to take a picture with her, she stopped and said, 'Wait, you need to be in this picture.' She called me over to make sure I was in the picture and then she took a picture with just the two of us.
In 2018, joining Justice Sotomayor when she returned to judge Ames was Jennifer Walker Elrod of the U.S. Court of Appeals for The Fifth Circuit. Elrod, who graduated in 1992, was a member of the BSA when she was in law school. It was special for me to see Jennifer go from a student to a judge for Ames.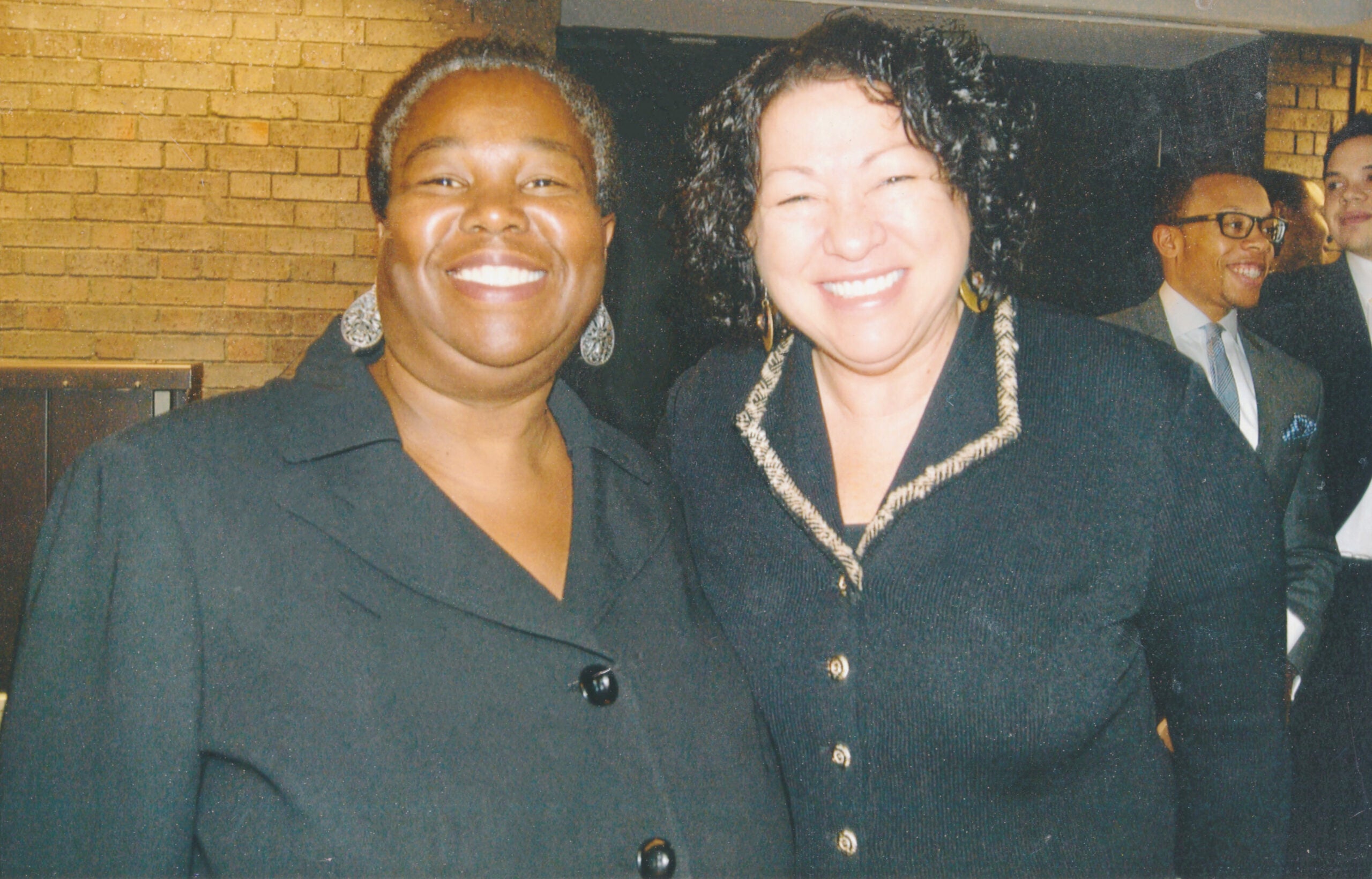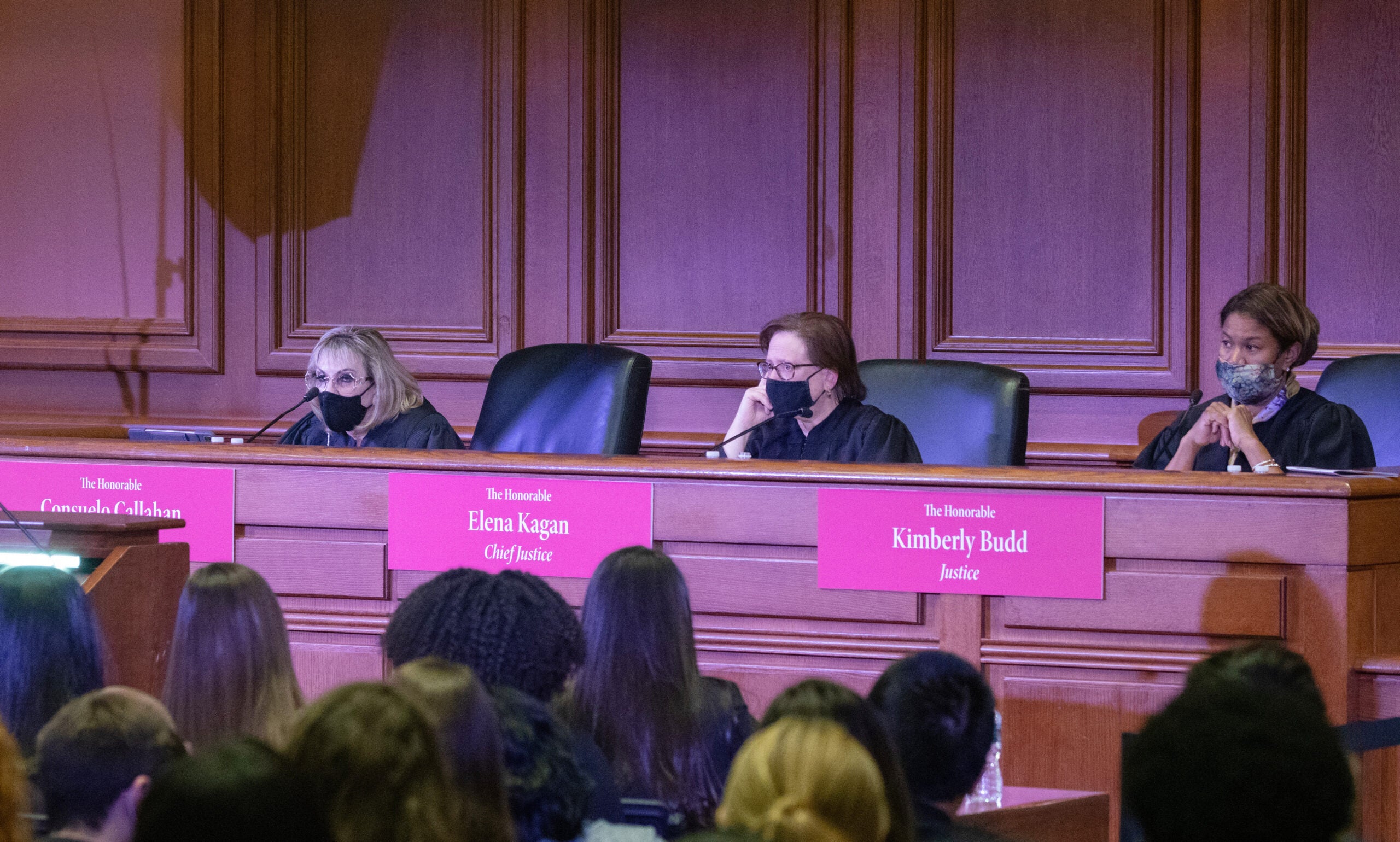 I was also touched last year when Justice Kagan recognized me and my years working on Ames during her remarks at end of the Ames Moot Court Final Round. She probably has no idea how much that meant to me.
HLT: So many former students gush when we mention your name. You've clearly made a huge impression on a lot of people. Can you talk about what it's been like? What do you bring uniquely to this role?
Smith: There are some student members of BSA or from past competitions that I am still in touch with and maintain friendships with. I've seen them grow from being a first-year student here at Harvard Law School to getting engaged, to getting married and having children, to being successful in their careers, to clerking, to 'I don't know where my next meal is coming from', to 'oh my goodness, I've made partner in one of the top ten firms in the United States.' It's wonderful to see the growth.
My job is basically the same thing year after year. There is the first-year curriculum, the moot court, and so forth. So the thing that changes is that each year you get a new batch of students. That's what has kept me here.
There are the relationships I've made with them and the things I've learned from them. They keep me hip and up-to-date with what's going on
I've also felt that law school can be tough and I'm happy to know that I can be here and be a mentor, a source of information, and at times a source of comfort for students here. That's how I contribute.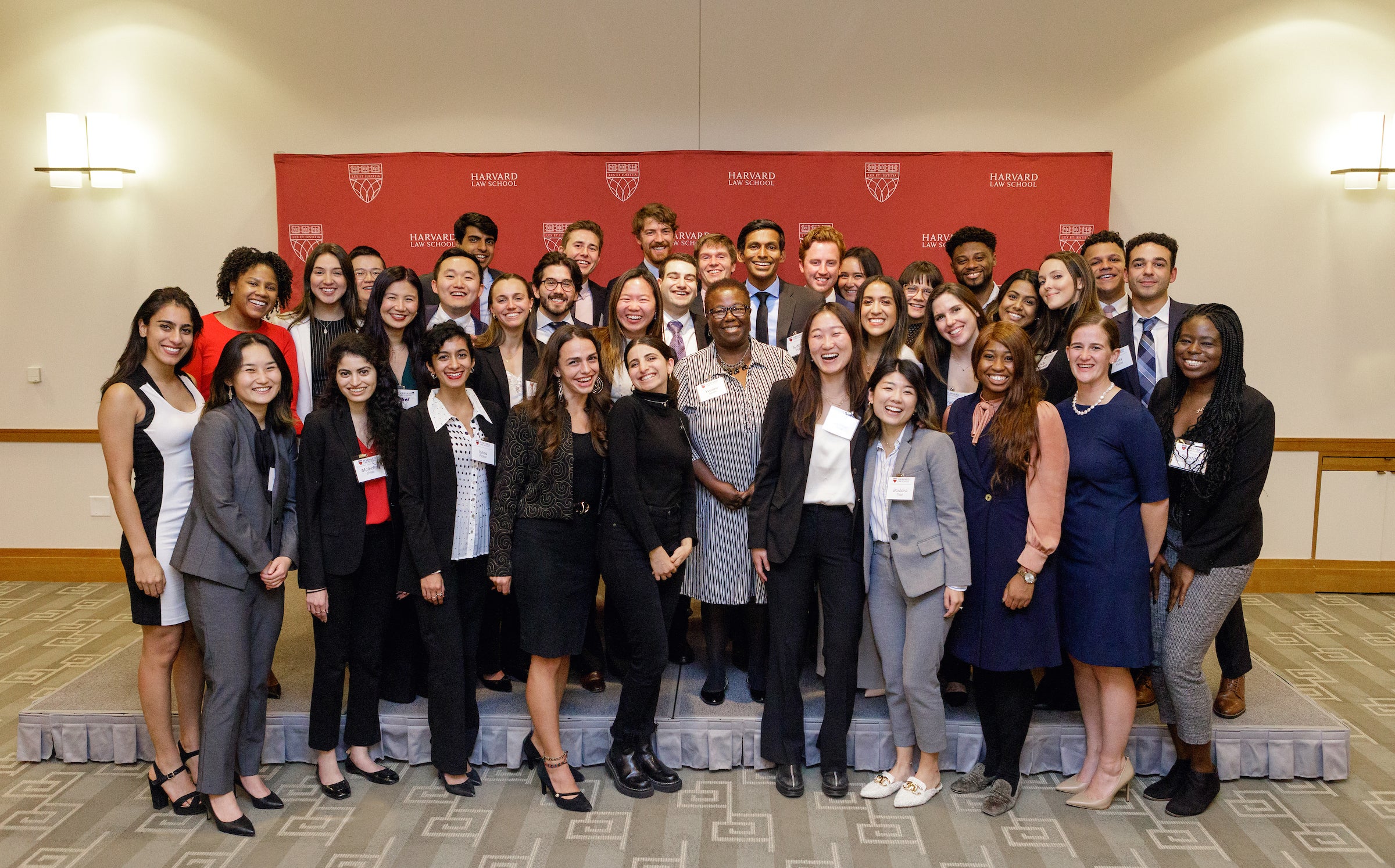 It's also fun when former students come back and visit. I mentioned earlier how nice it was to see Jennifer Elrod come back as a judge in Ames and to see the progress she has made.
It's also nice to see several former BSA members return to HLS as administrators, including Kristi Jobson '12, assistant dean for admissions and chief admissions officer; Catherine Pattanayak '04, assistant dean for public service and director of the Bernard Koteen Office of Public Interest Advising; and Meredith Boak '12 assistant dean for clinical and pro bono programs. Amir Ali '11, has come back as a lecturer on law and co-director of the law school's criminal justice appellant clinic at HLS.
HLT: What are some of the other ways you've supported students over the years?
Smith: Sometimes students had family issues and would come into my office just about every day to get a hug. In the early days, there was a student who would sit next to my desk and study.
I try to be someone who students can count on to be a resource, to help get them through law school, and also someone they can trust. I'm on their side, and on their team here. And I'll help them navigate this place.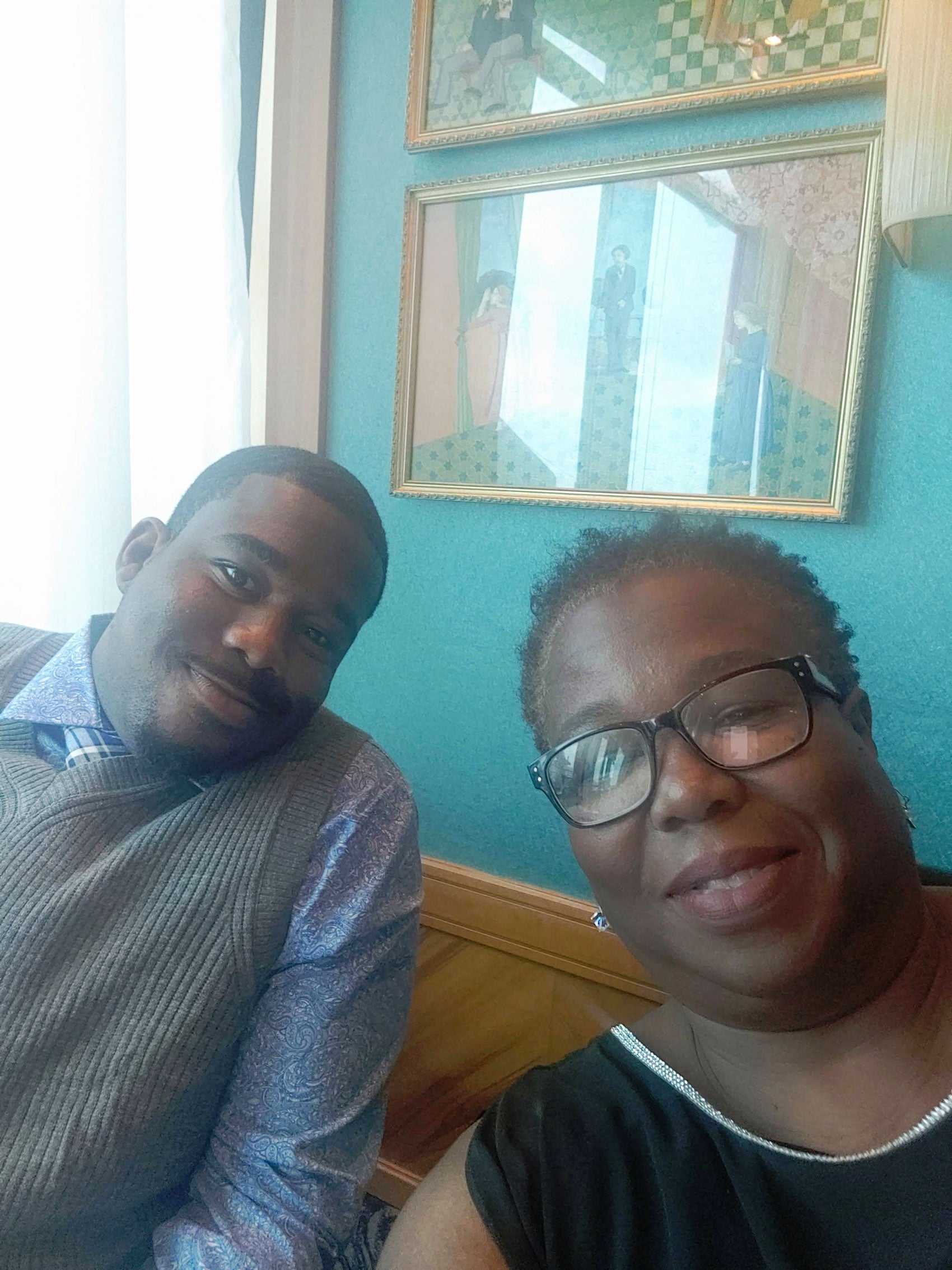 HLT: How have you changed over the years?
Smith: Over the years I've learned to go with the flow, so to speak. To relax. I've learned to pick my battles and trust my gut. And like it says on a plaque with the Serenity Prayer that my mother gave me, I've learned 'the things I can't change, the things I need the courage to change, and the wisdom to know the difference.' I think I've gained the wisdom to know the difference.
HLT: What will you miss most when you leave Harvard Law School?
Smith: I will definitely miss the relationships and the new influx of students that I meet every year.
HLT: Final thoughts?
Smith: My years at HLS have been about fostering friendships and relationships and fostering growth. It's been about the connections I've made. I do me and treat people right.