In a visit to Harvard Law School on Jan. 20, former U.S. Food and Drug Administration commissioner Dr. Margaret A. Hamburg HMS '83 reflected on her six-year tenure at the agency and shared her thoughts about the future of public health regulation. The talk was moderated by Lecturer on Law Peter Barton Hutt '59, senior counsel at Covington & Burling and former chief counsel to the F.D.A.
Hamburg was appointed F.D.A. commissioner in 2009, at what she described as a time of low morale at the agency. She said she approached the position with three broad priorities: increasing public understanding of the agency's work; improving "regulatory science" expertise to assess safety, efficacy, quality, and performance; and adapting the agency to globalization.
Hamburg had previously served as assistant secretary for policy and evaluation at the Department of Health and Human Services and commissioner of the New York Department of Health and Mental Hygiene. She said her experience at DOHMH, in particular, helped her learn the importance of public health law. "Law gave us the tools, using science as our guide, to implement the programs and policies necessary to promote the public health."
It wasn't until she was heading the F.D.A. that she fully understood "the essential and unique role that the [agency] plays not just in American life, but around the world." She described the realization as "not only very sobering but also very invigorating."
"I've never had a job, and I never expect to have another job, where I really have [the same] sense of mission and that what I'm doing really matters in the lives of all of you and every American," she said.
Addressing the challenges of globalization was a particular priority for Hamburg. Nearly 40 percent of drugs Americans consume today are made elsewhere, she said, as are about 50 percent of all medical devices. Approximately 80 percent of the active pharmaceutical ingredients used in the United States are manufactured outside the U.S. Because other countries increasingly produce the food and medical products that American consumers use in their daily lives, Hamburg said, the F.D.A. has had to create new working relationships with regulatory authorities around the world.
Hamburg discussed how she learned to negotiate with the Washington establishment as commissioner. Early on, she said, she learned about the need for more transparency, predictability, and partnership.
She noted a few of the highlights of her tenure, including a Gallup poll ranking FDA as most improved in public confidence (when she started, F.D.A. had ranked just above the IRS) and the passage of legislation in food safety, drug regulation, and tobacco regulation.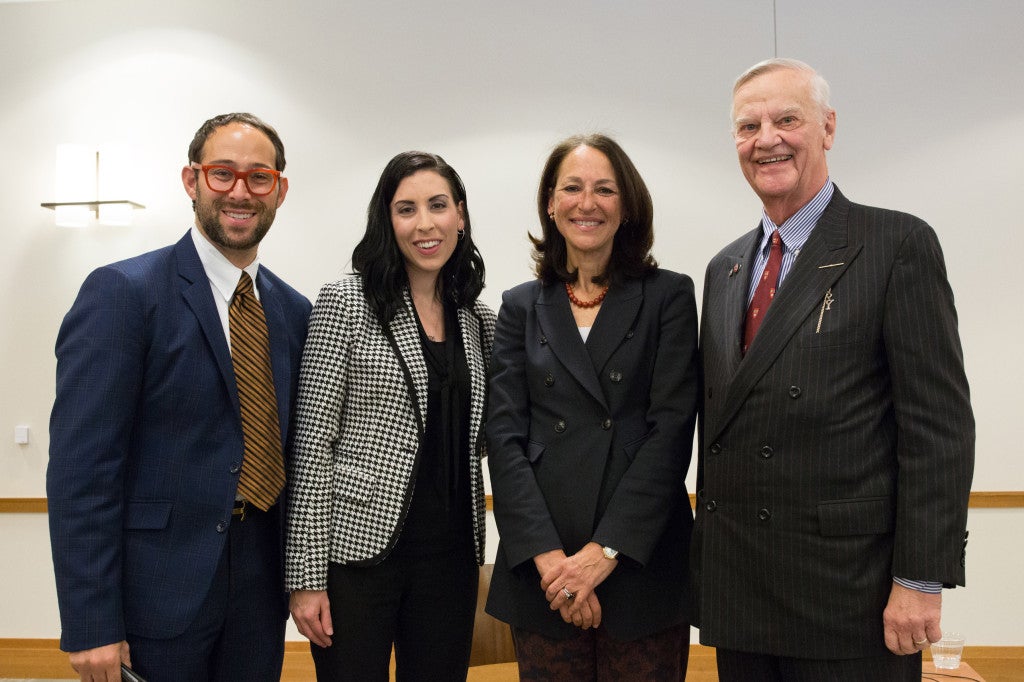 In a Q&A session, Hutt pressed Hamburg on media criticism saying that the FDA has increased its rate of approval for drug applications. Hamburg responded that in recent years there is "much more engagement early on in the R&D process so that the right studies get done, the right questions get asked, and of the course the science is advancing."
When asked about her relationship with the media generally, Hamburg said she considered it her duty as commissioner to "protect others so they could do their important work." A key part of the job, she said, was to categorize problems as "a pseudo-crisis, a PR issue…[or] a genuine crisis where F.D.A. had an essential role to play."
"One of the things that kept me up at night was that there are so many things to worry about, so many things that can go wrong," Hamburg said. "FDA is dramatically under-resourced, and I never felt that we had all the tools we needed—the people, the dollar resources, the laboratories, etcetera—to fully and adequately do our job."
The event was sponsored by the Petrie-Flom Center for Health Law Policy, Biotechnology, and Bioethics at Harvard Law School and the Center for Bioethics at Harvard Medical School, with support from the Oswald DeN. Cammann Fund.