Dehlia Umunna remembered seeing the fear.
"His eyes were dark," Umunna recalled. "And he was close to tears. And he looked at me and said, 'Will I be going to jail and will I be going to jail for a very long time?'"
"He was shaking," she said. "I looked over at his mom and his mom was shaking. She was nervous. She was holding the hands of her 13-year-old boy."
Umunna, a clinical professor of law at Harvard Law School and deputy director of the Criminal Justice Institute, subsequently learned that the boy, who suffered from bipolar disorder and ADHD, had been surreptitiously videotaped playing video games in his living room wearing only his underwear. By the time he arrived at school the next day, the video had been posted online, where it had been seen by 300 of his peers, who proceeded to tease him.
Frustrated and angry, he was heard to say, "I understand why the Parkland shooter did what he did." This reference to the 2018 shooting at Florida's Stoneman Douglas High School, in which 17 died and many others were maimed, quickly led to his arrest. Umunna was preparing to represent him as he was arraigned on charges of making terrorist threats.
"And as I looked over the case, I said to myself, this is exactly what [Prof.] Martha [Minow]'s book talks about," she recalled. "This is a prime example of where we should nudge the courts and the decision-makers to exercise forgiveness."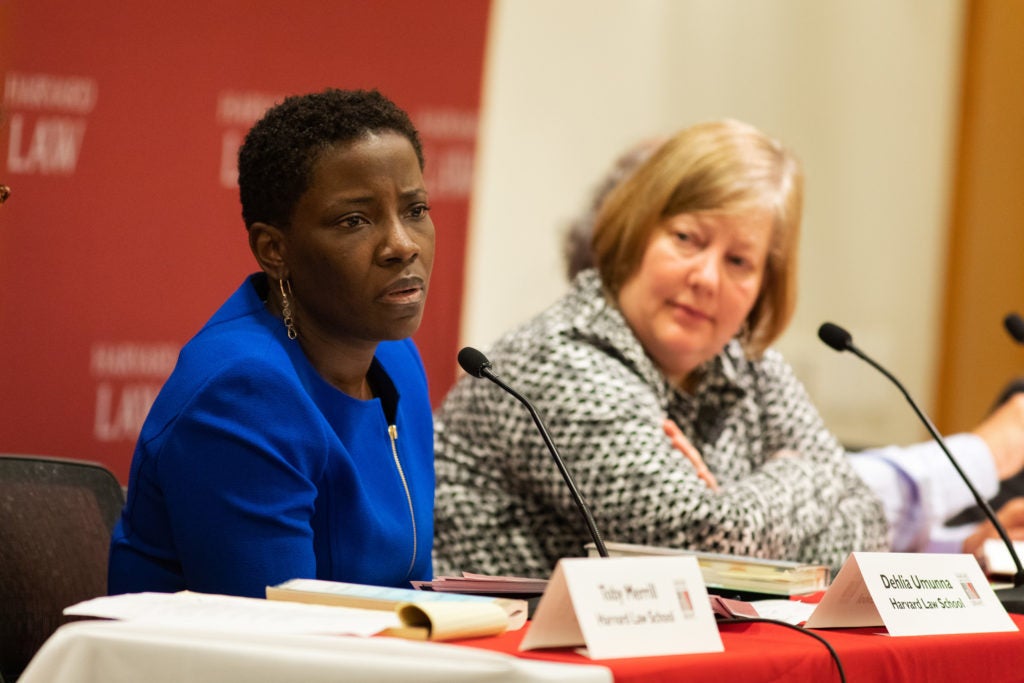 Umunna's comments came during a panel discussion of "When Should Law Forgive?", a new book by Martha Minow, 300th Anniversary University Professor and former dean of HLS. The book explores the complicated intersection of the law, justice, and forgiveness, asking whether the law should encourage people to forgive, and when courts, public officials, and specific laws should forgive.
In addition to Umunna and Minow, panelists included Carol Steiker '86, the Henry J. Friendly Professor of Law and co-director of the Criminal Justice Policy Program; Toby Merrill '11, an HLS lecturer on law and director of the Project on Predatory Student Lending; and Homi K. Bhabha, the Anne F. Rosenberg Professor of the Humanities at Harvard and director of the Mahindra Humanities Center. The discussion was sponsored by the Harvard Law School Law Library.
Opening the discussion, Minow identified two ways that law can forgive.
"One is that law, legal institutions, courts, [and] new legal institutions like truth commissions, can set up structures that can encourage people individually to consider apologizing and forgiving," Minow explained. "But secondly, which is more of a focus for the book, law itself can let go of justified resentment and grievance, which is my definition of forgiveness—letting go of justified grievance."
Explicit examples of this second type of forgiveness, she said, include the U.S. Constitution's provision giving Congress the power to create national bankruptcy laws (something, she noted, Thomas Jefferson, a perennial debtor, would have appreciated for both personal and political reasons), as well as the pardon power held by the president. There are other, less explicit examples, she said, but their less formal nature also makes them subject to uneven or even "racially discriminatory" application.
Ultimately, Minow described the goal of her book as exploring how, in especially polarized times, forgiveness can be an integral aspect of achieving justice.
"We are living in an age of resentment," she declared. "We are living in an age of justified resentments. But if we all continue down our roads with our justified resentments, then we will have our vengeance and we will have the opposite of justice."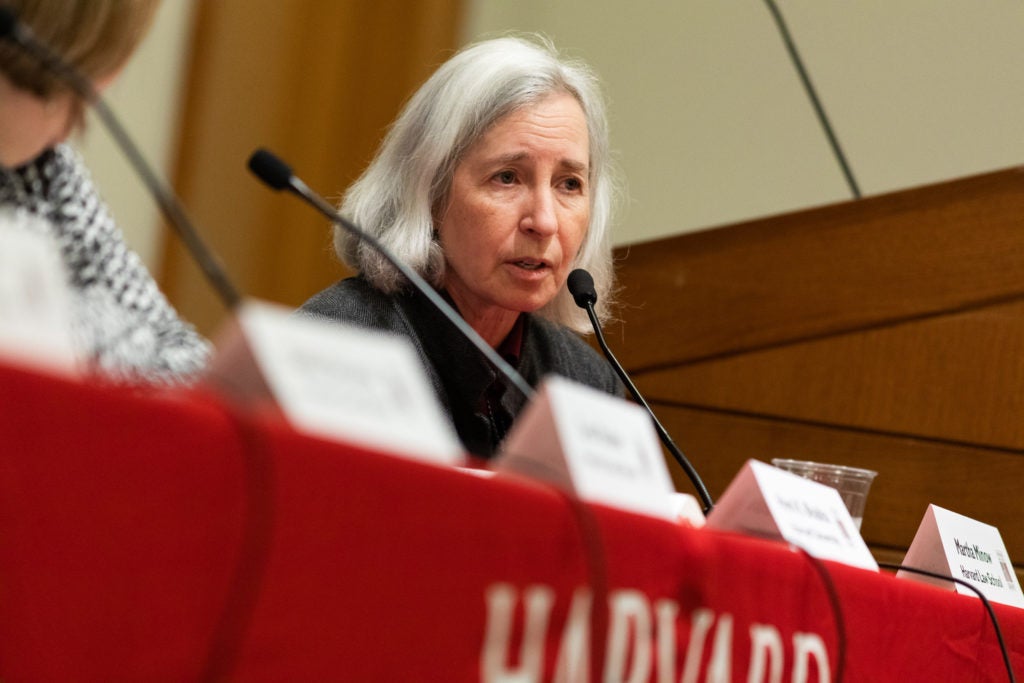 Steiker, whose scholarship focuses on capital punishment and who described herself as a "scholarly proponent of … legal mercy," cited an 11th century archbishop and theologian's efforts to understand the paradox between justice and forgiveness, as well its seemingly uneven application. Anselm of Canterbury, she said, evocatively posed the question of "how god, who was supposed to be a god of perfect justice, could at the same time also be a god of perfect mercy."
"What I love about Martha's book is that it grapples directly with these hard questions," and offers other ways of thinking, said Steiker. "For example, in the child soldier context, the book goes to great length to try to explicate why justice, in response to wartime atrocities by child soldiers, does not necessarily demand the use of the criminal process and the imposition of retributive punishment, but rather how justice might better be delivered through other types of processes, drawing from well-known processes such as juvenile justice, restorative justice, or truth and reconciliation models."
"Martha wants to draw a distinction between 'holding responsible' and 'punishing'," Steiker continued. "And she wants these processes to recognize responsibility while at the same time forgoing punishment."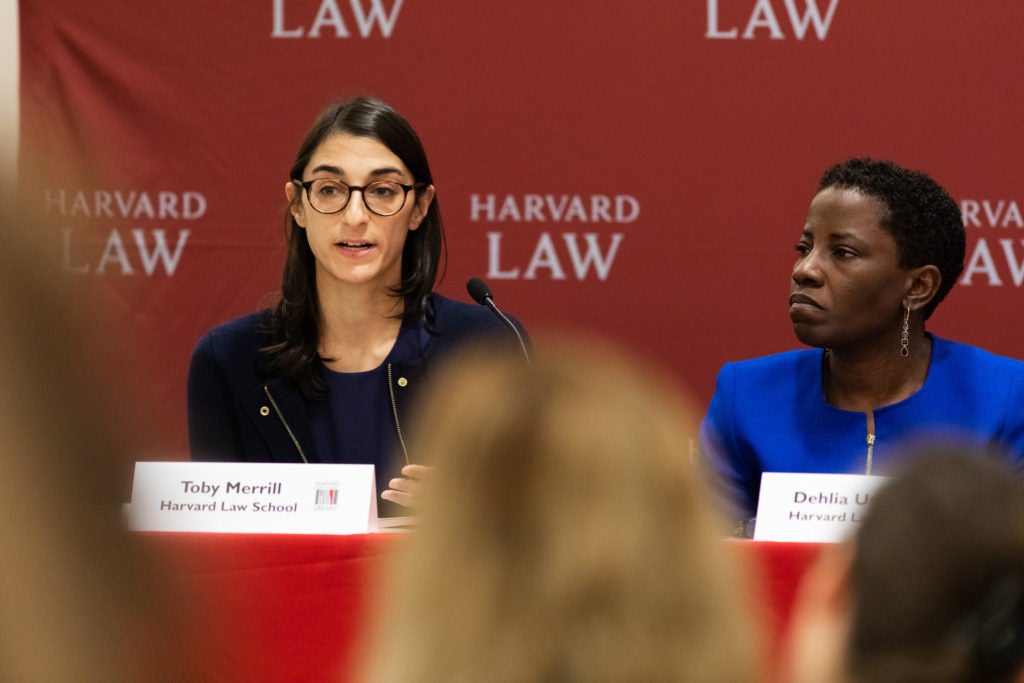 Merrill, who led the Predatory Lending Project's team of attorneys in landmark cases protecting and advancing the rights of students defrauded by for-profit colleges, questioned whether forgiveness was the right concept to apply to individuals who had failed to pay debts that were illegitimate in the first place. Through the Predatory Lending Project, part of the Legal Services Center of Harvard Law School, students and staff represent hundreds of thousands of former students across the country against the predatory for-profit college industry, litigating to protect borrower rights, recover money owed, and cancel fraudulent debt.
"I found this book to be a challenge," she said. "It was really hard because, for me, there is this predicate question of whether in the debt context forgiveness is the right inquiry, especially the debt context in which I work."
Merrill argued that both individuals who had been preyed upon by the subprime loan industry and were no longer living in the houses they'd bought with the help of unscrupulous lenders, and students who had enrolled in for-profit colleges but hadn't received an education, had received nothing of value.
"Instead of asking when should obligations be forgiven rather than enforced, a different question to ask would be when is the obligation invalid and the resulting debt therefore can't be forgiven and must be canceled?" Merrill said.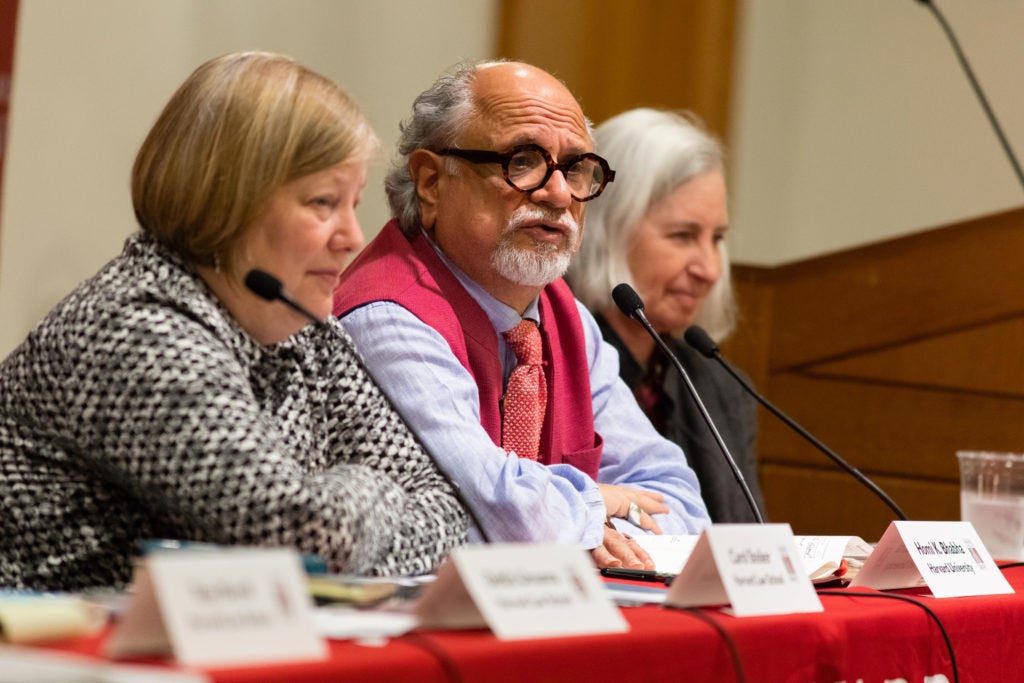 Bhabha, the author of numerous works on colonial and postcolonial theory, cultural change and power, and cosmopolitanism, questioned how forgiveness through the law can be squared with the memory of the trauma experienced by victims of wrongdoing.
"What kind of memory do we need to mobilize to make forgiveness productive without denying the fact that traumatic experiences cannot simply be wiped out, either by legal forgiveness or the ethics of forgiveness?" he asked. "For groups of individuals who have actually been traumatized by violence, by denigration, by racism, that wounding, that anxiety keeps returning. And in a way, as Freud put it, anxiety exists to protect you from a trauma. So, I want to know more about this idea of being able to forgive and not to forget."
For Ummuna, speaking to the broader historical context of criminal justice, there is, today, "a clamor … for extreme sentencing and extreme punishment; that's sort of our default position when somebody has done wrong."
As a result, she said, the U.S., home to only five percent of the global population, incarcerates a quarter of the world's prisoners. And nearly 2.2 million adults are held in American prisons and jails, most for nonviolent offenses. In Boston, she continued, African-Americans have on average a net worth of $8, compared to $247,000 for the average white Bostonian.
"So imagine, then, if you are a black person in Boston caught up in the criminal justice system and you're a white person caught up in the same system," Ummuna said. "Imagine the inequities already baked into the system by the time you get to court."