Rates of food insecurity and threats to farmers' livelihoods have increased sharply since the COVID-19 pandemic began. However, the United States has long faced a crisis in which too many Americans go hungry and small and mid-size farmers struggle to make ends meet. With funding from Congress, in April 2020 the U.S. Department of Agriculture (USDA) launched the Farmers to Families Food Box Program as part of the Coronavirus Food Assistance Program. According to a new report by Harvard Law School's Food Law and Policy Clinic (FLPC) and the National Sustainable Agriculture Coalition (NSAC), the Farmers to Families Food Box Program (the Program) has accomplished much and can serve as a model for future USDA fresh food purchasing and distribution efforts. However, the Program also faces several critiques. Key improvements could help the program — and future programs modeled on it — to achieve their full potential.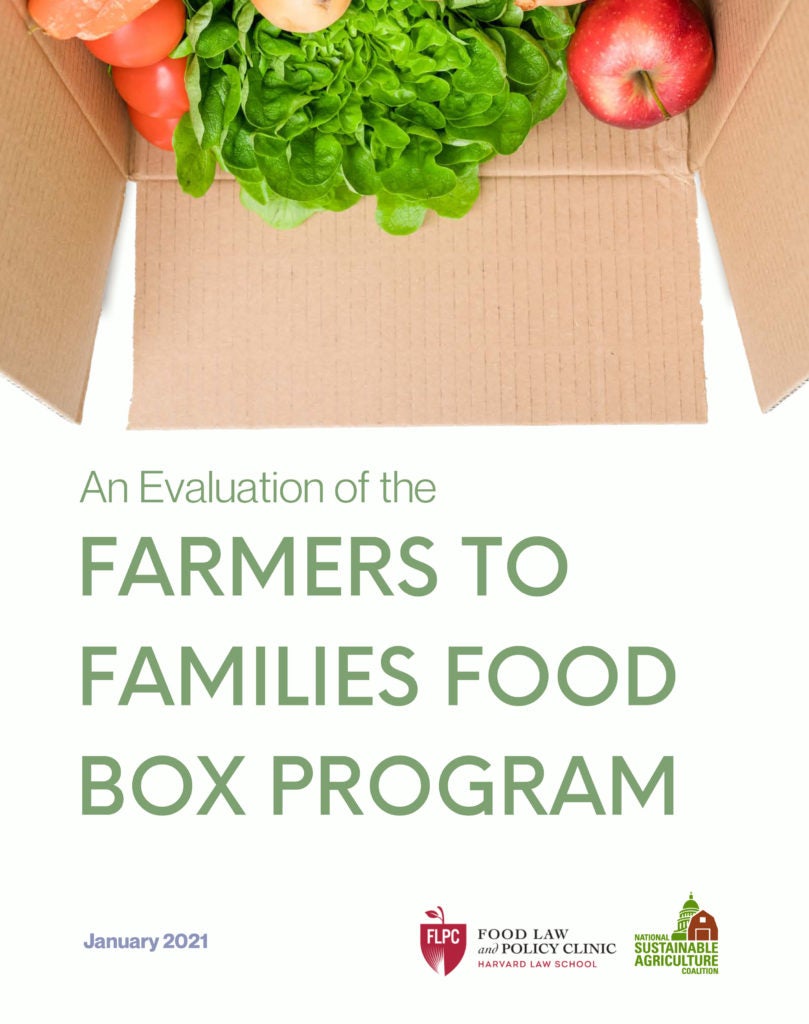 Through the Farmers to Families Food Box Program, USDA's Agriculture Marketing Service (AMS) contracts with farms, farmer associations, and distributors to purchase and distribute food — fresh produce, dairy, and meat — to nonprofit organizations, such as food banks. The program has helped to keep farmers and distributors afloat during the pandemic and has distributed millions of food boxes to help alleviate hunger. There is, however, room for improvement. Based on interviews with more than 30 stakeholders from across the food system, FLPC and NSAC highlight opportunities to make the program more equitable and effective in their new report, An Evaluation of the Farmers to Families Food Box Program.
"The Farmers to Families Food Box Program is unique in its role to support both farmers and people who lack the resources to access the food they need," said Professor Emily Broad Leib '08, faculty director for FLPC. "However, there is tremendous potential for USDA to make changes to support more small- and mid-size farms and farms owned by women and people of color; better alleviate hunger; and mitigate senseless food waste. Our report offers recommendations to strengthen the Program accordingly. It is critical for USDA to address these issues as our economy struggles amid COVID-19; further, with changes, this Program also could serve as the model for a long-term food system solution."
FLPC's and NSAC's report lists eight recommendations for USDA to improve the Farmers to Families Food Box Program. Among those recommendations is a call for clearer messaging and steps taken to ensure priority subcontracting with small- and mid-sized, and minority- and women-owned farms, and that distribution targets minority-led nonprofits. The report also includes several additional recommendations that apply lessons from the Program to other USDA purchasing and distribution efforts and recommendations to address the issue of food waste in the U.S. beyond the Program.
"USDA's swift implementation of the Farmers to Families Food Box Program provided many small farmers and food hubs with a desperately needed lifeline amidst the pandemic," said Wes King, Senior Policy Specialist at the National Sustainable Agriculture Coalition (NSAC). "However, changes made to the program as it evolved had the unintended consequence of depriving the small, mid-sized, minority- and women-owned farms and food hubs with continued support through the program. It's critical that in future iterations of the program the USDA threads the needle in a way that alleviates hunger while also supporting the diversity that encompasses the full diversity of American Agriculture."
An Evaluation of the Farmers to Families Food Box Program and an accompanying executive summary are available on the Center for Health Law and Policy Innovation website.
---
Related Content
WATCH Tom Vilsack, the president's Agriculture Secretary nominee, testified during his confirmation hearing before the Senate Agriculture Committee on C-SPAN.org.
See Vilsack's opening statement on C-SPAN's YouTube channel: