At their heart they are human stories: The Harvard custodian from El Salvador, raising her three daughters in America, who never expected her temporary protected status to be threatened. The incarcerated Vietnam veteran whose struggles with PTSD are being addressed in a new Middlesex Jail unit specifically for vets. A software engineer employed at an elite women's college whose manager screamed at her when she took time off after a miscarriage.
They are among the subjects featured in the five documentaries that screened on Nov. 21 at a packed Brattle Theatre, the results of an innovative January term workshop taught by 300th Anniversary University Professor and former Harvard Law School Dean Martha Minow. Created by 12 Harvard Law students from eight countries, these short films range across topics from gentrification to climate change, which can be found online at the Boston Globe under the heading "Legal Lens," along with an op-ed by Minow. (The films can also be viewed below).
"Telling a story is one of the most fundamental aspects of human experience," said Minow, in an interview before the screening. "It's not by accident that the central mode of legal education in the United States is in stories. We use opinions from courts, rather than just sets of rules, to tell stories about particular situations and how they were resolved. Documentary film is very much the same."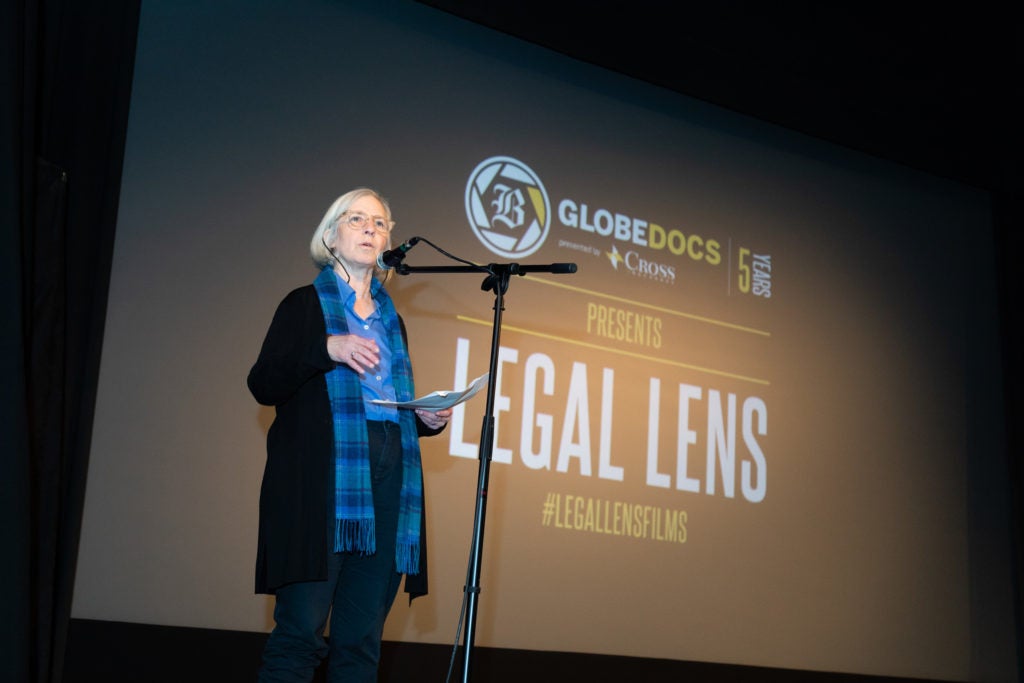 Minow has been involved with documentaries for years, advising filmmakers like Frederick Wiseman and Marlene Booth, and has long been aware of their impact. "In the last 20 years, documentary film has become a major tool in legal and political advocacy," she said. "And so as a teacher at a law school, I thought it would be important for our students to have a chance to learn more about this world."
With the assistance of filmmaker and producer Joseph Tovares and support from the William and Flora Hewitt Foundation, Minow's class "Law and Documentary" led students through the process of creating documentaries on legal subjects. While professional filmmakers helped the students with the nuts-and-bolts of filming and production, "what the students had to offer was intense curiosity, knowledge of law, concern about particular legal problems, and enormous energy and willingness to dive in," said Minow.
The class began with discussions of possible topics. As the students spoke, themes around the idea of home—of sanctuary and safety—came up. "Some people were looking at housing and how the law affects that. Other people were looking at having a prison as a home, and we thought climate change affects everyone's home," said Adam Posluns LL.M. '19, a Fulbright scholar from Canada. With Katerina Simonova LL.M. '19, from the Czech Republic, Posluns worked on "Holding ExxonMobile accountable," about environmental activists in Chelsea, Mass. concerned with how sea-level rise might affect waterfront chemical storage tanks on the Mystic River.
The brevity of the films—the longest is seven-and-a-half minutes—forced the students to focus. After the opening scenes of "Parenting discrimination," for example, words superimposed over footage of a fetal ultrasound boiled the issue down to one question: "Discrimination based on pregnancy is prohibited by federal law. But the law does not define what constitutes discrimination," it read. "What constitutes discrimination?"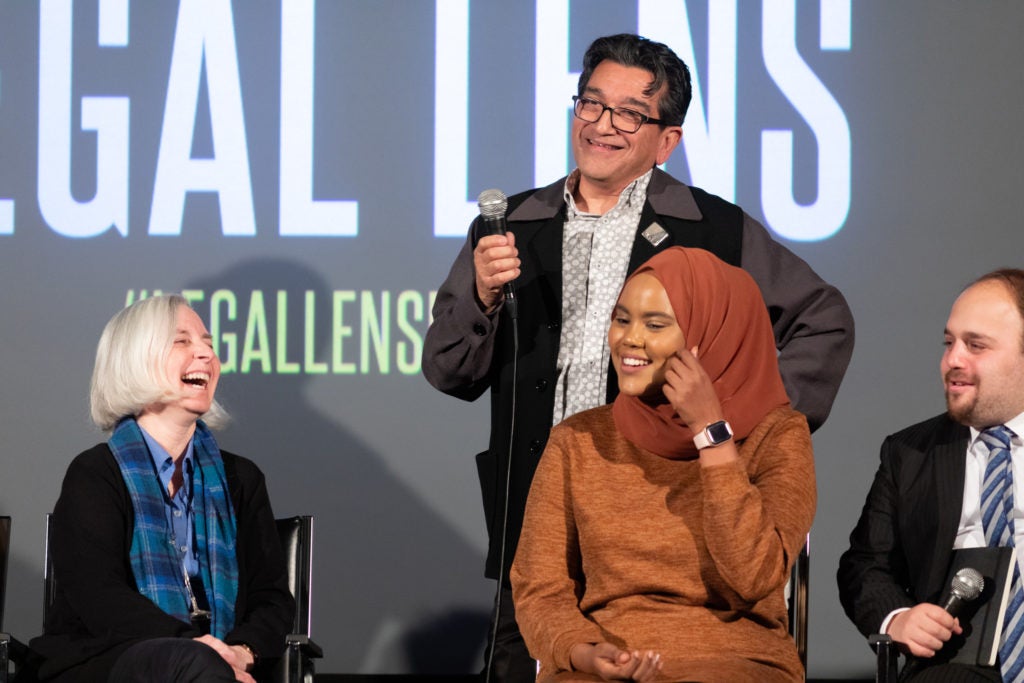 "Because we were given a short time frame, we had to figure out what the core points were" and hone in, said Elizabeth C. Ferrie '19, who collaborated with Zamzam Mohammed LL.M. '19, of Kenya, and Yafit Shalev LL.M. '19 of Israel.
"We wanted a conversation starter, and not the final word," said Peerce McManus, LL.M. '19. A Fulbright scholar from Australia, McManus worked on "Veterans and the criminal justice system" with David Benger '20 and Elisabeth Mabus '19.
Retaining viewer attention was crucial. "One of the elements that we learned a great deal about was the importance of having key subjects who carry a story," said Minow. "Very often, lawyers move to the abstract very quickly. And while we teach students using particular cases, very often we end up talking about abstract principles. This course was an invaluable reminder of the importance of the key story, of not only in conveying the ideas but also persuading people to care about them."
The resulting films are intimate and powerful. In "Holding on to their homes," Harvard teaching assistant and community activist Pedro Morales is filmed looking over the East Boston waterfront, where gentrification is displacing the Latino community he is part of. "There are no rich people like them, powerful people like them, without people like us," he says. "We feed you. We build your homes. We wash your fancy cars. There is no you without us."
For Kevin Patumwat '19, Morales's story illustrated how ordinary people can struggle with legal bureaucracy, a challenge exacerbated by language difficulties for a primarily Spanish-speaking community. Patumwat, who is from Thailand, worked on the gentrification documentary with Narissa Naidoo LL.M '19, a Fulbright scholar from South Africa. "The class allowed me to think about the social consequences of having a legal system that is complex and unapproachable to most people in society," he said.
"Paying attention to those ground-level experiences of legal rules, legal problems, and even the avenues for legal change in people's actual lives while they're juggling all the rest of their lives" was the point, stressed Minow. "That's a reality that making these films brought home," she said. "And it is a reality that should be much more integrated into legal education."
For Daren Zhang '20, who worked with Tianhao He '20 on "Uncertainty over TPS," about the Harvard custodian, the lesson rang true. "Sometimes we get really into the legal theory and forget that behind every case is a human story," he said. "This was a reminder that there's always a human cost."
---
Holding on to their homes
For Pedro Morales, home is at once infinite and intimate. Home extends far beyond his four walls and white-picket fence on a quiet avenue in East Boston. (By Nerissa Naidoo and Kevin Patumwat)
---
Holding ExxonMobil accountable
Community activists in Chelsea are fighting to protect their city and others from the environmental risks posed by an ExxonMobil facility situated on the banks of the Mystic River. (By Adam Posluns and Katerina Simonova)
---
Parenting discrimination
The way our society perceives and treats mothers and motherhood plays a central role in preserving sex inequality. (By Elizabeth Ferrie, Zamzam Mohammed, and Yafit Shalev)
---
Veterans and the criminal justice system
When Veterans' Treatment Courts first opened in Massachusetts, organizers thought they would be dealing only with men and women impacted by the conflicts in Iraq and Afghanistan. Instead, they also saw veterans from the Gulf War, Vietnam, and even Korea. (By David Benger, Elisabeth Mabus, and Peerce McManus)
---
Uncertainty over TPS
Sudden policy changes regarding Temporary Protected Status in immigration law have created uncertainty and can have permanent costs. (By Tianhao He and Daren Zhang)
---