With headlines declaring 2019 the year that the world woke up to climate change, Aminta Ossom '09 sees hope in approaching the issue from a specific angle: human rights.
"Human rights has a lot to offer the climate change movement because it's a way to humanize the issue. It becomes less scientific or technical and more accessible," she said. "The human rights approach also says that everyone has a buy-in and should have a say. Everyone is a potential victim of the effects of climate change," she added.
After years working at Amnesty International and the United Nations, Ossom returned to Harvard Law School this fall to teach in the International Human Rights Clinic (IHRC), where one of her projects focuses on how human rights organizations are advising governments on climate change. The new clinical instructor, who self-identifies as a "regional human rights systems nerd," had not originally planned on a career in law.
A childhood attending science summer camps and a STEM magnet school propelled her to the University of Oklahoma as a chemical engineering and pre-med major. But when Ossom realized she was drawn more toward religion and global politics than thermodynamics, she combined history, philosophy, languages, political science, and literature into a self-designed major. That degree showed Ossom how she might "connect history to current events through broader world issues and theories of justice," she said.
In 2006, she enrolled at HLS and joined the International Human Rights Clinic, where she researched child labor and diamond-mining in Sierra Leone. Her clinical instructor, Sharanjeet Parmar, taught students how to do legal research with nuance and a historical eye. Both the method and the project proved formative for Ossom, helping her identify a larger theme for her advocacy: economic, social, and cultural rights (ESCR).
"It's a tricky subject. Economic, social, and cultural rights violations frequently result from inaction, like a failure to provide adequate food, housing, or education, so the process of determining responsibility can feel less straightforward than when the violation is an affirmative action that can be identified," Ossom said.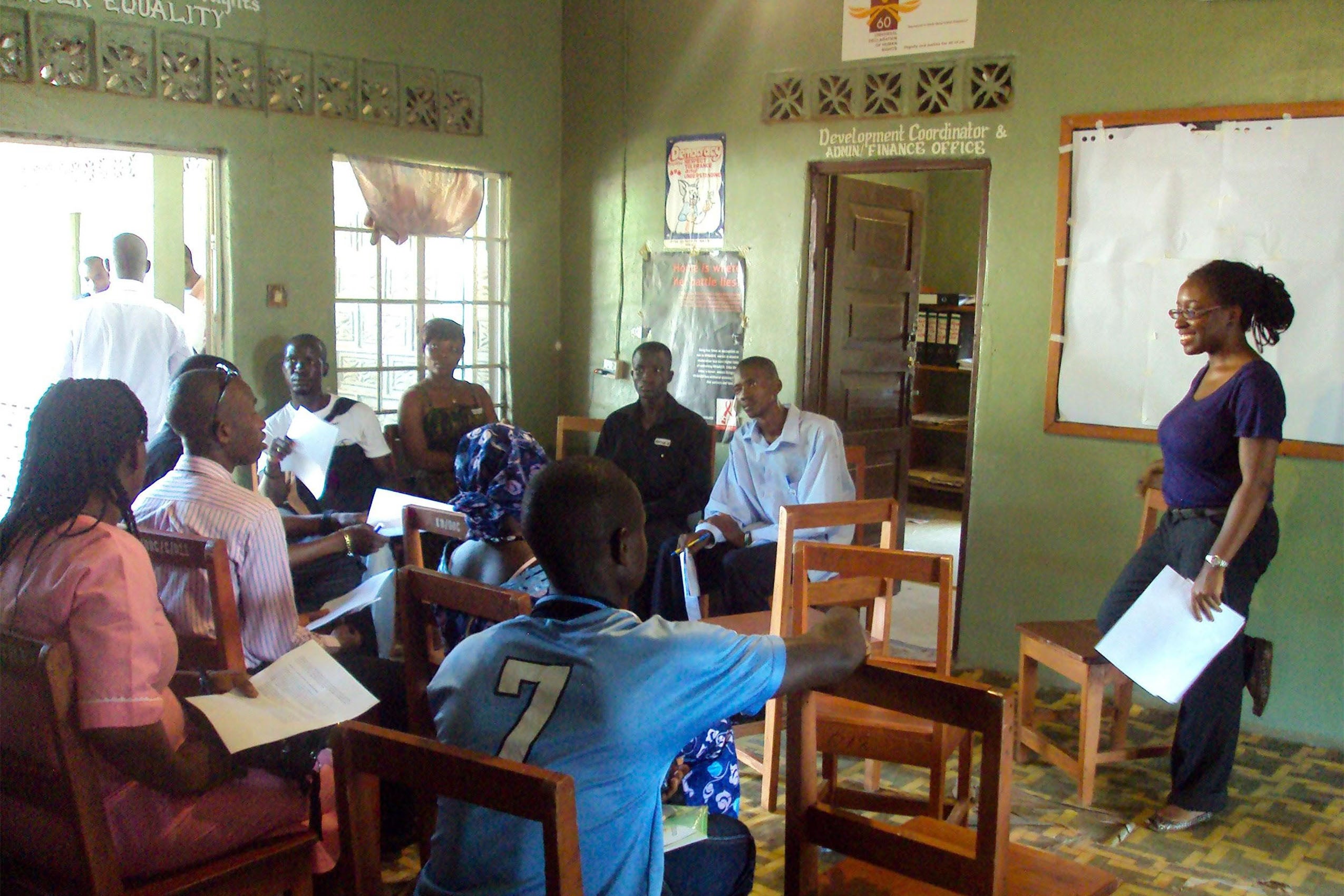 After earning her J.D. at HLS and a Masters in African Politics at the School of Oriental and African Studies in London, Ossom was awarded a Satter Fellowship to work at Amnesty International, where she focused on international criminal law and matters of universal jurisdiction. She also contributed to a variety of projects that bolstered her ESCR expertise, from helping organize a demonstration on forced evictions in Ghana to assisting with research on maternal mortality in Sierra Leone.
Following a teaching stint as the Crowley Fellow at Fordham Law School, Ossom landed at the United Nations in Geneva, where she worked with leading experts to monitor state compliance with the Optional Protocol to the Convention against Torture. There, she had a front-row view to the human rights movement's engagement with the U.N., noticing where it was advancing and where more work was necessary. She began to see the human rights movement as a living organism with changing needs.
"I think we're moving from people who have access to powerful institutions—like lawyers—being the ones raising rights violations to a more decentralized type of work," she said. "Especially for those of us who grew up in the global north, it's important for us to see ourselves less as conduits to change and more as allies. Communities and survivors of human rights violations are now the face of the movement. I think that's super exciting to witness and be a part of, and it's what I want to foster more with my students."
These days, Ossom finds herself "thinking a lot about how human rights can respond to issues that aren't specific to particular communities," she said. Climate change is one example.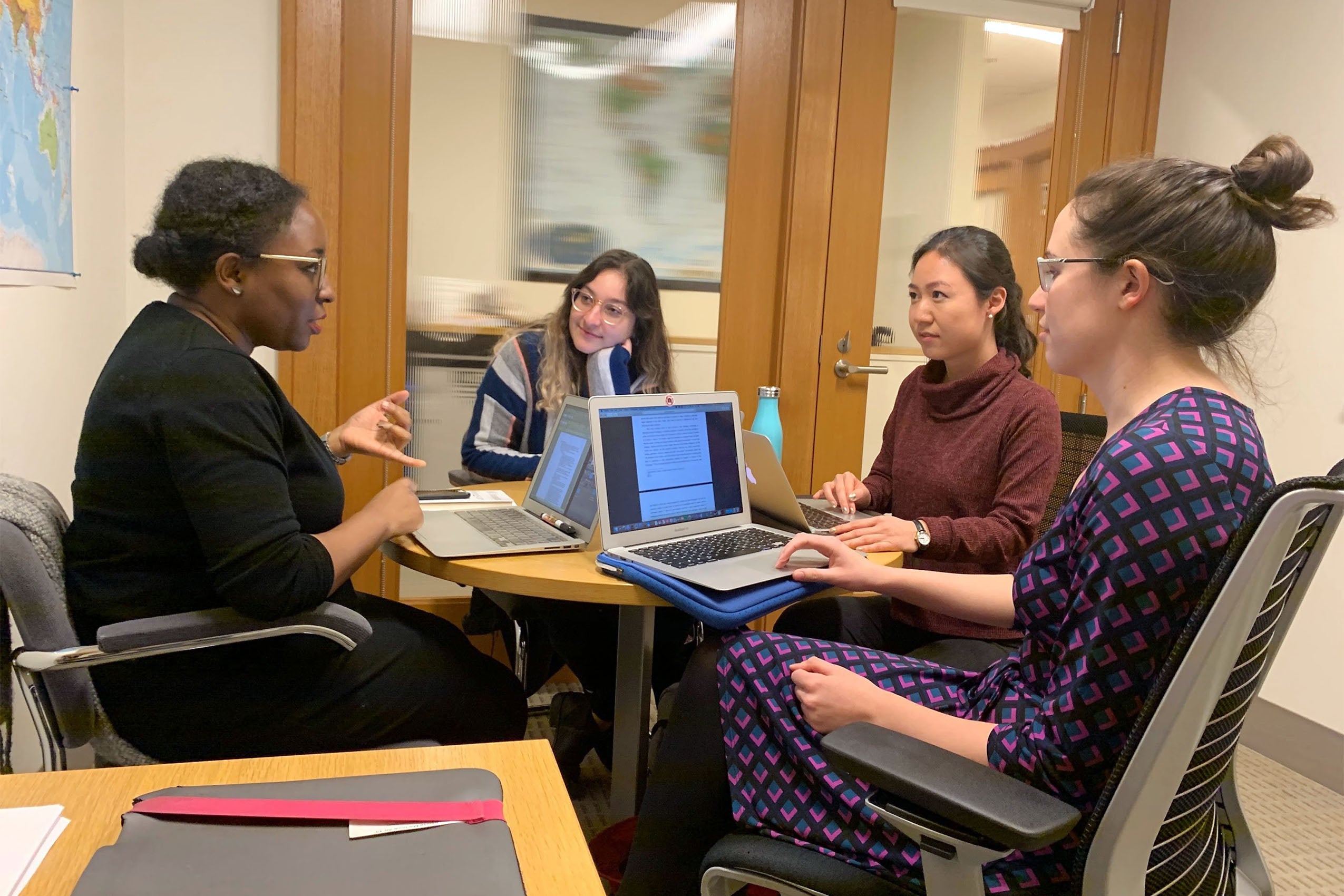 In her first year as a clinical instructor in the IHRC, Ossom and her students are preparing recommendations for governments trying to adapt to and respond to the climate change crisis, with an awareness of how inequality disproportionately magnifies the impact for some communities. To recommend solutions, the team is looking closely at the principles that have been solidified in the jurisprudence of the Committee on Economic and Social Rights, making sure that states preparing for climate change do not inflict harm by pulling resources away from other responsibilities like education and healthcare.
In addition to her climate change work, Ossom is studying how the changing nature of labor increases the chance that workers might be exposed to harassment, discrimination, or other types of abuses. Her clinical team is researching the types of rights violations faced by workers in the informal economy and how international and regional human rights law could be invoked to further protect these workers.
Tara Boghosian '20, who has been part of the right-to-work clinical project since the fall, described Ossom as building a "collaborative team ethos."
"Aminta encouraged us to take ownership of the direction of our project, while still providing us with plenty of support and guidance so that we felt well-equipped to take on new challenges. She gave each member of the team the opportunity to lead a call with an expert, but worked with us as much as we needed to brainstorm agendas and topics for each conversation," Boghosian said.
Building relationships with students, she sees advising as a way to "multiply [her] impact" and support others on subjects she is equally as passionate about but does not have the capacity to take on herself. At IHRC, she models thoughtful and intentional practices and communicates to her students how to set boundaries, act with humility, and avoid burnout.
"Human rights is not what any single individual does but it's something that a whole group of individuals and organizations are doing together. I'm not that crucial. It will all still go on if I withdraw at some point," she tells her students. "This idea also helps me be very deliberate with my projects, both in terms of substance and style. When I teach, I emphasize that human rights is not just fact-finding. You can do human rights and legislative drafting or human rights and criminal defense. I hope my students can find a match between their skill set and the movement's larger goals."