Christiana Figueres clearly recalls the day she made a decision with make-or-break consequences for the planet.
As the former executive secretary of the United Nations Framework Convention on Climate Change, she was in charge of the 2015 climate talks in Paris. In a conscious departure from earlier conferences, she declared that any agreement should be unanimous, rather than merely a consensus.
The 2009 Copenhagen agreement had collapsed in part because of the exclusion of smaller countries from discussions, violating the U.N. rule of "one country, one voice." Any effective lasting agreement needed "true global support," said Figueres.
Climate change, she also noted, "is something we have all collectively caused. Therefore, it is something we have to all collectively do something about."
The result of her bold decision, and of her work to assemble a global coalition, was a historic climate change agreement among 195 nations to limit future warming to well below 2°C, and to strive for 1.5°C to protect the most vulnerable. For this achievement, Figueres has been credited with forging a new brand of collaborative diplomacy.
Her success also started her on a path that would lead seven years later to Harvard Law School, where on April 14, she received the Great Negotiator Award, an honor bestowed each year by the Program on Negotiation. The honor, the 14th given since its inception in 2000, recognizes individuals whose "lifetime achievements in the field of negotiation and dispute resolution have had a significant and lasting impact."
During a panel discussion that day with the program's vice chair, Harvard Business School Professor Jim Sebenius, and Hannah Riley Bowles, co-director of the Center for Public Leadership and co-director of the Women and Public Policy Program at the Kennedy School, Figueres discussed the process of coming to agreement and how she handled the many challenges she had faced.
Introducing her, Harvard President Larry Bacow said, "There are no great negotiators who are not first great listeners, and she's done that magnificently." Citing Figueres' "stubborn optimism," Bacow spoke of how she managed to create consensus, trading "'us versus them' for 'we' and crisis for calm."
Sebenius then pointed to a PowerPoint that Figueres had made, comparing the role of climate negotiators following the disastrous U.N. Copenhagen Climate Change Conference to Antarctic penguins precariously perched on an iceberg. "So much of what determines the outcome of negotiation is below the surface," he said.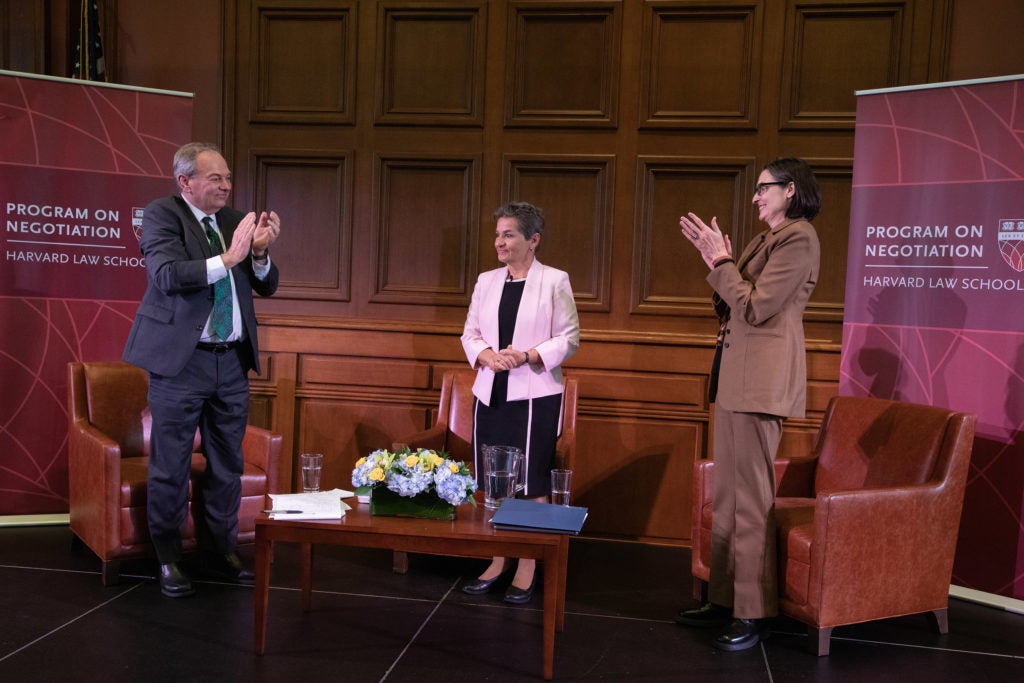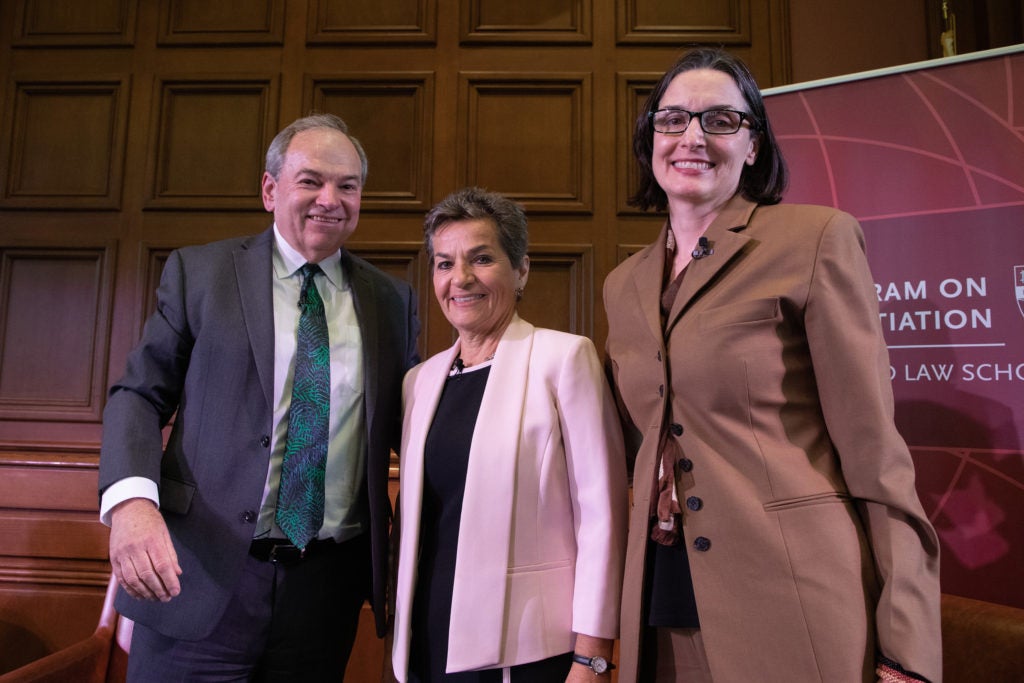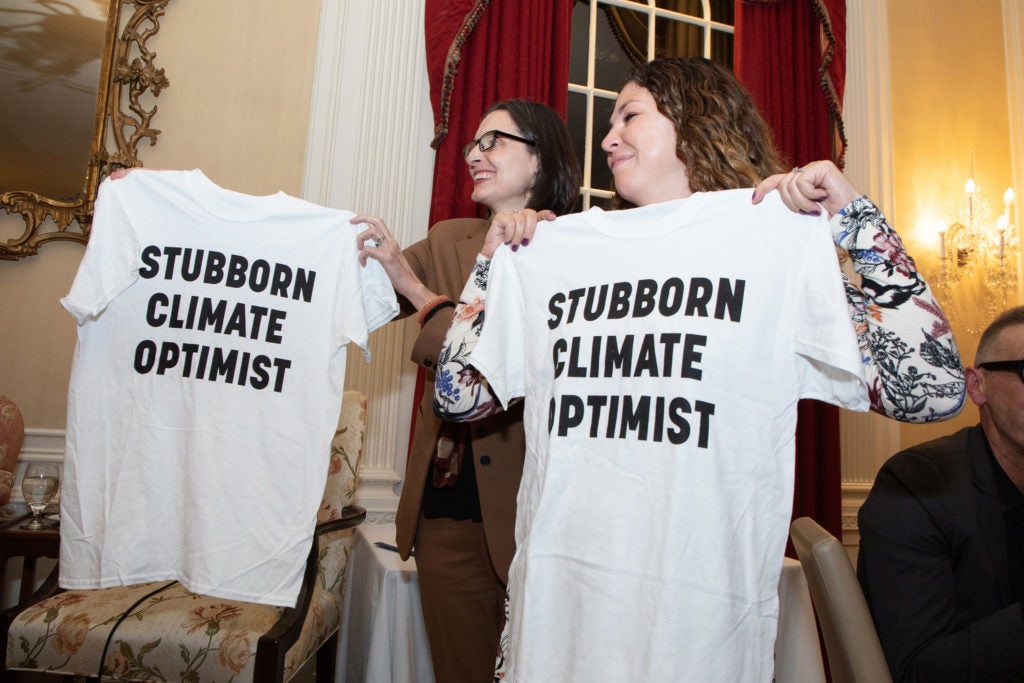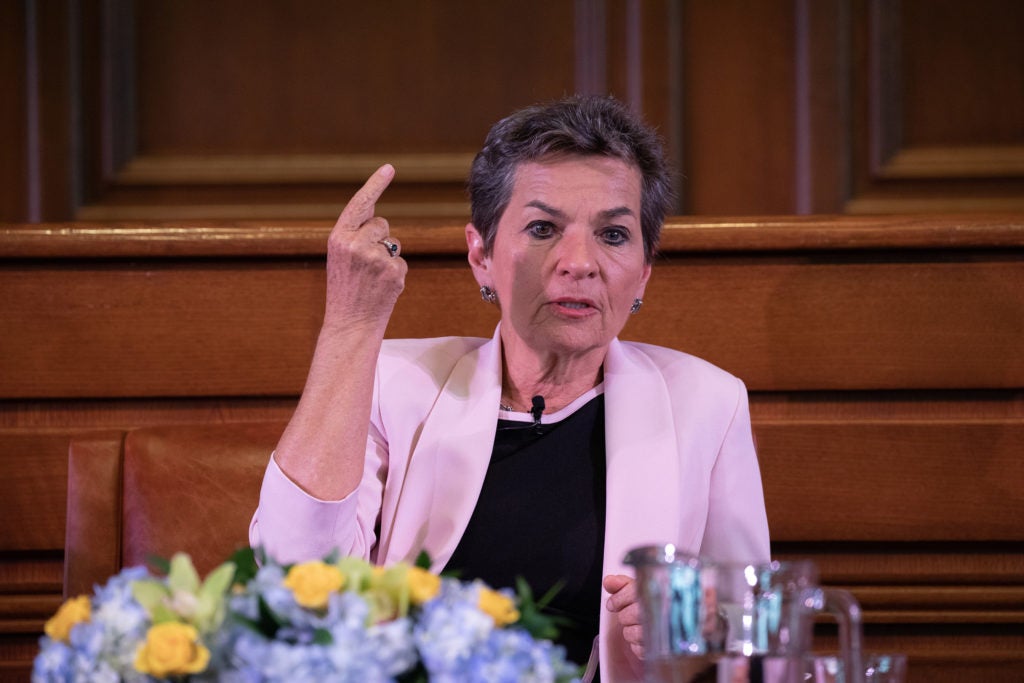 Figueres opted for a swan analogy: kicking furiously beneath the surface but maintaining "total grace and equanimity" above. "Because you're being watched constantly, and if the message that you are putting out is one of anxiety and fear, that is contagious."
However, she acknowledged the truth of both. While the public is only aware of the two weeks of each conference, "the fact is there are 12 months of this every year," she said, referring to a year-round job complicated by "the intensity of everything that can go wrong and does go wrong and the swiftness with which decisions have to be made."
Bringing 195 countries together in Paris was a daunting task, and Figueres credited the mindfulness she learned from Zen Buddhist teacher Thich Nhat Hanh with helping her persevere when negotiating grew difficult. These teachings, she explained, focused her on the needs of humanity. "The understanding of what human life is all about," she said, "that helped me put everything else into perspective." They also emphasized the negotiating necessity of "full respect and understanding of everyone else's needs," she said. "The tool is not speaking but rather listening."
Mindfulness allowed her to do the advance work necessary for a unanimous agreement, Figueres explained. Personally, it meant relinquishing her role as negotiator for Costa Rica. Speaking to an audience that included the First Lady of Costa Rica, Claudia Vanessa Dobles Camargo, she teared up as she discussed the magnitude of this sacrifice, codified in her oath to the United Nations, and of the job ahead, as well as its necessity. "If the process failed, to say the least, I would not be helping my country."
Her focus on achieving inner calm also helped her to listen to each country's needs. For example, Pacific Island nations are not only disproportionately affected by climate change, they also spend at least 25 percent of their national budget importing fossil fuels. "Tell me that's a good use of their national budget when they have more sun than anyone," she said rhetorically. Rather than appealing only to the potential perils of climate change, she said, "the No. 1 argument has to be how will you benefit by decarbonizing your economy."
The situation with Saudi Arabia was more complicated, in part because the Saudis have typically been "virtuoso wrench throwers," in Sebenius's words, known for derailing negotiations. While agreeing, Figueres outlined the many visits and private meetings that were necessary to build trust with Saudi negotiators and its minister of energy. "I traveled to most countries in the lead-up to Paris, and I traveled three times to Saudi Arabia," she said.
She noticed that, although Saudi Arabia produces "the best, the cheapest, and the highest volume of oil in the world," it was also suffering from climate change. "They are already one of the hottest countries in the region," she said. "In the summer, it really is unbearable, and it is getting worse. They have to desalinate every single drop of water. They have to import all their food."
On a flight back from an oil field, she recalled, "I saw the moment when the minister understood that climate change would make human life in Saudi Arabia unbearable." She then asked: "Is there anything that other countries can do for you?" No longer cast as the perpetual carbon villain, and facing their own future, the Saudis relented, joining the accord in exchange for recognition for and aid with diversifying their oil-based economy.
Since her time with the U.N., Figueres has remained a climate activist, writing, producing a podcast, and sitting on the boards of ACCIONA and ACCIONA Energia. In conclusion, she urged her audience to join in.
"A chorus sings better than an individual," she said. "True collective leadership is needed right now. We all play different roles." What is needed, she said, is "mobilizing every single one of those roles and heading toward one purpose: common humanity."