An HLS clinic helps secure access to health care for society's most vulnerable
From filing an emergency guardianship petition in probate court ensuring that the children of a dying mother are raised by the person she chooses, to appealing the denial of a disability claim in federal court for a critically ill client, the Harvard Law School Health Law and Policy Clinic prides itself on taking the toughest cases and working to shape policy to protect some of society's most vulnerable people.
Take, for instance, situations in which people are denied Social Security Administration disability benefits—a critical issue, as access to Medicaid or Medicare is often predicated on it. "The overwhelming majority of people who apply for public benefits are disabled and in desperate need of income and health care support. Yet the Social Security system is designed to reject most applications," says Robert Greenwald, director and founder of the clinic, as well as managing director of the WilmerHale Legal Services Center in Jamaica Plain, where the clinic is based.
"We work with our clients' health care providers to build strong cases," says Greenwald. "Legal representation and strong advocacy make all the difference in helping to secure what is literally lifesaving access to income support and health care."
"We rarely lose these cases, and when we do, we appeal to Federal District Court," adds Julie McCormack, a clinical instructor.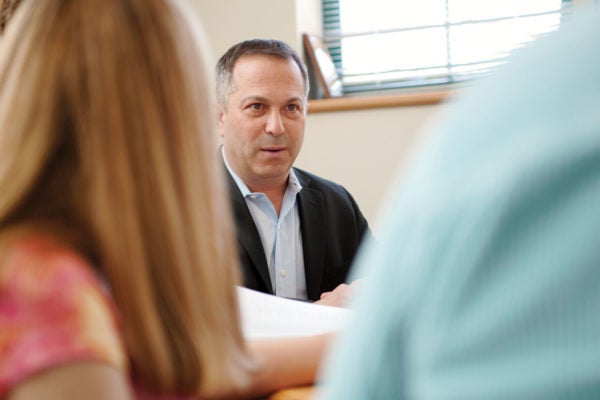 Over the past two decades, under Greenwald's leadership, hundreds of HLS students have provided direct legal services to thousands of individuals living with chronic and terminal medical conditions, helping them to obtain public and private health insurance and disability benefits, to fight discrimination, and to maximize control over decisions affecting their medical care and finances through estate planning. In what Greenwald sees as particularly important work, the clinic has represented hundreds of single mothers who were terminally ill, helping them officially designate through the guardianship process in probate court who will raise their children upon their deaths, so the kids do not end up in state care or possibly with an abusive relative.
The clinic has also been influential in the area of health care policy. In the late 1990s, it convinced the Massachusetts Legislature to change state law so that low-income people diagnosed with HIV are immediately eligible to receive Medicaid and can be treated for their illness, instead of having to wait until they are disabled by AIDS to get medical care. Greenwald and his team have been working ever since to expand that reform nationally.
With approximately 50 million Americans living without health insurance, he says the clinic is on the front lines of a battle for fundamental rights. "I would say I run a domestic human rights clinic," he says proudly.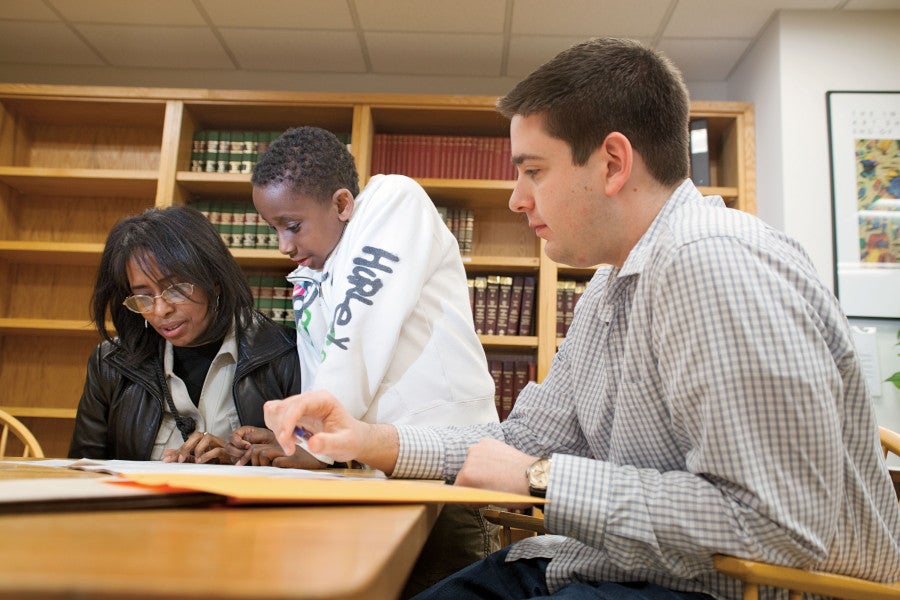 The clinic currently is working on three projects that keep Greenwald and his students on the road. In the State Healthcare Access Research Project, known as SHARP, students have been traveling to North Carolina, South Carolina, Arkansas, Alabama and other states to document access to health care and support services for low-income people. They conduct focus groups with local health care providers, patients, government leaders, and others, and then produce reports on the current status of health care access in each state and help them improve access through strategic advocacy. "Working on the North Carolina and South Carolina SHARP projects has been amazing," says Colleen Kelly '11. "I have learned an incredible amount about the health care delivery systems in different parts of the country. More importantly, I am confident that our reports will have a profound impact on access to care in these communities."
In the Health Care Reform Advocacy Project, Senior Fellow Dorothee Alsentzer '05 and clinic students are on call as first responders to analyze all major congressional proposals for health care legislation. Within 72 hours, they provide a summary of each proposal to a coalition of 100 national and state-based organizations around the country, such as the Southern AIDS Coalition, determining whether the proposed reforms will improve health care access for low-income people. A third major project is helping state-based advocates fight back against state efforts to cut Medicaid during the current down economy, including providing technical assistance to state governments to help minimize cuts as they work to balance their budgets. The clinic also works with many local and national partners on a variety of other initiatives.
Greenwald, who worked at the legal services center when he was a Northeastern University School of Law student, joined it full time in 1987 as a housing attorney. But an international crisis quickly changed his practice focus. "That was the first big wave of the HIV epidemic, and we were starting to see large numbers of people in our community get sick and die. We also started to see fear and discrimination increase toward those with the disease or perceived to have the disease," recalls Greenwald. "We realized as a law center that we needed to respond to this," so the center put a small ad in a newsletter of the AIDS Action Committee offering legal services to people with AIDS-related issues.
"We had no idea of the response we would get," says Greenwald. "Literally, our phone has not stopped ringing since." The AIDS Law Clinic, launched that year, was the nation's first law-school-based legal services clinic to serve low-income people living with HIV/AIDS. Later renamed the Health Law and Policy Clinic, it quickly grew into a broad health care program serving not only people living with HIV but the entire community of low- and moderate-income people who are uninsured, with an emphasis on the elderly, chronically ill, terminally ill and disabled.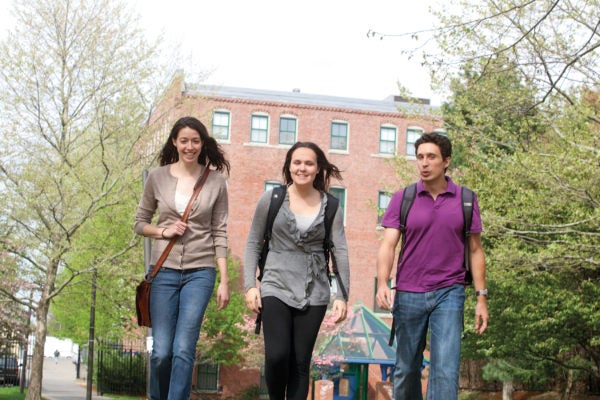 The clinic now raises about $500,000 a year in grants—millions of dollars over the past two decades—including, in December, a Ford Foundation grant of $200,000 to fund the health care access law and policy work. A nationally recognized leader in the area of health care access and legal issues related to HIV/AIDS, Greenwald was appointed in February to the Presidential Advisory Council on HIV/AIDS, which provides recommendations to President Barack Obama '91 and to the U.S. secretary of Health and Human Services on issues related to HIV disease and AIDS. He also serves as co-chairman of the federal HIV Health Care Access Working Group, a national coalition of advocates working to improve access to quality care for people living with HIV/AIDS.
Greenwald credits much of the clinic's success to its students: "We could not accomplish one-tenth of what we do without the skill and commitment of the large number of HLS students who work in our clinic each semester."
Dan Fields '11 enrolled in the clinic because of his long-standing interest in health care, an issue he focused on last summer during a White House internship. Fields, who has been involved in SHARP, health care reform advocacy and disability cases, says he is "excited about working on impact-oriented health care policy and direct client casework." He adds, "I not only get to see health care issues at the macro level but how they play out on the ground level. I find the work rewarding as the people we serve are in really dire straits."
Greenwald says that working to fix the health care system, helping clients in need and mentoring students make the heavy-duty workload worthwhile. "It certainly helps motivate me that I can be on the T with my family and have a young woman come up and say, 'You may not remember me, but I'm in college now, and I turned out OK because you made sure that when my mom died, my aunt got to take care of me.'"