Emily Chazen '22 and Ivanka Canzius '22 are this year's recipients of the Westfall Memorial Award. Chazen was recognized for her noteworthy leadership and dedication to building a close-knit community within Section 2, and Canzius was recognized for her tireless commitment to fostering community within Section 6.
---
Emily Chazen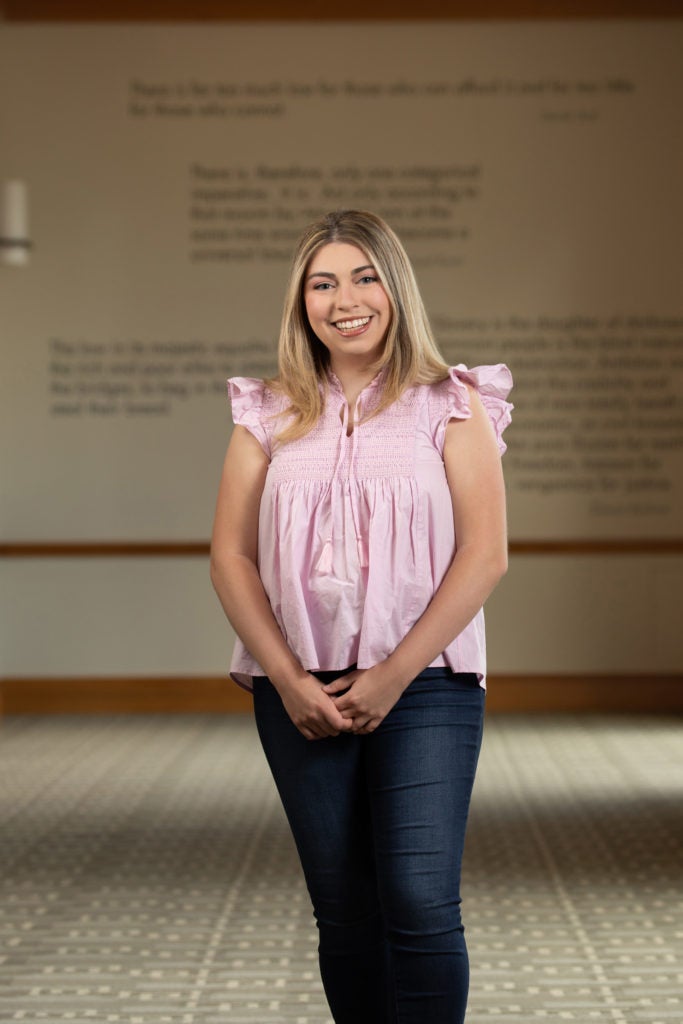 In addition to building community in celebration, Chazen created a supportive environment for classmates facing grief. After the tragic death of Section 2 classmate Tommy Raskin '22, Chazen is credited with taking the lead on organizing Raskin's memorial, coordinating donations to his fund and remembrances for sectionmates to share with his family. She also led a memorial service for classmates, 1L professors, and Raskin's family.
Chazen is a joint-degree candidate at Harvard Law School and Harvard Divinity School. In a profile on HLS Clinical blog, Chazen said her passion for academic religious studies was "born of a deep commitment to visions of social justice inculcated in me in my undergraduate studies at Haverford College, and I understood the law as a necessary tool for the actualization of those dreams."
During her time in law school, she also served as co-executive director of Prison Legal Assistance Project.
---
Ivanka Canzius
Described as "heroic" and the "collective mom" of Section 6, Ivanka Canzius is credited with building a caring community within Section 6 and across the law school community.
Nominators highlighted her "tireless commitment to fostering community" and her proactive support throughout the COVID experience. When the law school shut down dorms and facilities during the pandemic, Canzius reached out individually to every member of Section 6 to ensure all had a place to stay and the resources they needed to move. She also organized several advising events for 1Ls.
Canzius shared and drew from her own life experiences to be "an incredible force and source of support" in Section 6, according to nominators. Born in Madrid, Spain, to heroin-addicted parents who neglected and abused her, Canzius didn't speak English when she arrived in Texas in the late 1990s as an immigrant teenager. She enlisted in the U.S. Army while in high school and trained to be an Army paralegal. She married a fellow solider and had two daughters, before divorcing when her husband's behavior became abusive. She later double majored in psychology and criminology at Texas A&M in San Antonio, where she also earned an M.B.A.
"As an orphan child, Hispanic woman, female soldier, disabled vet, divorced wife, and single mother, I have suffered more than anyone should. Nonetheless my story is a happy one," she told fellow students at a HLS Talks student speaker series during her 1L year. Those very experiences, she said, "helped me become the person you see today."
While at HLS, as a full-time student and mother of two teenage daughters, she was incredibly busy, and yet, she always generously gave of her time to support classmates. As one nominator noted: "Anytime anyone had any problem — however big or small — we all knew that Ivanka was there to help us."
Named in honor of the late Professor David Westfall '50, who taught at Harvard Law School for more than 50 years and served as an inaugural faculty leader for a first-year section, the award is presented annually to recognize student contributions to creating community within a first-year section and the wider class.
---